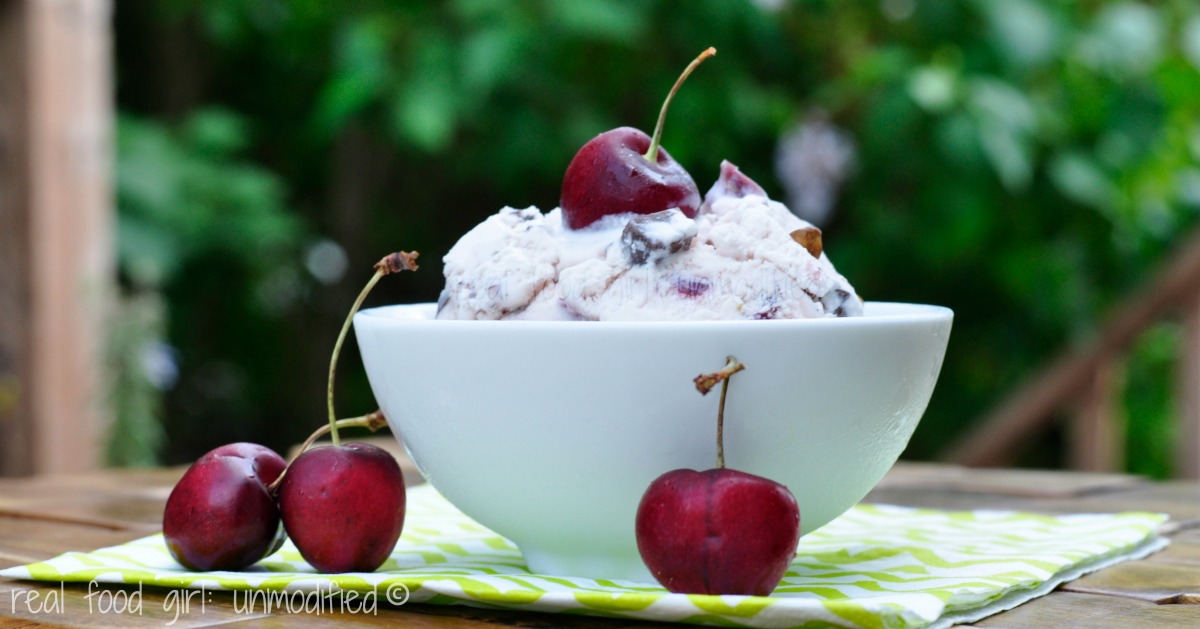 Roasted Cherry & Pistachio Chocolate Chunk Ice Cream
Wanna know a secret? I could live without ice cream. I know, right? That's like blasphemy or something. It's just wrong to not love ice cream. But here I am, and I don't love it. I do however seriously enjoy homemade ice cream. I've had fun coming up with flavors that both The Stud Muffin and I like. TSM loves ice cream. The man has never met a bowl of ice cream that he didn't like. When I told him he couldn't have any of this ice cream until I had a chance to take photos I thought the poor man was going to pass out. It's not nice to deny The Stud Muffin cherry ice cream with chunks of chocolate, yet I did. And we both lived to talk about it. Go figure.
The other day I was at Whole Foods and they had a wicked nice sale on organic dark, sweet cherries. They were $4.99 a pound and I'm lucky to find conventional cherries for that price where I live so to see organic cherries for under $5/lb., I got so excited I bought two bags. Aaand did they get eaten quickly enough? Noooo. Of course not. WHY would fruit get eaten quickly in my house? Actually, it usually does, but apparently 2 pounds of cherries is just too much goodness for us to handle. I had to figure out what to do with these cherries!
Because it is still All Things Chocolate here on my blog I thought I would share an ice cream recipe featuring this fantastic chunk of chocolate from Scharffen Berger. Good stuff guys. Good stuff. I prefer a dark semi-sweet chocolate, which I've spoken about here, but The Stud Muffin prefers a little darker chocolate with his cherry ice cream, about 70%, both of which Scharffen Berger carries. Also because I had some seriously yummy cherries about to go bad, I figured I'd combine the chocolate with the cherries. Ya can't go wrong combining those two things.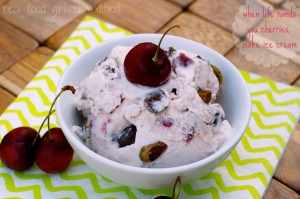 The base ice cream recipe I'm sharing with you is my easy go to recipe. I have a more time and labor intensive one I'll share later, but for now I'm going to share this one with you guys. You'll love this recipe–trust me. It's my go to recipe and we've made peppermint bon-bon, chocolate, strawberry, double-vanilla, cinnamon, pumpkin, raspberry-lime vanilla, cherry almond, and this cherry chocolate chunk with pistachios.
This time around I roasted the cherries. And hand to God, that was a totally spectacular idea because HOLY COW people, roasted cherries are divine! Not kiddng. I pitted about 1-1/2 cups of cherries by hand. I don't own a cherry pitter so I was kicking it old school style. Once pitted I put them on a parchment lined baking sheet, I sprinkled a little organic cane sugar over them, and roasted/baked them for about 30-40 minutes in a 375 degree oven. Keep an eye on them as the sugar causes the cherries to release their juices, which creates this nice, thick, cherry syrup and you don't want that to burn. I unabashedly admit I ate a good 1/4- cup of these cherries after they cooled off. Yeah, they're *that* good.
If you have nut allergies in your home, feel free to omit the nuts, or if you don't like pistachios, substitute almonds or pecans. When I make this for myself I use only almonds and cherries. Be creative and have fun. It's ice cream for crying out loud. Not brain surgery!
In order to make this recipe, you are going to need an ice cream maker <—we own this one, or you'll need an attachment for your KitchenAid Mixer.
I can't wait to hear how you like this ice cream. What is your favorite flavor?
*As always, please use as many organic, non-GMO ingredients as possible*
NOTE: If you just want to make VANILLA ICE CREAM, follow my recipe for the vanilla ice cream base below- and follow the directions, just simply skip the steps that are meant for the cherry chocolate chunk ice cream.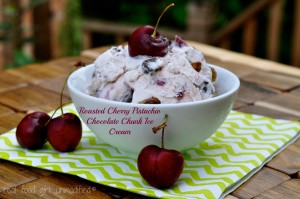 Roasted Cherry Pistachio Chocolate Chunk Ice Cream
Base Ice Cream Recipe Adapted from:
Cuisinart
Roasted Cherry-Chocolate Chunk Recipe by: Real Food Girl: Unmodified© Makes: 6-7 cups or 12-14 half-cup servings Time: 30 minutes prep, 60 minutes inactive
Ice Cream will be soft serve once it is finished in the ice cream maker. You can eat it like this (but it melts too quickly), or transfer it to freezer safe containers and let it chill overnight before consuming. If you can exercise enough self-control that is.
INGREDIENTS:
For Vanilla Ice Cream Base:
1-1/2 cups organic grass-fed whole milk
3/4 cup organic cane sugar (feel free to try using coconut sugar. Sucanat will add too much of a molasses flavor and you won't have a true vanilla ice cream base)
3 cups organic grass-fed heavy cream
1-1/2 TB vanilla extract
For the Cherry Pistachio Chocolate Chunk:
1-1/2 cup sweet dark organic cherries pitted and cut into quarters

*See directions below*

1/2 to 2/3 cup dark semi-sweet or bittersweet chocolate GMO-Free (such as E. Guittard or Scharffen Berger), chopped into chunks (unless you bought chips or fèves– then leave whole)
1/3 cup shelled raw pistachios toasted (or raw almonds toasted) and roughly chopped. Go ahead and go all Ina Garten RUSTIC on these nuts!
3/4 tsp. pure, organic almond extract (reduce the vanilla down to 2 tsp. when making the cherry ice cream version of that basic vanilla recipe)
Pinch of sea salt

DIRECTIONS:
*

FOR THE ROASTED CHERRIES:
Preheat oven to 375 degrees.

Evenly spread the pitted, and quartered cherries on a parchment lined baking sheet.
Sprinkle 1-2 tsp. organic cane sugar over cherries and using hands, mix to coat all cherries with sugar. (yeah, most of it ends up on your hands)
Bake for 20-40 minutes, rotating the pan and stirring the cherries at least once to ensure the sugar doesn't burn. Remove from the oven when the cherries are soft and a nice syrup has formed from the sugar and cherry juices. Set aside and let cool. I transferred my cool cherries to an airtight container and kept them in the fridge overnight to get even happier!!
FOR THE ICE CREAM:
In a small saute pan over medium low heat add your raw nuts and gently toast them. This takes about 3-7 minutes. Stir often so that the nuts don't burn and once you start to smell them, they're done. Take pan off the heat and transfer nuts to a plate or bowl and set aside.
Chop chocolate into bite sized chunks and set aside.
In a medium mixing bowl, use a whisk, stir to combine the milk and granulated sugar until the sugar is dissolved, about 1 to 2 minutes.
Stir in the heavy cream, cherries, almond extract and vanilla.
Turn the machine on; pour the mixture into freezer bowl, and let mix until thickened, about 20 to 25 minutes.
The ice cream will have a soft, creamy texture after 20-25 minutes. Transfer ice cream to a larger bowl and stir in the chocolate and the nuts. Divide into freezer safe containers and eat right away (it will be really melted) or If a firmer consistency is desired, chill in the freezer over night. Ice cream will keep for up to 2 weeks. Ice cream will get rather ice-crystally if you keep it longer than 2 weeks.
PAID ENDORSEMENT DISCLOSURE: In order for me to support my blogging activities, I may receive monetary compensation or other types of remuneration for my endorsement, recommendation, testimonial and/or link to any products or services from this blog.