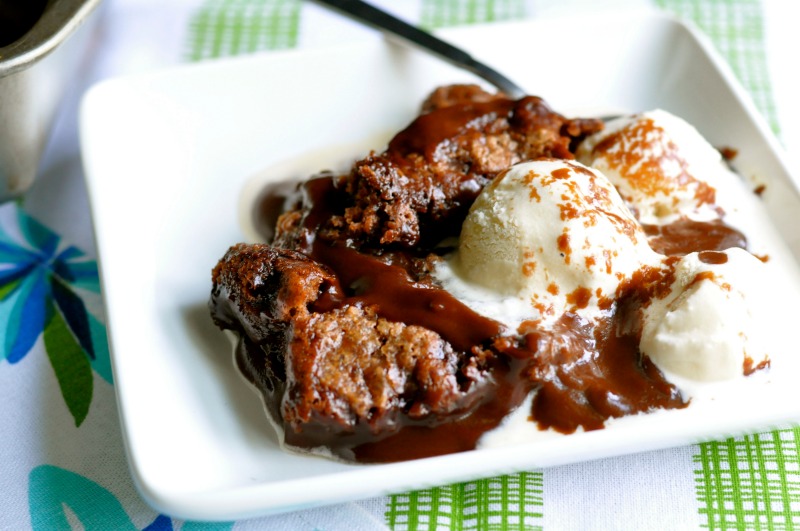 Finally! It's here! I've been promising this cake for what, two, or three weeks now? Gah! You'll have to forgive me for that. I normally don't feature a recipe on my blog unless I've tested it several times. Unless of course, it's just that amazing the first time around and I remember to write down all the components and measurements. If not, I make it a second time and get it on the blog as soon as possible. Other recipes take 3 or more attempts to get it just right.
This recipe, however just did NOT want to be featured on the blog. Originally this was a Slow Cooker Hot Fudge Cake. Nowhere on the original recipe did it say it was going to produce a raw cake batter-like substance on the bottom of my slow cooker, and a chewy, dense cake on the top layer. Both TSM (The Stud Muffin) and I thought the cake wasn't fully cooked, even though my slow cooker was twice the size of the one used in the original recipe, so the cake wasn't as thick so it had more than sufficient time to fully bake.
I quickly took to my Facebook Page and asked what type of voodoo magic was a recipe that produces raw, uncooked chocolate on the bottom of the slow cooker and cooked cake on the top? It made no sense to me. It's times like this where I'm pretty sure they're going to come and take my Chef card away. How could I not know this was a Lava Cake? Despite the fact that the recipe didn't even hint to this, I should have known. In my defense I really don't use my slow cooker all that often. I'm much more apt to use my favorite enameled Dutch oven. My 18-year old slow cooker bit the dust the day I attempted this cake the first time around. It was a sad, sad day indeed. The death of my slow cooker was probably an omen.
So, new, sparkly, slow cooker in hand, I made the recipe a second time. Aaand, it didn't meet my expectations. At this point I was a little peeved as I had officially gone through almost two bags of my favorite GMO-Free chocolate chips. There is only one store in my area that sells them and it is a nice 35-40 minute drive from my house. Needless to say, I don't get there often. I don't like it when a recipe doesn't work out like it does in the magazine, or TV show and you end up getting something that just isn't very edible. It's such a waste.
But a promise is a promise and I promised you guys this cake recipe. The grandkids decided they wanted to help me make it the third time around. The cake turned out better on the third time around. I'm quite certain that Little Master C. and Young Miss B. had everything to do with that, but according to my step daughter, it was "really tough and chewy around the edges", there were also several "Wow, this is heavy" comments and I just didn't care for the overall flavor, texture and crumb of the cake. I was back to square one with no cake recipe and I was NOT going to waste more organic and non-GMO ingredients just to post a sub-par recipe on the blog.
Determined, I went back to my Facebook page because I remembered that one of my childhood church friends, Sara had mentioned that her mother, Sue, makes a cake quite similar to the one I had tried, but it's made in the oven. Sara assured me this recipe worked and she made it all the time. I really wanted to feature a gooey chocolate cake recipe on the blog, something that was easy to make and came together quickly. This one isn't made in a slow cooker like the original recipe I'd planned on sharing, but it comes together just as quickly, and it's a lot easier to clean up after! This cake is better than the slow cooker version. And it was much prettier! All crackly on top with some of that pool of hot fudge bubbling up to the top. This cake is chocolate gooey hot fudge goodness in a pan.
A very special Thank-You to Sara A. and Sue E. for sharing this recipe with me. Who knew that over 30 years after we met in church we'd be exchanging recipes?! You two just saved the day with this recipe!!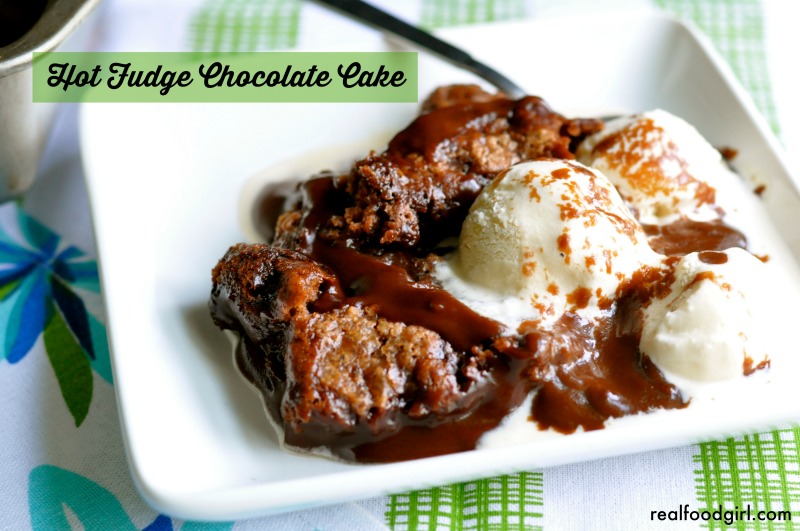 To boost the flavor of the chocolate, I added 1/2 tsp. of espresso powder to the dry ingredients and I also doubled the vanilla. This cake doesn't use any chocolate chips, so I was slightly concerned that it would not be chocolatey enough. Chocolate loves espresso. I on the other hand do not, but I wanted a deep chocolate flavor to this cake and espresso powder boosts and deepens the flavor of chocolate so in it went. The nice thing is that you can't taste coffee/espresso, you just taste intense chocolate. Sara made the cake later that day with the espresso powder and said "Oh my goodness- it was DELICIOUS with the espresso powder". Sounds like an endorsement to me. Let's make Sue and Sara's cake. Shall we?
Oh, make sure you have some vanilla ice cream on hand. It completes this cake like the chick in Jerry McGuire completed him…
What is your favorite chocolate dessert? Or do you just love anything with chocolate in it? Share with us in the comments below!
Here are some of the products I used to make this recipe or that I use in my kitchen: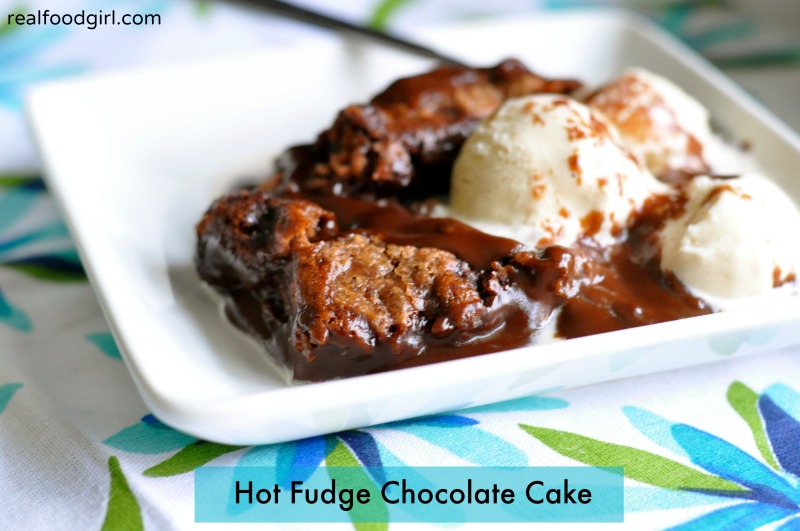 Hot Fudge Chocolate Cake
2014-04-06 21:34:05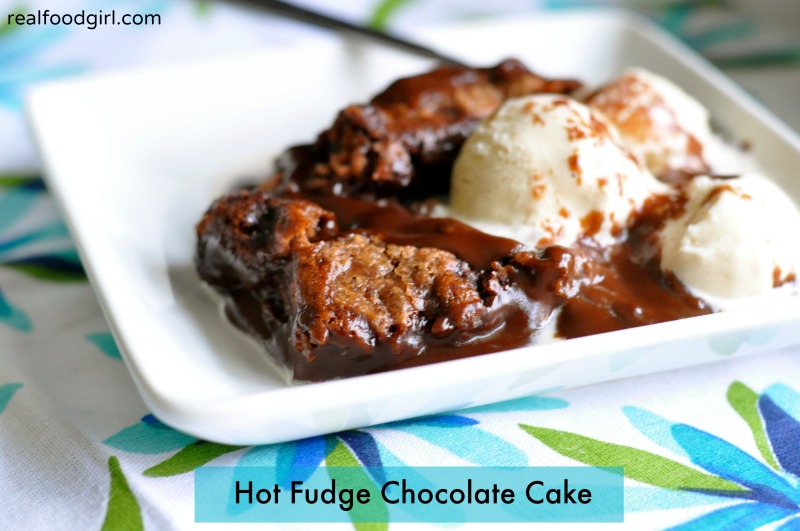 Serves 4
Gooey chocolate goodness in a pan with hot fudge oozing from beneath the cake.
Ingredients
1 cup organic all-purpose flour
3/4 cup organic cane sugar
1/2 tsp. espresso powder
6 TB organic cocoa powder- divided
2 tsp. baking powder
heaping 1/4 tsp. salt
1/2 cup organic whole milk
2 TB melted coconut oil
2 tsp. organic vanilla
1 cup brown sugar
1-3/4 cup very hot water
Instructions
Preheat oven to 350 degrees.
Mix the flour, cane sugar, espresso powder, 2 TB of the cocoa powder, the baking powder and salt in a large bowl.
Add the milk, coconut oil and vanilla. Stir until just mixed. This will be a fairly thick batter.
Spread into an ungreased 8x8 in. or 9x9 in. square baking dish.
In a small bowl combine the cup of brown sugar and the remaining 4 TB of cocoa powder and stir well to combine.
Sprinkle evenly over the top of the cake batter.
Carefully and slowly pour the hot water over the top of the cake. Carefully put the cake in the oven and bake for 35-40 minutes.
Notes
The cake is finished when a toothpick inserted in the center (just about 1/2 way down) comes out clean. There will be a pool of hot fudge under the cake, so if you poke the toothpick down too far, you'll have hot fudge on the toothpick. My cake took 40 minutes to bake. I started checking it at 29 minutes as my oven runs hot.
Adapted from Sue E. & Sara A.
Adapted from Sue E. & Sara A.
https://www.realfoodgirlunmodified.com/
PAID ENDORSEMENT DISCLOSURE: In order for me to support my blogging activities, I may receive monetary compensation or other types of remuneration for my endorsement, recommendation, testimonial and/or link to any products or services from this blog.