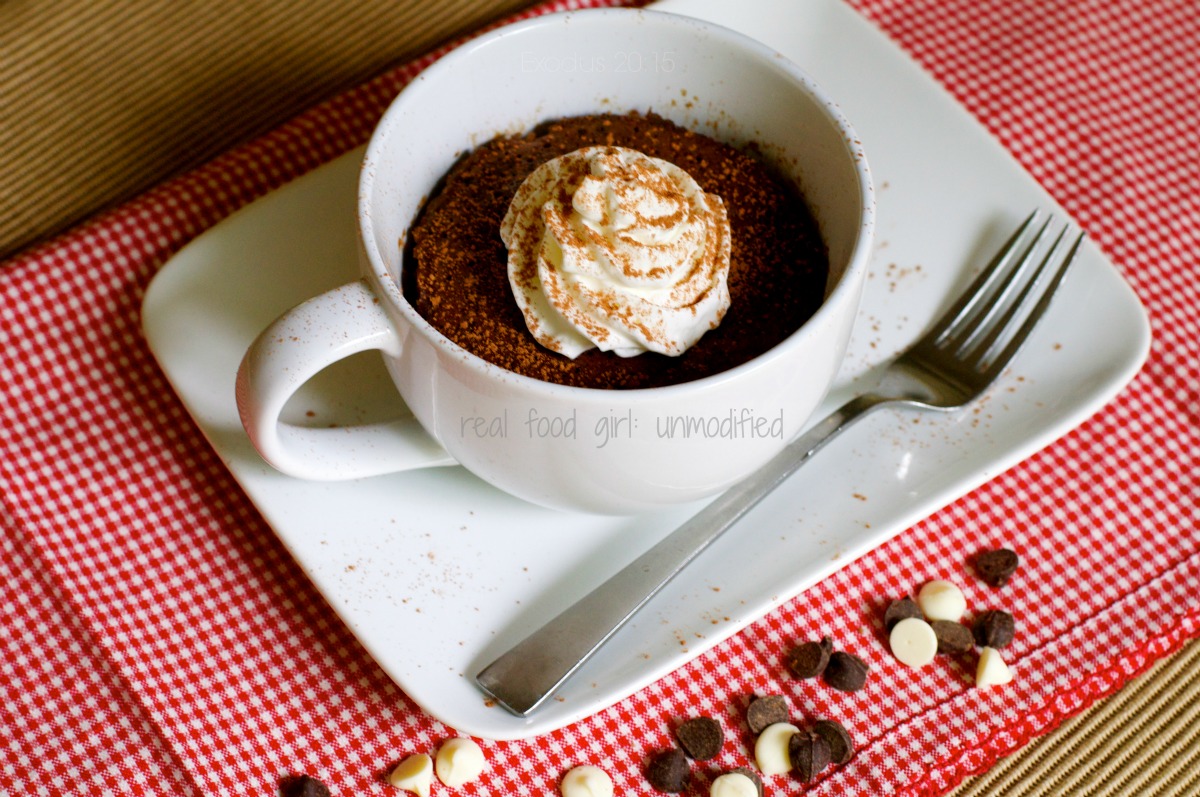 Chocolate Depression Cake in a Mug
We have 11 weeks until we pack up our entire home here in MN and move down to SC.  I'm starting to panic.  Just a little.  I have to have a somewhat major surgery in a few weeks, I have a house to sell, I have a moving/garage sale to organize, there is packing and deep cleaning that still needs to be done and I'm starting to wonder if one 26 foot U-Haul is going to be enough to hold all our stuff.
Because I have no idea if that U-Haul is going to hold everything, I decided to start using up as much of my pantry baking staples as I could so I wouldn't have as many items to pack.  A quick scan of my pantry and cupboards and I realized I have a lot of chocolate that really should be used up, so this week it's all about chocolate here at Real Food Girl: Unmodified.
Some of you have asked me to give you recipes using Raw Cocoa, and I promise I will do that, but for now, I'm using what I have on hand because like most of you I'm on a budget and I need to save my pennies for our move.  If you want recipes using raw cocoa sooner than that, please feel free to send me money.  I'll take small, unmarked bills in non-sequential order please.  I'm really not picky.
I've been craving chocolate cake lately, which is kind of strange because I'm allergic to chocolate.  I have managed to build up a tolerance to it so that I can enjoy a brownie or a piece of fudge or some hot chocolate from time to time, but anything more than a small serving and things get ugly pretty quickly.  Aren't you glad you know this?  I bet you are.
Because it's been a little too humid to bake my chocolate layer cake (I will be baking that at some point this week, so stay tuned for the recipe) I decided to "bake" something a little easier and a lot faster than an entire layer cake pimped out with a pound of chocolate buttercream.  I enlisted the help of my Internet Butler.  His name is Google.  No, you can't have him. Get your own butler.  Anyway, Google is great at finding me things I'm looking for and he led me right to this adorable little blog called Sweet Little Blue Bird.  I even happen to know that woman that runs the blog.  I feel kind of special when I become acquainted with or become friends with famous bloggers.  Don't you?   She had this recipe for Crazy Cake in a Mug.  I knew I this had to be the first recipe I featured for my All About Chocolate Week.
Have you ever heard of 'Crazy Cake' or 'Whacky Cake'?  How about 'Depression Cake'?  Hopefully one of these names rings a bell with you because today that's what I'm sharing with you.  Crazy/Whacky/Depression Cake.
I did a little research on this cake and there are so many names for it.  Here are several examples: War Cake, Depression Cake, Eggless-Butterless-Milkless-Cake, Whacky Cake, Busy Day Cake, Crazy Cake, Lazy Wife Cake, Boiled Raisin Cake, and Boiled Chocolate Cake.  Personally I don't find anything whacky or crazy about this cake, and I sure as Gehenna won't be using raisins, so we'll be skipping that particular rendition of this cake.  Lastly, I felt if I were to call this Lazy Wife Cake, I'd get hate mail.  I don't like hate mail.  As a Real Food Blogger, I get enough snarkiness from haters so I don't need to purposefully solicit additional douchecanoe haters.  Know what I mean?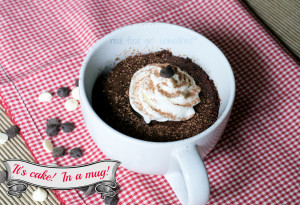 This cake is NOT called Depression Cake because it is something you're supposed to eat when you are depressed nor will it make you depressed if you eat it.  On the off chance that you happen to currently be depressed, consider that you may possibly need some chocolate cake.  I certainly won't begrudge someone with the blues a mug of rich, chocolately-cakey happiness.
There two reasons behind why this is called Depression Cake.  The first is that this recipe was rather famous during the Great Depression because it made a moist chocolate cake without expensive ingredients such as eggs, butter or milk.  Yes, I did just say that this cake is made without eggs, butter or milk!  The second reason is because you put little depressions into the dry ingredients and pour liquid ingredients into those depressions. Technically that makes this a Double Depression Cake, but that's like the saddest recipe title ever in the history of sad recipe titles and cake should illicit thoughts of blissful, nirvana like happiness, not wretched melancholy and despondency.  Wouldn't you agree?
You may be asking, "How on Earth does one make a cake without eggs, butter or milk?"  I'm super glad you asked and I have the answer.  You use vinegar and baking soda!  No lie my Food Hippies; it's vinegar and baking soda.  The combinations of these two ingredients help the cake rise.  Another interesting tidbit is that this is how the original Red Velvet cakes were made.  You didn't use an entire little tube of red food coloring derived from the crushed up bodies of some creepy bug's anal secretions, you used vinegar, buttermilk and cocoa.   I'll spare you the chemistry lesson on how those three ingredients react to make the cake have a reddish hue so you'll just have to trust me.  Depending on the type of cocoa that you use you may end up with a reddish hue to your Depression Cake.  I did, but I'm not sure if that shows up as much as I'd like in the photos I took.  When you look at Mary's photos vs. mine you'll see a huge difference in color.
Another reason I wanted to feature this cake was because some times you just want cake but the thought of heating up the entire house to bake a cake is the last thing you want to do, and this recipe can be enjoyed any time of the year because you make it in your microwave.  It takes less than 7 minutes from start to finish to make one of these cakes.  I let mine cool for about 15 minutes before I slathered on some homemade whipped cream, and a drizzle of some of my homemade chocolate syrup/sauce.  This was typically finished off with powdered sugar, so feel free to try that, or whip up some ganache, or drizzle on some homemade caramel sauce.  Whatever floats your boat people.  Just make the cake.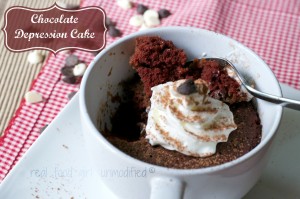 Chocolate Depression Cake in a Mug
Recipe adapted from:
Sweet Little Blue Bird
Serves: One Time: 7 minutes    
INGREDIENTS:
DRY:
5 TB organic unbleached AP flour

3 Tablespoon organic cane sugar

2-1/2 tsp. organic cocoa powder (unsweetened, and can be dark, Dutch processed, or regular)

1/4 tsp. baking soda

Rounded 1/8 tsp. kosher salt
WET:
1/2 tsp. white vinegar

1/4 tsp. organic vanilla extract

2 tsp. organic safflower or organic sunflower or organic coconut oil (if using coconut oil, melt it)

4 1/2 TB warm water  (if using coconut oil, make sure the water is at least 80 degrees)
DIRECTIONS:
Using a large microwave safe mug (I used a Pampered Chef Simple Additions mug) grease the inside of the mug with some softened organic butter.

Next, mix the first 5 dry ingredients in a small bowl.  After mixing the dry ingredients, carefully pour the mixture into the prepared mug.  Go ahead and make 3 depressions in dry ingredients with your finger.  See my photo above.

Pour vinegar in one depression, vanilla in the other and the oil in third depression.  Pour the warm water over top.  Mix well until smooth using a fork.

Place in microwave and cook on high for

*

2 minutes, uncovered. Check with toothpick to make sure it comes out clean.  Be sure not to over cook!

*

Each microwave oven cooks differently, adjust the time accordingly!

  I personally made this cake in 1 minute 45 seconds, and Mary over at Pretty Little Blue Bird states that one of her readers made it in 1 minute 20 seconds and another in 1 minute 40 seconds.  If you overcook the cake, it may ruin it, so please be sure to keep an eye on it as it bakes.
PAID ENDORSEMENT DISCLOSURE: In order for me to support my blogging activities, I may receive monetary compensation or other types of remuneration for my endorsement, recommendation, testimonial and/or link to any products or services from this blog.