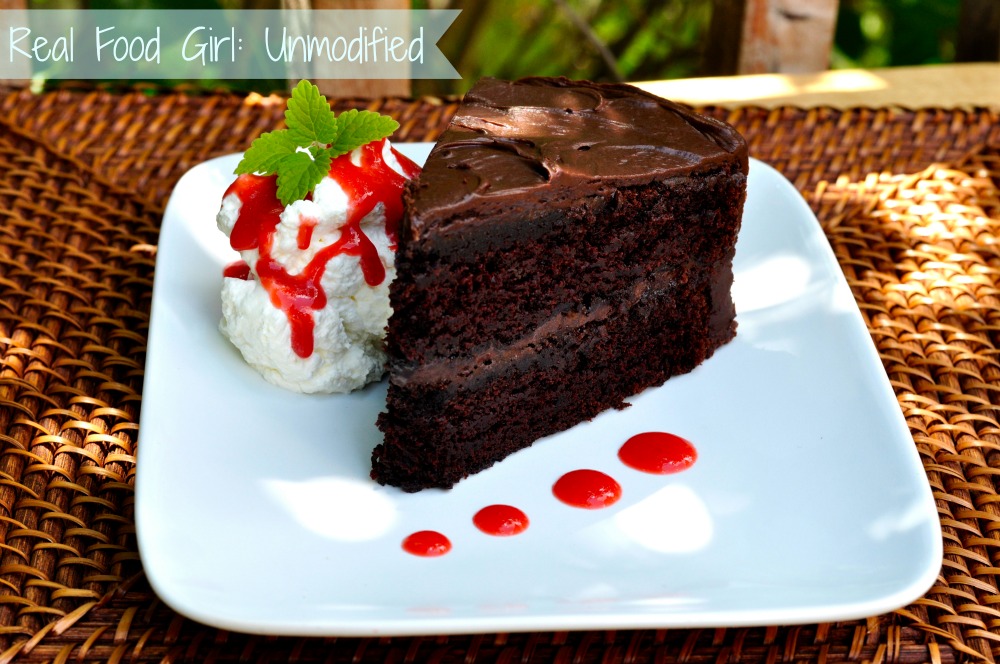 Chocolate Cake with Chocolate Buttercream Frosting
Do you know what you'll love about this post? It features cake. And, chocolate. And, chocolate cake. That is actually three things. Oh wait, it also features chocolate buttercream frosting. So that would be four things you'll love about this post.
I wanted to share this recipe back when I was doing my week of chocolate recipes in June, but for whatever reason I never got around to baking the cake. I'm not sure why. The important thing is that I decided to make one last cake before I pack all my baking dishes and supplies. I chose this cake because I promised it, and also because this cake is so rich and dense, very moist, very chocolatey and truly perfect.
About 3 years ago I asked friends and family for a tried and true from scratch chocolate cake recipe. I was tired of wasting good chocolate on sub par cake recipes that I found online. My step-sister, Lori told me that she's always liked the cake recipe on the back of the Hershey's Cocoa Powder container. So I gave it a try–this was back before we went GMO-Free and Organic, so using another cocoa powder didn't cross my mind. I've since tried a few more recipes, but always come back to this one. It's just that good. It tastes like what I believe chocolate cake should taste like.
I've used Trader Joe's Cocoa Powder and E.Guittard's Cocoa Powder and I've used Droste Cocoa Powder. Because I'm unable to find info on whether or not Droste is a non-GMO chocolate, I'd use either the Trader Joe's or the E. Guittard brand. Of course feel free to use your favorite brand of organic or non-GMO cocoa powder, mine are merely suggestions. Just make sure it's Natural Cocoa vs. Dutch Processed. For some great info on the differences between Dutch Processed and Natural cocoa powder read this article on Cocoa Powder FAQs.
Let's eat some cake!
Chocolate Cake with Chocolate Buttercream
2013-08-02 23:05:59
Serves 10
For the Cake
2 cups organic cane sugar
1-3/4 cups organic all-purpose flour
3/4 cup unsweetened cocoa powder, such as Trader Joe's or E. Guittard
1-1/2 teaspoons baking powder
1-1/2 teaspoons baking soda
1-1/4 teaspoon kosher salt
2 organic eggs
1 cup organic whole milk
1/2 cup organic safflower or sunflower oil
2 teaspoons vanilla extract
1 cup boiling water
Instructions
Heat oven to 350°F. Cut parchment to fit each pan, then grease and flour two 9-inch round baking pans.
Stir together sugar, flour, cocoa, baking powder, baking soda and salt into the bowl of an electric mixer. Add eggs, milk, oil and vanilla; beat on medium speed of mixer 2 minutes. Carefully stir in boiling water (batter will be thin). Pour batter into prepared pans.
Bake 30 to 35 minutes or until wooden pick inserted in center comes out clean. Cool 10 minutes; remove from pans to wire racks. Cool completely. Frost with Chocolate Buttercream Frosting
For the Frosting
1/2 cup (1 stick) butter or margarine
2/3 cup cocoa powder
4 cups powdered sugar
1/3-1/2 cup milk
1-1/2 teaspoon vanilla extract
Frosting Directions
Melt butter. Stir in the cocoa. Alternately add powdered sugar and milk, beating to spreading consistency. Beat for about 60 seconds once all the milk and sugar are added.
Stir in vanilla. Makes about 2 cups of frosting.
Adapted from From Hershey's Perfectly Chocolate Cake
https://www.realfoodgirlunmodified.com/
PAID ENDORSEMENT DISCLOSURE: In order for me to support my blogging activities, I may receive monetary compensation or other types of remuneration for my endorsement, recommendation, testimonial and/or link to any products or services from this blog.