Organic Chicken Pasta Salad
Can you believe that the end of summer is fast approaching? I can't. We had our last measurable snow storm in mid-May here in Minnesota, so to know that cooler temps are on the way kinda makes me a wee bit happier that we're moving to South Carolina in 11 days.
I realized I had to get the rest of my pasta salad recipes posted before Labor Day. I don't want y'all to go hungry.
This recipe is a favorite of The Stud Muffin's. This man has never met a cold pasta salad that he didn't like. Throw some organic peas and chicken in there and the man is happier than a tick at a blood bank. I make a container of this almost weekly whenever The Stud Muffin is blessed enough to have a contract job because it's his favorite thing to have for lunch. I'm sure everyone has a chicken pasta salad recipe in their arsenal, but just in case, I'm going to share it because it's yummy, it's perfect for a cookout , potlucks, picnic lunches or those nights when it's 95 degrees outside and 84 in your house and you'll be darned if you're going to turn on the oven.
I typically make this Organic Chicken Pasta Salad with diced roasted chicken. I have a recipe for easy Herb Roasted Chicken that works well in this salad. The only change I make is that I only salt and pepper the chicken. I do not add herbs if I am going to use this roasted chicken in a pasta salad.
My "dressing" for this pasta salad is a combination of organic cream, organic sour cream and my homemade mayo, salt and pepper. There is truly nothing fancy about this dish. It's simple, but each component is seasoned well so that you end up with a flavorful pasta salad. There is nothing more sad than a bland, mushy, over- mayonnaise'd pasta salad.
Whenever you are making pasta, make sure you have a nice big pot of well salted water. The water should taste like the ocean. If you train yourself to season each component while cooking, you'll end up with layers of flavor that work harmoniously to bring your mouth much happiness. I promise.
Organic Chicken Pasta Salad
2013-08-02 00:04:00
Serves 6
This is summertime on a fork. Tender pasta, moist chicken and veggies paired with a tasty mayonnaise based sauce.
Ingredients
8 ounces (uncooked) organic pasta. Shells, Cavatappi and Elbow are the best pasta shapes. This is roughly 2 cups of uncooked pasta, or half a 16-ounce package.
1-1/2 cups cooked (roasted) chicken, diced
1/2 to 2/3 cup homemade mayo
3 TB organic sour cream
1/4 to 1/3 cup organic cream
Salt and black pepper to taste
1/3 cup celery, diced small
1 cup organic peas (I have used fresh and frozen)
3 organic eggs, hard boiled and diced
1-2 green onion(s), sliced thin
Instructions
Bring a large pot filled with salted water to a boil. Cook pasta to package directions. Drain pasta (SAVE THE WATER) and rinse under cold water to stop the cooking process. Set aside.
Return the pot of pasta water to the burner and bring to a boil. Add a little more salt and drop in 1 cup of peas. If frozen, blanch for 30-60 seconds. If fresh, blanch for 90 seconds to 2 minutes TOPS. Drain immediately and plunge in an ice bath for 2 minutes. Drain and set aside.
Prep the chicken, celery, green onion and hard boiled eggs and set aside. Measure out the mayo, cream and sour cream. Set aside.
In a large bowl add the chicken, green onion, celery, peas and pasta. Stir gently to combine. In a small bowl, add the cream, mayo, sour cream and stir to combine. Add 1/4 tsp. salt and 1/8 tsp. black pepper. Stir to combine.
Pour the sauce contents from the small bowl into the large bowl and stir gently to make sure all ingredients are coated with the mayo sauce. Add the diced boiled eggs. Taste. Add salt and pepper, stir once again, and taste a second time. Adjust seasonings as necessary. If the pasta salad looks dry, add a little more mayo and cream.
Serve with fresh biscuits or a hot baguette. This keeps in an airtight container in the fridge for up to 1 week.
Notes
The pasta will absorb the mayo sauce as it sits in the fridge, so err on the side of making it a little saucier than you'd prefer or keep a little sauce in a separate container in the fridge and add to the pasta as needed.
https://www.realfoodgirlunmodified.com/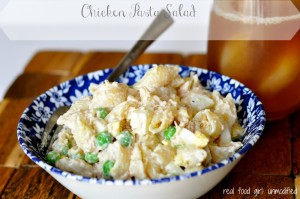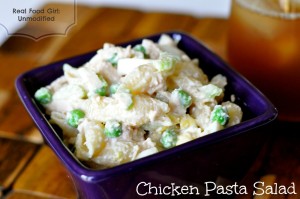 PAID ENDORSEMENT DISCLOSURE: In order for me to support my blogging activities, I may receive monetary compensation or other types of remuneration for my endorsement, recommendation, testimonial and/or link to any products or services from this blog.