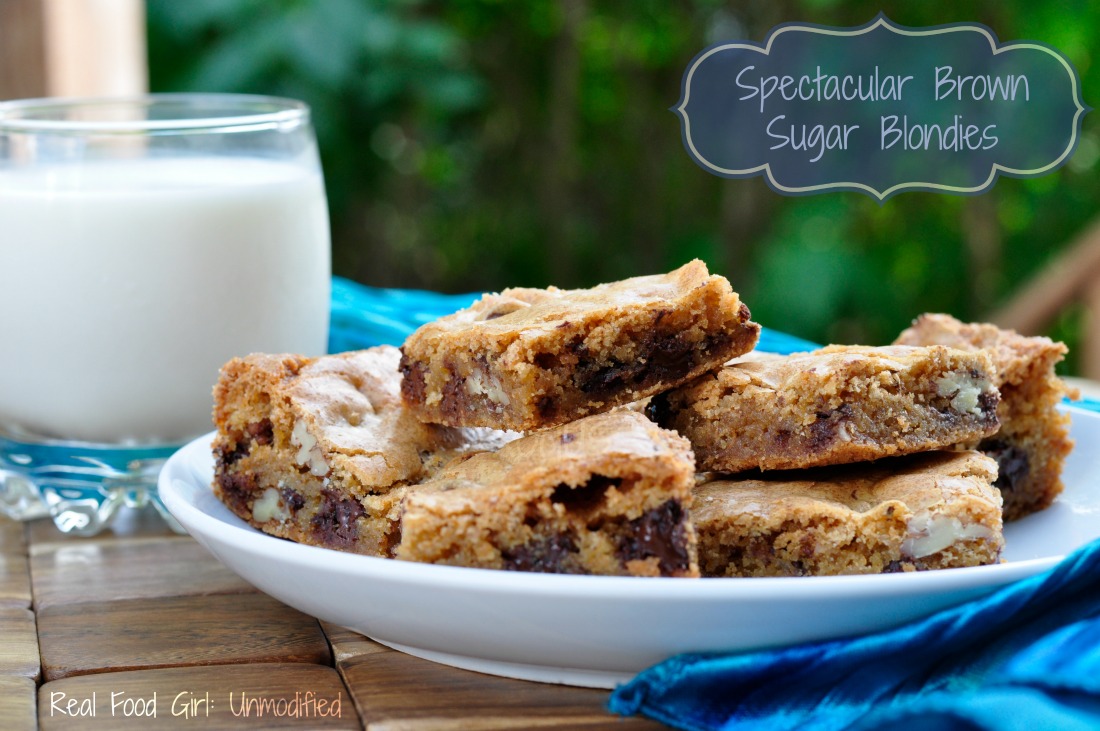 Brown Sugar Blondies (Organic/GMO-Free)
I've loved almost every dense, chewy dessert bar that has ever crossed my luscious lips. There is something about a good dessert bar that brings out the inner Preschooler in me who believes everything is "mine" and refuses to share.
A pan of Blondies (and brownies for that matter) is just what the doctor ordered to comfort and console a broken heart. Lord knows I ate plenty of these anytime some "Y" Chromosome ripped my heart out and stomped on it. They also came in handy on nights when I had to cram for an exam. Heck, these bars come in handy no matter what your mood or occasion may be. You might just find yourself looking for an excuse to make them. "Honey, I found a new mole on my shoulder…let's celebrate by making a pan of Blondies!!" Whaat?!? It could happen.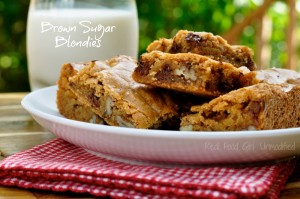 These Blondies are dense, soft, chewy and SO tasty. They have an almost caramel/butterscotchy flavor to them and the small amount of chocolate chips sprinkled in make these puppies addicting. Good luck trying not to eat half the pan in one sitting. I ate 1/4th of the pan in one night. Granted it was an 9″x9″ pan, but still. You guys have all been there, right? My good friend Peaches (names have been changed to protect the guilty) ate a quarter of a pan of lemon bars the other night, so I know we're not the only people on this Earth with impulse control issues. At least you can feel good about the fact that I have brought you another GMO-Free recipe!
These are little squares of temptation. It's probably best if you just make them for the office, or the church potluck so they aren't calling out your name from your kitchen in the middle of the night. Once you taste these, you'll hoard the pan to yourself and develop a Hobbit like attachment to them and you may find yourself petting the pan and calling them "Your Precious". Just sayin'. Consider yourself warned.
P.S. The wonderful chocolate drizzle used in the featured image for this post was from my Rich and Tasty Chocolate Sauce/Syrup recipe. You HAVE to try that recipe.
**Ingredients used in this recipe were organic or did not contain GMOs. **
Blondies
Recipe adapted from: The Food Network Magazine Serves:
1 person with impulse control issues, or 20+ people with will power. In the 9×9 pan I used I cut 20 slices. About 1″ x 2.5″
Prep: 20 minutes Bake: 35-45 minutes
Preheat oven to 325 degrees F.
**Ingredients used in this recipe were organic or did not contain GMOs. **
INGREDIENTS:
1 stick unsalted butter, melted
2 tsp. molasses
2 cups brown sugar, packed
2 large eggs, slightly beaten
2 tsp. REAL vanilla extract (don't insult vanilla by using imitation)
1-1/2 cups unbleached AP flour (I've used an unbleached, white wheat (organic) flour for these)
2 tsp. baking powder
1 tsp. salt (if you don't have unsalted butter, cut this amount in half)
1 cup chocolate chips
1/2 cup toasted, chopped pecans (optional)
DIRECTIONS:
Measure and combine all dry ingredients
Grease a 9″x9″ baking pan
Melt one stick of butter and put in a large bowl
Stir in the brown sugar, and the eggs. Mix until well combined
Stir in vanilla extract
Fold in dry ingredients a third at a time. Make sure all flour is mixed in before adding the next installment
Add chocolate chips and nuts to dough, and stir until combined
Pour into a greased 9×9 and spread with spatula
Bake at 325 degree F., for 40-45 minutes
Cool before cutting into 1.5×3″ (approximately) sized bars
EAT
The original recipe calls for a 9″x13″ pan, but I tried that and the bars turn out too thin. A 9″x9″ square pan is perfect. I did end up with just under a cup of left over dough, so I put it in an airtight container and kept it in the fridge until I was ready to make a pan of brownies. Just drop spoonfuls of the room temperature Blondie dough onto the brownie batter and bake. Viola! Blondie-Brownie bars!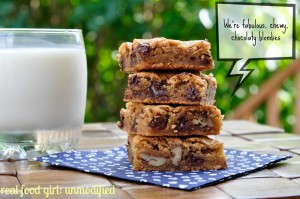 NOTE: These bars will be slightly underdone in the middle when you take them out of the oven, let them cool almost completely before cutting and eating to let the dough firm up. I cooked mine for 35 minutes at 325 and 5 minutes at 300 to avoid over browning of the edges, which will get slightly crispy like the edges of a chocolate chip cookie.
PAID ENDORSEMENT DISCLOSURE: In order for me to support my blogging activities, I may receive monetary compensation or other types of remuneration for my endorsement, recommendation, testimonial and/or link to any products or services from this blog.