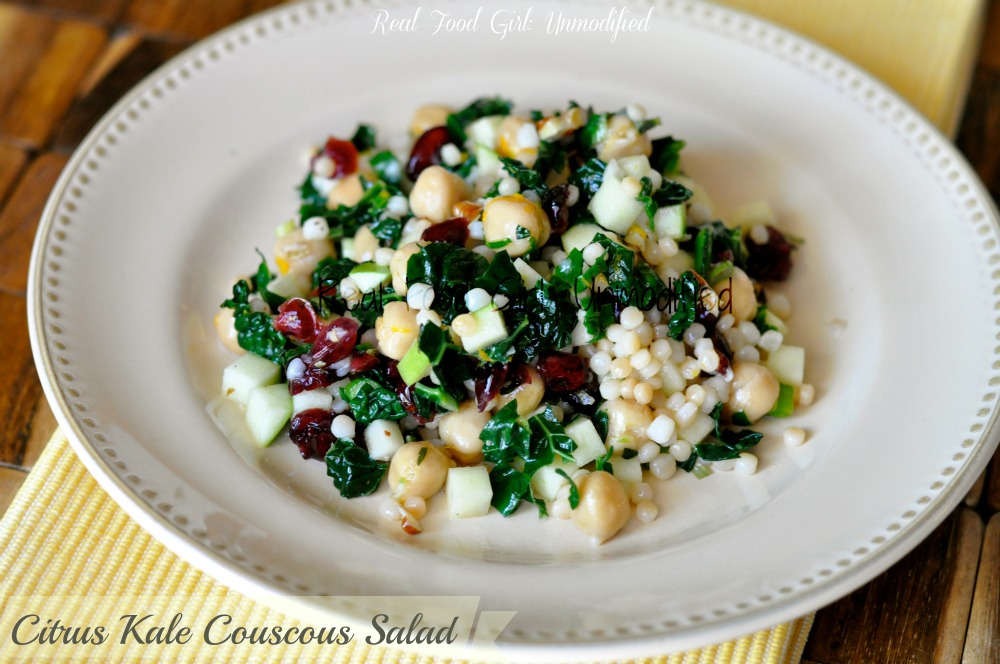 Citrus Kale Couscous Salad
Today's recipe is one of my all-time favorite deli-type salads. I typically enjoy this salad for lunch, or as part of a light dinner on those days where it's too dang hot to turn on the oven. It's not heavy, doesn't contain mayo, it's fresh, bright, clean and delightful. There are different textures going on in this salad so it's not just soft, mushy, bland ingredients. I believe you're going to enjoy this.
I first tried this salad when I worked for a high-end gourmet grocery store. During our training they gave us several deli salads to taste test. Being the INFJ that I am, I of course had several suggestions of how to improve upon each salad they had us sample. Being that I was a newbie, they took it upon themselves to ignore me and not take my well-intentioned suggestions into account. I never got to make this salad while working there. I never even saw the recipe, yet I was able to recreate it by recalling the main ingredients from the day I sampled it, and of course I also made the changes that I believed it needed.
My version isn't dry. You can actually tell there is citrus in it, and I didn't make the grave mistake of cooking my couscous in plain water. I added an additional layer of flavor, well, actually TWO layers by first toasting the couscous and then cooking it in seasoned chicken stock. I know, I rock. You can say it. This is now worthy to be on my blog because only the best will do for my Food Hippies.
I use Israeli, or Pearl couscous for this salad. Some foodies consider this grain product to be a type of pasta, but the similarity is merely superficial — couscous is made of crushed durum wheat semolina, not the ground type used for pastas. Couscous is less refined than pasta, too. I prefer the larger Israeli/Pearl couscous because it reminds me of tapioca pearls and we all know how I feel about Tapioca.
Kale gets a lot of press and people everywhere seem to be grazing on copious amounts of kale. I'm all for eating my greens, and blending them into smoothies, and adding them to other dishes, but I don't typically go ga-ga over a food just because everyone else has lost their marbles over it. I've even heard it called "The new beef". Um, yeah- that's like telling me 40 is the new 30.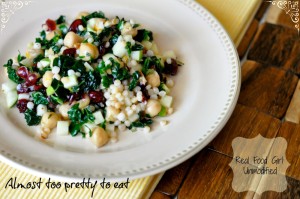 I'm not telling you to not eat kale. Quite the opposite. Eat it. Eat it often. It's loaded with all sorts of phytonutrients, plant-based Omega-3s, kaempferol which turns on the genes that promote longer life, carotenoids, which contain antioxidants and improve immune function and glucosinolates, a known cancer fighter, and it is clear that kale is good for you. I'm just saying there is no need to go bonkers over it and eat it 8 times a day. It's not like it's bacon. Or chocolate. (wink-wink)
This recipe does have quite a few steps, but they are very easy steps and the salad comes together quickly once the initial prep work is finished. This is a recipe where Mise en Place is very important. Mise en Place (Meez in Plas) is French for "Prep your ingredients you lazy American". I'm teasing. It's French for "Everything in its place". Loosely translated it means you've prepped everything first, and now all you have to do is assemble your dish. So prep all the ingredients first, and set them aside as you complete them, then you're ready to quickly toss it all together and enjoy the fruits, couscous and kale of your labor.
If you're looking for more ways to add kale and different grains into your diet, this is the way to do it. Even your kid will like this! Each time I've shared this dish when I've had friends or family over, they've asked for the recipe. This would be a great salad to bring to a potluck, or a family reunion or cook out. The biggest reason is because it's fabulous. The second reason is because it doesn't contain any mayo. I love mayo, but there are too many mayo-based salads in the world. I'm trying to balance things out a bit.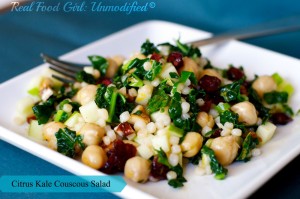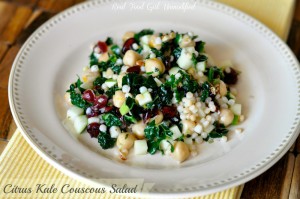 Citrus Kale Couscous Salad
2013-07-28 23:17:21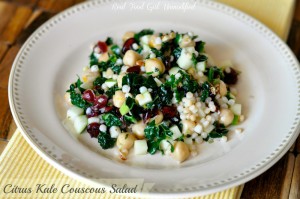 Serves 4
Crisp Granny Smith apples, toasted pecans, chewy, tart dried cranberries, fresh kale and Israeli Couscous are joined in holy culinary matrimony with a light, refreshing citrus "dressing".
Ingredients
3/4 cup Israeli Couscous
1-1/4 cup chicken stock (homemade)-seasoned (salt, pepper)
1-1/2 cup fresh kale, stems removed and chopped into 1-4" to 1/2" pieces
1 large Granny Smith apple, diced small
1/2 cup dried cranberries (I use as much as 2/3rd cup)
1/3 cup toasted pecans, chopped (optional if you have a nut allergy)
2 whole green onions, sliced very thin. (I don't like a lot of onion, so I use one)
1-1/2 tsp. fresh tarragon, chopped fine
1/2 tsp. fresh thyme chopped fine
2 TB to 5 TB pure olive oil (I buy imported from a family owned Italian market)
2 tsp. white wine vinegar
2 tsp. fresh lemon juice (pour over diced apples and set aside)
2 tsp. orange zest (zest oranges first, then juice them)
Juice from 2 medium to large organic oranges
1 cup cooked and cooled garbanzo beans/chickpeas (an organic canned bean is fine, too- drain and rinse well if using canned)
Salt and black pepper to taste
Clarified butter or ghee (for toasting the couscous)
Instructions
In a small saucepan over medium heat, add 1-2 tsp. clarified butter and the couscous. Stir well to combine and ensure all couscous is coated with the butter. Stir constantly until most of the couscous are toasted and are light to medium golden brown. 4-7 minutes. You will have a few couscous grains that don't turn golden.
Slowly add 1-1/4 cup warm chicken stock to the pan, lower heat to medium-low, cover and cook for 5-10 minutes until couscous has absorbed all liquid and is tender to the bite. Remove from pain and set aside in a bowl.
Bring another small saucepan filled with well-salted water to a boil. Plunge your chopped kale into the boiling water for 30-45 seconds. Remove with a strainer and place kale immediately into an ice bath (bowl with ice cubes and cold water) leave in the cold water for 60 seconds, drain and set kale aside on a paper towel.
Toast pecans in a small saute pan over low heat-- takes about 5-10 minutes, keep an eye on the nuts. Once you smell them, they're burnt) Keep the nuts moving in the pan. I typically toast 1 cup of nuts and keep them on hand for recipes such as this. They keep in an airtight container for quite some time.
Zest and juice your orange and set aside.
Measure out the white wine vinegar and set aside.
Dice your apple, place into a small container, pour in the lemon juice, mix to combine and set aside.
Measure out dried cranberries and set aside.
Measure out your prepared garbanzo beans, or drain and rinse the canned ones, set aside.
Chop the herbs and slice the green onions and set aside.
For the Dressing
In a small bowl, pour in the orange juice, the white wine vinegar, the orange zest, the tarragon and thyme. Stir to combine. Using a whisk, drizzle in 2 TB of olive oil. Taste, add salt, pepper, whisk again for 30-60 seconds to combine all ingredients.
At this point is where I add 1-2 more TB of oil. If the dressing hasn't slightly thickened with the addition of the oil, and with whisking all ingredients, there isn't enough and it needs a little more. It's easier to add more than take away too much, so start by adding 1 TB and go from there. You don't want an oily tasting dressing. You want to taste the orange and other ingredients.
Assemble the Salad
In a large bowl combine the couscous, garbanzo beans, kale, diced apples (with lemon juice) dried cranberries, pecans, and green onion and gently stir to combine.
Slowly pour in half the dressing and gently stir the salad to combine and coat all the ingredients. Taste the salad. Adjust seasonings (may need a pinch of salt).
Add remaining dressing and stir to combine. Enjoy immediately or place in an airtight container and store in the fridge. Keeps for 3-4 days. The kale will lose some of its vibrancy and the cranberries will stain the couscous, but this tastes just as good the second day as it does the first. After 4 days it just starts to break down a bit.
Notes
This salad isn't dripping in dressing. It absorbs most of the dressing, which just adds another layer of flavor. It shouldn't be dry, but it also shouldn't be wet. If you like a it more tang, feel free to add a little more white wine vinegar, or a splash of fresh lemon juice to the "dressing".
https://www.realfoodgirlunmodified.com/
PAID ENDORSEMENT DISCLOSURE: In order for me to support my blogging activities, I may receive monetary compensation or other types of remuneration for my endorsement, recommendation, testimonial and/or link to any products or services from this blog.