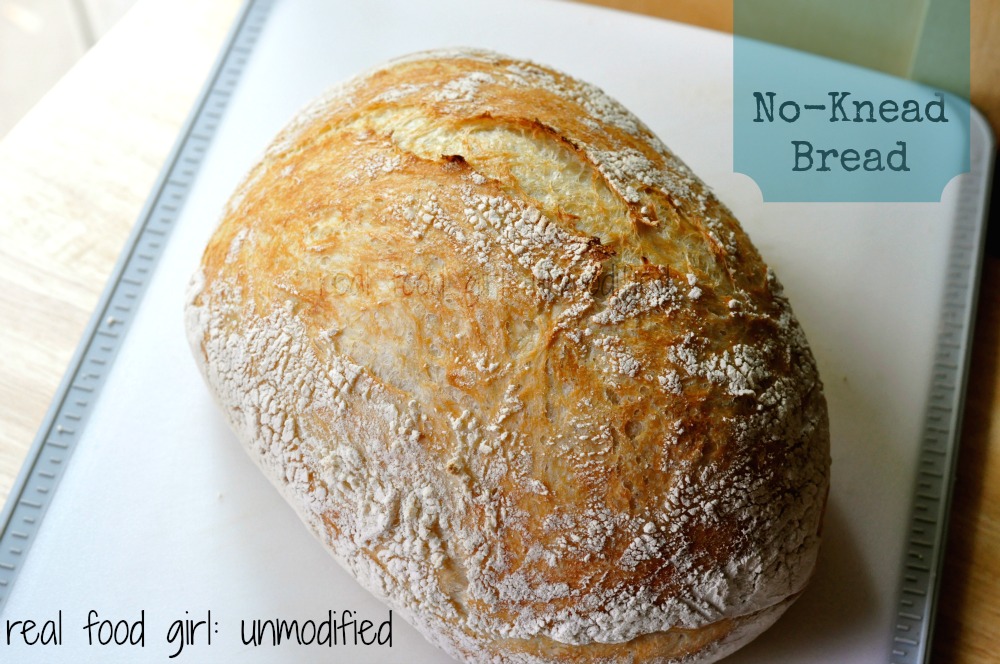 Easy No-Knead Rustic Bread
Food Hippies, I have the easiest, no-knead bread recipe and I'm super excited to share it with you! Ya know what else? It's SO good. I love to cut a couple of thick slices, and wrap it in some foil and toss it in a 350 degree oven for a few minutes and then slather on some nummy, organic, grass-fed butter from a local dairy. The smells wafting through my house and the warm, buttery bread making happiness in my mouth are almost too much to handle, but I do manage. I manage for the greater good, y'all.
I know that wheat has been getting a really bad rap lately, but like I've shared on my Facebook page. I'm not entirely convinced that organic wheat is evil. I'm sure in 2-4 years I'll look back on this post in horror and the entire world will be wheat free, but until I personally don't have any health issues with grain, and when I'm eating a nice, saucy, pasta dish, like my Easy Baked Penne, I want a crusty, rustic, bread to sop up all that goodness. This bread fits that bill!
There is a lot of what we call inactive time with this bread. Meaning, you do very little work and let time to do the rest. As in 18 hours or more of time. I start this bread in the afternoon on one day, and finish it by dinner time the next day. Then it's ready for supper, and it keeps for about a week. If you don't tear into it and stuff the entire thing into your trap when no one is looking that is.
It's not the prettiest bread, but what it lacks in beauty it makes up for in being super easy to make and very tasty. Mmm…
You can use cornmeal to dust your towels with vs. flour. I'm going to try that with my next loaf. I just have to find where I put my corn meal. I'm living amidst what seems like hundreds of boxes. Some I've sealed and others I've left open so I can continue to put items inside as I decide I no longer need them. I like the adventure involved with moving, but not living in a chaotic household. I require an organized and peaceful home. I take pride in having a home that is a place people want to be. A place of respite. A place where you can relax and enjoy yourself. I can't enjoy myself with a couple hundred boxes surrounding me–it isn't indicative to the peaceful environment I prefer.
You will have to let me what you think of this bread after you make it. I can't wait to hear how much you like it.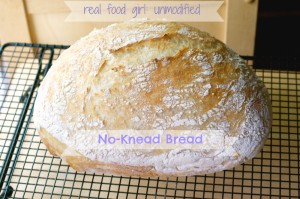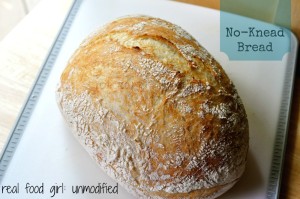 Easy No-Knead Rustic Bread
2013-07-26 17:16:54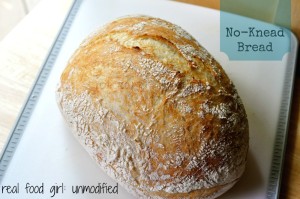 An easy, no-knead bread recipe that yields a soft, dense bread with a great sourdough-like crust
Ingredients
3 cups all-purpose or bread flour, more for dusting
¼ teaspoon instant yeast
1¼ teaspoons salt
1-1/2 cups plus 2 TB of warm water
Instructions
In a large bowl combine flour, yeast and salt. Add 1 5/8 cups water, and stir until blended; dough will be shaggy and sticky. Cover bowl with plastic wrap. Let dough rest at least 12 hours, preferably about 18, at warm room temperature, about 70 degrees.
Dough is ready when its surface is dotted with bubbles. Lightly flour a work surface and place dough on it; sprinkle it with a little more flour and fold it over on itself once or twice. Cover loosely with plastic wrap and let rest about 15 minutes.
Using just enough flour to keep dough from sticking to work surface or to your fingers, gently and quickly shape dough into a ball. Generously coat a cotton towel (not terry cloth) with flour, wheat bran or cornmeal; put dough seam side down on towel and dust with more flour, bran or cornmeal. Cover with another cotton towel and let rise for about 2 hours. When it is ready, dough will be more than double in size and will not readily spring back when poked with a finger.
At least a half-hour before dough is ready, heat oven to 450°F. Put a 6- to 8-quart heavy covered pot (cast iron, enamel, Pyrex or ceramic) in oven as it heats. When dough is ready, carefully remove pot from oven. Slide your hand under towel and turn dough over into pot, seam side up; it may look like a mess, but that is O.K. Shake pan once or twice if dough is unevenly distributed; it will straighten out as it bakes. Cover with lid and bake 30 minutes, then remove lid and bake another 15 to 30 minutes, until loaf is beautifully browned. Cool on a rack.
Notes
Make sure you have some great butter on hand.
Adapted from By Mark Bittman
https://www.realfoodgirlunmodified.com/
PAID ENDORSEMENT DISCLOSURE: In order for me to support my blogging activities, I may receive monetary compensation or other types of remuneration for my endorsement, recommendation, testimonial and/or link to any products or services from this blog.