We love pasta in our home. I'm sure being married to an Italian has absolutely nothing to do with it at all. Because of our love for fresh pasta, I someday hope to own some special die casts for making my own shapes, like penne, and rigatoni. Until then, I buy imported organic dry pasta for dishes that call for something other than a long skinny noodle. Those I've got down pat.
I really want to share my homemade pasta recipe with you guys, but I don't have anywhere to attach my pasta maker in my kitchen. Which I affectionately call Lord Voldemort's 8th Horcrux. As soon as I can figure out how to circumvent my terrible counter top issues, I'll share my pasta recipe and then share some of my ravioli fillings. Mmm. Homemade pasta. If you click the words "my pasta maker' above it will bring you to the same brand and style of pasta maker that I have, except mine is red and cost more. This is a fantastic brand which I trust and recommend. No- I'm not getting a dime from Imperia telling you that. Maybe I should reach out to them? 🙂
Now that I have you jonesing for homemade pasta, I'm going to share a recipe that doesn't use any. How nice. Sorry. I think once you taste this you'll forget and forgive. This Chicken Pasta Primavera is the only way I can get broccoli into The Stud Muffin. He does NOT like broccoli. Some times in order to bribe him into eating something that he would normally poo-poo, I have to add a few things to it that he does love like peas, carrots, my roasted balsamic tomatoes, or sun dried tomatoes. I don't always have the same veggies on hand when I make this so it turns out different each and every time.
This dish is my take on three different dishes that I've made in the past. You can substitute other veggies in this dish, like zucchini, yellow squash, red peppers for the yellow, snap peas for the garden peas, asparagus- really there is no wrong way to make this dish. Primavera is an old 70s dish that was a bowl of vegetable chaos doused in a thick cream sauce combined, typically, with angel hair pasta. This recipe is nothing like that and this is my go-to favorite to make for when we have friends over for dinner. And great news- it's Real Food Primavera!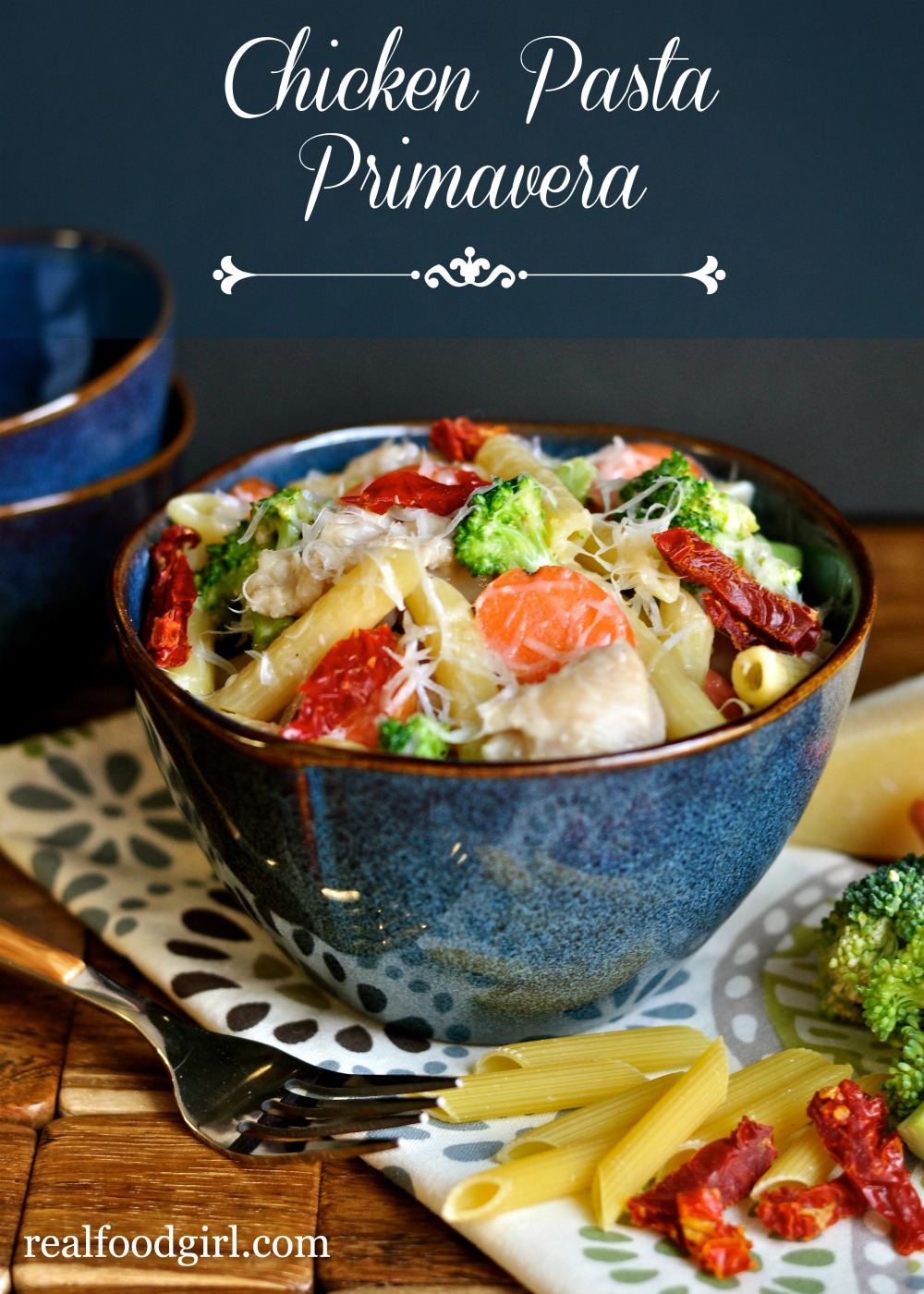 From my Kitchen-
What I use to make this recipe:
*Recipe for No Knead Rustic Bread and Balsamic Roasted Tomatoes mentioned in recipe card below.
Chicken Pasta Primavera
2014-03-16 23:07:43
Serves 6
A bright, flavorful pasta dish brimming with fresh garden vegetables, tender chicken, and Parmesan cheese.
Ingredients
3 (boneless, skinless) organic chicken thighs and 1 chicken breast cut into 1" pieces and seasoned with salt and pepper
4 cups homemade chicken stock or veggie stock
1 cup water
2 TB olive oil (divided) and 1 TB butter (it is safe to saute with olive oil if you are not going to bring it past 410 degrees, Italians have been sauteing food with olive oils for a long time.)
1 pound uncooked penne, rigatoni or linguine pasta
2 shallots, diced fine
3 garlic cloves, minced
1/3 to 1/2 cup of dried sun-dried tomatoes- diced
OR half a recipe of my Balsamic Roasted Tomatoes
1/3 cup fresh cream
1 large head broccoli cut into small florets
3 medium carrots, peeled and sliced into 1/4" coins (I cut mine on the bias)
1 red pepper, cored and sliced thin
1 small zucchini sliced in half lengthwise, then cut into 1/2 inch half moons.
1/2 tsp. herbes de Provence
8 ounces organic cream cheese cut into 8 pieces and brought to room temperature
Salt and freshly ground black pepper
2 TB fresh parsley, chopped fine
1-1/2 cup freshly grated Parmesan
2 TB toasted pine nuts (optional, but nice)
Instructions
This dish has a few steps, but comes together quickly. READ THE ENTIRE RECIPE before starting.
Prep all veggies and set aside in separate prep bowls. I parboil my carrots and broccoli. Simply bring a small pot of water to a boil. Drop in the broccoli and carrots for 60 seconds. Quickly move the veggies in a bowl of ice water to stop the cooking and help them retain their color. Remove from the ice bath after 3-4 minutes, drain on a paper towel and set aside.
Preheat a 10" skillet over medium-high heat, and add 1 TB of the olive oil (or another fat of your choice). Add the seasoned chicken and cook until no more pink remains. Remove chicken with a slotted spoon into a bowl and set aside. I put a plate over the bowl to keep the chicken warm.
Place a Dutch oven over medium heat and add the TB of butter and the remaining TB of olive oil. When the butter has melted, add the shallot, season with some salt and pepper and cook until it starts to soften. Add the garlic and herbes de Provence, stir constantly and cook until fragrant, about 60 seconds. Do not let the garlic burn- if necessary, turn down the heat or take the Dutch oven off heat to keep garlic from burning.
Slowly add the chicken (or veggie) stock and the water. Add just under a 1/2 tsp. of sea salt and some freshly ground black pepper to the stock mixture. Stir well to combine. Increase heat to high and bring to a boil. Add the pasta and cook according to package directions, lowering heat if needed to keep pot from boiling over. Cook pasta for about 7-10 minutes (depending on pasta shape) I cook the pasta about 1 minute UNDER the al dente time because it will continue cooking a little later on.
**If using my balsamic oven-roasted tomatoes, add them to the broth mixture when you add the uncooked pasta. Leave them whole, they'll break down as the pasta cooks. If using dried sun-dried tomatoes, add them when you add in the other veggies.**
When the pasta is al dente, lower the heat to medium-low and add the room temperature cream cheese and stir well to combine. The sauce will be loose. Don't worry. Add the rest of the veggies (carrots, broccoli, zucchini and red pepper) and stir to combine. Add the sun-dried tomatoes (if using) and stir.
Add the chicken to the pasta mixture and stir to combine. Cook for 2 minutes to heat chicken through.
Add 1 cup of the Parmesan cheese and stir to combine. At this point, the sauce should thicken a bit- I typically will add in 1/3 cup of cream because the noodles suck up all the sauce once you take this to the fridge, so I combat that by adding cream to the recipe now. I'd rather have it a bit saucy at the start than bone dry for left overs.
Add the chopped parsley, stir and immediately plate and serve with more grated Parmesan on top and some toasted pine nuts sprinkled on top.
I love to serve this with a fresh loaf of my No-Knead Bread on the side with lots of butter. 🙂
Notes
If using the pine nuts, toast them on a cookie sheet at 375 degrees for about 5-7 minutes, stirring occasionally. Keep an eye on them, and don't let them burn.
Adapted from Giada DeLaurentiis and The Pampered Chef
Adapted from Giada DeLaurentiis and The Pampered Chef
https://www.realfoodgirlunmodified.com/
Enjoy this dish guys, and may the forks be with you. 😉
PAID ENDORSEMENT DISCLOSURE: In order for me to support my blogging activities, I may receive monetary compensation or other types of remuneration for my endorsement, recommendation, testimonial and/or link to any products or services from this blog.