Real & Simple Homemade Pizza
Pizza night! Who doesn't look forward to homemade pizza night? I know we sure do. Once I got over my aversion to making my own organic fail-proof pizza dough, I started playing around with sauces and toppings and after years of experimenting, this is our family favorite and I'm excited to share it with you.
Shortly after starting my blog I shared my homemade Stromboli recipe. In that post I share my pizza sauce recipe. I've since tweaked it slightly, and will share the ingredients in the recipe card below.
Our favorite toppings are a Calabrase Salame, fresh mozzarella and when we're feeling particularly fancy, I'll add some prosciutto. What are your favorite pizza toppings?

There really isn't anything special to this recipe other than I'm using only organic or non-GMO ingredients. If I can't find a quality brand of Italian meats locally, I will go online and order an imported brand. We have a local farm that makes some really tasty Italian sausage, and on occasion we'll make a sausage pizza instead of salame. It's my mom's fault that my husband, The Stud Muffin loves salame on his pizza. When she used to take my sister and I out to our local Carbone's Pizzeria she would always order the Italian Salame pizza. When I met The Stud Muffin, we went to that same Pizzeria while on a date one night and I talked him into this topping. He fell in love and the rest is history. Yes, he fell in love with me, but I was talking about him and the salame. 🙂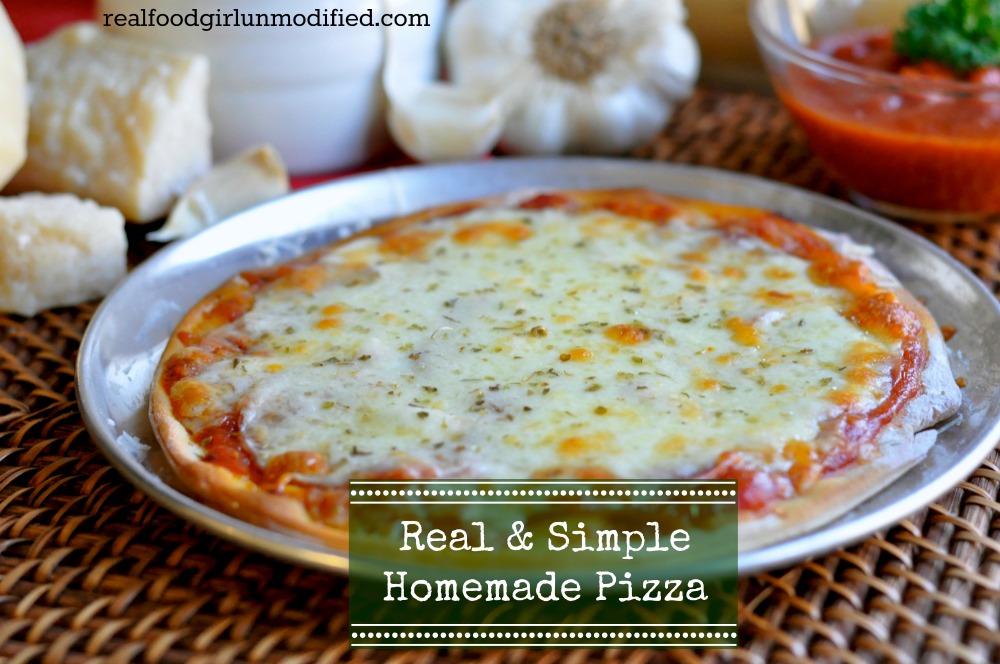 Does your family have a pizza night? If so, which day of the week do you enjoy pizza night?
Just in case you missed them above, my Organic No-Fail Pizza Crust recipe is HERE, and you can find one of my sauce recipes HERE.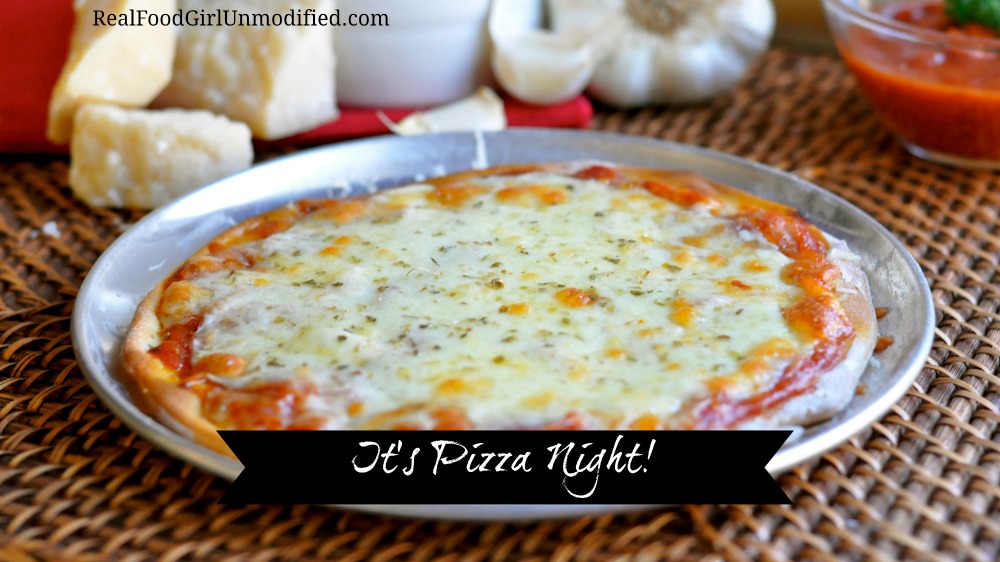 Real & Simple Homemade Pizza
2014-03-01 21:39:15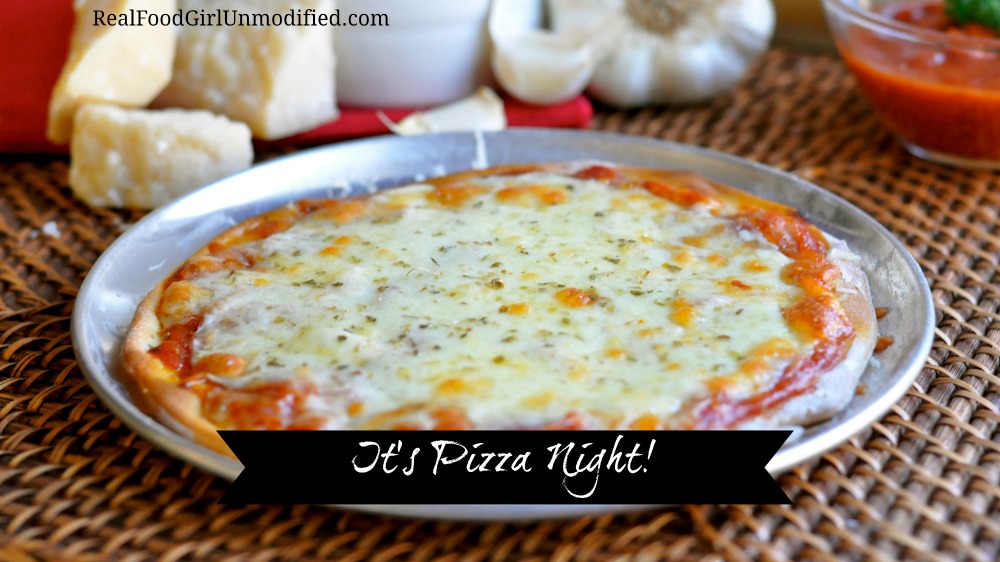 Perfect recipe for that family pizza night.
Ingredients
1 ball/serving of my Organic Fail-Proof Pizza dough. (Each ball will make 2 small 7"to 8" pizzas or 1 large 14" thin crust pizza.) https://www.realfoodgirlunmodified.com/fail-proof-organic-pizza-dough/
1 recipe of my pizza sauce below or from the link above in this post. You'll need between 1/2 and 3/4 cup of sauce for two small or one medium-large pizza
2-3 Cups of Mozzarella, shredded or 1 large ball of fresh Mozzarella sliced 1/4" thick (and laid on
paper towels to absorb excess moisture. This will take about 10 minutes- you should do this while the crust prebakes)
1/4 pound of thinly sliced calabrese salame or another organic or non-GMO Italian salame
5-6 slices of prosciutto
Parmesan cheese- freshly grated. I use the fine grate section on my box grater
Instructions
Preheat oven to 425 degrees. If you have a pizza stone, preheat it WITH the oven. (put it into the cold oven so it comes to temp with the oven)
Allow the pizza dough to warm slightly, by letting it sit on the counter for about 30 minutes.
Once warmed, roll the dough out on a floured surface to the thickness and size you desire
If you have a pizza stone preheating in the oven, remove it at this time and carefully place the rolled dough onto your hot stone. [If you don't have a stone, place the dough on a cold pizza pan]
Dock the crust with the tines of a fork several times to eliminate bubbling.
Bake the crust for about 7 minutes. You want it mostly baked and just starting to brown. Doing this ensures that if you like lots of sauce, you won't end up with a soggy, wet, unbaked crust in the center of your pizza. The thicker your crust, the longer you'll have to pre bake it.
Once prebaked, remove the pizza from the oven and spoon on the sauce- as much as you like, but remember, the more you put on, the higher your chance of a soggy crust.
Place the your meat on top of the sauce layer, and sprinkle with some Parmesan cheese.
Sprinkle on your shredded mozzarella or place the mozzarella slices onto the pizza.
Return pizza to the oven and bake until cheeses are melted and bubbling/lightly golden brown.
Remove from pizza and let sit for 3 minutes before slicing and serving. Baking times will vary, but typically 7-20 minutes, depending on the size of the pizza and thickness of crust.
Recipe for Pizza Sauce
1 can no-salt or low sodium diced tomatoes (or if you have 15 ounces of your own canned tomatoes use those. I also will use a pint container of grape tomatoes when they are in season.
1 TB fresh basil sliced chiffonade style (very, very thin ribbons)
1 clove garlic minced
1 tsp. freshly diced oregano
salt and pepper to taste
1/4 cup cold water
Simply place the tomatoes in a 10" skillet over medium-low heat with a little coconut oil. Simmer until whole tomatoes split and burst open, about 5-7 minutes. Add the garlic and continue cooking for 3 minutes. Add the fresh herbs, a few pinches of salt and a few turns of your pepper mill. Stir to combine and taste.
For a smoother sauce, pour (carefully) sauce into a bowl and using your immersion (stick) blender, blend until smooth. You can also do this in your blender. Just don't put the lid on tightly or you'll have a tomato explosion in your kitchen- I like to fold a kitchen towel several times and place over the opening of the blender carafe to allow steam to escape.
Return the pureed mixture to the skillet and simmer over very low heat until thickens slightly.
**NOTE** When using fresh mozzarella it may release some liquid onto your pizza. This is normal- but since I don't want mozzarella water on my pizza so I just fold a couple paper towels and dab up the excess liquid, then return to baking.
https://www.realfoodgirlunmodified.com/
PAID ENDORSEMENT DISCLOSURE: In order for me to support my blogging activities, I may receive monetary compensation or other types of remuneration for my endorsement, recommendation, testimonial and/or link to any products or services from this blog.