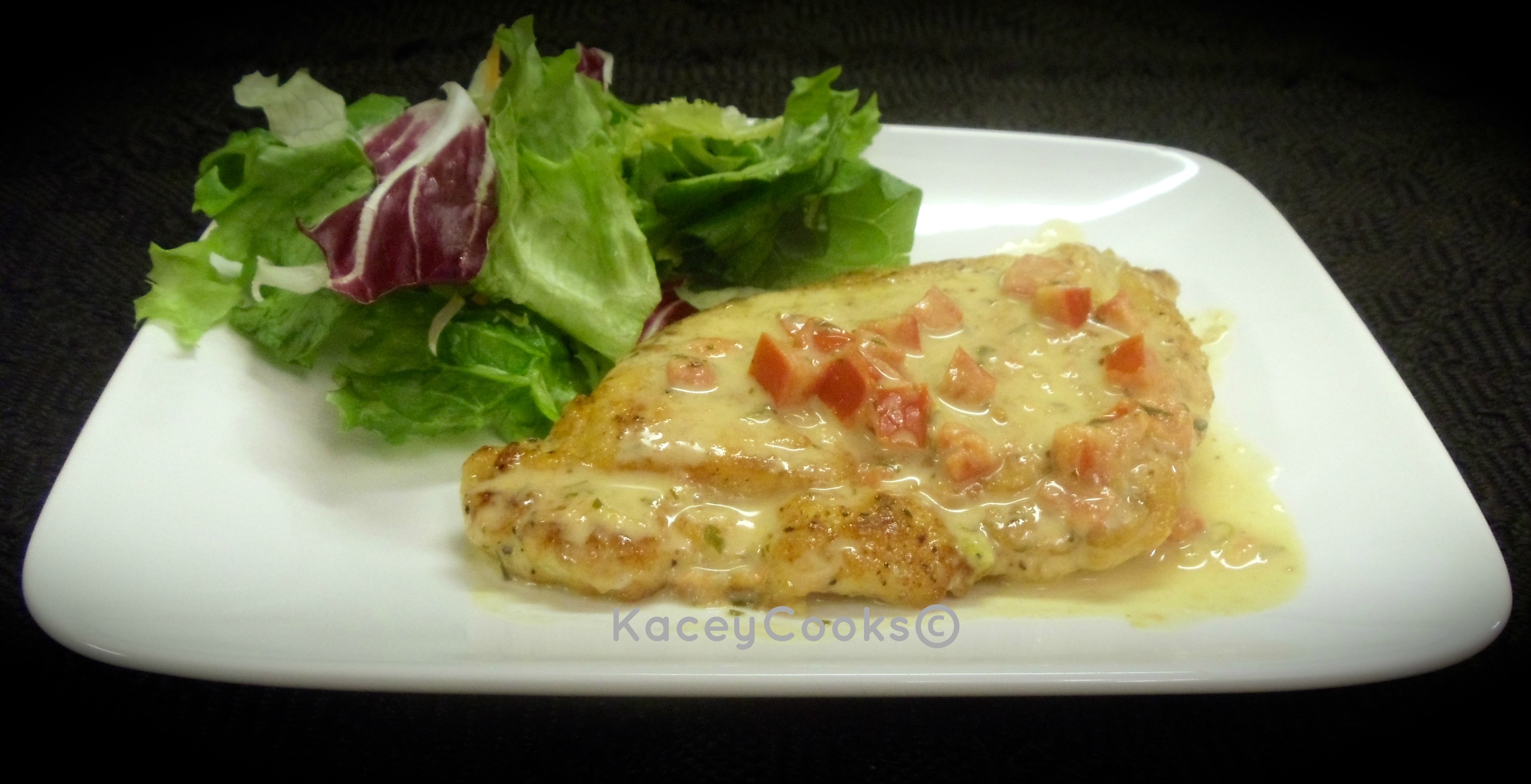 Happy Fast and Furious Friday everyone!  Today I'm going to share this recipe with one of my favorite food blogs called The Food Renegade.  TFR  hosts a food blog carnival on Fridays, called Fight Back Friday where fellow (Renegade) food bloggers can share a link to a recipe or article on their blog.  I love The Food Renegade because I consider myself a bit of a renegade.  I am a lover of what we foodies call "SOLE" food.  SOLE stands for Sustainable, Organic, Local, and Ethical."
I'm trying to cook with as many organic and non-GMO ingredients as I can find because I'm highly opposed to GMOs, and am trying to take control of my overall health and wellness.  That's why blogs like The Food Renegade are a great resource to me.  Make sure you guys go over there and check them out after you check out my spectacular chicken recipe.  I bet you'll find all sorts of great things over there!

For today's Fast and Furious Friday, I thought I'd share with you a  recipe that is a little lighter than some of the recipes I've already posted.  Contrary to what you might think I don't always cook with bacon, nor is every other meal pasta related.  In fact, many recipes I test, (when I'm not thinking up my own recipes) normally use too much butter or oil or cream and I take it as a personal challenge to make the recipe with less of those ingredients without affecting quality or taste.
When it comes to testing recipes I oftentimes find there is room to play around with ingredients which allows me to cut back on a few fat grams and calories even though I'm not a calorie counter and even though I love healthy fats.  Consumption of healthy fats provide your body with energy.  Fat also helps move the vitamins A, D, E and K through your bloodstream and absorb them into your body.  However too much of a good thing can be a bad thing which is why I'll reduce amounts of certain ingredients, especially if the full amount listed in a recipe isn't necessary, because that way I can have a bigger slice of cake for dessert.  Right?!?  You know I'm right.
This is easily one of my favorite chicken dishes.  It isn't pretentious, yet it's pretty enough to stand up to a more complicated froo-froo dish at any high brow restaurant.  Also, it's easy to make.  This chicken has FLAYVAH my friends.  True, blue FLAYVAH.  My mouth is watering just thinking about it.  The lemon, cream, and tomato shine through and work harmoniously with the chicken to create a symphony of happiness in your mouth.  When I made this the other day, I didn't even use a fork- as soon as I snapped a few pictures for the blog, I grabbed that cutlet and chowed down with reckless abandon like I was raised by wolves.  Yeah, it's that tasty, and I'm not ashamed that I didn't use silverware.  Sometimes a girls just gotta eat chicken with her fingers.
My only request when you make this recipe, would be that you try to cut your tomatoes in as fine a dice as possible- I use plum tomatoes and quarter them lengthwise.  I then slice out the middle pulp AND the slimy seedy stuff.  Leaving about a quarter inch of tomato "meat", and making it easy to slice the quarters into julienne strips, and then cut those into a fine dice.  I swear it only takes 3 extra minutes to do it this way and the end result is SO pretty.
If I can teach you one thing, it would be that pretty food tastes better.  Take an extra 3 minutes and make the tomatoes look pretty.  Then, take those green onions and slice them UBER thin on the bias.  Don't make the slices wider than 1/4 of an inch.  Don't make your green onions look like a weed whacker got into them.  Weed whacker food isn't pretty food- which means it's scary food and no one wants to eat scary food. Well, maybe clowns like scary food.  I mean, clowns are scary after all.  Great- I'm just about to go to bed and I just *had* to mention clowns… "Can't sleep… Clowns are scary!!"
Chicken Pomodoro
Recipe adapted by KaceyCooks from:
Cuisine at H
ome
Serves:4
Total Time: 45 minutes
This recipe was made with certified organic poultry, produce, flour and dairy.  This recipe is free of GMOs.  
INGREDIENTS:
4 boneless, skinless chicken breast halves pounded into cutlets less than 1/2 inch thick

I place one breast in between sheets of plastic wrap and pound them with my meat mallet- every good Italian wife owns a meat mallet. 😉
Kosher salt and freshly ground black pepper
Approximately 1/3 cup all purpose flour (for dredging)
2 TB olive oil
1/4 cup white wine
1 cup homemade chicken stock (or use organic, low sodium stock)
1-2 TB fresh lemon juice- just depends on how much you like lemon
1/2 cup chopped fresh plum/Roma tomato
1/4 cup half and half
1 tsp unsalted butter
1/4 cup thinly sliced green onions
2 TB capers, drained and rinsed well- optional
1 tsp. finely chopped fresh parsley
DIRECTIONS:
Take pounded cutlets and season generously with salt and pepper then dredge in flour being certain to coat the entire piece of chicken.  Shake off ALL excess.
Add 2 TB of olive oil to a large preheated skillet.
Saute chicken over medium high heat for about 3 minutes on both sides.  Transfer chicken to a platter and pour off fat from pan- wipe out with a clean paper towel if necessary.
Deglaze the pan with the white wine (take pan off heat as you add the alcohol) and return pan to heat and cook until nearly evaporated.
Add chicken stock and lemon juice (add 1 TB to start and go from there).  Return chicken to the pan and cook on each side for 1 minute. Transfer to a warm plate (put an oven safe plate in a 250 degree oven to warm)
Stir in diced tomatoes and the half and half.  Heat through, add the butter and stir.  Add the parsley and green onions cook for another minute.
Pour sauce over the chicken and serve.
We like to eat this with mixed green salad and some rice pilaf.
PAID ENDORSEMENT DISCLOSURE: In order for me to support my blogging activities, I may receive monetary compensation or other types of remuneration for my endorsement, recommendation, testimonial and/or link to any products or services from this blog.