Skillet Chicken with Mushroom and Onion Cream Sauce
Wanna know something funny? I don't like mushrooms. Well, I do, but I won't eat them. That's not entirely true either. I'll eat some of them as long as something else goes on the fork with the mushroom because it's a textural thing and when I bite into one it makes my teeth squeak. Mushrooms creep me out. Well, they creep out my teeth. It's the same thing with peas. I can't eat peas. My teeth don't like them. I can see all of you looking at me with one eyebrow raised and thinking "This chick is weeeeird!" Perhaps, but I do love the flavor they impart so I cook with them quite a bit and The Stud Muffin eats my share. It works out well. He loves shrooms and I love the flavor so I enjoy working them into our meals.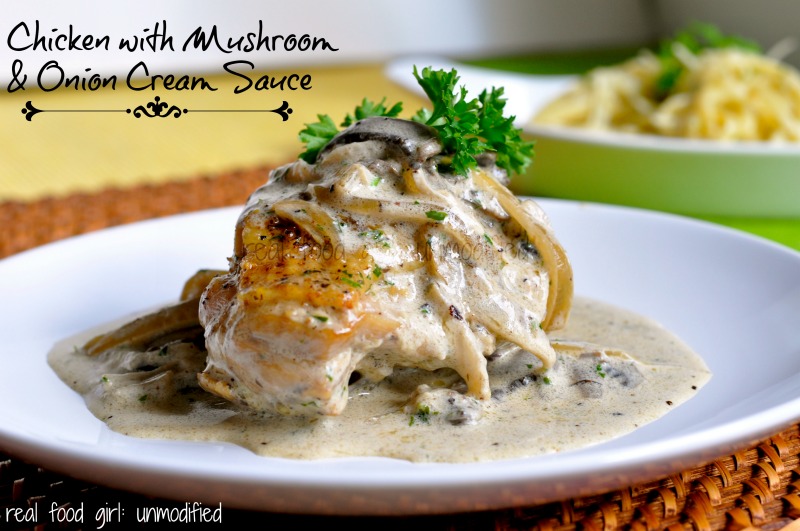 This is a quick and easy dish to make. I find this dish works best when cooked in a cast iron skillet or an enamel coated cast iron skillet. You will start on the stove top, then move to the oven, then finish on the stove top. But the best part is you're only using ONE skillet. Who doesn't love a one dish meal? No seriously, who? I must know?
If you don't have a cast iron pan, you can use stainless or ceramic coated, but please make sure it is oven safe at 350 to 375 degrees. And please have plenty of oven mitts handy as I don't want any of you to be burning your phalanges.
Okay, let's get started. Mmmkay?
Skillet Chicken with Mushroom and Onion Cream Sauce
2014-01-06 00:40:11
Serves 2
Juicy pan seared chicken, roasted in the oven and nestled on a rich, creamy, mushroom and onion based sauce. All made in ONE skillet...what's not to love?
Ingredients
~All ingredients used are organic or GMO-Free~
4 bone in, skin on chicken thighs, or two large bone in, skin on chicken breasts
1 pound of baby portabella or white button mushrooms, wiped clean with a tea towel and sliced thinly
1 medium yellow onion- sliced julienne
1/2 to 2/3 cup of heavy cream
1/4 cup chicken stock
1/4 cup white wine (optional, but worth it!!) Can substitute white wine vinegar.
1 TB fresh parsley, chopped fine
Unrefined sea salt and freshly ground black pepper (such as Redmond)
1/4 tsp. sweet Hungarian paprika
3-4 TB combination of your favorite healthy fats such as clarified butter, coconut oil, lard or bacon butter (aka bacon grease) I used clarified butter and coconut oil for this dish.
Instructions
Preheat oven to 375 degrees.
Prep your veggies and set aside in separate prep bowls. Measure and prep all other ingredients and set aside. Pat the chicken dry and season it liberally with salt and pepper (under the skin, too). Place on a plate and set aside. This is known as Mise en Place (meez en plah) -- get it all prepped so the meal comes together quickly.
Place your skillet on the stove top over medium-heat.
Add your fats and stir with a wooden spoon to combine.
Add julienne sliced onions and stir to coat with the fats. Salt and pepper the onions. SEASON IN LAYERS friends. Continue cooking onions over medium heat until they begin to soften and color slightly about 5 minutes.
Turn the heat down to medium-low and add the mushrooms. You may need to add another TB of fat if the mushrooms are thirsty. Salt and pepper the mushrooms, and add the paprika. Stirring constantly cook until the mushrooms release all their moisture. About 4-6 minutes.
Add the white wine, scraping up all the yummy fond (bits) off the bottom of the pan. Increase the heat back to medium and continue cooking until 75% of the wine has evaporated.
Spoon the veggies into a bowl and return the pan back to a medium-high heat.
Once the pan has gotten hot, add a little more fat if needed and add the chicken pieces skin side down. This is very important. DO NOT TOUCH the chicken until it is ready to be released. Sear the skin side for at least 3 minutes. You want a nice, golden brown crust on that skin. After 3-4 minutes, turn the chicken and sear the other side on the stove top for 3 minutes. If your skin side doesn't look like George Hamilton after he visits a tanning salon you didn't sear it long enough. Trust me!
Place the skillet (with the chicken) in your 375 degree oven and cook until the chicken reaches an internal temp of 160-165 degrees (tops). Take the chicken out of the skillet and set aside on a plate with a piece of foil lightly tented over the top. Carry over heat will continue to cook the chicken.
Working quickly, put the skillet back on the stove top over a medium-high burner. Add the chicken stock and stir in the mushroom and onion mixture. Heat through and add the cream. Taste the mixture and add more salt and pepper. It WILL need seasoning. Any time you add fat you dull the level of seasoning you had prior to adding said fat. So taste. Season. Taste, and, season again if necessary.
Continue cooking this mixture until it starts to bubble up, then remove from the heat. Next add the parsley, stir well, then add the chicken back to the skillet. Spoon some sauce over the chicken, let it sit in the pan for about 90 seconds.
Plate the chicken with sauce and enjoy.
We love this dish with a fresh green salad and some homemade biscuits to sop up that amazing cream sauce.
Notes
Prep everything first so that you can work quickly at the end to make the cream sauce.
https://www.realfoodgirlunmodified.com/
PAID ENDORSEMENT DISCLOSURE: In order for me to support my blogging activities, I may receive monetary compensation or other types of remuneration for my endorsement, recommendation, testimonial and/or link to any products or services from this blog.