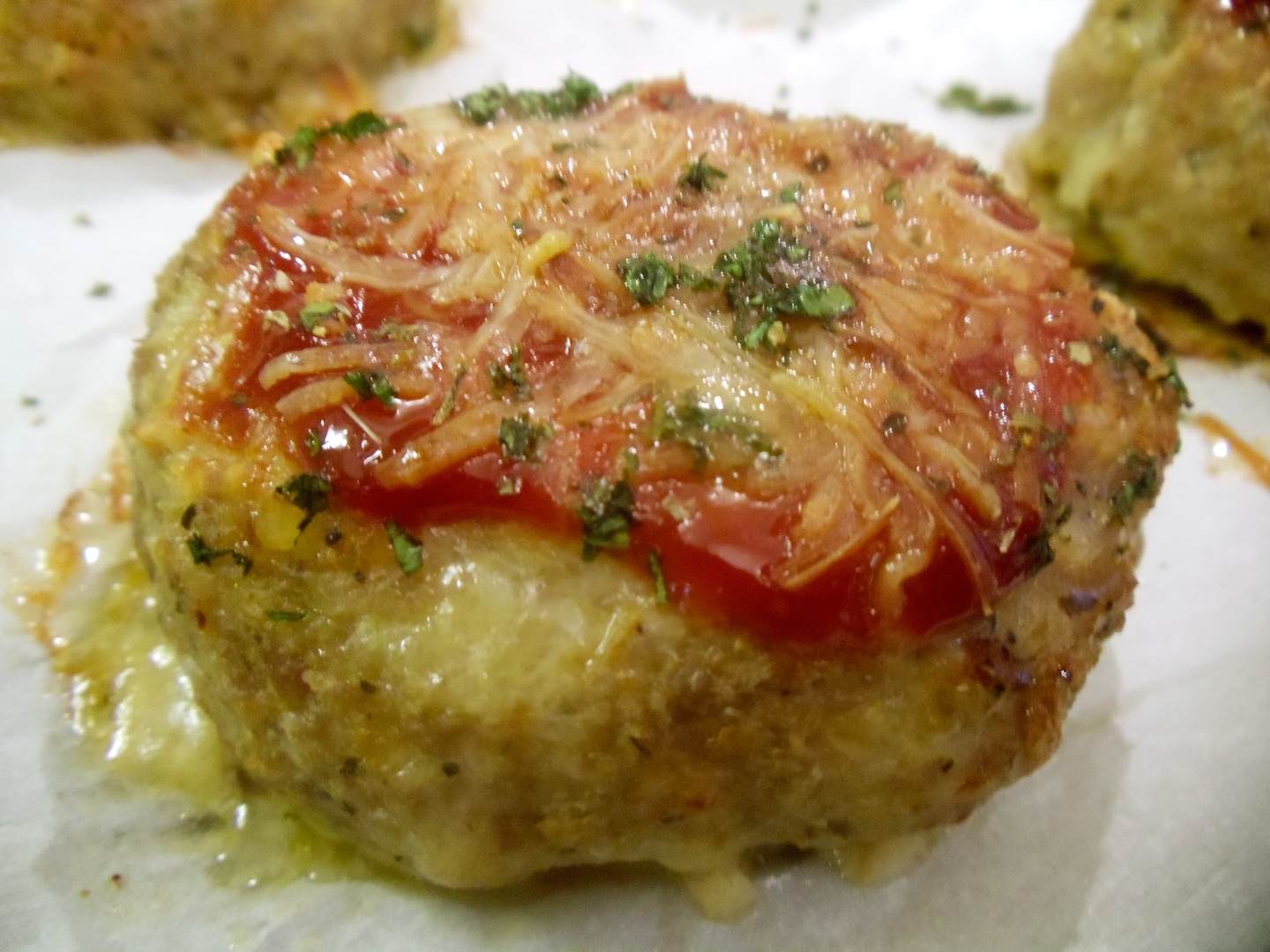 Mini Italian Meatloaves (GMO-Free)
I married a meat lover. The Stud Muffin (TSM) not only just loves meat, he lurves it. He lurves meat like Tammy Faye loves mascara. He lurves meat like Kristen Stewart loves to remain expressionless no matter what's going on around her. TSM also loves a good meat and potatoes dinner and all but cries if he's asked to eat a vegetable other than peas or carrots. He probably won't like that I've shared that with you, and since this is my blog there may have been a little creative licensing exaggerating about the crying when made to eat veggies.
Early on in our marriage I was at a loss for creative meal ideas because cooking with a lot of variety wasn't something that runs in my family. We, like almost every other family had our top 10 meals that were rotated each month and that was that. Nothing too fancy, and once in a great while, a new recipe was tried that might make the rotation. Dinner was predictable and I wanted so bad to break out of that box of contentedness with the same meals month after month after month.
Although I tease about my mom's lasagna, and her pork chops, and the trauma I faced at the hands of Lipton Onion Soup Mix being sprinkled into every burger and meatloaf served at our table, I do appreciate that my mother cooked for us, despite the fact that she's made it abundantly clear that she doesn't enjoy it one bit and doesn't derive any pleasure from it. With a viewpoint like that, it's hard not to have a little fun at my mother's expense. It's not like family hasn't had fun at my expense in the past. I seem to remember my folks telling TSM (the stud muffin) when he went to ask for their permission for my hand in marriage that "You know once you take her, you can't bring her back, right?"
My Grandma taught me how to make cookies, marshmallows and marzipan. I never helped her make dinner, but I had full access to her recipe box. I remember lamenting to her in a letter shortly after we moved to Offutt AFB in Nebraska, that TSM didn't like most of the recipes that I had from her (and some from my mom) so I felt lost trying to find dishes that we would both like, and I kind of felt like a failure as a cook. I'm sure all new wives deal with that insecurity.
A couple months later a gift subscription to Taste of Home Magazine showed up in my mail box. I was pumped! Here was my chance to find recipes that would become "ours". It wasn't long before I was trying 3-4 new dishes each week, and I started getting excited about cooking and learning new things. I had always enjoyed being in the kitchen, I just never knew how much. I'm very grateful to my Grandmother for getting me that magazine. It's what started it all as they say. Because of her gift, I can share my gift with you!
This recipe is an adaptation of a recipe from one of my first issues of TOH. I only made a few changes because in all honesty, the recipe was a good, solid recipe that didn't need much tinkering. These humble yet tasty little meatloaves are also a nice change of pace from a regular meatloaf. They are even delicious cut up and made into a hot meatball sandwich smothered in marinara sauce and gooey Mozzarella cheese. If you do that, just leave off the ketchup "sauce" on top, but still sprinkle with the Parmesan and Italian seasoning and then bake as directed. Assemble your sandwich and enjoy!
This is comfort food people, so serve this with some garlic mashed potatoes and some string beans!!
Mini Italian Meatloaves
Recipe adapted by:
Taste of Home
10 Servings
Prep: 15 min.
Bake: 45-55 min.
All ingredients used in this recipe were organic or free of GMOs
INGREDIENTS:
2 eggs, beaten
3/4 cup plain bread crumbs
1/2 cup milk
1/2 cup + 1/4 cup fresh grated Parmesan cheese, divided (please, don't insult the pork by using the stuff in that green can)

1/2 cup yellow onion, finely chopped
1 TB tomato paste
1-1/4 teaspoon Worcestershire sauce
1 teaspoon garlic salt
1 tsp. kosher salt
1/4 tsp. black pepper
2 tsp. Italian seasoning, divided

2 pounds of ground pork OR 1 pound ground pork and 1 pound 99% lean ground turkey
1/2 cup ketchup
DIRECTIONS:
In a large bowl, combine eggs, crumbs, milk, 1/2 cup cheese, onion, salt, pepper, tomato paste, Worcestershire sauce, garlic salt and 1-1/2 tsp. of the Italian seasoning.
Add (turkey and) pork and mix well. Shape into 10 individual football/oval shaped loaves;
Place on a (cooling) rack in a large baking sheet pan (aka jelly-roll pan)
Using your index finger, make a shallow indentation in the middle of each loaf and spread ketchup over the loaves; sprinkle with remaining cheese and Italian seasoning.
Bake at 350° for 20 minutes and then increase oven to 375 and bake another 10-20 minutes or until no pink remain.
I serve these with green beans or asparagus and oven roasted Parmesan potatoes. Pictured below are some carrots and my Cheesy Orzo with Broccoli.
PAID ENDORSEMENT DISCLOSURE: In order for me to support my blogging activities, I may receive monetary compensation or other types of remuneration for my endorsement, recommendation, testimonial and/or link to any products or services from this blog.