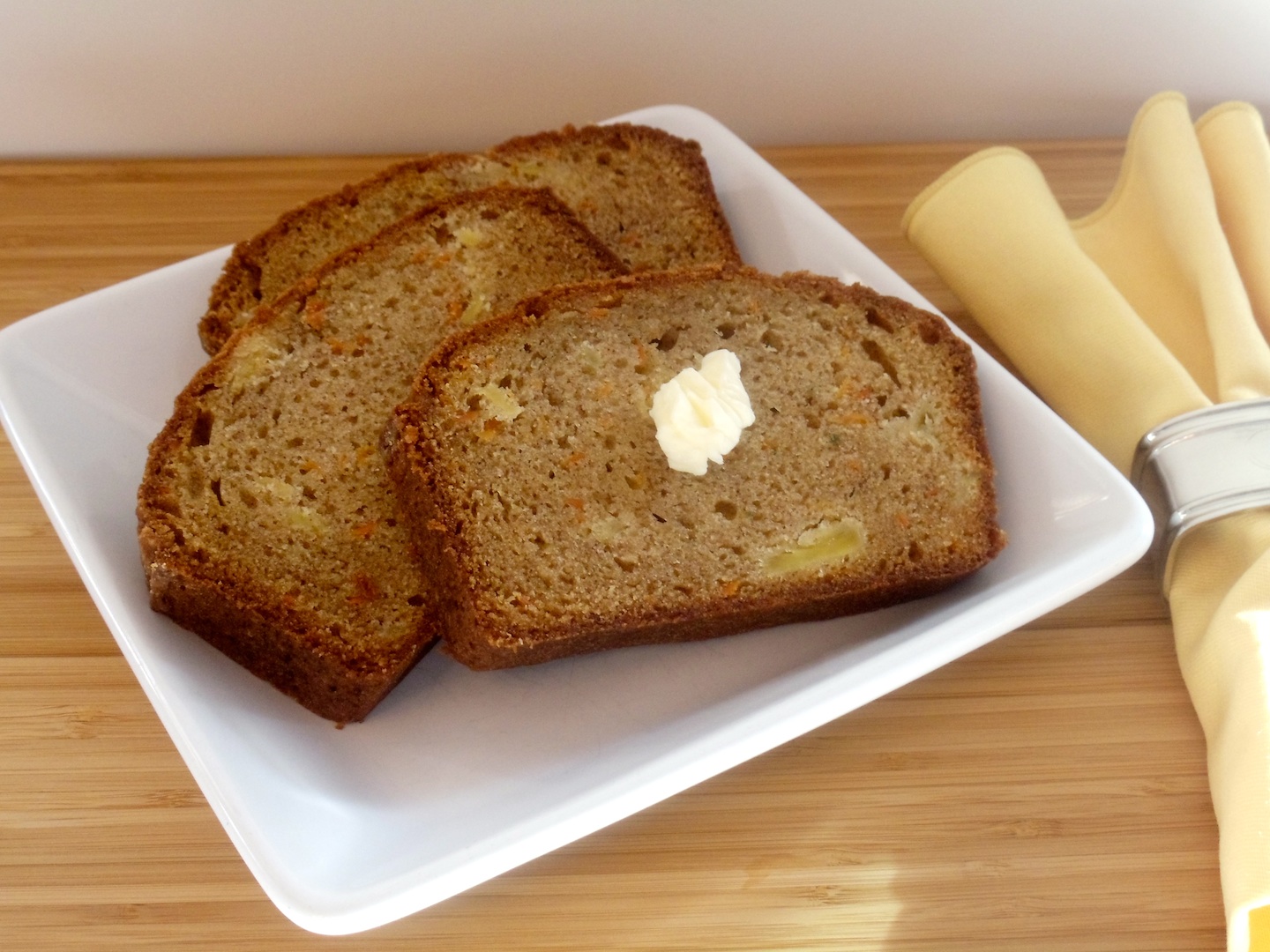 I like quick breads. I'm sure since I've already posted a muffin recipe and a banana bread recipe that you already knew that. I like them because they're easy, quick (hellooo Capt'n Obvious), tasty, they make a good snack, and they make a good (Christmas) gift. This bread has a lot of flavor and you'll wish you'd heard of this years ago because you're going to love it that much. This bread is simply magnificent. I thought with Christmas right around the corner you might be looking for something new/different to bake for a Christmas gift exchange, or for a Holiday gathering. I love receiving home-baked gifts, don't you?
This recipe is super easy to make, you can add in some extras if you want, like toasted chopped walnuts instead of pecans, or add some flaked coconut, or golden raisins. You could even make a frosting with some cream cheese. Ohh Lawwd have mercy would that be tasty!!
Once I get a chance to make this, I'll post some pictures. For now, just imagine cute loaves of bread coming out of the oven that looks like you just made muffins in bread loaf form. Behold- the mighty carrot pineapple bread… (the sky parts and angels break out into spontaneous song) This truly is one of the most tasty quick bread recipes I've ever tried and probably my most favorite. 🙂
*REMEMBER- we're baking so have your ingredients be room temperature.*
Carrot Pineapple Bread
Recipe by: Real Food Girl: Unmodified Makes two-8″ loaves Bake at 350 F
INGREDIENTS:
Wet Ingredients:
3 room temperature eggs, beaten
2 cups granulated sugar
1 cup melted coconut oil or melted butter- slightly cooled
1 cup grated organic carrots
2 tsp. vanilla
1 cup crushed organic pineapple, DO NOT DRAIN if using canned.
1/2 cup chopped pecans
Dry Ingredients:
3 cups Organic All Purpose flour
1-1/2 tsp. organic cinnamon
1/4 tsp. organic nutmeg
1 tsp. baking soda
1 tsp. sea salt
DIRECTIONS:
Do not use a mixer for this recipe- just use a bowl and a wooden spoon or spatula.
Combine eggs, sugar, oil, carrots, pineapple (and juice) and vanilla in a large bowl. Stir until combined and set aside.
Mix dry ingredients together and add to the above mixture. Add the nuts and stir gently to combine dry ingredients with the wet ingredients, DO NOT OVER MIX.
Bake in greased and floured 8″ bread pans for 50-60 minutes. Bread is done when toothpick removed from center of loaf comes out clean. These loaves won't be exceptionally tall if memory serves me right.
If you want, you can make 4-5 smaller loaves with this batter. Just fill 1/2 to 2/3 of the way full and check after 25 minutes in the oven. Keep checking in 5 minute intervals until the smaller loaves are finished.
Cool in pan inverted on a cooling rack for 15 minutes. Slide a butter knife along the side of the pan to loosen bread and carefully remove loaf from pan and allow to finish cooling. Once fully cooled, they are ready to be wrapped for gift giving, or just to eat for a snack or for breakfast!
PAID ENDORSEMENT DISCLOSURE: In order for me to support my blogging activities, I may receive monetary compensation or other types of remuneration for my endorsement, recommendation, testimonial and/or link to any products or services from this blog.