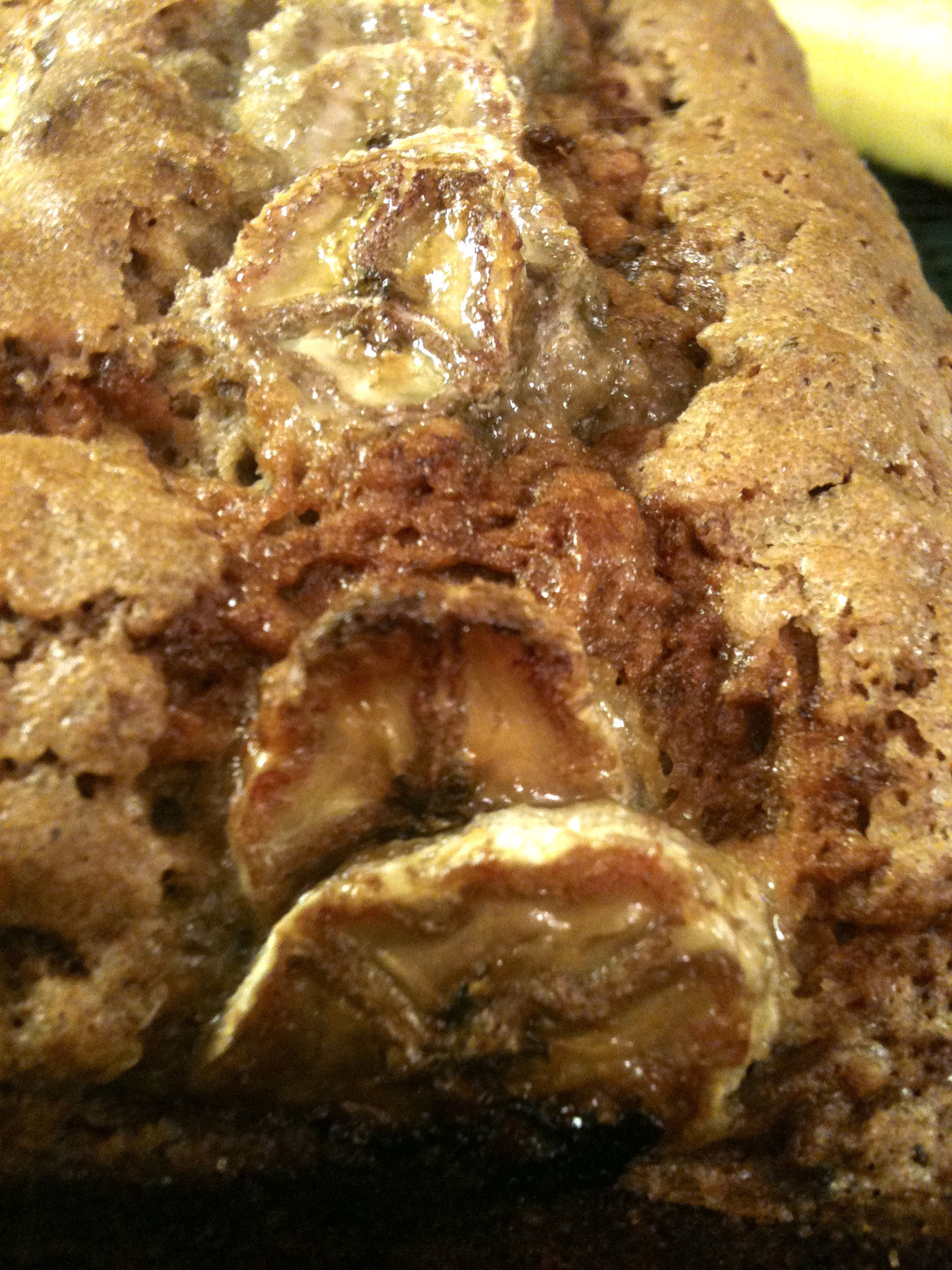 The Stud Muffin Makes Manly Banana Bread
TSM (The Stud Muffin) was in the kitchen this weekend and decided to make some scones (from a mix) and his Manly Banana Bread (not from a mix).  Each time he makes this bread he reminds me that he came from a long line of bakers.  Keep in mind that not one family member from this long line ever worked in or owned a bakery- they simply just baked their own bread anddesserts.
TSM gets so excited when he's in the kitchen because he gets to "Meez in blah" (Mise en Place). He loves to mock all the French cooking terms I have learned and he butchers every one!
'Mise En Place' pronounced "me-zahn-plahs", is a French term that literally translates to "set in place".  To the culinary world it means you have everything ready to cook (prepped) and in its place ready to go.
Whenever TSM is in the kitchen, I just sit in the living room and laugh the entire time and post his antics on Facebook.  Along with getting to "meezen blazing (his translation) He also gets to panic, swear, freak out, make a HUGE mess, insist he's ruined something, talk to the ingredients, open every drawer and cabinet to look for something then insist that we don't have it because he can't find it, mention that I should be recording him, and stating that I should tell everyone that he's now "mise-en-blahing" the flour.
Oh, and he also breaks dishes, and talks about how amazing the invention of the apron is… It's hilarious. He says "Uh-oh", "Shoot" and "Dammit" like every 3 minutes, before realizing that he did NOT make a mistake. I had tears streaming down my face because the last episode of "TSM in the Kitchen" was just hilarious.He wanted me to tell all my Facebook friends that he is now "meezy plazying" the brown sugar… I think if I liquored him up, he'd be funnier than the chick from My Drunk Kitchen-
Now that I've explained how much fun I had listening to my husband bake some bread this weekend, I should mention that as far as banana bread goes, we're banana bread purists.  No nuts, or chocolate chips for us- just the banana people…just the "buh-nuh-nuh".  It's all about the banana.  Did I mention the banana?  Alright, good. I'm glad we have that covered.
Without further ado, I bring to you TSM in all his stud muffiny glory, in the kitchen making Manly Banana Bread
There is a possibility the link to Cooks Illustrated won't work simply because I'm a member of the page and some of the recipes don't show up in a search unless you pay to become a Cook's Illustrated Member.  I apologize if that is the case.
Manly Banana Bread
Recipe Adapted from:
Cooks Illustrated
Makes one 9″ loaf Time- I honestly couldn't tell you. I was too busy laughing at TSM
This bread is very dense and heavy. It's the best banana bread I've ever had, and I don't care for bananas.  It is packed with intense banana flavor in every bite- it's almost like a dessert. I've been using a bland family recipe for 25 years and after making this recipe once, we've never looked back.  You seriously have to try this bread!

UPDATE: ** The Stud Muffin wants to let you know that if you are using a dark non-stick bread pan to decrease the temp in your oven by 10 degrees.  Also, after making this many times and making adjustments to the recipe each time, I thought I'd update this recipe a bit. 
We found using 3 bananas for the bread and one banana for the garnish (4 total)  is more than enough.  Using 4 large bananas makes the bread too wet and too dense, and gives it an unpleasant mouth feel.  Because of the high sugar content of very ripe bananas the edges of this bread cook WAY too fast and brown excessively.  We found that if you insulate your bread pan by placing it inside a second bread pan, the edges/outer rim of the bread will not cook faster, or get much darker than the rest of the bread.  The first two times we made this, the outside cooked much faster than the middle.  Each time we've made changes and saw improvements with a more evenly baked loaf, but it wasn't until we insulated our loaf pan by placing it in a second one that we finally saw true success.   We started checking for doneness at 40 minutes, and then removed that second bread pan, placed aluminum along the sides of the pan to cover the edges to keep them from darkening/over-cooking, and ended up with a PERFECT loaf that was even in color and doneness at 60 minutes.  We checked it every 5 minutes from the 40 minute mark on and rotated the pan each time.  I've updated with new pictures above and at the end of the post.**
Can this dude whisk or what?
INGREDIENTS:
1- 3/4 cups unbleached all-purpose flour
1 teaspoon baking soda
3/4 tsp kosher salt
4  large very ripe bananas, peeled. Be sure to use very ripe, heavily speckled (or even black) bananas in this recipe)
8 tablespoons (1 stick) unsalted butter, melted and cooled slightly
2 large eggs
3/4 cup packed light brown sugar
1-1/2 teaspoon vanilla extract
2 TB granulated sugar
DIRECTIONS:
 Adjust oven rack to middle position and heat oven to 350 degrees. Grease an 8½ by 4½-inch loaf pan with shortening.
Whisk flour, baking soda, and salt together in large bowl.
Place 3 bananas in microwave-safe bowl; cover with plastic wrap and cut several steam vents in plastic with paring knife. Microwave on high power until bananas are soft and have released liquid, about 4 minutes. Transfer bananas to fine-mesh strainer placed over medium bowl and allow to drain, stirring occasionally, 15 minutes (you should have ½ to ¾ cup liquid).
Transfer liquid to medium saucepan and cook over medium-high heat until reduced to ¼ cup, about 5 minutes. Remove pan from heat, stir reduced liquid into bananas, and mash with potato masher until fairly smooth. Whisk in butter, eggs, brown sugar, and vanilla.
Pour banana mixture into flour mixture and stir until just combined with some streaks of flour remaining. Scrape batter into prepared pan. Slice remaining banana diagonally into ¼-inch-thick slices. Shingle banana slices on top of either side of loaf, leaving 1 inch-wide space down center to ensure even rise.  Make sure you don't put the bananas along the edge of the pan, or as the bread rises, it will swallow up the bananas and they'll burn. Sprinkle granulated sugar evenly over loaf.
Bake until toothpick inserted in center of loaf comes out clean, 45 to 65minutes. Cool bread in pan on wire rack 15 minutes, then remove loaf from pan and continue to cool on wire rack. Serve warm or at room temperature.
"Meez en blah"
Let's face it, microwaved bananas look nasty.
Banana ready for the top of the bread
DON'T put your bananas on the top like this- they will be sucked down along the side of the pan and burn.  Make sure you move them away from the edges and towards the center of the bread, leaving a 1″ space between rows
PAID ENDORSEMENT DISCLOSURE: In order for me to support my blogging activities, I may receive monetary compensation or other types of remuneration for my endorsement, recommendation, testimonial and/or link to any products or services from this blog.