We've recently moved to the South. South Carolina to be exact. There are numerous differences between the North and the South. There are also numerous differences between MN and SC. Shortly after moving here I shared some of those on my Facebook page. That post is a good example of my sense of humor and my love of tongue in cheek.
If you follow my blog, you know that I enjoy witty banter and I love to use humor when sharing my stories and experiences about food. Our family is filled with people who possess great senses of humor. Both my grandparents are very funny, sharp, witty people. My grandfather reminds me a little of Archie Bunker. He's entirely politically incorrect–which I adore. He speaks his mind, has a nickname for everyone, and he doesn't hold back when it comes to sharing his thoughts or his opinions, which are always right and yours are wrong. He's chronically mildly grumpy–in a humorous way (think Maxine from Shoebox Greetings), he says inappropriate things, calls The Stud Muffin a 'Dago' or a 'WOP' and has affectionately named our Buick "The Mafia Staff Car"…He's a little bit like Archie Bunker.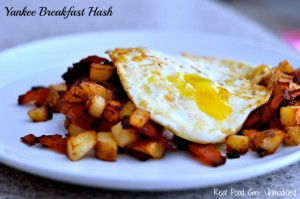 I bring up Archie Bunker and tongue in cheek, because my Grandfather told me before we left for South Carolina that "You just remind them who won the war, and you'll do alright." Yeah I know; thems fighting words. But again, it's tongue in cheek. I got my first chance to do just that (jokingly) when the DISH Network guy arrived to hook up our satellite. He was a super nice guy. His name was Bryan, he loved on our dogs, they loved on him, told us great stories and had a good sense of humor. He was here for a couple hours, too. During a conversation about the North and South, which comes up every.single.time we tell people we just moved here, I told him what my grandfather said. He replied "Lost it?!?" "We're still fighting it!!" Then we all laughed. I told him I'd let my grandfather know, which I did. Grandpa got a kick out of that. I miss my sassy grandparents. I'm very much homesick.
The next day it seemed fitting to fly my Yankee pride so to speak and make some breakfast that didn't include all those yummy Southern delicacies like biscuits, grits and sausage gravy. Nope. This was just pure Yankee breakfast love that included liquid chicken (aka eggs), bacon, onions, green peppers (which I didn't have on hand, but are a part of the recipe) and potatoes. Pan fried to a heavenly, golden-brown yumtastickness. Mmmm. Good food. Oh, and there's bacon grease. Which is a food group unto itself. At least it should be. And what better way to continue the banter between the North and the South than by naming this Yankee Breakfast Hash? I wonder if Bo and Luke Duke would eat my Yankee Breakfast Hash?

This is simple food "done good", in my opinion. And, yes, the bad grammar is necessary. Control the urge to send me hate mail telling me what an idiot I am. This dish was made with fresh, high-quality ("Ina Garten Style" Y'all) local ingredients, minimal seasoning and some love. That's all you need to make this. You don't even have to be a Yankee. You should be fixin' to add this to your menu plan for the week.
Before I share the recipe, I need to confess that I tried really hard, but I just couldn't make a true Sunny Side Up egg. I have a slight egg aversion. It's gotten much better since switching to pasture raised organic chickies, but I still don't like runny yolks AT ALL. Guy Fieri and I are anti-runny yolks. Anyway, so before I ended up with an "over hard" egg, I forced myself to stop frying the egg so that there would be a little bit of yolk running out of the egg to make the dish look more desirable once photographed. I think I overcooked it a little too much for the finished product, but whatchya gonna do? I faced my fear of runny yolks for the greater good of the blog.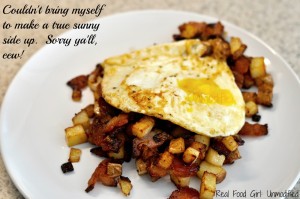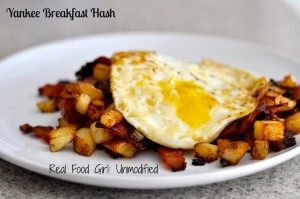 Yankee Breakfast Hash
2013-09-12 22:10:26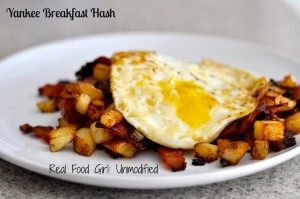 Serves 2
Pan-fried bacon and potato hash with onions and green peppers topped with a sunny side up organic pastured raised egg. Breakfast doesn't get any better than this!
Ingredients
3-4 medium-sized organic red potatoes, diced to 1/2"- should yield about 2 cups
6 slices of thick-cut organic bacon (uncured without nitrates or antibiotics & hormones is best) cut into lardons
1 small yellow onion, diced small
Half of an organic green pepper, seeded, and membrane removed, diced small.
3 organic eggs (Hubby likes two eggs, I prefer one)
Clarified butter--regular butter will do if you don't have any ghee or clarified butter on hand
Sea salt and freshly ground black pepper to taste
Instructions
Wash and prepare/dice all veggies. Place in separate bowls and set aside.
Cut bacon into lardons.
In a large saute pan over medium-high heat fry the bacon lardons until just cooked, about 3-4 minutes. Drain bacon and set on a paper towel. Bacon will finish cooking when you add it back into the hash.. Leave 1-2 TB of the bacon grease in the pan.
Return the pan with the bacon drippings back to medium high heat and add the onions. Cook, stirring constantly for about 3 minutes. Add the potatoes. Season the potatoes and onions with kosher or sea salt and black pepper.
Continue cooking the potatoes until they start to soften and get some golden brown color. Lower the heat to medium. *See Note below
Add 1 TB of clarified butter/butter, the green peppers and the bacon to the onion and potato mixture. Stir to combine. Taste the mixture and salt and pepper TT (to taste).
MEANWHILE- Add another saute pan onto a burner set to medium-high heat. Add a TB of clarified butter and fry your eggs. Season with salt and pepper. Cook eggs to your desired doneness. Remove pan from heat and set aside so you can quickly finish your hash.
To finish the hash: Continue to fry the hash until the potatoes are crispy/golden brown on the outside and when poked with a pairing knife, the potato releases cleanly. This takes about 10-15 minutes total. You may need to adjust the heat as you're cooking, so keep an eye on everything and lower or raise the heat as needed to ensure everything is cooked evenly.
Divide the hash among two plates and top with your fried eggs. Serve immediately.
Notes
*Use a large enough saute pan so you get crispy edges on the potatoes and a soft, fluffy inside. If you crowd the pan the potatoes will steam, not fry. Still tasty, but not *as* tasty.
Time the cooking of your egg with the hash so that your eggs don't get cold waiting for your hash to finish.
This also tastes fantastic with a side of pancakes!
https://www.realfoodgirlunmodified.com/
PAID ENDORSEMENT DISCLOSURE: In order for me to support my blogging activities, I may receive monetary compensation or other types of remuneration for my endorsement, recommendation, testimonial and/or link to any products or services from this blog.