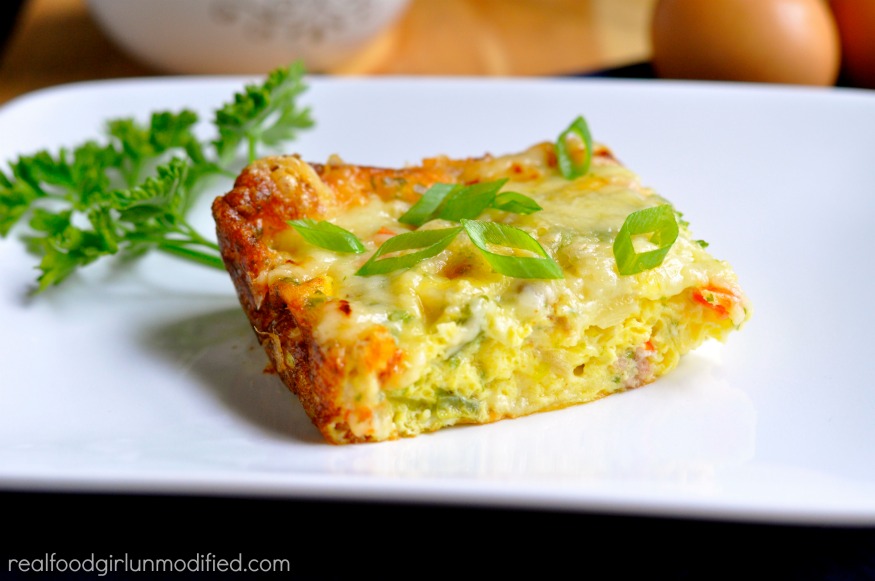 Easy Cheese and Sausage Egg Bake
It's 84 degrees in our house. My den is in the finished room above the garage where I'm fairly certain the builders forgot to insulate, so it's about 90 degrees in this room. My fingers are so warm they're sticking to the keys on the keyboard and I can barely swipe my finger along the touchpad without it getting 'stuck'. You gotta love first world problems. It's too warm to work on the post I needed to finish up in the kitchen, so instead, I'm going to just update a post from my blogging archives.
I originally shared this recipe under the title of Italian Sausage & Gruyère Baked Omelet. It's a dish I make frequently, and almost always play around with the amounts of cheese, the kinds of veggies I add, and what size pan I use. This time around I used a larger pan and the baked omelet was almost too skinny for my liking. It was a compromise. I wanted this dish to spend less time in the oven because as written, the original recipe by Giada De Laurentiis is off. Basically it has to spend too much time in the oven and you end up with over baked edges, and a slightly underdone center.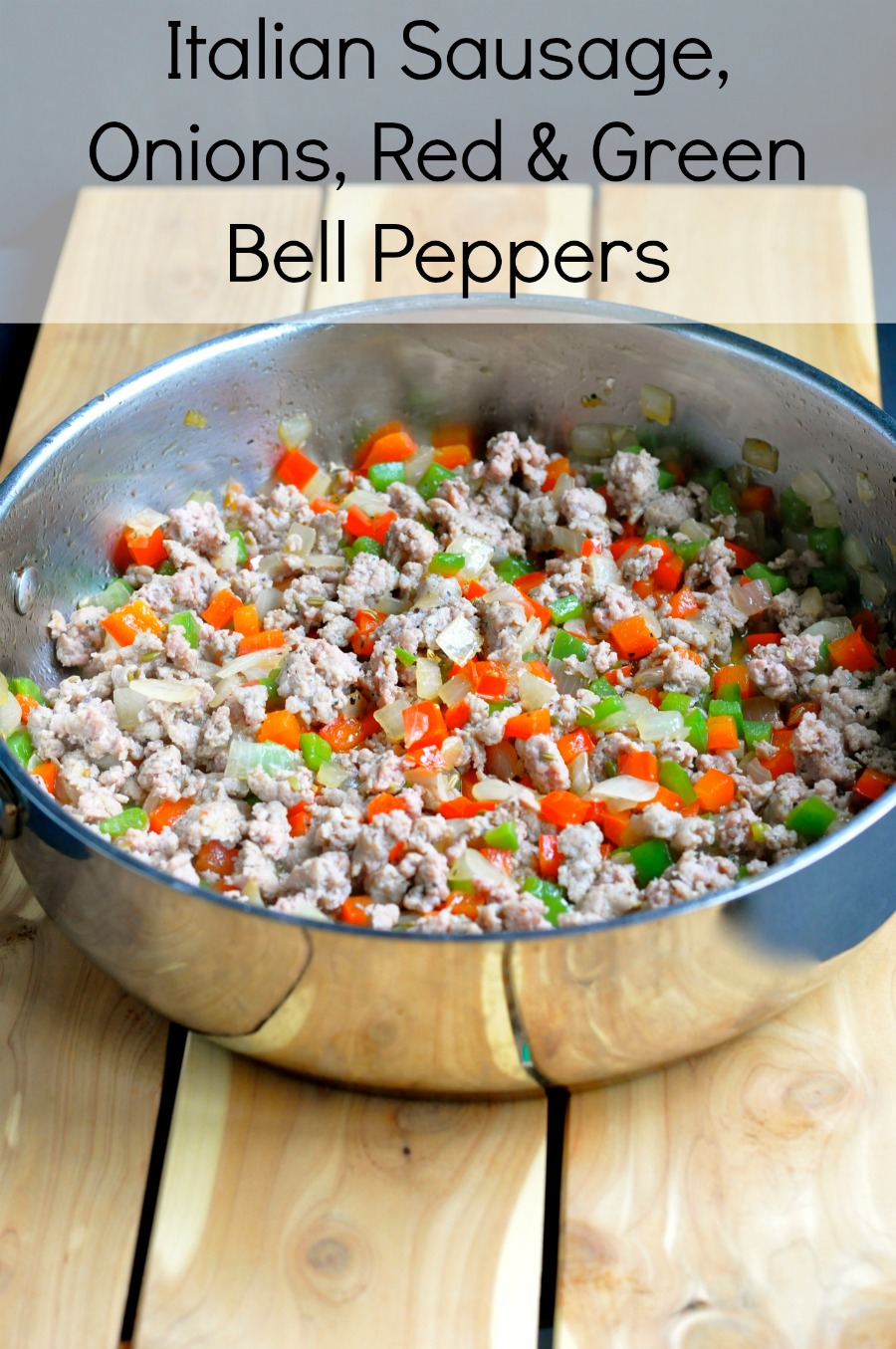 In my opinion that's not a solid recipe. Over baked eggs are as gross as under baked eggs, and a recipe that has to be tinkered with several times to get it right, shouldn't be shared with the public until it is right. If I can spend countless hours and dollars doing that for you, then surely celebrity chefs can, too. The ingredients used in Giada's recipe were sound. It was a great combination of flavors. Yet each and every time I tried to get that recipe to bake in 20-25 minutes in an 8×8 pan, almost half the omelet was still raw!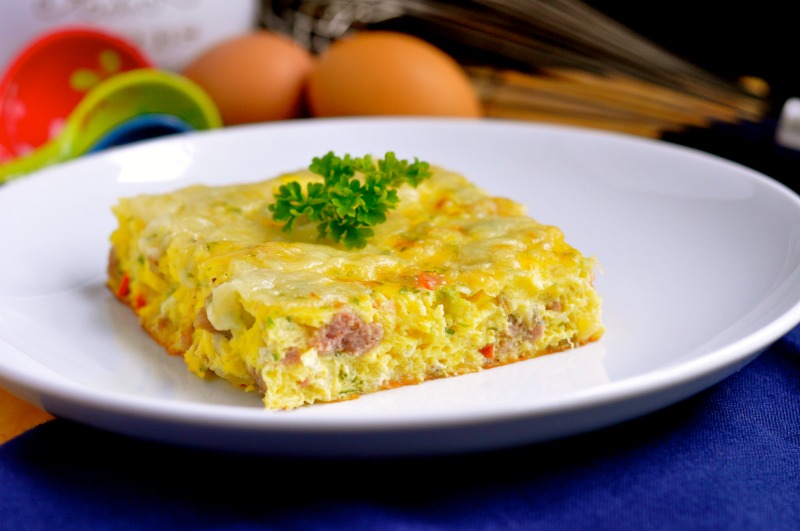 I don't know about you, but sometimes when I look at recipes that celebrity chefs post online I have to scratch my head in wonderment when it comes to their ingredient amounts. It's like- Seriously? You wrote half a cup, but you added 1 cup on the show. I watched you. Or, it's the opposite. They'll say half a cup, but they'll just use 2 TB. It's rare that I don't have to do a minor overhaul to most recipes posted by TV chefs.
Thankfully, this one only needed an overhaul on the time it spends in the oven. I've served this recipe for breakfast, and for dinner. I'll sometimes serve with homemade hash browns and some fresh fruit. You could also change things up and add mushrooms, ham and Swiss cheese, or bacon, green onion and cheddar cheese. Whatever you decide- try it this way once, and then send me an email telling me how much you love me.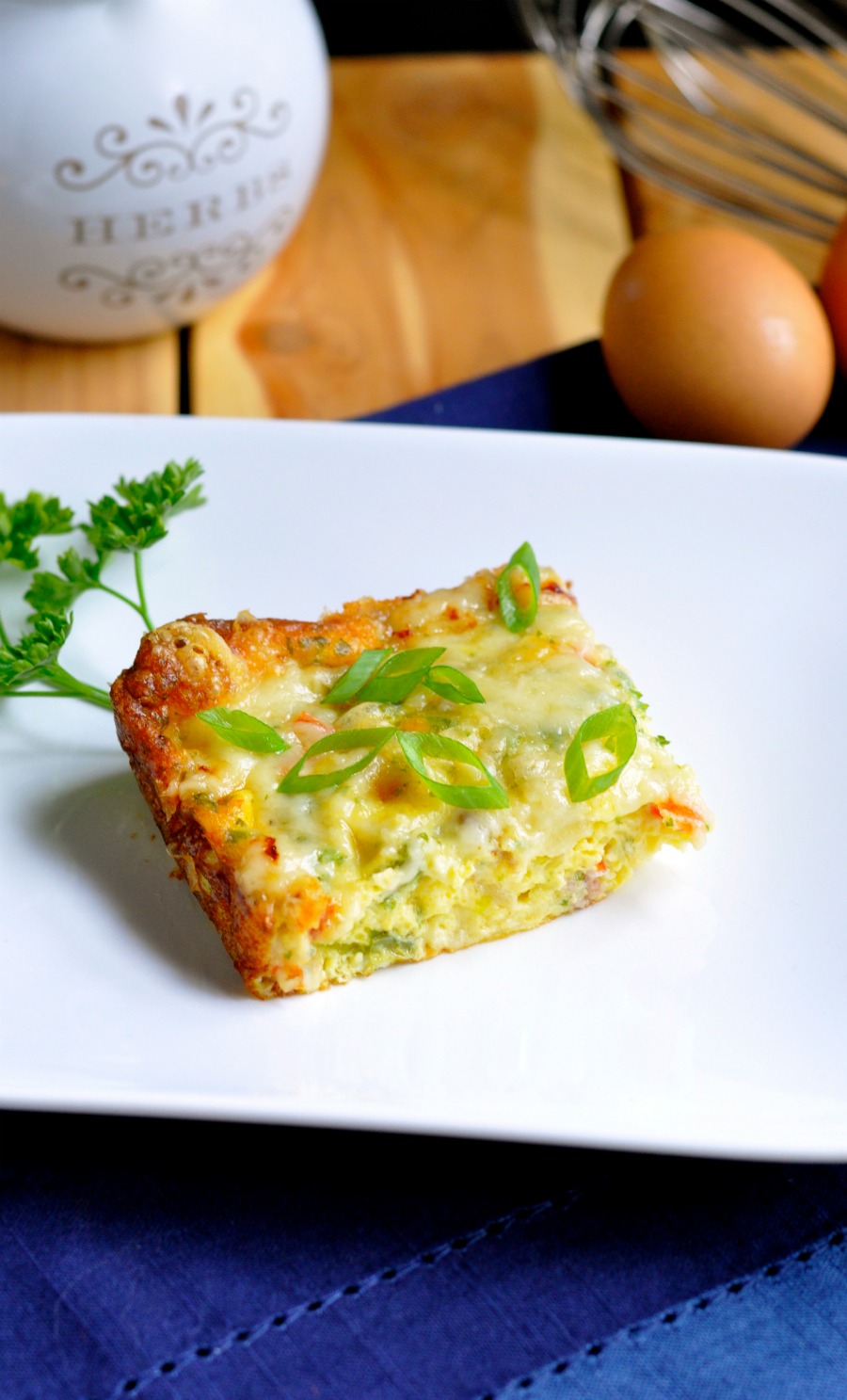 For this particular photo shoot, I used a 12″x8″ pan and it took about 30 minutes to fully bake. The cheese didn't get any color to it like I was aiming for, but the eggs were done and I wasn't in the mood for rubbery eggs for dinner. Funny story; I noticed when I went to make sure that the link for this recipe was working so I could properly credit Giada, that they updated the page to say "Cook's Note: To make individual servings, divide the batter between 4 buttered 8-ounce ramekins. Bake for 15 to 18 minutes." Ya think?!? Yeah, I could have used that note over a year ago when I tried making your recipe. Thankyouverymuch!
Whether you make this in a single baking dish or in individual ramekins, your family will love this recipe. It has just the right amounts of cheese, perfectly cooked veggies, and best of all, Italian Sausage. You can go hot or you can go mild. It's just good home cookin'!
Do you ever feel like celebrity chefs are out to get you? Or just out of touch with reality? Share below. I'd love to hear from you!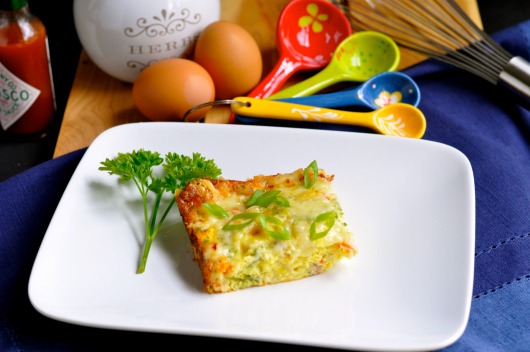 Cheese and Sausage Egg Bake
2014-05-04 17:31:58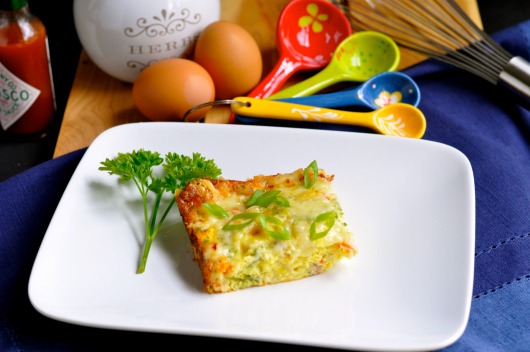 Ingredients
Butter, for greasing baking dish
1 TB olive oil
1 small onion, diced fine
1/2 pound ground hot or mild Italian sausage, or 5 links casings removed.
8 large eggs
1/3 cup whole milk
1 teaspoon kosher salt
Freshly ground black pepper
1 red bell pepper, diced small
½ green pepper diced small
2 cups grated Gruyère cheese (about 6 ounces)
1/4 cup fresh parsley, chopped
Instructions
Preheat the oven to 400 degrees F. Lightly butter an 8 by 8-inch or 11 by 7 inch baking dish.
Heat the oil in a medium skillet over medium-high heat. Add the onion and cook until translucent, about 3 minutes. Add the red and green peppers and sauté for 3 minutes. You want them slightly softened.
Add the sausage and cook until brown, about 5 minutes. Set the pan aside to cool.
In a large bowl, whisk together the eggs, milk, salt and pepper, to taste, until smooth.
Add 1-1/4 cup of the Gruyère cheese and the parsley. Stir in the onion, pepper and sausage mixture. Pour the batter into the prepared pan. Bake for 20 minutes, remove from oven and cover loosely with foil, reduce oven temp to 350 degrees and bake for another 7-10 minutes.
Remove foil and sprinkle on remaining ¾ cup of cheese. Return to the oven and bake for another 10-15 minutes or until GBD (Golden Brown Delicious).
Omelet is done when thermometer inserted into the middle reads 160 degrees F. It might be a little jiggly in the center. (You can take it out at 155 and let it rest on the stove top to finish baking from carry over heat).
Cut the baked omelet into squares and serve.
Notes
If you find the dish is browning too quickly but isn't cooking fast enough, just cover it lightly with foil. I've been making this dish for 2-3 years or so, and it bakes at a different rate every time. It's never baked in the time that it states on Giada's recipe. She must have a really special oven. 🙂
Adapted from Giada De Laurentiis
https://www.realfoodgirlunmodified.com/
PAID ENDORSEMENT DISCLOSURE: In order for me to support my blogging activities, I may receive monetary compensation or other types of remuneration for my endorsement, recommendation, testimonial and/or link to any products or services from this blog.