Pan-Seared Pork Chops with a Shallot and Sherry Wine Pan Sauce
Pan seared pork chops with a shallot and sherry wine pan sauce may sound pretentious and fancy, but this dish is anything but. It's just seriously delicious, down home, casual, quick cooking at its best.
I had the grandkids all weekend, and by all weekend, I mean Friday through Sunday afternoon. TSM works all day long until late into the evening every Saturday for one of his part time jobs so I was on my own with Little Master C. and Little Miss B. I think we watched every DVD we own and I spent way too much time in the kitchen prepping food for our weekend meals.
My plan was to rush home after dropping them back off at their house and cook this up so that it would be ready to publish bright and early on Monday. Yeah, that didn't happen. I got home, put on my yoga pants and took a 3 hour nap. I got up from my nap, had a bite to eat, watched a little bit of TV and then went right back to bed. Oye! I was so.worn.out! Who knew two small humans could wear you out so badly? I've had chest colds that didn't wear me out nearly as badly as these two balls of energy did. 🙂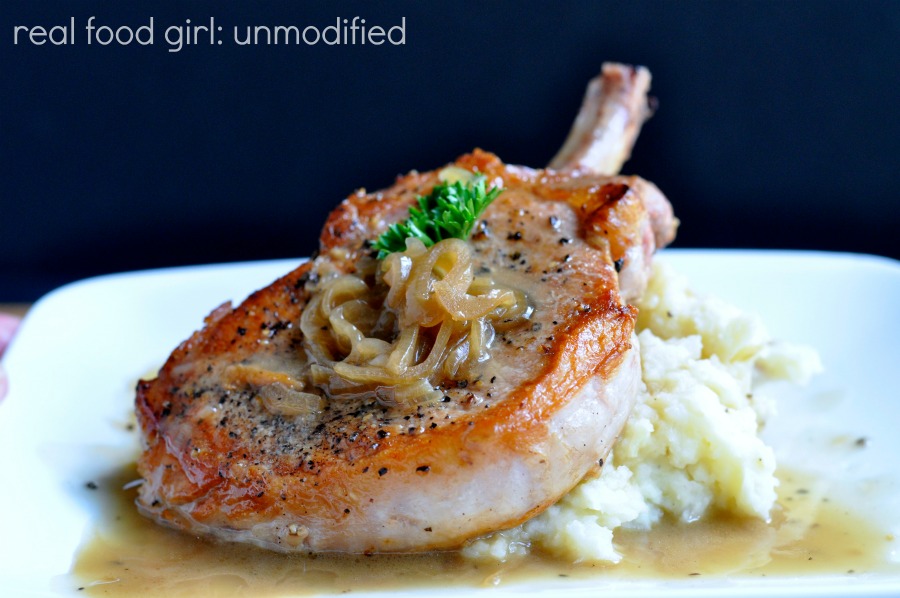 I couldn't let you guys go an entire week without a 30-Minute meal, so I made these for dinner tonight and figured I'd get it on the blog before Midnight. Yeah, that's not going to happen either. Gah! I know you'll forgive me, though. Right? At least they're only a "day" late. Well, depending on your time zone.
TSM and I love a thick, juicy pork chop. Pork is one of those meats that my body just loves. I just seem to function better when I've got some pork in my system. Typically, I'll make my pan seared pork chops with mustard cream sauce, but last week I was out of cream and came up with this one, and now I think it's my new favorite. I love caramelized shallots. I love pork, and I love a good pan sauce. In fact, pan sauces and gravies are my specialty. There is just something about a simple, but flavorful pan sauce that turns a boring weeknight dinner into something special and exciting. I bet if I just told you I was making pork chops, you'd be like "Eh, no thanks, we'll wait for your next recipe to be posted"… but the second you saw Shallot-Sherry Pan Sauce your eyes lit up. You were all like "Heck yeah!, I am ALL over that saucy shalloty other white meat fo sho!" You did. You know you did. Don't lie.
I mean look at these photos. How can you NOT want to make this for dinner? Can you believe it only takes 30 minutes to make? You think I'm crazy, don't you? Honest, this recipe is super easy to make. You sear the chops, throw them in the oven, prepare the sauce and serve the meal. Easy Peasy!
One of our local grocery stores sells these little 6-packs of tiny bottles of wine. They come with screw-on caps. I found a 6-pack of Sherry Wine and knew I had to bring it home. I typically don't use more than a couple tablespoons of Sherry per recipe, so whenever I buy a big bottle it gets wasted. These little 4-ounce bottles are perfect for my pan sauces. I can pour a few TB into my pan, screw on the cap and stuff it back into the refrigerator to use another time.
This recipe is best when you can find a thick-cut chop. Bone in is best, because the bone adds flavor and that little gem of meat by the bone is always the most tender and most flavorful piece of meat. Don't you agree?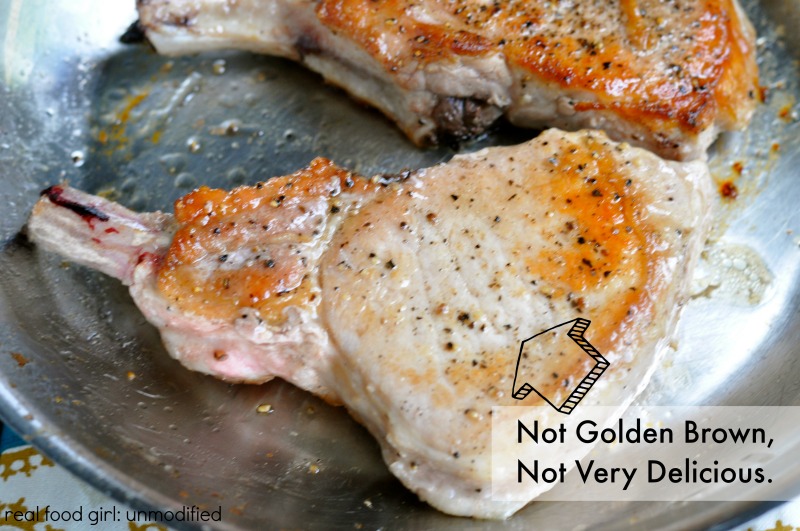 I opted to serve this chop with some tasty mashed potatoes. I think I'll even share my recipe for mashed potatoes on the blog. Are you excited about that?
This dish is actually ready in under 30 minutes, so you'll have time to whip up some dessert. I bet your kids are like "We love Real Food Girl: Unmodified!" "She said we could have dessert."
If you don't want to use the sherry wine, you can use more chicken stock, but it won't taste exactly the same. Sherry and pork are like long lost loves. Sherry brings out flavors in the pork that make you want to attack that pork chop in unholy ways. You'll just have to trust me. You're going to reduce the sherry until it's almost fully evaporated anyway, so I say go for it.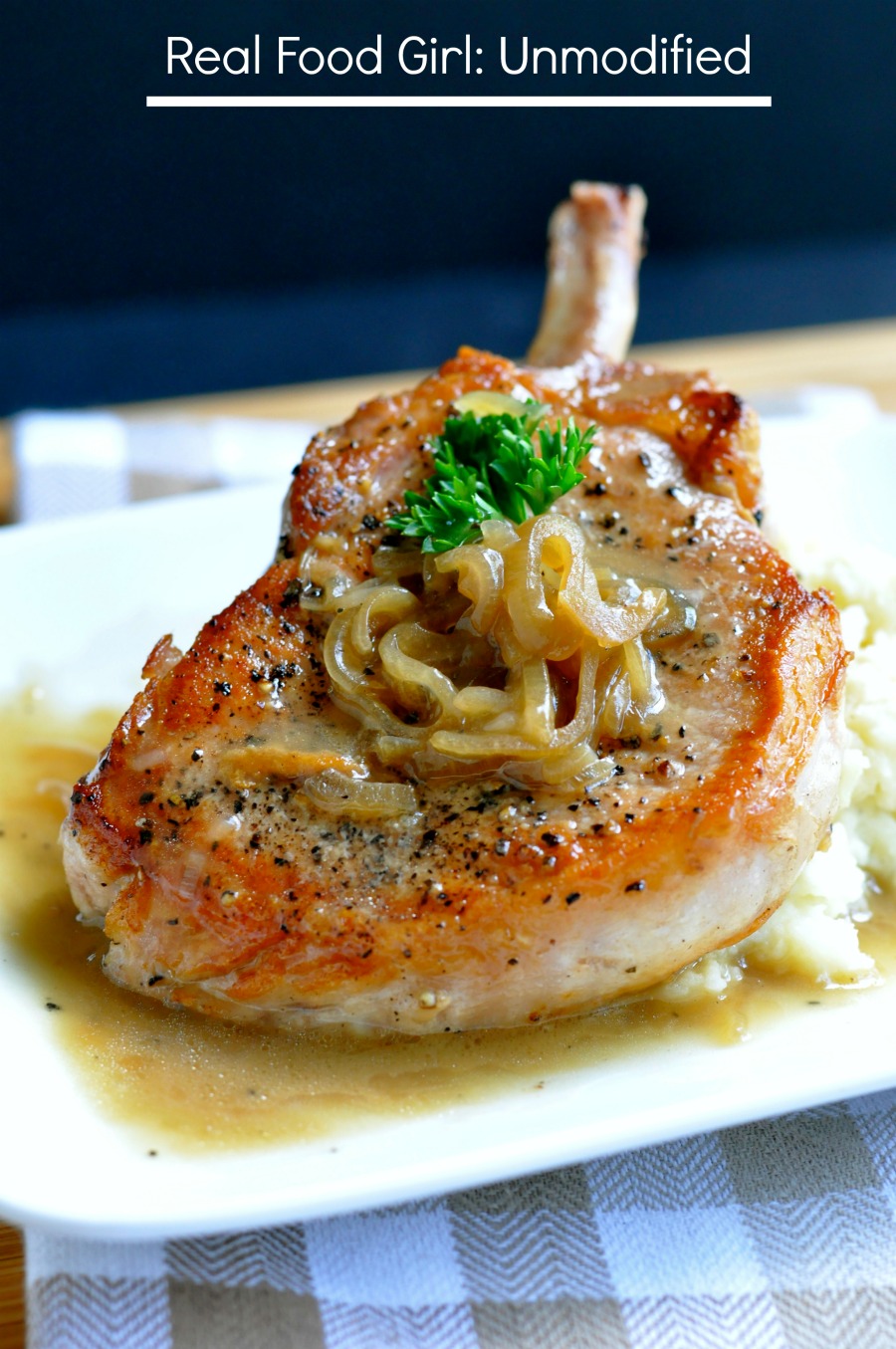 What is your favorite cut of pork? Do you eat pork often? I'd love to know!
Pan Seared Pork Chops with a Shallot and Sherry Wine Pan Sauce
2014-05-12 23:59:52
Serves 4
It's golden brown delicious pan seared thick-cut pork chops with THEE most tasty pan sauce. Grab your fork and dig in!
Ingredients
4 thick-cut pastured/organic bone-in pork chops
2 shallots, thinly sliced (into rings)
Salt and Freshly ground black pepper to taste
1-1/2 to 2 cups chicken stock (homemade)
Splash of cream (1-2 tsp.)- optional, but nice
2 TB Sherry wine
2 TB plus 1 tsp. (divided) cooking fat of your choice. I like clarified butter and Master Fat (pig butter/bacon grease) for this recipe.
Instructions
Preheat oven to 350 degrees. Place a large, oven-safe skillet in the oven while it preheats.
Thinly slice the shallots and set aside.
Measure out the stock and set aside.
Measure the Sherry wine and set aside.
Generously salt and pepper the pork chops. (If you rinse your meat before cooking, pat it dry with paper towels before you season. This will ensure they'll get a nice golden brown crust when they sear.)
Preheat a large skillet over medium-high heat. Add 1 TB fat and once the fat starts to shimmer, add the chops and brown on both sides until a nice golden brown crust appears (see photos above). About 2 minutes per side.
Once browned on both sides, add 1 tsp. fat to the skillet in the oven and place the chops in the preheated pan (in the oven) and set the oven timer for 5 minutes. If your chops are thinner than 3/4"-1", set the timer for 2 minutes and check for doneness at that time.
Working quickly, lower heat to medium on the pan on the stove top. Add the remaining TB of fat and the sliced shallots. Season lightly with salt and pepper and cook until they become soft and caramelized. About 3-4 minutes.
As they start to brown, you may drizzle in a little stock to keep the pan from getting too dry and to encourage the onions to stay soft and continue to caramelize, about another 2-3 minutes.
Add the sherry and using a wooden spoon scrape up any bits on the pan and cook until the sherry is reduced by more than half. Increase the heat to medium-high and add 1 cup of stock. Season with a little salt and pepper. Stirring almost constantly, cook until the stock reduces by more than half. Taste and season with salt and freshly ground black pepper.
Check the pork chops. When they register 140-145 degrees with a digital thermometer, remove them from the oven and keep them warm while you finish the sauce.
Continue adding the stock and seasoning lightly after each addition. Cook the sauce at a hearty rolling low boil (it should be bubbling madly but not boiling over) until it reduces by half each time and you are left with about 3/4 cup of pan sauce. This will take about 7-8 minutes tops.
Pour any juices from the resting chops into the pan sauce and stir. Once the sauce is reduced and slightly thickened (it won't be too thick)Remove sauce from heat, add the cream or butter, stir and set aside. Spoon or drizzle over your pork chops and enjoy!
https://www.realfoodgirlunmodified.com/
PAID ENDORSEMENT DISCLOSURE: In order for me to support my blogging activities, I may receive monetary compensation or other types of remuneration for my endorsement, recommendation, testimonial and/or link to any products or services from this blog.