Pan Seared Pork Chops with Mustard Cream Sauce- (Organic/GMO-Free)
Isn't that a beautiful thing? I must say that a properly seared pork chop brings tears of happiness to my eyes.
If you're a child of the 60s or 70s you probably ate your fair share of pork chops that were dry as saw dust because back then our folks were told to cook pork until bone dry and then cook it some more. That way, when you cut into it, you'll start a small fire and you'll know it's safe to eat. Thankfully times have changed and we don't have to torture ourselves with dried-up pork chops that resemble a leather flip flop.
If you have a meat loving male in your household, I suggest you surprise him with this for dinner, and do it soon. Mouth watering, golden brown delicious, juicy and heavenly! TSM couldn't stop talking about these chops. And he was blown away by the sauce. I think I've turned him into a huge fan of pan sauces, too.
I should tell you that I'm NOT a fan of mustard. It makes my nose crinkle up and my tongue want to flee from my mouth. However- when a quality stone ground mustard is used and it's blended with the juices from the cooked pork chops, a little chicken stock and some cream- well, *WOW* is the only thing that comes to mind. If you make these, you'll get serious pork chop praise from your family!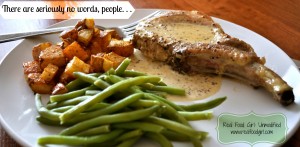 I'm not sure if you have a Trader Joe's near you, but if you do you have to buy their bone in chops. They've Frenched the bone for you (scrapped the bones clean) and they are a very good price and I've yet to have a bad one. I can't say the same for the regular grocery store pork chops I've cooked over the last 20 years. If you don't have a TJ's near by, ask your local butcher if he can snazzy up your chops. Most local butchers only buy from local farms that practice sustainable and ethical animal husbandry/farming. And most times their meat is organic. But ask to be sure. If you don't want to purchase a snazzy pork chop with a Frenched bone, feel free to use any thick cut bone in chop. Don't use boneless.
This recipe is a quick and easy one which makes it perfect for a week night meal. Pair this with some roasted or steamed veggies and a baked potato.
All ingredients used in this recipe were organic/GMO-Free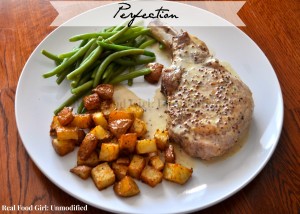 Pan Seared Pork Chops with Mustard Cream Sauce
Recipe by: Real Food Girl: Unmodified
Serves: 4
Time: 30 minutes total
PREHEAT OVEN TO 375 degrees F.
INGREDIENTS:
4 bone in thick cut (1-1/2″) pork chops that have been frenched
2/3 cup homemade chicken stock
2-3 TB organic stone ground mustard
salt and pepper
organic heavy whipping cream (THIS is my favorite brand because it's very thick and slightly clotted)
1-2 TB olive oil
DIRECTIONS:
Preheat a stainless steel skillet over medium-high heat, meanwhile rinse your chops with cold water and pat dry with clean paper towels. Once dry, season both sides liberally with kosher salt and freshly ground black pepper.
Add 1-2 TB to your skillet. Once the oil shimmers, add your chops. Your pan should be VERY hot. Cook for 4 minutes and then turn over and cook for another 4 minutes. If the pork chop will not release from the skillet, let it cook a bit longer.

Your chops should be well browned. They should look just like mine in the picture below. Brown food is good food!

Transfer chops to a an oven safe dish and cook in the oven until a thermometer inserted into the middle of the chop reads 155 degrees and juices run clear. Let the chops rest on a cutting board with a piece of foil tented over them.
Meanwhile- deglaze the pan you seared the chops in with the chicken stock making sure to scrape up all those tasty bits at the bottom of the pan and lower heat to medium low.
Add 2-3 TB. of mustard (depends on how mustard-y you want your sauce to taste) and stir to combine. Add some salt and pepper to taste. Let the the mixture reduce slightly.
Add 1/2 cup of heavy cream and stir to combine. Lower heat to medium and cook until the sauce reduces and thickens slightly. Pour in any meat juices found in the baking dish, stir and adjust seasonings if needed.
Plate your chops and spoon over your mustard cream pan sauce and enjoy!
Sorry for the outdated photos below. My blog used to be called KaceyCooks and I really wanted you guys to see a fabulous iPhone photo of a properly seared pork chop. So for now, the old school photo stays. It sort of keeps me grounded.
Pic on left: This is how your browned chops should look before they head to the oven. Pic on right: Finished chop with mustard cream sauce.
PAID ENDORSEMENT DISCLOSURE: In order for me to support my blogging activities, I may receive monetary compensation or other types of remuneration for my endorsement, recommendation, testimonial and/or link to any products or services from this blog.