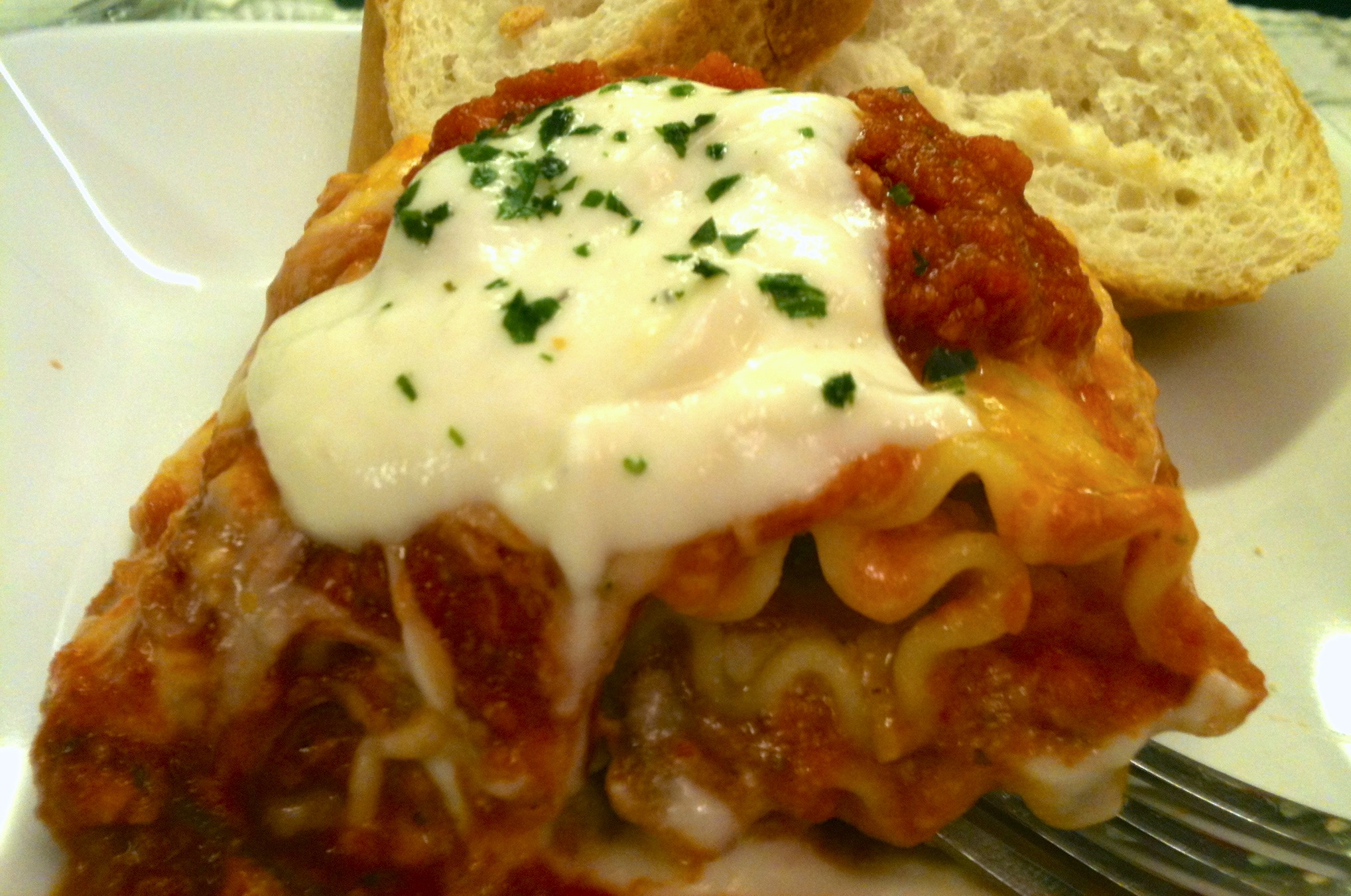 Italian Sausage & Spinach Lasagna Roll-ups (Organic/GMO-Free)
Cheeses, Italian sausage, spinach and pasta- It's love on a plate!!  This is one of my favorite go-to recipes when I'm not in the mood to bake up a huge pan of lasagna, yet I'm in the mood for some saucy, cheesy, noodley, meaty goodness.
TSM is the Lasagna King.  I on the other hand am the Lasagna Rollup Queen.  This recipe calls for spinach, but I was out the day I made these for the blog, so you'll notice that there is an obvious lack of green protruding from my bundles of lasagna nirvana.  There are so many filling possibilities you could make instead of the spinach and sausage that I use.  On occasion I've been known to slice up meatballs and use that instead of sausage.  Sometimes I'll add pancetta- regardless of what I stuff into this cheesy filling the end result is always yummy.  And that's what counts.
This recipe was adapted from one I saw Giada DeLaurentiis make several years ago on TV. Sometimes I think that when a chef makes a dish on TV the ingredient amounts aren't accurate once the recipe is posted for the public- things get lost in translation. So, I made several changes to suit our tastes, and they turned out great! This recipe is much easier than you think, and it is seriously mouth watering.  Start writing your speech for Mother of the Year because your kids are going to LOVE you for making this for dinner.
Lastly, these freeze really well.  I generally take 6 and put them in a freezer safe container, and I put enough white sauce, red sauce and cheese on separate containers so everything is ready to go when I need it next.  I simply let the lasagna roll ups thaw, and bake at 350 until heated through.  If desired, cover with foil and remove during the last 10 minutes of baking to get the cheese GBD- golden brown delicious.
*The ingredients used in this recipe were either Organic, or free of GMOs*
Italian Sausage & Spinach Lasagna Rolls
Recipe adapted from: Giada DeLaurentiis 
Servings: 6
Prep Time: 45 minutes
Cook Time: 30 min baking, 15 minutes stove top
Total Time: 1-1/2 hour 
INGREDIENTS:
Béchamel Sauce:
3 TB unsalted butter
4 TB AP flour
1-1/2 cups whole milk
¼ tsp. kosher salt
1/8th tsp. ground nutmeg
Freshly ground black pepper
Lasagna:
1 15-ounce container of organic, whole milk ricotta cheese
5 ounces fresh baby spinach
1 cup freshly grated Parmesan cheese- divided
1 lb. ground Italian sausage- hot or mild
1 small yellow onion, diced very fine
1 egg beaten
½-1 tsp. kosher salt
¼ tsp. freshly ground black pepper
1-2 TB extra virgin olive oil
12 uncooked organic lasagna noodles (Do not use no-bake noodles)
3 cups homemade marinara sauce (use my marinara recipe, or a jar of your favorite organic sauce will do)
3 cups shredded organic mozzarella cheese-divided
  DIRECTIONS:
1.  Preheat a 10-inch skillet over medium-high heat. Add 1 tablespoon EVOO. Add diced onion, and cook for 3 minutes, stirring frequently. Add Italian sausage, and cook until browned- (finely crumble sausage to break down any large clumps)
2.  Once sausage and onion mixture is done, remove from heat, and place on a paper towel lined plate to cool.
3.  Wipe skillet clean, return to medium-low heat and add 1 tsp. olive oil. Add 5 ounces of fresh baby spinach leaves- cook until wilted. (A standard bag of fresh spinach is 10 ounces.) Remove from skillet and set aside on a plate.
4.  Meanwhile prepare the sauce:  melt the butter in a saucepan over medium-low heat. Add the flour and whisk for 3-4 minutes. Whisk in the milk. Increase the heat to medium heat. Whisk the sauce until it comes to a simmer and is thick and smooth, about 5-6 minutes. Whisk the salt, pepper and ground nutmeg into the béchamel sauce. Take off heat and set aside.
5.  Preheat oven to 400 degrees.
6.  Add the slightly cooled sausage and onion mixture into a medium sized bowl. Stir in the ricotta cheese, spinach, 2/3rd cup of the Parmesan, the egg, and 1-1/2 cups of the Mozzarella, salt and pepper and blend well. Set aside
7.  Add a tablespoon of EVOO to a LARGE pot of well salted boiling water. Boil the noodles until just tender but firm to bite. This should be a minute or two under the package directions for Al dente.
8.  Drain noodles. Gently arrange the noodles in a single layer on a cookie sheet to prevent from sticking. I put 6 noodles on a large cutting board- and 6 on a cookie sheet.
9.  Butter a 9×13" baking dish. Pour the béchamel sauce over the bottom of the prepared dish.
10.Starting with the 6 noodles on the cutting board and spread about 3 tablespoons of the spinach-ricotta-sausage mixture evenly over each noodle. Starting at one end, roll each noodle like you are rolling up a sleeping bag.
11.Lay the lasagna rolls seam side down, without touching, atop the béchamel sauce in the baking dish. Repeat with the remaining noodles and ricotta mixture. Spoon 2-3 cups of the marina sauce over the lasagna rolls. Sprinkle the remaining Mozzarella and Parmesan over the lasagna rolls. Cover tightly with foil. Bake until heated through and the sauce bubbles. About 20 minutes.
a.     I like to add a little bit of marinara to the béchamel on the bottom of the baking dish.  I also like to spoon extra on top of the lasagna rolls and then add the marinara sauce and cheeses.
12.Uncover and bake until the cheese on top becomes golden, about 10 minutes  longer.
13.Remove from oven and let stand for about 5 minutes before you plate and enjoy.
Be sure you join me over at The Food Renegade website for Fight Back Friday!  It's an awesome blog carnival filled with articles, tips, resources and recipes shared by fellow REAL food, food bloggers!  You don't want to miss this weeks edition!
PAID ENDORSEMENT DISCLOSURE: In order for me to support my blogging activities, I may receive monetary compensation or other types of remuneration for my endorsement, recommendation, testimonial and/or link to any products or services from this blog.