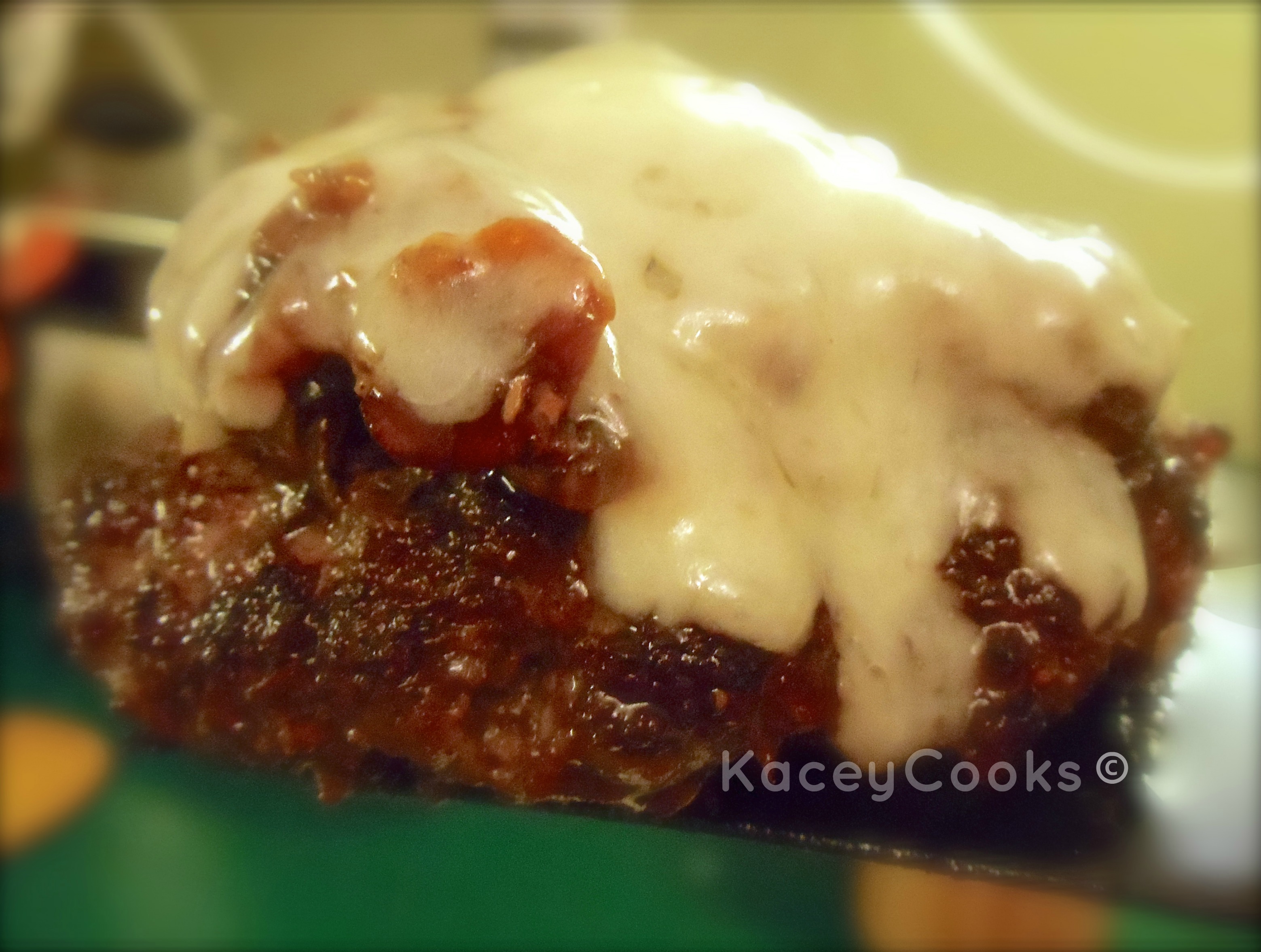 Cheeseburgers with Onion Bacon Jam (Organic/GMO-Free)
Accept my sincerest apologies for going on and on about my Onion Bacon Jam.  I honestly can't help it.  It's that good.  I was just telling TSM that I am going to enter it into some type of bacon recipe contest because I nailed it with this recipe.

Because I love my onion bacon jam so much I thought it would probably taste really good on a cheeseburger.  Guess what?  I was TOTALLY spot on with that one.  I took one bite of that burger and was like OH.MY-LANTA!  Dang! Whoa! Helllooo Nurse!  It was just that good. I've said that like 3 times so far haven't I?  Oops!  (wink, wink)
This recipe is truly simple and can easily be adapted to suit your tastes.  I know you will enjoy this every bit as much as TSM and I did.  Make sure you have plenty of napkins handy once you sit down to eat this burger.   Feel free to adjust the amount of cheese and/or onion jam you put atop each burger patty.
I wanted to feature this recipe on one of my favorite food blogs: The Food Renegade.  Make sure you stop by and view each blogger's contribution as well as mine!  You'll find my recipe and many other amazing recipes, articles and resources for this weeks Fight Back Fridays HERE.
This recipe was made using organic and/or non-GMO ingredients.  
Gruyere Cheeseburgers with Onion Bacon Jam
Recipe by: Real Food Girl: Unmodified Feeds: 4 Time: 30 minutes
INGREDIENTS:
1 pound organic 85/15 ground beef.  We prefer Trader Joe's grass fed organic ground beef for our burgers
3/4 cup (approx) of Onion Bacon Jam
1 cup shredded organic or raw milk organic Gruyere cheese.  Shred your own off a block of cheese
4 organic whole wheat burger buns-toasted
Kosher salt and black pepper
1 tsp. soy sauce.
 DIRECTIONS:
Place ground beef in a bowl and season with 3/4 tsp. kosher salt and 1/4 tsp freshly ground black pepper and 1 tsp. soy sauce.  Mix with clean hands until just combined.
Form beef into 4 equal sized patties
Cook in a preheated skillet about 3-5 minutes per side.  It depends on how done you like your burgers.  We like ours medium well.
About 2 minutes before the burgers are finished, spoon the bacon jam on top of each burger and then follow by placing a  quarter cup of shredded cheese atop that.  Cover your skillet to allow the cheese to melt.
Remove from pan and place each burger onto a toasted bun.
Drool, and then let your eyes roll into the back of your head once you take that first bite.
This onion bacon jam really is a thing of beauty.
I have no idea why my burger looks so dry, but trust me, it was VERY juicy.  I blame the fact that I'd already started eating and so the juices went back into the burger.  It's not a pretty picture, but it WAS a yummy burger!
Doesn't matter how you cut it, this is a fantastic burger!
PAID ENDORSEMENT DISCLOSURE: In order for me to support my blogging activities, I may receive monetary compensation or other types of remuneration for my endorsement, recommendation, testimonial and/or link to any products or services from this blog.