Real Food Tex-Mex Pasta Bake
I had a tough time naming this dish. It looks like a Goulash, but not only is it not Hungarian, it's also not a stew. My grandmother used to make something similar to this using elbow macaroni, a can of Campbell's™ Tomato soup, and a can of Chicken Gumbo along with some ground beef. It's tasty, but that old standby needed some new life breathed into it. Hence how this dish was born. I took one of my grandpa's favorite dishes and I breathed new life into it.
I finally decided on Tex-Mex because the dish has Southwestern, American and Mexican components to it. And to give this dish even more of an identity crisis it's also got a little Italian (pasta) thrown in and some good old fashioned Midwestern "casserole/baked food in a dish" just to make it extra special.
I knew calling it the Midwest-Mexican-Mobster Hot Dish probably wasn't going to fly, although that has a catchy little ring to it. (wink) In an effort to not end up all over FB for being a "politically incorrect recipe naming maven", I went with the name you see above in the title. Not as fun as where I wanted to go with it, but I won't tell anyone if you secretly call it the MMM Hot Dish. (wink-wink)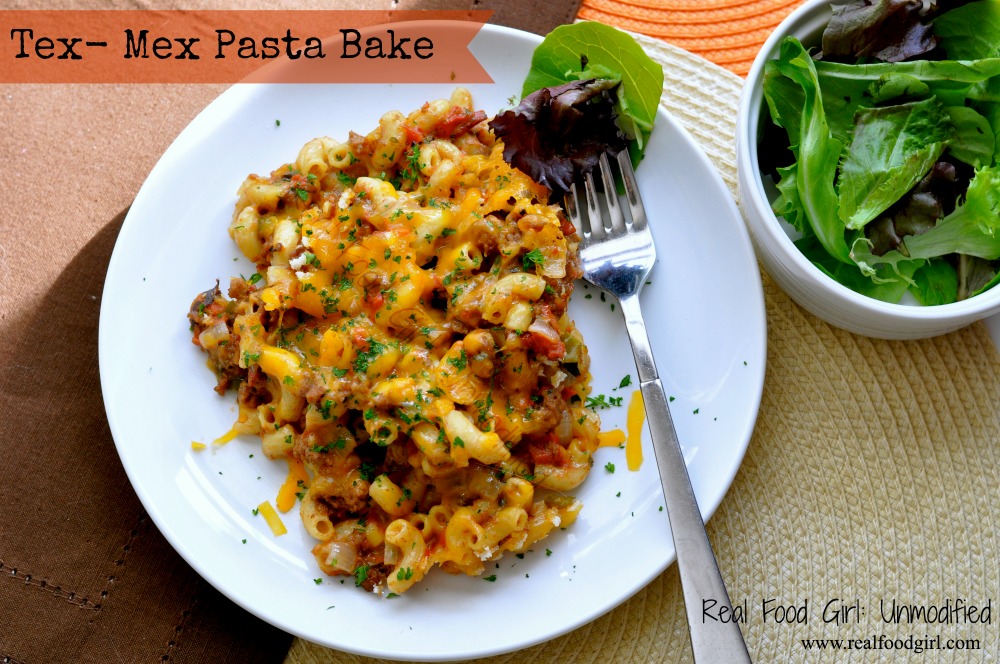 This dish is easy to throw together with just a little bit of prep work. You can get the noodles boiled and out of the way while you put the rest of the components together. I like to make this dish with fresh green chiles and fresh Roma tomatoes, but for the sake of convenience, you can use a good quality canned product- just search for packaging that is BPA-free. Or, if you have mad canning skills, can up some diced tomatoes with green chiles so that you can make this a few times each year.
Oh, I almost forgot- the best part about this dish is the crunchy, cheesy topping. Panko breadcrumbs and cheese mixed together and spread atop the pasta mixture just before you toss it in the oven. Oh my! It's divine. This dish is will be a crowd pleaser in your home. Serve it with a nice green salad and then sit back and wonder how you ever made it this far in life without eating something so magnificent.
Real Food Tex-Mex Pasta Bake
2013-12-19 00:43:46
Serves 6
A cheesy, comforting, ground beef-pasta dish with a little spice and a lot of flavor
Ingredients
1 pound organic elbow macaroni
1 TB clarified butter
1 TB coconut oil
1 medium onion, finely chopped
1 green bell pepper, cut into ¼-inch dice
1 mild green chile, seeded and diced small (or one small can green chiles)
1 lb. grass-fed ground beef
2 teaspoons ground cumin
1/4 tsp. ground chipotle pepper
2 tablespoons all-purpose flour (can use 1 TB organic corn starch instead)
One 15-ounce can diced tomatoes (or 3 large Roma tomatoes seeded and diced small)
3/4 cup homemade or organic beef stock
1/3 cup grass-fed cream
¼ cup fresh parsley- chopped (I like curly parsley for this dish)
8 ounces (about 2 cups) cheddar cheese- shredded. I like Tillamook Cheddar
Kosher salt and freshly ground pepper
Dash of cayenne pepper if desired
⅓ cup panko (Japanese bread crumbs)
2 scallions, thinly sliced on the bias (diagonal)
Sea Salt and freshly ground black pepper
Instructions
Preheat the oven to 350°.
In a large pot of boiling salted water, cook the macaroni until al dente- about 1-2 minutes less than the package directions call for.
Drain pasta and transfer it to a bowl. Add some olive oil and toss well.
Meanwhile, in a large skillet, heat coconut oil and clarified butter. Add the onion green chile (only if using fresh) and bell pepper. Season with some salt and pepper and cook over medium-high heat, stirring, until softened, about 5 minutes.
Add the ground beef, 1/4 tsp. salt, 1/8 tsp. black pepper, chipotle pepper, (& cayenne if using) and the cumin and cook over high heat, stirring occasionally, until the meat is browned and any liquid has evaporated, about 6-8 minutes.
Reduce the heat to medium and add the flour and cook until no floury taste remains, about 2 minutes.
Stir in the tomatoes (and the chiles if using canned) and stock and simmer until thickened, scraping up any browned bits from the bottom of the pan, about 3 minutes.
Remove from the heat and stir in the pasta, cream, parsley and 1 cup of the cheddar cheese. Taste and season with salt and pepper as needed.
Transfer the mixture to a large glass baking dish about 2 inches deep. (I use an 11"x7")
Combine the panko and remaining 1 cup of cheese together in a small bowl, then sprinkle on top of the pasta mixture.
Bake for about 15-18 minutes until the casserole is bubbling and the cheese is melted. Let stand for 5 minutes before serving.
Sprinkle the sliced green onions on top before serving.
Notes
You can make this dish ahead of time. Just leave the cheese topping off until ready to bake. Let the dish sit on the counter top for a good 30 minutes before putting it into a cold oven and then bringing it to temp.
This dish tastes good left over, just add a dash of stock, or water while re heating and shred on some more cheese.
https://www.realfoodgirlunmodified.com/
PAID ENDORSEMENT DISCLOSURE: In order for me to support my blogging activities, I may receive monetary compensation or other types of remuneration for my endorsement, recommendation, testimonial and/or link to any products or services from this blog.