January Instagram Challenge #myclean2014
Starting tomorrow, January 1 2014, I will be co-hosting a mini Instagram challenge. Won't you join in the fun, too!?

This challenge runs for only 15 days and will be such a neat way to meet new people on Instagram, challenge yourself to stay focused on your freshly set goals for the new year, and have lots of fun in the process. Every day you'll post a picture on Instagram using the themes listed below. Just make sure that you tag #myclean2014 and @realfoodgirl so we can all see what you post.
How to Participate
Follow @RealFoodGirl on Instagram
Take a daily picture using the themes below, tagging #myclean2014 , and @RealFoodGirl in each so we can find your posts easily!
Check out the other posts under the #myclean2014 thread to see what other great bloggers (and you great readers) are posting as well.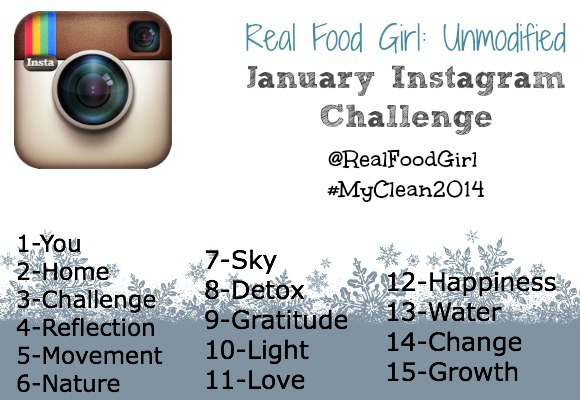 Want to find out what other great people are participating in the challenge? Link up your Instagram account below so we can follow each other more easily! Everyone is welcome to participate, the more the merrier. Just remember to tag me in each photo: @realfoodgirl and hashtag each photo with #myclean2014 as well as the # theme of the day like #You or #Home.
Important: The Instagram URL does not let you choose a profile pic from your feed, so be sure you have a picture you can upload! If you get a "Error: The requested URL returned error: 500" that just means it can't find a picture to use, it does NOT mean that your link is bad. Click on "Direct Image URL" if you have one or "Upload from Computer".
BEFORE YOU START: Once you click on the "Click Here To Enter" You're Next hyperlink, the Linky screen will appear and you will be asked to enter a URL. This would be where you would enter your Instagram URL, not your blog's URL, like I did. 😉
PAID ENDORSEMENT DISCLOSURE: In order for me to support my blogging activities, I may receive monetary compensation or other types of remuneration for my endorsement, recommendation, testimonial and/or link to any products or services from this blog.