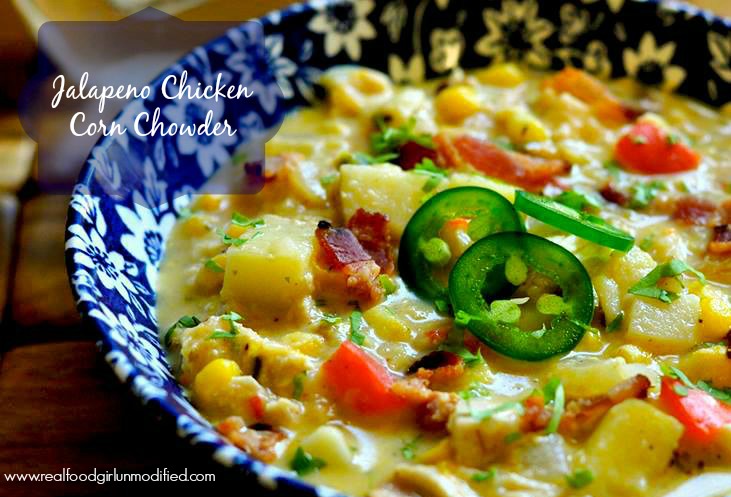 One Pot Jalapeno Chicken Corn Chowder
It's the Saturday after Thanksgiving. You've just survived the official kick-off to the Holiday Season. Hopefully you're one day closer to being able to fit back into a structured pair of pants, but if not, don't worry.
Soon you'll be decking the halls, and fa-la-la-la-laa'ing while you sit in front of the TV watching Rudolph the Red Nosed Reindeer while stuffing fistfuls of Spritz cookies and homemade fudge down your pie hole and your yoga pants will become your best friend. You might as well just kiss your jeans goodbye until January 2nd, when you join a gym (again) to get rid of those pesky 15 pounds you put on over the past couple of months. Who needs denim anyway?
It's no secret that I make yoga pants look hot so I say we boycott jeans and everyone should run to Target and stock up on stretchy (yoga) pants so we don't have to contort our bodies into positions that only a Russian gymnasts could achieve just so we can zip our pants.
No wonder people are cranky this time of year- they can't breathe because their jeans are too tight. I bet most of the violence that occurs on Black Friday would be eliminated if people didn't have to pour their bodies into a pair of jeans within hours of gorging themselves during another dysfunctional family gathering…if only they had reached for the yoga pants…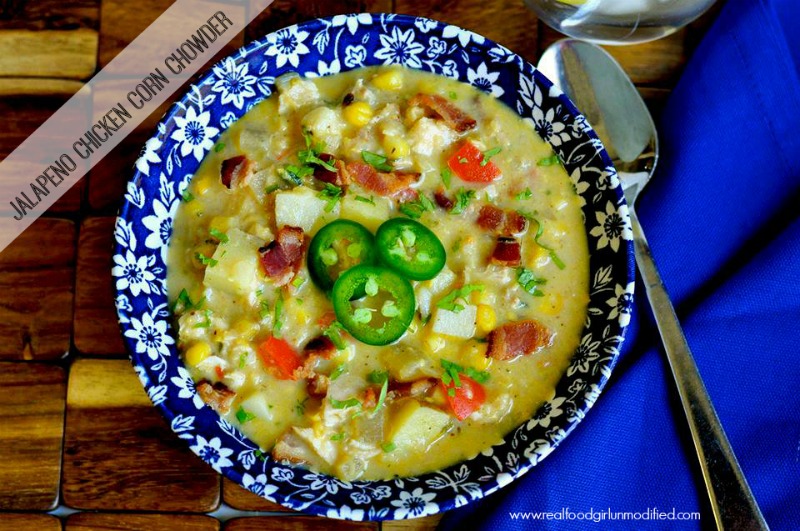 If you're like me, you've got a fridge full of Thanksgiving turkey and every Tupperware container you own is currently sitting in your fridge filled with the remnants of about 9 side dishes from your recent feast. I've never been one for worrying about how I'm going to use all that leftover turkey. I simply reheat everything, grab a plate and pretend it's Thanksgiving all over again until every Tupperware container is empty. I keep it boring simple. What do you like to do with your leftover turkey?
I noticed that nearly every food blog that I follow is full of ideas for what to do with that turkey and if I'm being honest, there aren't a lot of creative suggestions floating around anymore. Everything has been done already- soup, stew, salads, sandwiches, pasta dishes, pot pies, fusion dishes… You get the point.
As a result I decided to go against the flow and break ranks and post a recipe that doesn't use ANY leftover turkey at all. I understand this is probably blogging suicide because heaven forbid you make something new while you still have 5 days worth of turkey and fixin's in your fridge but I've never really been one to play it safe or follow all the rules. Poo-poo the rules.
This chowder/soup is one of my go-to recipes for this time of year for several reasons. 1- It contains bacon. 2- It's hot, flavorful, and comforting. 3- It contains bacon. 4- It's super affordable to make. 5- It makes a decent sized pot which means left overs. 6- It's made using just ONE pot. 7- It contains bacon. Do you guys love bacon as much as I do? Everyone knows I love bacon so much that my Facebook wall is usually littered with funny bacon memes.
You have to make this dish as soon as possible because it is like a bacon-y hug in a bowl. It's that good. This is going to be one recipe that you'll put in your regular dinner rotation. You'll have to tell me what you think after you make this.
Now that I think about it- I suppose if you wanted you could certainly substitute turkey for the chicken. It certainly won't hurt anything. Whether you make this soup with chicken, turkey, or no meat at all, it's a very affordable dish and it's not as heavy or sedating as most of the recipes floating around out there to help you use up the last of your turkey.
**This recipe can be made without the chicken and with vegetable broth for a vegetarian version.**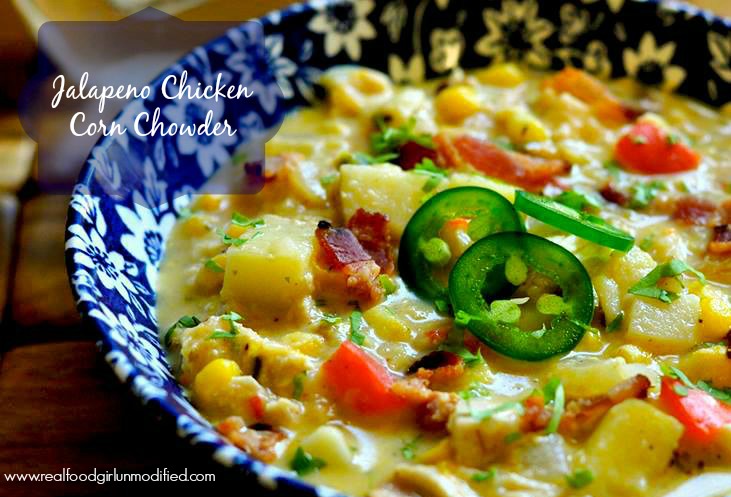 Jalapeno Chicken Corn Chowder
2014-01-09 21:40:00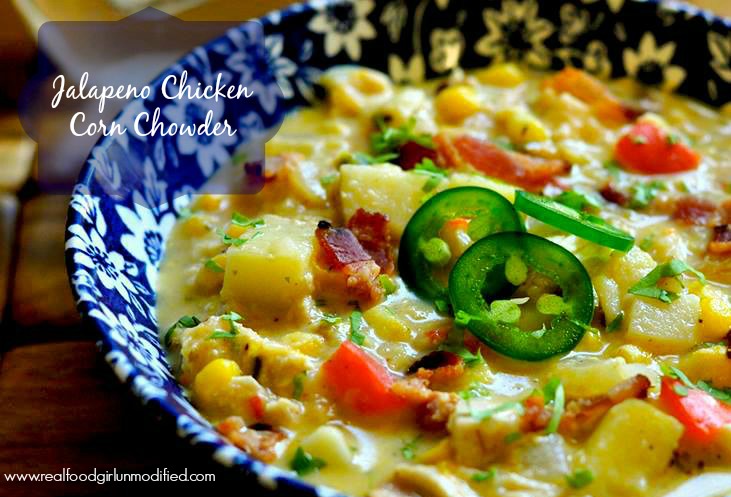 Serves 4
A quick, hearty, zesty chowder made in one pot in about an hour. Serve with warm, buttered corn bread and your family will nominate you for cook of the year!
Ingredients
1/2 pound of bacon, sliced into lardons (see picture below)
1/2 to 3/4 rounded tsp. dried thyme
1/4 tsp. sweet paprika
1/8 tsp. cayenne
1/2 tsp. dried oregano
1 bay leaf
1 medium red onion diced small
2 jalapenos, diced very small (reserve some seeds if you like extra heat)
1 red pepper diced small
2 large russet potatoes diced small
1 bag of frozen corn (3 cups total)
2 cups diced chicken (I use roasted chicken)
3-4 cups chicken stock (if you don't have homemade, use low-sodium organic stock)
2 cups whole milk
1 TB freshly chopped cilantro
Grated cheddar cheese for garnish
Salt and Pepper to taste
Instructions
Fry bacon in large stock pot until just starting to crisp (see picture below). Remove bacon and drain on paper towel and set aside for later.
Discard all but 1 TB of the bacon fat and add the onion, jalapeno and red pepper and potato to the pot and cook, stirring frequently over medium-high heat. Lightly salt and pepper the veggies. Cook for 4 minutes.
Add the thyme, oregano, paprika, cayenne, bay leaf and corn. Cook for 3 minutes.
Add the chicken stock. Take a taste and add additional salt and pepper. Continue to cook until potatoes are tender, stirring often and scraping up any yummy bits that stuck to the bottom of your pan while you were sauteing the veggies.
Add 4 cups of the soup into a blender and pulse until pureed. (Make sure the top is taken off and hole is covered with a folded towel otherwise the heat from the soup will blow the top off and you'll have soup on your ceiling and a burned hand)
Pour pureed soup back into the pot with the unpureed soup and add the milk, chicken and 3/4 of the bacon.
Reduce heat to low, add the cilantro and stir to combine ingredients. Continue cooking for 10-15 minutes until chicken is heated through. Do not let this soup boil or the milk will curdle. Taste for seasoning, and add additional salt or pepper if necessary.
Add the TB of chopped cilantro, stir to combine and ladle into bowls and top with shredded cheddar cheese and some of the remaining bacon. Enjoy!!
Notes
You can make this using an immersion blender, but take care to only blend about 1/3 to 1/2 of the soup, total. You still want a chunkiness to the soup.
When reheating the left overs, I add a little more stock, water or milk because it thickens quite a bit once refrigerated.
This will keep in the fridge for about 3-4 days and it will freeze for a couple weeks. Any longer than that and it will start to separate and get curdled looking. When thawing frozen soup, you may have to mix in more stock or milk. Don't let this soup boil or it will curdle.
https://www.realfoodgirlunmodified.com/
PAID ENDORSEMENT DISCLOSURE: In order for me to support my blogging activities, I may receive monetary compensation or other types of remuneration for my endorsement, recommendation, testimonial and/or link to any products or services from this blog.