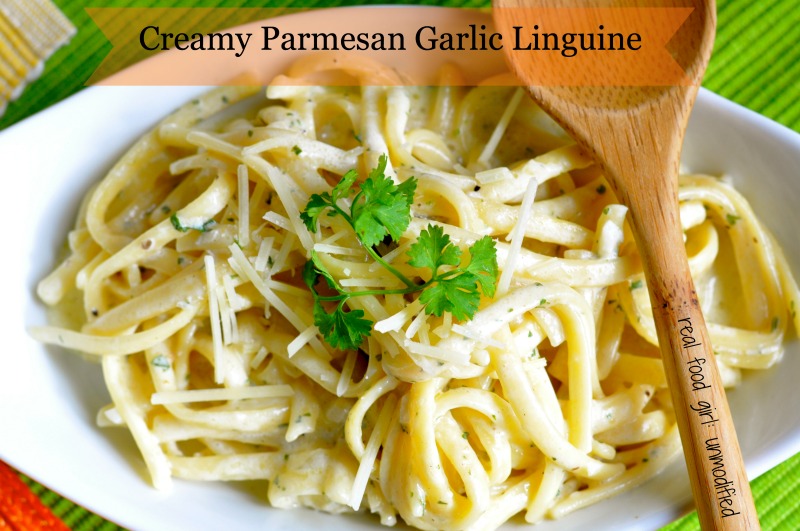 Creamy Parmesan Garlic Linguine
Pasta. We love our pasta here Casa de Stud Muffin y Real Food Girl. I'm sure it has everything to do with the fact that The Stud Muffin is Italian. He's also someone who does well on carbs. Me, not so much, so I load up with fat and protein in this dish with copious amounts of aged Parmesan and organic cream. Typically, I'll make this pasta as a side dish with a Ribeye steak or some grilled shrimp.
Holy sadness, Batman!! I just realized I don't have a grilled shrimp recipe or a steak recipe on this blog. Geesh-and I call myself a Chef. I'd better get on that before they take my Chef Card from me.
This dish is simple. There is nothing fancy about it. Just good ingredients, and a little love. Feel free to load up the garlic if you are trying to keep Vampires at bay. That's one thing SC doesn't have is vampires, so I don't go too crazy on the garlic. I want all the flavors to shine through equally.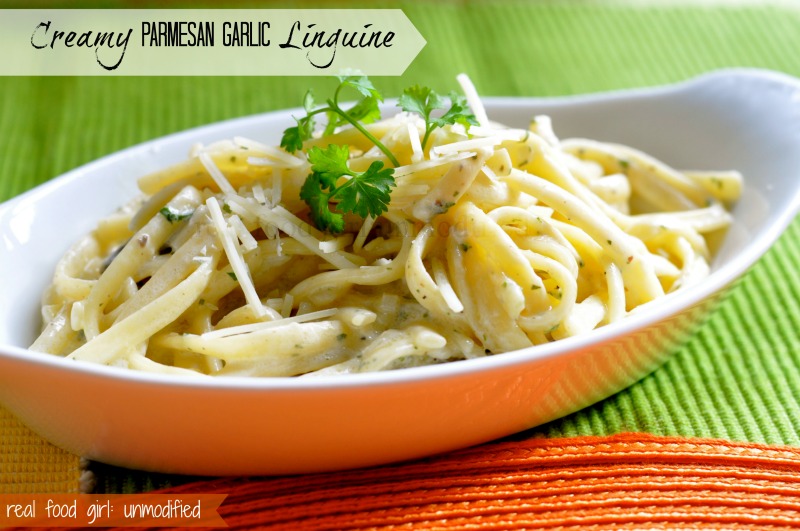 Since neither of us has a gluten intolerance I use linguine noodles made from organic durum semolina flour. Sometimes I even make my own. Great- I have yet to post a recipe for homemade pasta. Cripes, what's wrong with me? Don't answer that. I like these noodles and these noodles. I have also used the Whole Foods brand organic Linguine noodles, too. If you happen to be unable to tolerate gluten, feel free to substitute your own special noodles. This sauce even tastes good on Spaghetti Squash. I typically will add a little of the pasta water to thicken the sauce, so your sauce may be a little bit looser than mine if you are not using a wheat based noodle. Totally not a big deal. Really.
Even though this pasta recipe uses cream, it's not heavy. I think when it comes to cream based sauces I've managed to find a nice balance between rich tasting but not heavy. But I'll let you be the judge of that. What is your favorite kind of pasta? Are you like The Stud Muffin and you think they all taste the same, or are you like me, and each noodle seems to taste different to you? We'd love to have you chime in on our little debate.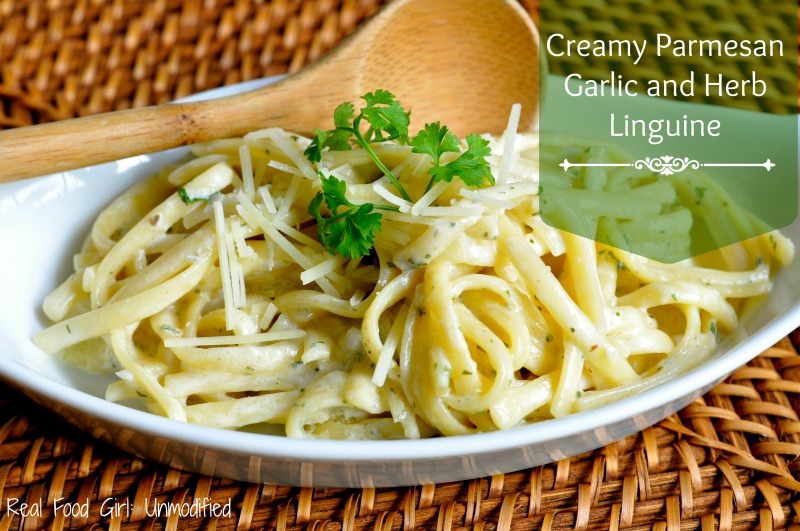 Creamy Garlic Parmesan Linguine
2014-01-06 02:59:09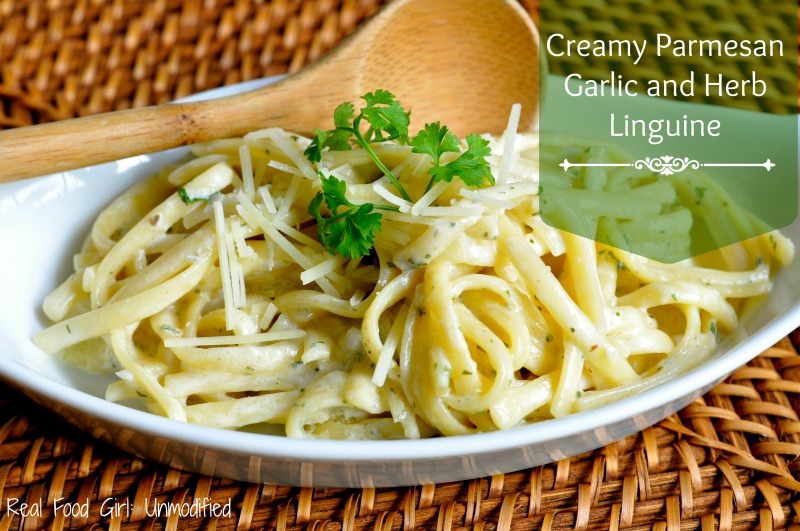 Serves 4
A quick, simple side dish featuring cream, Parmesan and a touch of garlic. Who needs Noodle-Roni? Not you!
Ingredients
8 ounces (half a package) of linguine noodles
Salt and Black Pepper
2 tsp. clarified butter
1 shallot diced fine (1/2 small yellow onion may be used as a substitute)
1/2 cup plus 1/4 cup freshly grated Parmesan Cheese (keep divided)
1/2 cup cream
1 clove garlic, minced very fine
1/2-2/3 cup pasta water
2 tsp. fresh parsley, minced (I prefer curly parsley)
Instructions
Bring a large pot of well-salted water to a boil. (water should taste like the ocean)
Meanwhile, prep the garlic, shallot/onion, parsley and measure out the cream. Set aside. (Mise en Place-- remember prep before you start and the meal comes together much faster)
In a medium skillet over medium heat add the clarified butter. Once the butter is melted add the onions to the skillet and season with salt and pepper. Sweat onions until translucent, taking care to not add any color to the onions. 4-6 minutes. Once soft and translucent add the garlic and stir constantly to keep from burning. Cook for 90 seconds and then remove from heat. Set aside.
Cook pasta according to package directions. I actually cook mine about 1 minute shy so that it is truly al dente as it will cook a bit longer in the sauce.
When pasta is finished, drain (do NOT rinse) and reserve 1 cup of the liquid.
Return the skillet with the onions to a medium heat and add the cream to the skillet. Stir to combine. Add some salt and pepper to taste.
Once the cream is heated through add the pasta. Stir to combine and cook for 2-3 minutes until sauce is slightly thickened and pasta is well coated.
Remove from heat and add the Parmesan (1/2 cup). Stir to combine. Taste and adjust seasoning.
Add some pasta water 1/4 cup at a time. If needed cook it down a little so the sauce isn't too runny.
Add the parsley, sprinkle with remaining Parmesan cheese and serve.
This will keep in the fridge for a couple days (Add a little milk to it before reheating), but it may become a bit greasy due to the cream separating upon reheating, so I typically don't make more than we can eat in one sitting.
Notes
I like a coarse grate on my Parmesan for this meal.
This sauce lightly coats the pasta. It's not a thick, heavy saucy type sauce.
https://www.realfoodgirlunmodified.com/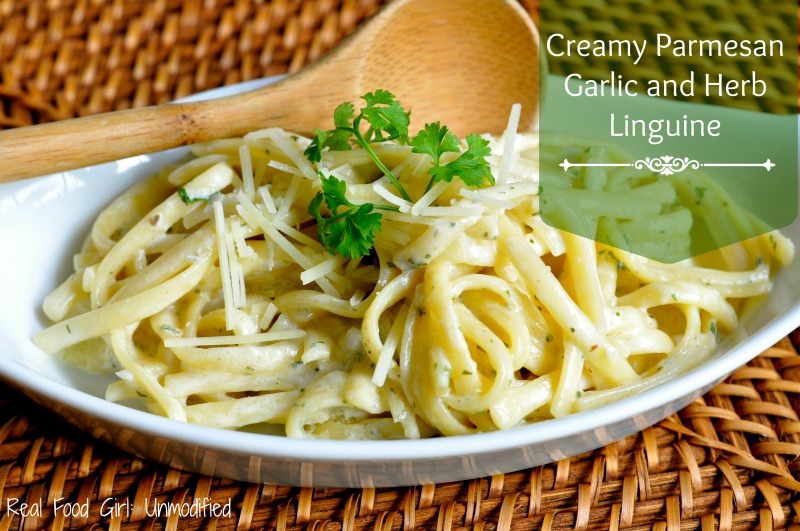 PAID ENDORSEMENT DISCLOSURE: In order for me to support my blogging activities, I may receive monetary compensation or other types of remuneration for my endorsement, recommendation, testimonial and/or link to any products or services from this blog.