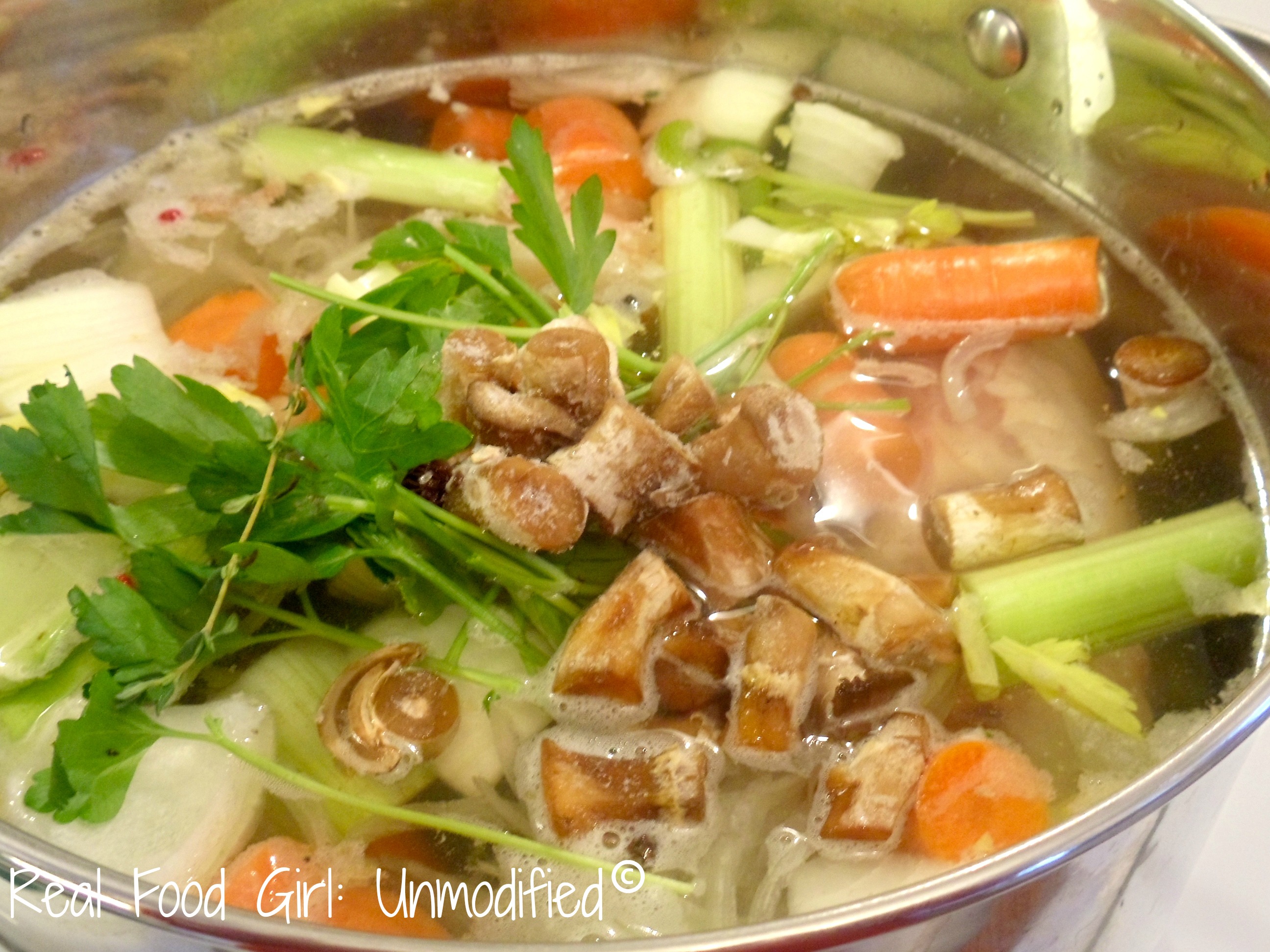 I've shared my chicken stock recipe, and I felt it was high time to share with you how to make a decent beef stock.  You won't realize how flavorless and watered down a can or carton of beef stock is until you make your own from scratch using the highest quality ingredients you can find.  I generally make at least 1 chicken stock recipe per month. Sometimes two.  And 1 beef stock recipe per month.  You'll be surprised just how easy it is to make your own stock. You'll wonder why you didn't make it sooner!
One thing I love about making homemade stock is that I control the salt levels and the ingredients that go into each individual stock.  A lot of my stock use goes to making sauces so I do not season my stocks heavily at all.   They get a very light sprinkling of salt.  Why?  Well, as a stock cooks down/reduces the flavors become very concentrated.  If you salt your stocks like you would a broth based soup, as it reduces you'll end up with a chicken or beef flavored salt lick.  It's not yummy, and you'll be sad, so don't do that.  Resist the urge to salt your stocks to where you can taste the seasoning.  I don't add more than 1/2 tsp of salt total to my stocks.
I invest in good, quality, organic bones– with some meat still attached– from animals that were either pastured, or fed the way God intended.  If I'm making chicken stock, the little chickies were roaming freely, eating bugs and anything else they fancied, but not GMO laden grains.  If I am making beef stock, the cows roamed the hills and moo'd and told silly cow jokes and ate grass and clovers- and not GMO-corn or soy.  My local butcher sells me my beef bones.  He cuts large knuckle bones and femur bones for me so that they'll fit into my stock pots.  I get chicken backs from Whole Foods, and I save chicken carcases and/or bones, (raw and cooked) in zipper top bags in my freezer until I have enough to make a batch of stock.
I generally have mushroom stems and peelings in my freezer as well as parsley stems, and I keep fresh thyme, peppercorns, and bay leaves on hand as well.  If I don't have any cheesecloth on hand to make a bouquet garni/sachet (herbs, pepper corns, a clove or two, wrapped in cheese cloth and tied up and submerged into the liquid) I'll just drop that stuff right in with my Mirepoix (Pronounced Meer-Pwah are veggies used as aromatics to flavor the stock and consists of 25% carrots, 50% onions & 25% celery.  For example, if you have 8 lbs. of bones, you typically will have 1 pound of mirepoix by weight.  So 4 oz. carrots, 4 oz. celery and 8 ounces onions).
DO NOT rinse the bones before you roast them.  Bad things happen to people who do.  You will have bone marrow and fat dripping off these bones in the oven, and on occasion, water could cause a bone to jump or burst and people have gotten seriously burned and hurt, so just don't wash them first.  Also, if you wanted to add some short ribs to the bones to add a little meatier flavor to the stock you go right ahead.
You will brown/roast the bones for a good hour.  I'm going to share with you a recipe that can be cut in half.  The recipe I'm sharing should yield about 5 quarts of stock.  Oh, and under no circumstances should you rinse those bones before you roast them unless you want to risk having a bone or a glob of hot oil explode in your face.  Trust me.  That will hurt!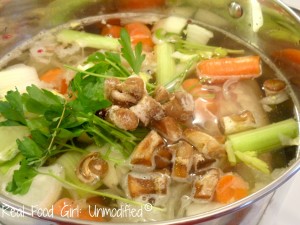 Scratch Organic Beef Stock
Recipe by: Real Food Girl: Unmodified Makes: About 5 quarts Preheat oven to 400 degrees F    
INGREDIENTS:
8 lbs. beef bones (from grass-fed/organic cows)  I like femur bones and knuckle bones (yours won't be smoked like the ones in those pictures, but you get the idea)
1 cup organic carrots, chopped into 3-inch pieces (I don't even peel mine)
1 cup organic celery chopped into 3-inch pieces
1 LARGE yellow onion (should equal 2 cups) quartered and cut each quarter in half.
4 TB tomato paste
1 cup mushroom stems (whole brown mushrooms are fine if you don't have any stems on hand)
8-10 parsley stems (Buy a bundle of parsley and whack off the stems)
Generous 1/2 tsp. of black pepper corns
3 cloves garlic peeled and lightly crushed
2 bay leaves
5-6 sprigs of fresh thyme
1/2 tsp. salt
Olive Oil
DIRECTIONS:
Place bones in a large roasting pan and drizzle liberally with olive oil.  Using hands, turn bones to make sure each bone is well coated with oil.  Place roasting pan in 400 degree oven and bake for 45 minutes.  Carefully turn bones once during baking.
Remove from oven, add tomato paste, and stir to combine. Cook over medium heat for about 3 minutes (you want to let the tomato paste brown a little, which will cook out some of the acidity and raw tomato taste and intensifies the sweetness), then add vegetables and garlic, stirring well to coat all the veggies with the tomato paste. Return to oven and roast until vegetables are browned and tender and bones are deeply browned, about 45 minutes.
Transfer bones and veggies to a large stockpot and add enough water to stockpot to cover bones and vegetables by 2 inches (about 8 quarts). Bring to just under a boil, then reduce heat to a bare simmer (bubbles should just gently break at the surface).  Add herbs, and peppercorns and very gently simmer, uncovered, over low heat for 4-5 hours, adding more water as necessary to keep everything submerged.  The longer you cook the bones, the more nutrients your stock will have.
You may have to use two stockpot and divide everything.  I don't have one large enough to hold 8 pounds of bones, so I split the ingredients into two stock pots, and increase my veggies by 1 carrot, 1 celery stalk and I add another small onion to the party.
Add salt to the stock, and stir.  Skim off any scum/foam/impurities that rise to the top.
After 4-5 hours, remove herbs and veggies and bones from the pot(s).  Carefully pour stock through a cheesecloth-lined sieve into a large bowl or another stockpot.  Stock will be dark-reddish brown. Let cool completely before transferring to airtight containers. Refrigerate at least 8 hours to allow the fat to accumulate at the top; lift off and discard fat before using or storing.  This stock freezes well for up to 6 months, or will keep in the fridge for up to a week (or more if your fridge is uber cold like mine).
It is natural for the stock to gel. In fact you WANT it to gel.  If it doesn't, feel free to reduce/cook down the stock slightly in a large stock pot and then transfer to storage containers.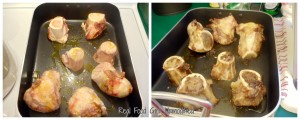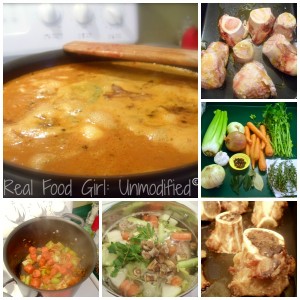 PAID ENDORSEMENT DISCLOSURE: In order for me to support my blogging activities, I may receive monetary compensation or other types of remuneration for my endorsement, recommendation, testimonial and/or link to any products or services from this blog.