It's getting cold here in South Carolina. Granted it is still in the 50s most days, but there is something to be said for a Southern 50 degrees and a Midwestern 50 degrees. In Minnesota we'd have windows cracked and shorts on. The only reason we'd turn the furnace on is if it was uber windy. Down here I'm wearing a long sleeved shirt, a sweat shirt, a fleece bathrobe, socks, slippers, a pair of fitted long underwear AND yoga pants and I'm still cold. It's a bone chilling kind of cold when the temperatures drop in the south. Call me crazy, but I can't warm up.
I can't keep taking showers to warm up because it's not cost effective and I'm starting to look like a Shar pei puppy; just as wrinkly, but not as cute. A girl can only have so many mugs of tea and cocoa and cuddle with a heating pad before it's time to call in the big guns. Wait. What? Did she say big guns? Soup is a big gun? Uh, yes. Soup is a big gun. Trust me. This soup will warm you down to your frigid little tippie-toes.
This is one of our favorite soup recipes here at Casa de Food Girl. The Stud Muffin doesn't care for straight broth based soups, so I've thickened this one up with what else, but a health dose of fresh, raw milk whole cream. It's so yummy. This recipe originally came from my mom. The recipe she gave me was a good jumping off point for me to make it more Real Food/Non-GMO. Any time I can take "modified" ingredients and replace them with "unmodified" ingredients to make a recipe healthier I'm going to do so. Let's all thank Mom of Real Food Girl for giving me the inspiration for this soup. If it wasn't for that original recipe, you guys wouldn't be able to warm up at all. How sad would that be?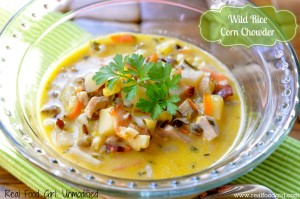 Real Food Wild Rice Corn Chowder
2013-12-12 14:07:07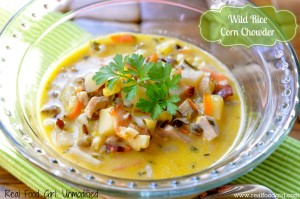 Serves 6
This easy corn chowder recipe has it all. Bacon, wild rice, veggies and cream. If the chowder gods could make a soup. It would be this one.
Ingredients
1/2 pound bacon, cut into lardons (long dice) Ya know-you'd better just cook up the entire pound because you know you'll eat half of it while you finish prepping for the chowder.
1 large yellow onion, diced small
2 carrots, grated (Use coarse grate on box grater)
2 TB flour (To make GF just substitute tapioca starch, arrowroot or corn starch- this chowder is only slightly thickened but not much)
1 quart homemade chicken stock
4 medium-large sized red potatoes- diced small (I don't peel mine)
1 cup cooked wild rice * See Notes
3 cups of frozen organic corn *See Notes
3/4 cup organic cream OR 1-1/2 cups organic half & half
Salt and Pepper (to taste)
2 TB fresh parsley- chopped
1 tsp. fresh thyme, chopped (or 1/2 tsp dried)
Chicken * See Notes
Instructions
Saute bacon until just cooked, drain and set aside-- Don't burn it or make it crispy like a potato chip. It's a pig, not a potato.
Using the same pan, saute the onions in bacon drippings. Mix in the flour (or GF alternative) and whisk until blended and cook for 2 minutes.
Add broth, whisk and cook for 5 minutes. Taste and season with salt and pepper.
Add potatoes and simmer until tender, about 20 minutes. Taste and season as needed.
Add the cream or half & half, carrots, corn, rice, chicken- if using, and the thyme. Heat through on low heat but DO NOT BOIL. Heat for approximately 10 minutes.
Add the bacon and the parsley to the chowder, stir, cook for another 2-3 minutes and then serve.
Top with good quality cheddar or colby cheese if desired.
Notes
To cook wild rice, take 1/2 cup wild rice and cook in 2 cups of lightly salted water or stock for 45-60 minutes until tender. Drain if necessary and set aside to cool. Add it to the chowder in when recipe dictates.
Chicken option: To beef this soup up even more, I will add 2 cups of medium diced cooked chicken breast and thigh meat.
During the summer months, I will buy a couple dozen ears of non-GMO corn and cut off the kernels and freeze them for later use. I used my own homemade frozen corn for this recipe.
This soup thickens slightly after 24 hours in the fridge. It also freezes (for up to 6 weeks), but will curdle slightly. Simply warm the soup through over low heat and stir in a little half and half toward the end to make the soup creamy again. If you use Russet potatoes, vs. (baby) red potatoes, the russets won't handle the freeze well.
Adapted from From Mom
Adapted from From Mom
https://www.realfoodgirlunmodified.com/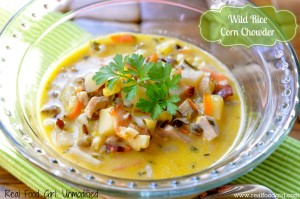 PAID ENDORSEMENT DISCLOSURE: In order for me to support my blogging activities, I may receive monetary compensation or other types of remuneration for my endorsement, recommendation, testimonial and/or link to any products or services from this blog.