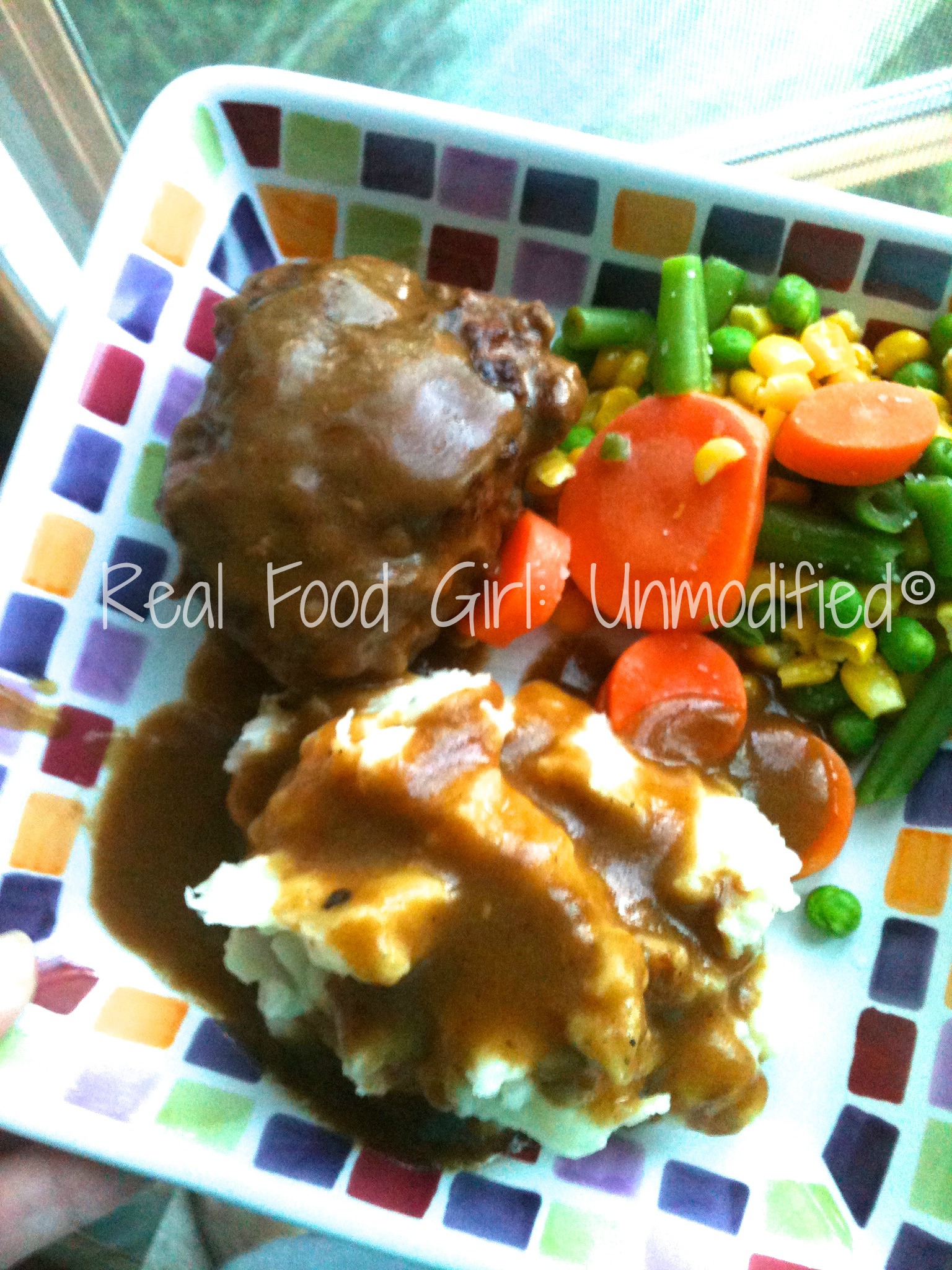 Ground Sirloin Steaks with Brown Gravy
One of my favorite blogs is South Your Mouth.  South Your Mouth is run by Mandy.  She's spunky, sarcastic and is fast becoming a good friend.  I get the opportunity to meet her later this year, which has me seriously stoked!  Not only do I get to experience her yummy food, and her bold, nothing is sacred, irreverent sense of humor but I'll get to tear things up in the kitchen with her.  I have to say I'm super excited to finally be meeting a favorite blogger in the flesh.  I've been stalking following Mandy's blog for a little over two years.  I know you'll enjoy her humorous stories and her recipes as much as I do.
Now, you'll notice when you visit her page that she cooks that yummy, Southern food.  And you all know that I'm a pro-organic, anti-GMO, Food Hippie, so you will have to make some changes to some of her recipes.  Just replace any processed items with Real or organic ones when possible in the recipes that contain the types of ingredients that you may be trying to avoid.  When I find a recipe that calls for ingredients I would prefer not to use, I just substitute organic, non-GMO, Real foods in their place have never been disappointed with the outcome.  It's not like what I do is rocket science.  If there is an ingredient that doesn't qualify as Real Food, replace it with something that is.  See how easy that is?!
I was not able to get a pretty picture for this super fabulous dish.  The hubby was busy with night classes and I was pretty much cooking for myself, knowing he'd come home and heat up the left-overs.  This photo was taken when I was still using my iPhone for pictures, and not TSMs (The Stud Muffin's) fancy-schmancy camera. Please forgive me for that.  Just know that the picture doesn't do it justice and these are SO tasty.  It's just simple, cheap, tasty, homey, good food!
This recipe is nothing more than a fancy hamburger posing as a chopped steak.  In my book there's nothing wrong with that.  You know why?  Because gravy is involved.  And I love gravy.   When gravy is on my plate I'm happier than a Vampire at a blood bank.   Using a good, quality grass-fed ground sirloin steak catapults this humble bunless burger to the next level. When you're browning these little gems in the skillet you'll hear them singing: "We're movin' on up (Movin' on up) To the top, (movin' on up) to a dee lux apartment in the sky eye eye eye, we're a movin' on up (movin' on up), to the top, we finally got a piece of the pie"… but for burgers, instead of George and Wheezy Jefferson.  Wait?  Your ground sirloin doesn't sing?  Huh.  How sad is that?
Just make sure you get something with some fat in it. This is no time to go all low-fat with your beef or you'll end up with gravy covered hockey pucks! Trust me, even gravy can't fix that. Sad, but true!
Ground Sirloin Steaks with Brown Gravy
Recipe adapted by
South Your Mouth
Makes: 4 steaks Time: 30 minutes  
INGREDIENTS:
For the Steaks:
1 lb, grass-fed ground sirloin 85/15
1 tsp. kosher salt
¼ tsp. black pepper
½ small yellow onion diced fine
1 tsp. Worcestershire sauce
½ tsp. soy sauce
1 small clove garlic minced
1 TB bacon grease (optional, but it adds another depth of flavor)
For the Brown Gravy:
1 TB pan drippings
1 TB butter
2 TB flour
2 cups homemade beef stock
1 tsp. Worcestershire sauce
Salt & Pepper TT (to taste)
DIRECTIONS:
In a medium sized skillet sauté the diced onions in bacon fat until soft and translucent.  Remove from the pan and set aside.
In a large bowl add almost room temperature ground beef, salt, pepper, minced garlic, sautéed onions, soy sauce, Worcestershire sauce.  With clean hands, very gently mix until everything is combined.  Mix like you've got the hands of an arthritic 92-year-old grandmother.   If you compress the beef you'll end up with hockey pucks so be gentle!
Shape the beef into four thin burger steaks, about ½- inch thick.  Take your thumb and press down into the center of each steak- this will keep each steak from getting fat as you cook them.   There is nothing more frustrating than having a nice, flat, thin steak/burger and after 2 minutes in the frying pan it looks like the steak in my photo.  That's because I forgot to put an indentation in the middle before frying.
Return the skillet to medium high heat and add a little more bacon grease.  Once the pan is hot, cook the steaks for 2 minutes on each side.
Remove steaks from the skillet and set aside on a plate
Reduce heat to medium-low and pour off the pan drippings into a small bowl.  Measure one tablespoon of the drippings back into the pan and add 1 tablespoon of butter.  Sprinkle in 2 TB flour and using a whisk, combine drippings and flour to make a roux.  Cook for 3-4 minutes to eliminate raw flour taste and give the roux a nice golden color.
Slowly whisk in 2 cups of beef stock.  Whisk vigorously to incorporate the roux with the stock so you don't create any lumps.  Add the Worcestershire sauce, some salt and pepper.  Taste and adjust seasonings.  Continue to cook and stir/whisk the gravy for 3-4 minutes until it thickens.  Taste and adjust seasoning.
Add the steaks back to the gravy and reduce heat to low.  Continue cooking for 5-7 minutes until juices run clear or when a thermometer inserted reads 140 degrees.
If the gravy is too thick, add a little more stock.  This gravy will be a little on the thin side vs. thick and gloppy.
PAID ENDORSEMENT DISCLOSURE: In order for me to support my blogging activities, I may receive monetary compensation or other types of remuneration for my endorsement, recommendation, testimonial and/or link to any products or services from this blog.