Lemon Blueberry Loaf Cake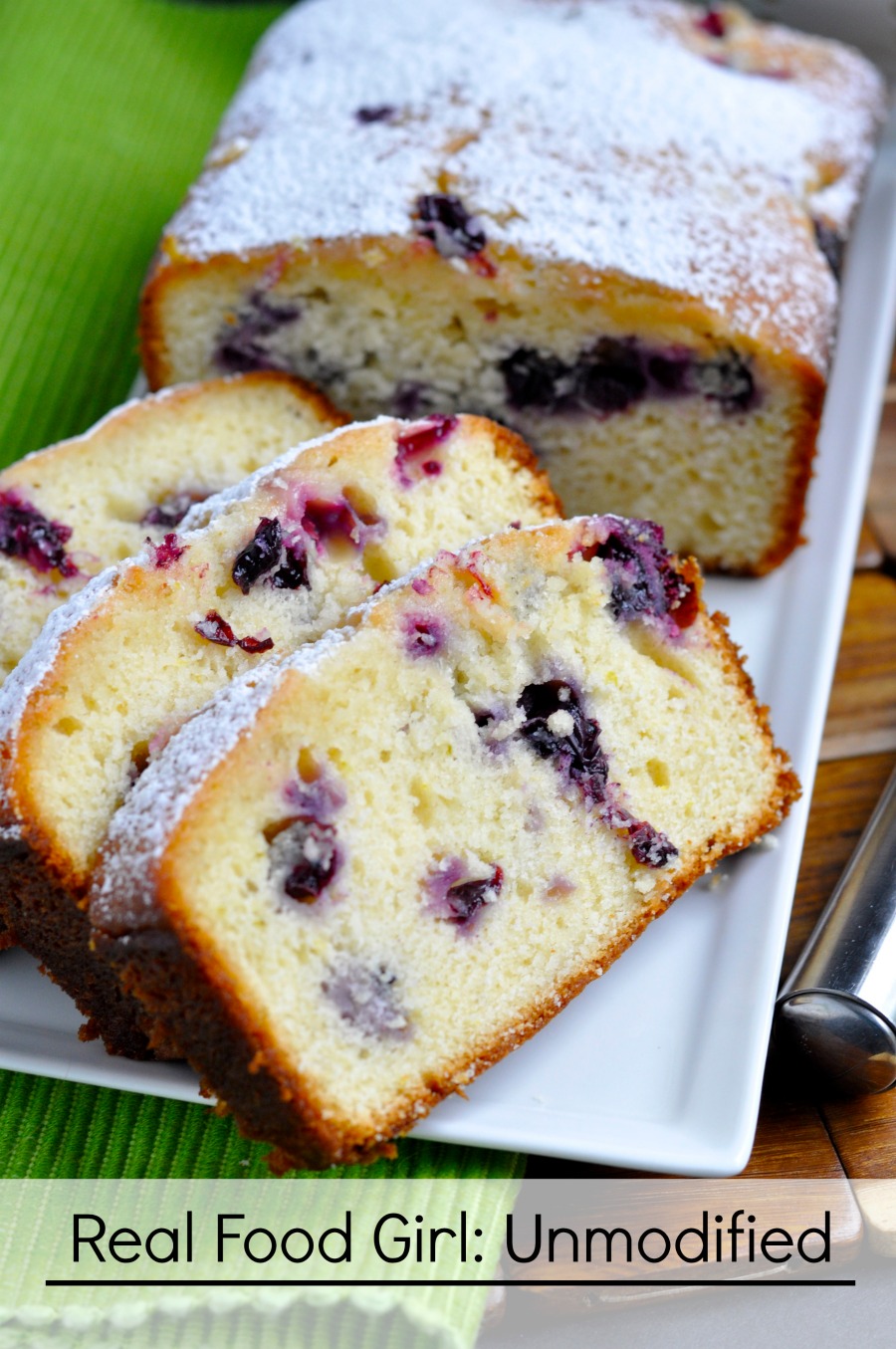 I had in my possession, for about 20 years the most amazing lemon bread recipe. It was from one of my mom's old friends, Mrs. Bratnober. That woman could bake. Over the years, each time that I made this bread I fought all urges to eat the whole loaf myself without sharing any. However, I wasn't raised by wolves, so I shared it with The Stud Muffin. My mother would be so proud.
About a month ago I went to my recipe box to grab the card and make this so I could feature it during my week of "All things lemon". I kid you not, I went through every single card in that box FOUR times and her recipe was no where to be found. Ack! I ran to my other recipe box, and same thing. Four times, no recipe. I called my sister. "Please, please, PLEASE have this recipe". No such luck. Dang!
My folks were on vacation at the time, so I had to wait a week for them to get back. During that time, I tested a new recipe. It was awful. I was so sad that I'd wasted organic blueberries on that debacle. But such is the life of a blogger. The recipe I tested had virtually no lemon taste at all and I doubled the amount of lemon and tripled the amount of zest. The only way I knew there was lemon in that bread was because I saw myself put lemon into the mixing bowl. It was on to another recipe. The second recipe was similar to the first and it made me equally as sad. Lemon bread shouldn't make you sad. I mean it's lemons. Aren't they the stereotypical food of sunshine and happiness?
While I was wasting precious lemons and blueberries about to start testing more recipes, my folks returned from their vacation. My mom called me back, and while I waited on the phone she looked through all of her recipe cards, but did not have the coveted Mrs. Bratnober's Lemon Bread recipe. I can't tell you how sad I was to hear her say she didn't have it. I'd blame the movers for losing my recipe card, but I was one of the movers. Not to mention I packed 70% of our house myself before we moved. Sigh. Do any of you other creative types misplace things with alarming frequency? Say it's not only me.
Determined to replace Mrs. B's lemon bread recipe, I decided to turn to someone who typically has recipes that turn out and I don't find myself writing a post about how their recipes do not turn out. That someone was Ina Garten. The one and only Barefoot Contessa. I don't know what it is about Ina, but I enjoy watching her and listening to her. She makes me want to go out and buy every flavored liqueur known to man so I can make every single one of her recipes. She makes me want to travel through France with a backpack, a tent and a big wad of cash.
Ina had a recipe for a lemon cake in a loaf pan. There isn't a lot of difference between a quick bread and a cake, so I decided to give this recipe a try. After it came out of the oven and I took a bite, I paused. Took a deep breath and declared that this was it! I'd found the recipe that gave me what I was looking for. Bright, tart lemon flavor and the inability to stop myself from having a second slice. The blueberries popped in my mouth adding another layer of sweetness to the bread and I didn't even bother with the glaze. I actually thought that a lemon zest-cream cheese frosting might taste really good spread on a slice of this. I may have to revisit that idea in the future.
The texture is slightly similar to a buttery pound cake, but not as spongy or dense. I decided to give her version a try and add blueberries. I do NOT recommend using frozen blueberries and when I make this recipe again, I'm going to use dried organic blueberries instead of fresh. To me, the addition of blueberries added excess moisture to the bread. And not the right kind of moisture. It was still very, very good. I merely think it would have been even better with dried blueberries.
Call it lemon cake, call it lemon quick bread, whatever you decide on, call people over for brunch because you are going to want to share this lemon blueberry loaf cake with friends and family. The recipe makes two loaves, so there is more than enough to share. The next time I make this I'm going to sprinkle in a few drops of Young Living Lemon Essential Oil. I simply can't get enough lemon flavor and the addition of the oil I think will take this cake to the next level. I'm even contemplating adding a little bit of lavender to the lemon sugar syrup that you spoon atop the bread before it cools.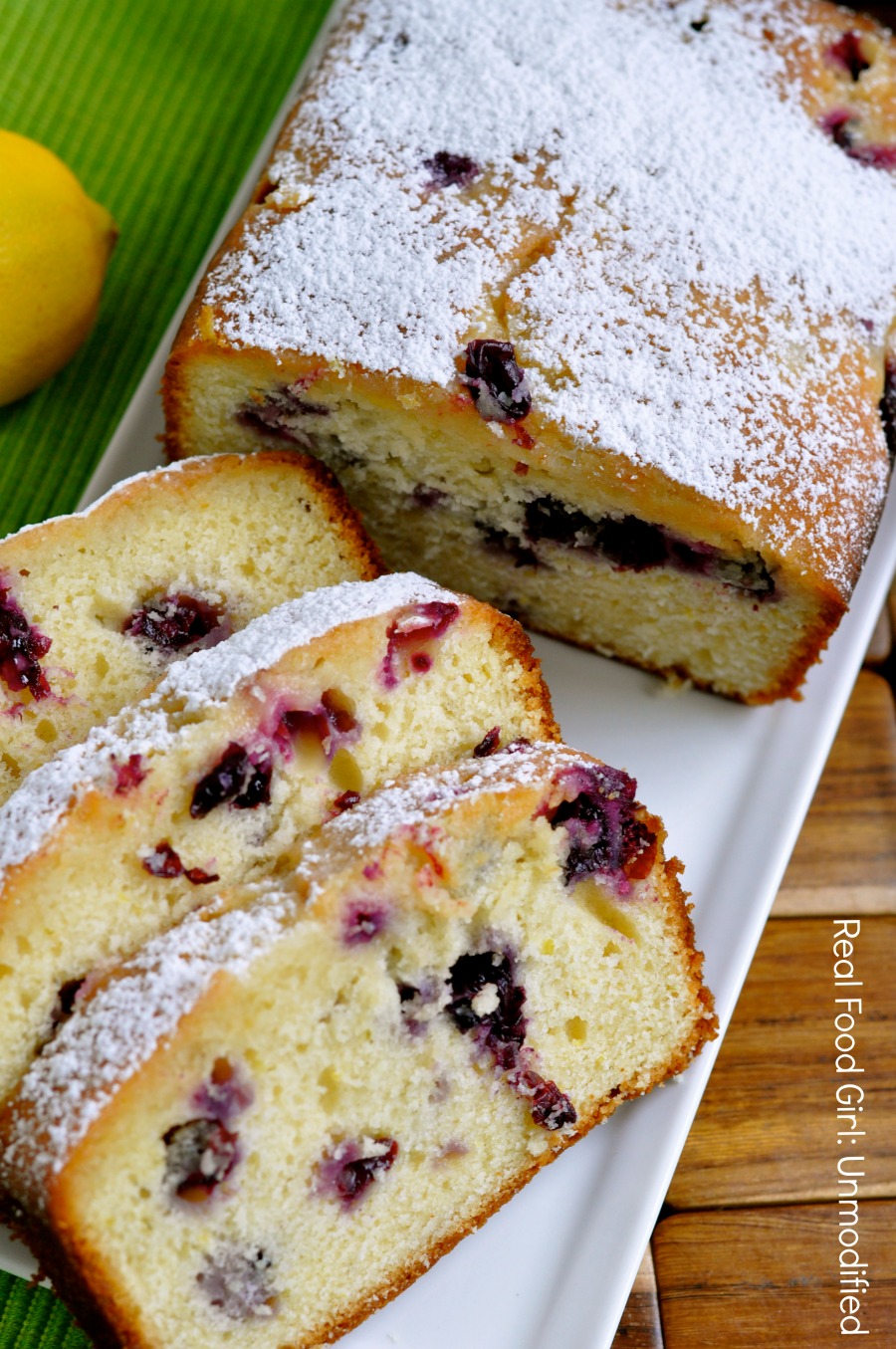 If lemon baked goods make you happy, and if blueberries put a smile on your face, you have to try this recipe. This would make a great addition to an Easter Brunch, or slice it up, throw on some of my Balsamic Strawberries, add some whipped cream and Bam! You just took strawberry shortcake to a whole new level! Am I right!!
PS- If anyone happens to know Mrs. Bratnober and you have access to her lemon bread recipe, please help a girl out. I love Ina, but Mrs. B… You have mad lemon bread skills!
Do you have a lost family recipe you're trying to duplicate? Share it here, maybe someone can help you out!
Lemon Blueberry Loaf Cake
2014-06-01 23:55:14
Sunny lemons meet juicy blueberries in a tender, moist lemony quick bread.
Ingredients
2 sticks unsalted butter, at room temperature
2-1/2 cups organic cane sugar, divided
4 large pastured eggs, at room temperature
1/3 cup grated lemon zest (6-8 lemons worth. I used a little lime zest because I ran out of lemons)
3 cups organic all purpose flour
1/2 tsp. baking powder
1/2 tsp. baking soda
1 tsp. sea salt
3/4 cup freshly squeezed lemon juice, divided (4-5 lemons)
3/4 cup buttermilk, room temperature
1 teaspoon organic vanilla extract
2 cups of fresh, organic blueberries (optional)
For the Glaze
2 cups organic powdered sugar, sifted
3-4 TB freshly squeezed lemon juice
Instructions
Preheat oven to 350 degrees. Grease and flour two 8" (8-1/2 by 4-1/4) loaf pans. Line the bottoms with parchment if desired (Grease the bottom, lay in the parchment, then grease and flour over the parchment).
Using the paddle attachment, cream the butter and 2 cups of the granulated sugar in the bowl of your electric mixer until light and fluffy, about 4 minutes.
With the mixer on medium speed, add the eggs, 1 at a time. Add the lemon zest (and lemon extract, or YL lemon essential oil if using) and mix until just combined. Stop the mixer and scrape down the sides.
Sift together the flour, baking powder, baking soda and the salt in a bowl. In another bowl, combine 1/4 cup lemon juice, the buttermilk and vanilla.
With the mixer on low speed, add the flour and buttermilk mixtures alternately to the batter. Begin with the flour and end with the flour. You'll basically add the flour in 4 near equal increments and the buttermilk in 3 increments.
Scrape down the sides as needed and mix only until flour mixture is just blended with the batter. Don't over mix.
Gently fold in your blueberries if using.
Divide the batter evenly between the prepared loaf pans and smooth the tops. Bake for 45 to 60 minutes until a toothpick inserted in the center comes out clean.
Combine the remaining 1/2 cup of the organic cane sugar with 1/2 cup lemon juice in a small saucepan and cook over low heat until the sugar dissolves. Resist the urge to add water and make lemonade. 😉
When the cakes/breads come out of the oven, run a paring knife between the pan and the cake to make sure it isn't sticking to the sides of the pan. Let the cake cool in the pan (on its side) on a cooling rack for 10 minutes.
Remove the cakes from their pans and set them over a sheet pan. Spoon, or brush on with a pastry brush, the lemon syrup. I used all but 3 TB of the lemon syrup. The cakes just couldn't absorb any more. Allow the cakes to cool completely. Slice and enjoy.
If making the glaze, drizzle it on top of the cakes before slicing and serving.
Notes
I did not make the glaze, I didn't feel that the bread needed it.
I love lots of lemon flavor and feel that 1/4 tsp. of a truly natural, organic, real lemon extract would have taken this bread to the next level!
If you don't have buttermilk on hand, here is an easy substitute
Simply measure out 3/4 cup of whole milk into a liquid measuring cup. Remove 2 tsp. of the milk and return it to the container. Replace that with 2 tsp. of white vinegar. Don't stir it!! Just let it sit for 10 minutes and it will start to thicken and curdle on its own. After 10 minutes, it is ready to use in the recipe.
Adapted from Ina Garten
https://www.realfoodgirlunmodified.com/
PAID ENDORSEMENT DISCLOSURE: In order for me to support my blogging activities, I may receive monetary compensation or other types of remuneration for my endorsement, recommendation, testimonial and/or link to any products or services from this blog.