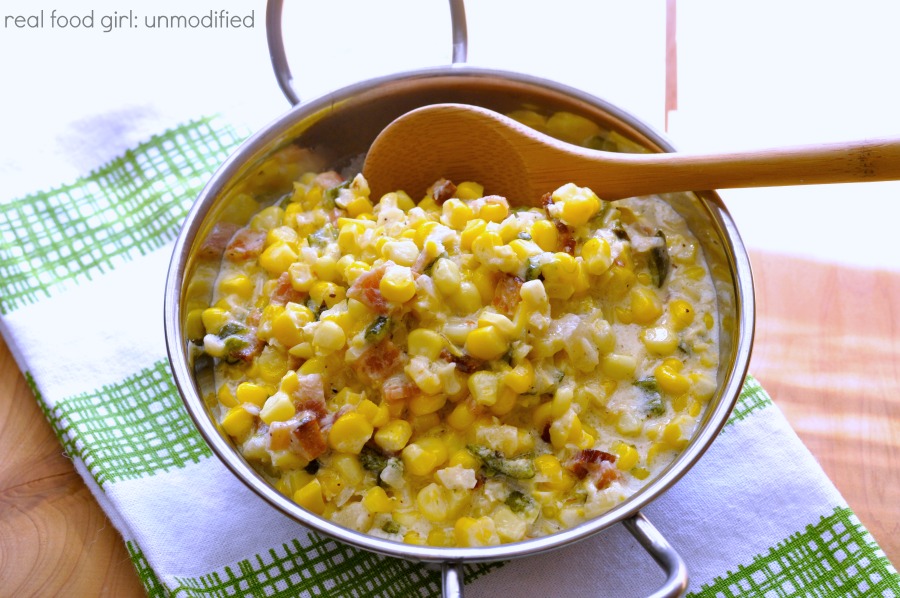 Creamed Corn with Bacon and Poblano Pepper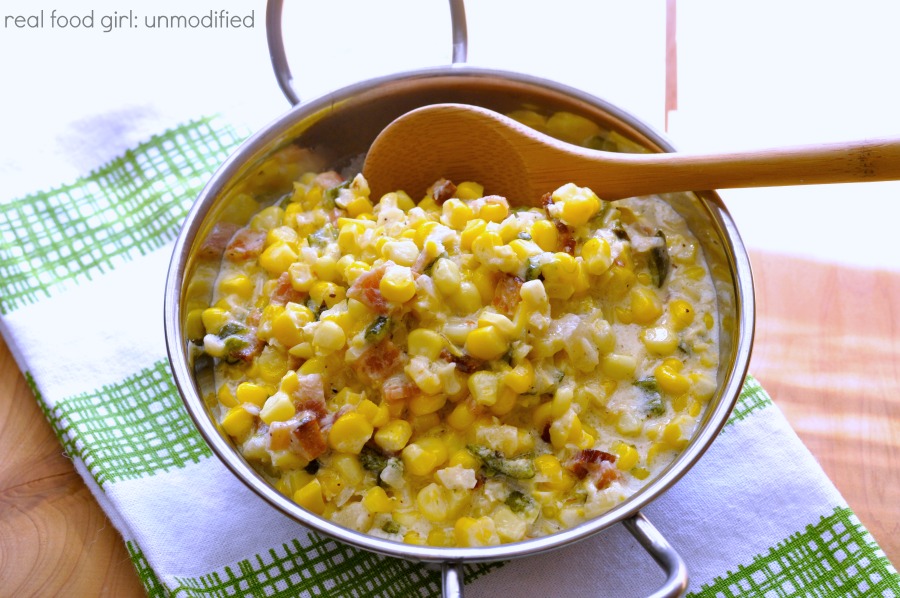 I'm pretty excited about today's recipe. I really like corn. I especially like sweet corn. When we moved to South Carolina I noticed that they had all sorts of farm stands along the sides of the roads. I was in fresh produce heaven. That is, until I found out that the one I was frequenting got their produce from WalMart and I was buying GMO sweet corn. Yep, you guessed it. I was no longer in heaven.
It's getting harder and harder to find organic sweet corn. This makes me sad because I can do wonders with an ear of corn. When I was out and about running errands last week, I found some organic sweet corn at our local Trader Joe's. I've been a little upset at their lack of organic items at my store and also the amount of ultra-pasteurized dairy products, including their lack of decent organic and pastured eggs. This almost made up for all that. Almost. My reasoning for having you look for organic sweet corn is because corn is regulated by the EPA as a pesticide. NOT a vegetable. If you don't want to eat Roundup (yes, it's IN the corn), then look for organic, please.
You'll have to forgive these pictures. I had to use a different room in our home to shoot them, I wasn't used to the lighting, we were hungry, and I didn't make enough to shoot the leftovers the next day, so I was in a hurry. These pictures don't do this corn, or its beautiful color, justice. As soon as I get a chance, I'll redo the photos.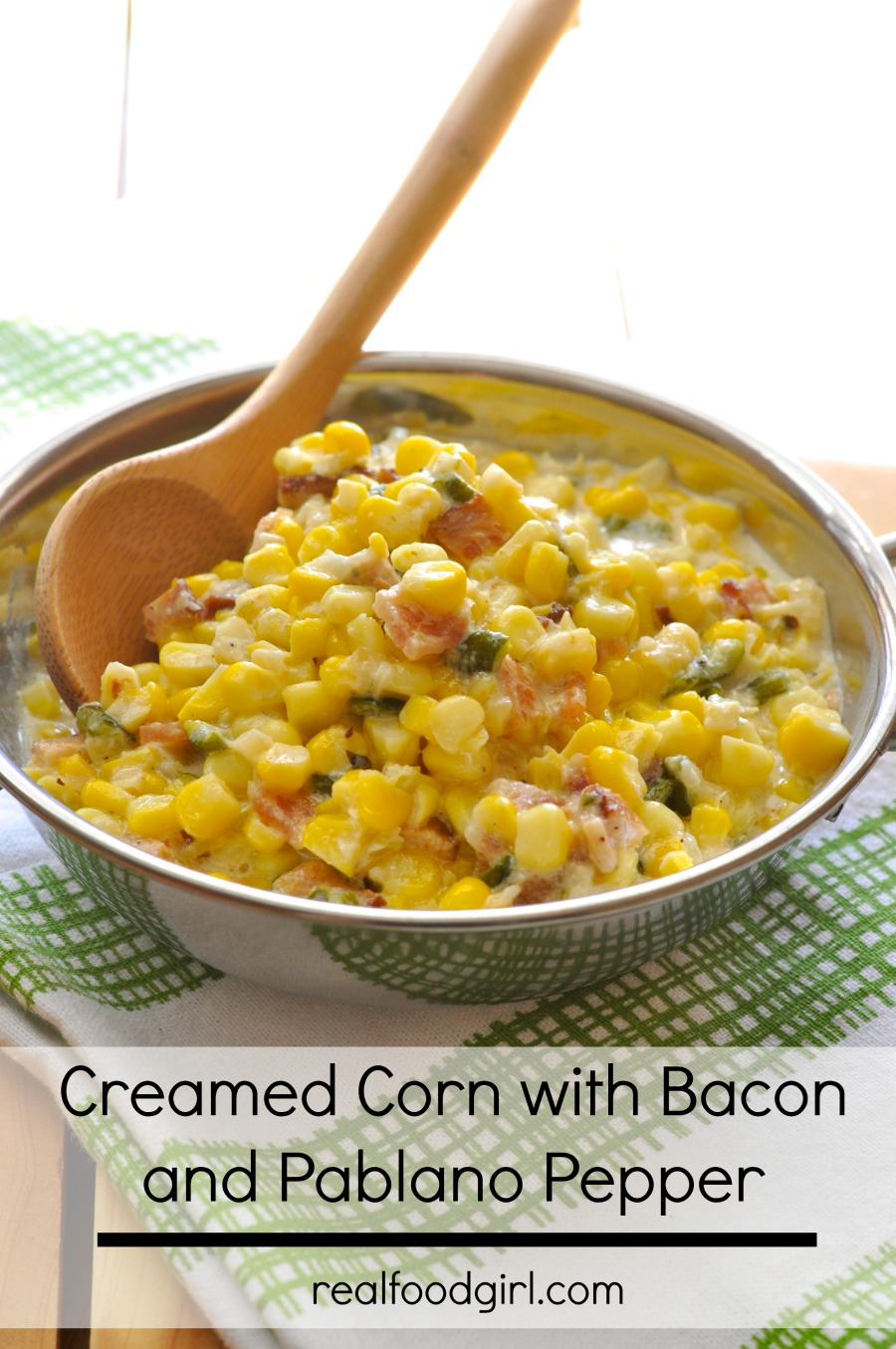 There is something about creamed corn that makes me happy. Not that nasty, canned stuff that has the texture of watered down snot. Nope. That stuff is NOT creamed corn. I'm not sure what it is, but that "sauce" is not something found in nature. It's just not possible. Fresh, organic sweet corn, bacon, onions, fresh, cream from pastured cows- now THAT is creamed corn.
I made a version of this corn once in culinary school when we got to mess around one day and make whatever we wanted. The next day I was walking to class and my Chef Instructor was coming down the hall in the opposite direction. He motioned to me, and when I got to him he said "Kristine, zat was one of zee behst corhn dishes zat eye haf had een ay lahng time!"… (She says in her best French accent). Yeah, that made my day. Especially since that particular Chef didn't eat much of what we made in class. So, if my favorite French Chef Instructor said this is good, then you know it's good.
This creamed corn with bacon and poblano is roll your eyes in the back of your head, slap yo' Mama, "shut the front door" good. This is the kind of corn that you tell your coworkers about at the water cooler on Monday. "Hey, Bob. What did you do this weekend?" "Man, you will NOT believe the creamed corn with bacon and poblano that my wife made this weekend, it was earth shatteringly good!" Don't worry, Bob will probably run to HR to tell them you've lost your mind, but secretly, he's jealous of your creamed corn nirvana. He really is.
This dish comes together pretty quickly, and in no time at all, you'll have the perfect summer BBQ side dish that people will rave about and beg you for the recipe. You'll the be the Princess of the Picnic, the Belle of the BBQ, the King of the corn, the… eh, people will just love you. And the corn. It's that simple.
The easiest way to cut corn off the cob, aside from using a wicked-sharp knife is to stand it on a small bowl placed inside a larger bowl. The small bowl acts as a platform and ensures you can glide your knife safely down the entire ear of corn, and the larger bowl catches all the recently freed kernels of corn. Doing it this way also means less mess to clean up, and I'm not sure about you, but less mess to clean up is always a good thing. Just make sure the bowl you place inside the larger bowl doesn't slide around on you. If you need to "anchor" it, wet a few paper towels and place them under the smaller bowl to hold it steady.
My last tip for you has to do with roasting your Poblano pepper. I like Poblano's because they're relatively mild, but still have a little warmth to them. They also add nice flecks of green to the corn, and I think yellow and green together is pretty. We eat with our eyes, so pretty food makes you fat. Ha! Kidding. Just checking to see if you are still with me. 😉
Alright, so lightly oil (I use olive oil or coconut oil or lard) a poblano pepper and place it on a baking sheet. Set your broiler to high. Most broilers have a low or high setting. Once the oven seems hot, put the pepper in the oven about 8 inches from the heat. I usually keep my rack on the middle setting so it isn't too close, nor too far away from the heat source. Within 2-3 minutes the pepper will begin to blister (and possibly pop if you put on too much oil). Using a set of tongs, rotate the pepper a third of a turn at a time so that you can get a nice char over the entire pepper. You want it mostly blacken and totally blistered.
As soon as the pepper is done, remove it from the oven, place it in a glass bowl and cover it with plastic wrap. Let it "sweat" in that bowl for about 5 minutes. Carefully remove the plastic wrap and using a clean tea towel, grab the pepper and start rubbing off the skin using the towel to help you out. It will be hot, so don't try to remove the skin with your fingers unless you have lost all feeling in your fingers from working in commercial kitchens for decades. Once the pepper has been peeled, you're ready to pull off the stem and remove the seeds, and chop it up and set it aside for when it is needed in the recipe.
What's your favorite side dish for a good BBQ?
Creamed Corn with Bacon and Poblano Pepper
2014-05-31 01:31:32
Serves 4
Ingredients
6 ears of organic corn on the cob
1 large pablano pepper
1 medium yellow onion, diced fine
6-8 slices of thick-cut, pastured bacon
1-1/2 cups organic cream
1/4 cup freshly grated Parmesan (optional, but tasty)
Sea salt
Freshly ground white or black pepper
1 TB butter
water
Instructions
Prepare the corn like I explained in the post above. (remove kernels and set aside in bowl.)
Finely dice the onion and set aside.
Slice each piece of bacon in half lengthwise and then cut into a small dice (I leave the bacon stacked and slightly frozen so it cuts easier), and set aside.
Roast the pablano, sweat it in a glass bowl covered with plastic wrap, remove the skin, stem and seeds. Slice into 1/4 inch thick Julienne slices and then dice into small pieces. Set aside.
In a large skillet, over medium-high heat, cook the bacon until just before it starts to get crispy. Please trust me on this. You don't want crunchy bacon. You want it to have some bend to it.
Using a slotted spoon, remove the bacon onto a paper towel lined plate and set aside.
Return the skillet with the Master Fat (bacon grease) to the heat and add the onion. Add a pinch of salt and a little pepper. Cook until the onion is slightly softened about 3 minutes.
Once the onion is softened, add the corn, and stir to coat everything with the onion, bacon grease mixture. Cook the corn, stirring almost constantly to keep corn from sticking to the bottom of the pan, for 3-5 minutes until it begins to soften. Add some butter or a little water to the pan if the corn starts to stick. Taste. Season with salt and pepper as needed. Stir to combine.
Once the corn is softened, add 1 cup of cream, and reduce the heat to medium. Stir frequently, and let the corn cook and the cream reduce. Once the cream has mostly reduced, lower the heat to low, add the final half cup of cream and the pablano and the bacon. Cook until the cream is mostly reduced, add the bacon and stir to combine. Taste, adjust seasoning if needed and remove from heat. Add the Parmesan if using, stir to combine and serve.
Notes
This will keep in the fridge for 3-4 days in an airtight container.
https://www.realfoodgirlunmodified.com/
PAID ENDORSEMENT DISCLOSURE: In order for me to support my blogging activities, I may receive monetary compensation or other types of remuneration for my endorsement, recommendation, testimonial and/or link to any products or services from this blog.