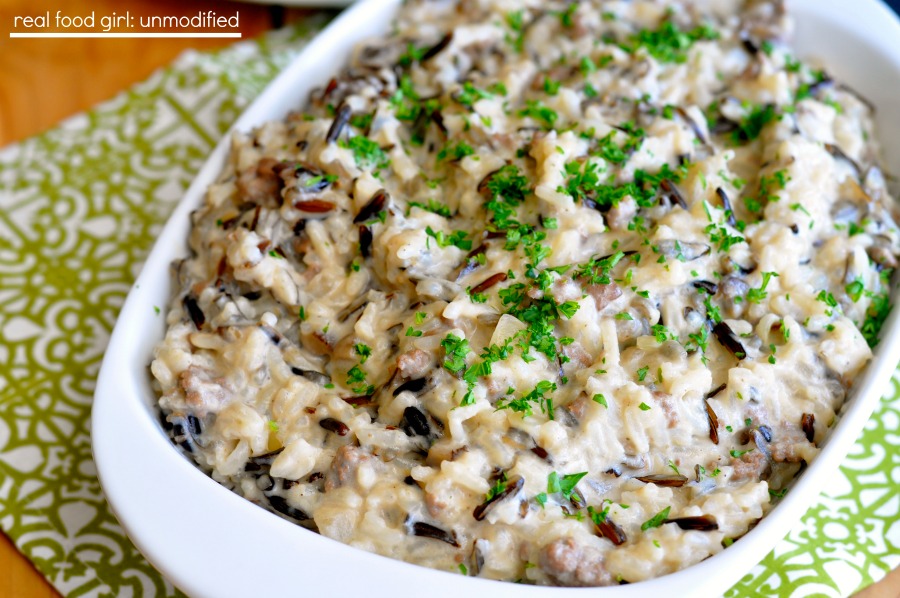 Minnesota Wild Rice Hotdish- A Recipe Remake
I've been working on remaking a family recipe that my Aunt MJ makes. Her recipe is great, but I thought it would taste even better if I added some plain Jasmine rice and a creamy sauce. I mentioned in the Perfect Wild Rice post that it has taken me a while to enjoy the taste of Wild Rice. My Aunt's recipe uses all Wild Rice, and for my sensitive palate it's a little too strong. And for The Stud Muffin, it's just got too much rice. That man has never met a rice he liked. Unless Chipotle's rice bowl fixin's are dumped on top of it. Or if it is combined with Stir-Fry. Then he'll eat it. Otherwise, fuggetaboutit!
After tweaking her recipe a few times, I landed on this one and I really loved it. TSM on the other hand, said it was "OKAY". That's really not something that I like hearing from him. I want every meal to be "I'm going to eat the crap out of that!", like he said about my 30-Minute Monday Fettuccine Alfredo with Chicken and Broccoli. But alas, he doesn't always love everything I make. The good news is that I got to nosh on this tasty treat for the next three nights for dinner, while he had to cook brats on the grill. Hee-hee. Mmm! Even the leftovers were tasty.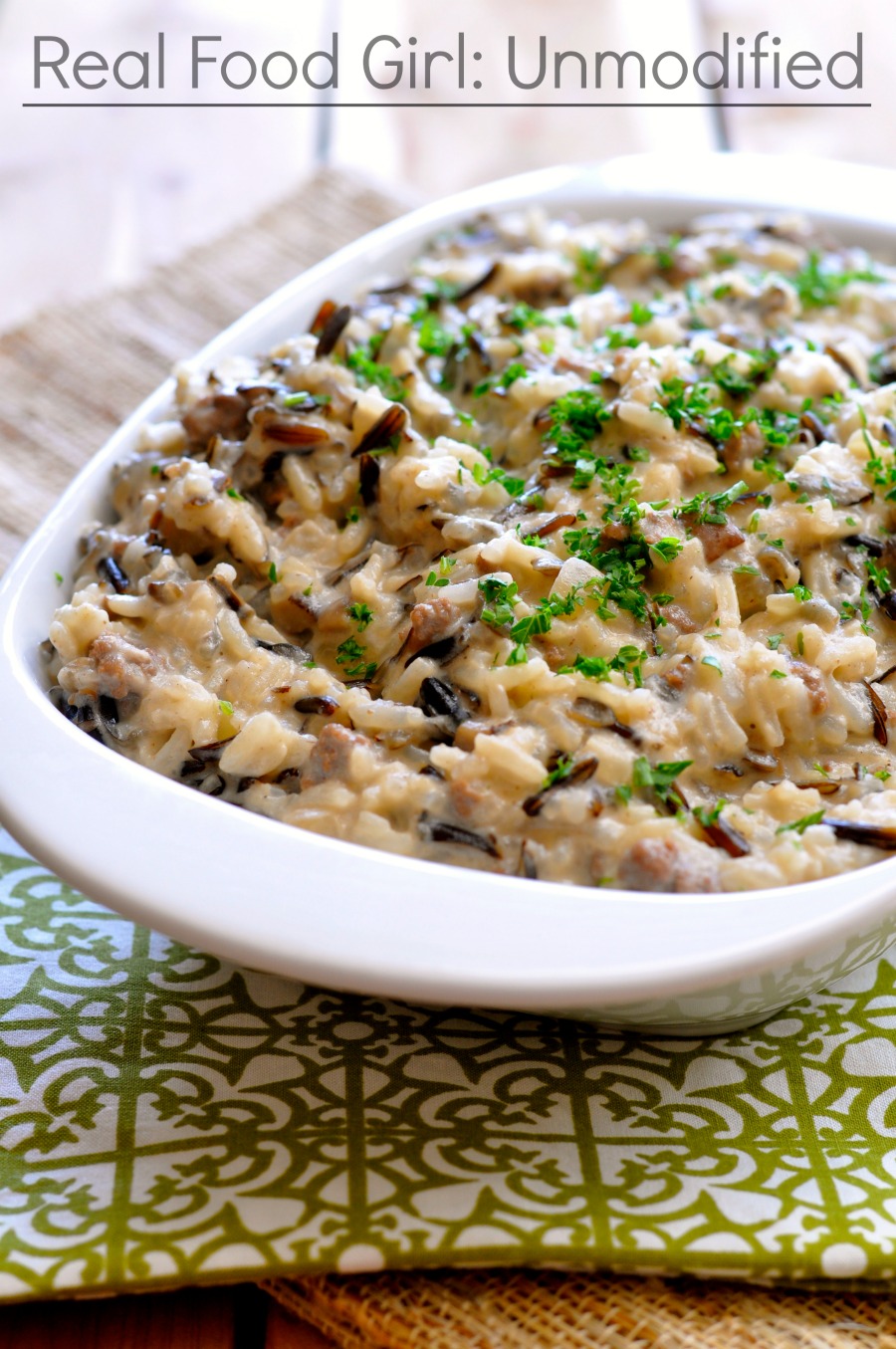 I suppose that secretly this recipe was more for me, than anything else. I wanted to make a little bit of Minnesota here in my kitchen in SC. And an old family hotdish recipe seemed like the perfect way to do that. I'm still terribly homesick. I'm coming up on 9-1/2 months here in SC and we're enjoying it, but I miss my family. I miss my old house, and yard and the park where we used to take our dogs. I miss the freeways, people who know how to drive, decent malls, the grocery stores, the organic food selection at all of them. I miss the cheaper cost of living, my friends, green grass, fewer bugs, less humidity, and my family. Did I mention I miss my family?
I'm certain you didn't come here to listen to me blubber about being homesick, but I appreciate that you allowed me that little detour from talking about the recipe.
When you're homesick and you miss people, you make food to bring back happy memories. My Aunt MJ is a really good cook, so remaking her recipe sort of reminded me of the Christmas Eve's that we spent at their house each year once our family got too big to spend it at my Grandparent's house. This recipe reminds me of home and family. I find when there are happy memories surrounding a recipe, that it just seems to taste better. Don't you agree?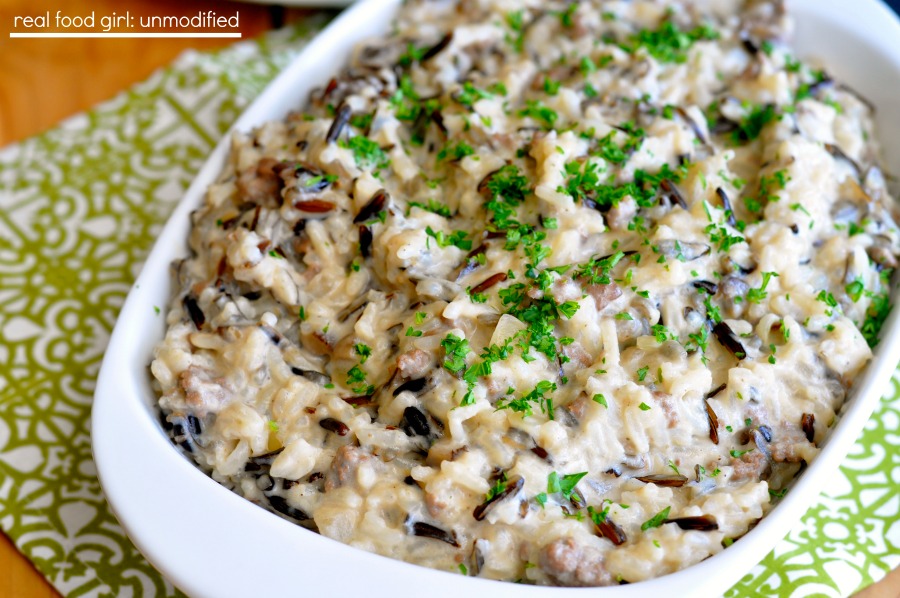 This hotdish is comforting, filling, easy to make, and pretty affordable, too. Although it's a comforting dish, it's not heavy so it's something you could eat year round. I think this would be a wonderful dish to take to a Potluck. You'll surprise people when you tell them you made it WITHOUT a can of cream of mushroom soup! That's right homies!! I went rouge and didn't use cream of crap soup! This recipe made 4-5 adult-sized servings and I only used half a pound of ground beef. Add a full pound and I think you can extend it to 6 servings.
I've been trying to stretch our meat out a bit so that I can make more meals to be photographed for the blog. If you don't need to stretch your ground beef, feel free to add a full pound. I did find myself digging for more chunks of ground beef when I was eating the leftovers the other night, so I know an extra half pound wouldn't mess with the taste or the final outcome at all. And it'll save you from digging through the rice for nuggets of tasty grass-fed beef.
I also used a little Sherry wine (of course it is WINE- geesh, like you guys thought I was adding bits and pieces of Steve Perry's Sherry… "Oh, Sherry, our love, holds on… holds on… OH! Sherry!") when I deglazed the pan after sautéing the mushrooms and onions, but if you're worried about your children and a couple Tablespoons of Sherry, feel free to use the same amount in beef stock or water. The Sherry adds another dimension to this dish, but it isn't absolutely necessary.
When I make a casserole or skillet meal, I like to try and keep all the components of similar size. I wasn't about to chop the mushrooms and onions into rice sized kernels, although I would have welcomed the challenge because I do love spending quality time with my knives. Yeah– That didn't sound creepy at all!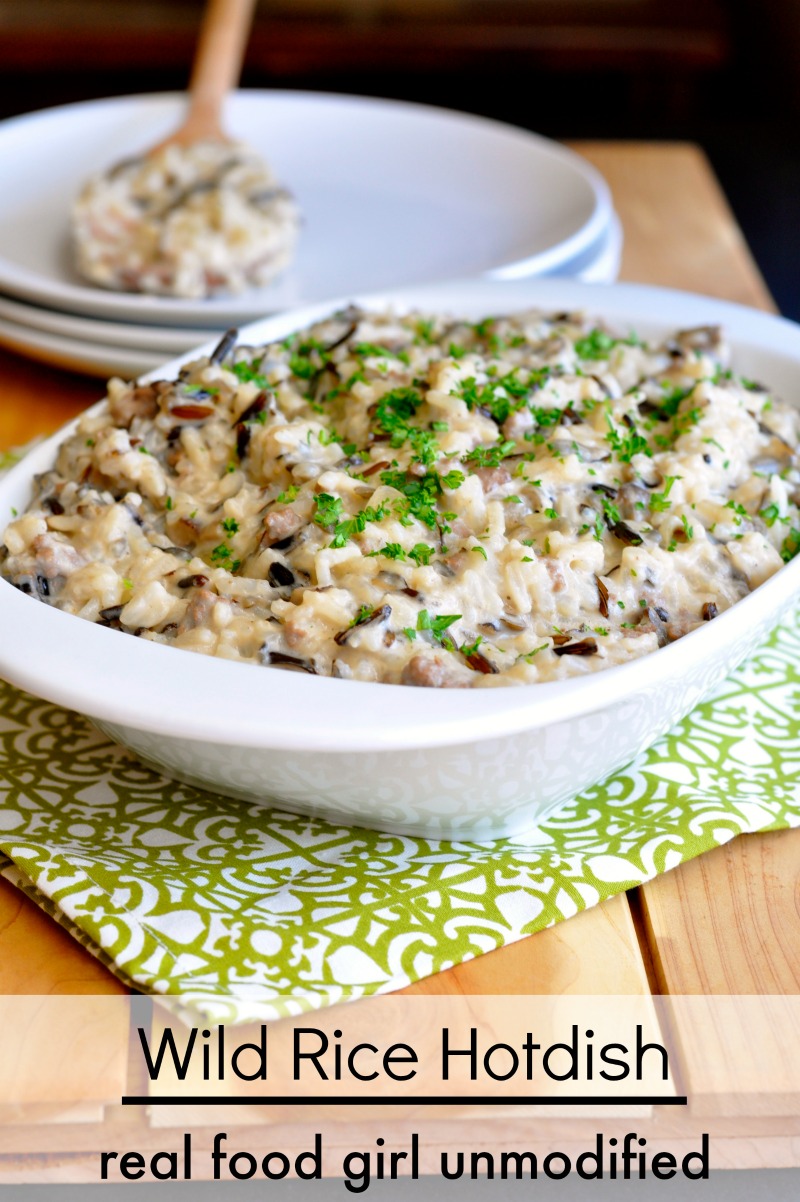 Ahem! As I was saying, I like to keep the components of similar size because biting into a yummy, creamy, melt-in-your-mouth hotdish like this only to get a huge chunk of mushroom or a big hunk of onion isn't good eatin' in my opinion. I want balance in a dish like this, so I dice the onions small and I also took the time to dice the mushrooms pretty small, too. You could slice them if you want, but I like this dish better when everything is uniform. Call me crazy- most chefs are. I wear that label proudly. 😉
This meal won't take much longer than 30-Minutes to prepare. It could be called a 30-Minute Monday meal, but it takes a bit longer, so I'm not including it. My original plan was to do that, but each of the 3 times I made this, it took closer to 35-40 minutes. I'm not the speediest person in the kitchen, so if one of you makes this and is able to do it in 30-minutes. Please email me and I'll update the post!
My friend Kathy over at Simple Clean Living wanted me to make sure all of you know that "it's so good that your taste buds will totally have a party in your mouth when eating it!" So there you go. A party in your mouth people. Now who doesn't want that?
Do you have a favorite hotdish from your childhood that you've remade?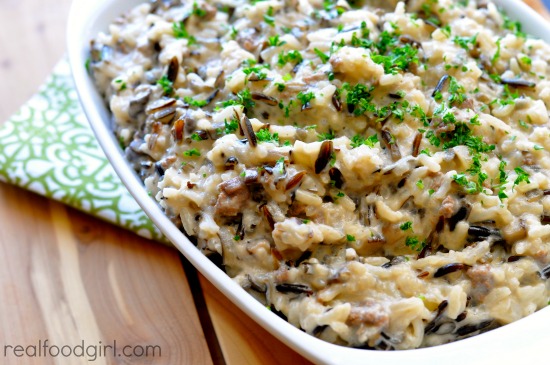 Minnesota Wild Rice Hotdish
2014-05-28 13:29:54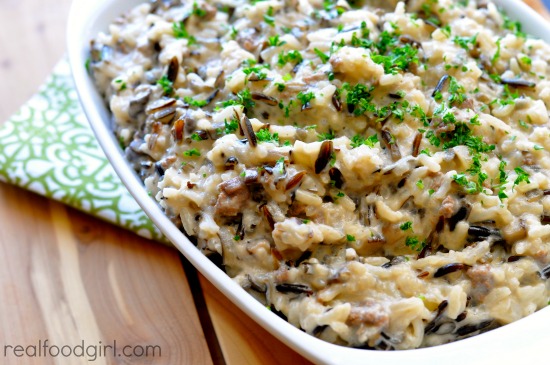 Serves 4
It's a blast from the past! A revamped, foodified version of wild rice hotdish!
Ingredients
2 cups of prepared cultivated Wild Rice (from my Perfect Wild Rice Recipe)
2 cups of prepared organic Jasmine Rice (directions below)
1/2-1 pound baby bella mushooms, diced
1 yellow onion, diced small
1 rib of celery, cut lengthwise into 3 long strips and then diced small
2-3 TB Sherry wine
Sea Salt (unrefined, such as Redmond)
Freshly ground black pepper
2 TB clarified butter, or ghee. (Or other fat of your choice- I feel clarified butter tastes better)
1 pound grass-fed ground beef
2-3 cups beef stock (homemade)
1-2 cups heavy cream (grass-fed or raw)
Water
Instructions
Thoroughly rinse 3/4 cup of uncooked Jasmine rice in a mesh strainer, using cold water.
Add rice to a medium sized saucepan and add 2 cup of cold water or chicken stock. Stir in a 1/4+tsp. of salt and bring to a boil. Reduce heat to simmer and cover. Cook for 15-25 minutes until rice has absorbed all the liquid. Fluff with a fork, remove from heat and set aside. This should yield about 2 cups of cooked rice.
Meanwhile, while the rice is cooking, preheat a large sauté pan/skillet over medium-high heat.
Add the ground beef to the skillet and break up with a wooden spoon. Season with 1 teaspoon salt and about 1/4 teaspoon of freshly ground black pepper. Cook the beef, breaking it up into as small of pieces as you can, until almost no pink remains. About 2-3 minutes. (beef will finish cooking later in the recipe)
Using a slotted spoon, remove the beef into a bowl and set aside. Reserve 1-2 teaspoons of the beef fat, return skillet to medium-high heat.
Add 1 Tablespoon clarified butter, the diced onion and diced celery. Season with a little salt and freshly ground black pepper and cook, stirring constantly until translucent. About 3-4 minutes. If necessary, deglaze the pan with a little water so that the onions don't burn.
Add the mushrooms and cook until soft, about 2-3 minutes. Season with a little salt and pepper and add more clarified butter if necessary. I find mushrooms are thirsty, so I usually add another Tablespoon on this step.
When the mushrooms are softened, deglaze the pan with 2-3 Tablespoons (TB) of Sherry wine. Scrape up any bits that have stuck to the pan and reduce the sherry down to about a half teaspoon.
Return the ground beef to the pan and add 1 cup of beef stock. Cook over medium-high heat, stirring frequently. You want the mixture to bubble and reduce slightly. Add the wild rice and the white rice. Stir to combine, and add 1 more cup of beef stock. Reduce heat to medium-low. Taste and add more salt and pepper if necessary. Add 1 cup of cream and stir to combine. If the hotdish is drying up too fast, reduce heat to simmer, and add either a little water, more stock or more cream. It's up to you. I prefer a little more stock and cream.
This hotdish shouldn't be dry, but it also shouldn't be soupy.
Add 1 Tablespoon of finely chopped parsley, stir well and serve with a big salad and some buttered homemade bread.
Notes
The reason that I don't give exact measurements for the stock and cream is because your rice or mushrooms may be more or less thirsty than what I used. You may use all the stock and cream, or you may use less. But at a minimum, you'll use the lowest amounts for this dish.
This dish keeps in the fridge for 3 days in an airtight container. Just reheat with a little stock or water.
Adapted from From my Aunt MJ's recipe
Adapted from From my Aunt MJ's recipe
https://www.realfoodgirlunmodified.com/
PAID ENDORSEMENT DISCLOSURE: In order for me to support my blogging activities, I may receive monetary compensation or other types of remuneration for my endorsement, recommendation, testimonial and/or link to any products or services from this blog.