Cheesy Orzo with Broccoli
Earlier on in my blogging career I stumbled upon this side dish while wasting time trying to solve the toughest world problems by doing research online. Before the idea to start my blog was ever hatched in my special little mind, I used to follow quite a bit of non Real Food bloggers. No shame in that. A good recipe is a good recipe. Sometimes you just have to Real Foodify it, as I like to say. This recipe came from Iowa Girl Eats. She's got a great little blog filled with some tasty recipes that are easy for me to adapt to our real food lifestyle. Many of her more current recipes don't need many changes at all. If at all.
As much as I love this side dish, I don't make it as often as I'd like. The biggest reason is it has broccoli, and TSM doesn't like broccoli. He will however eat this if I pour in enough cheese and chop the broccoli up nice and tiny. Ha- I must make him sound really high maintenance, didn't I?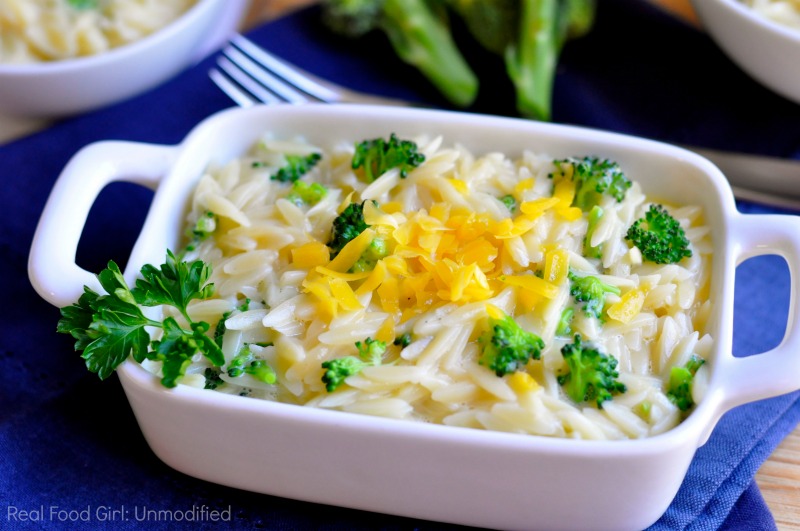 I posted this same recipe back in March of 2013. I had my trusty iPhone camera and my very classy blue silicone prep bowl and I thought I was too cool for school when I made this and posted it on the blog. Interestingly enough, this recipe didn't go over as well as I'd hoped. I was completely flabbergasted. A recipe with gooey melted cheddar cheese, tiny pasta, fresh organic broccoli. I mean, what's not to love. I decided it must be the photos and vowed to remake this dish reshoot the photos and update the post.
Aaand, here it is! The updated post and the shiny new photos. I don't know about you, but coming up with interesting, delicious and easy to make side dishes isn't easy for me. You would think that because I'm a trained chef, I would have ideas just flying off the top of my head, but I don't. Side dishes have always eluded me. I spend all my energy and creativity on the main dish and then realize "Crap! I don't have a side dish started"… I'm almost embarrassed to say that there have been nights where all we've had on the plate was ONE spectacular meat based item, and some pathetic steamed frozen veggies on the side–as an after thought. I'm sure I'm not the only one who has done that, but it's not something I'm proud of. Days like that I'm sure The Stud Muffin wonders if I should turn in my Chef Card.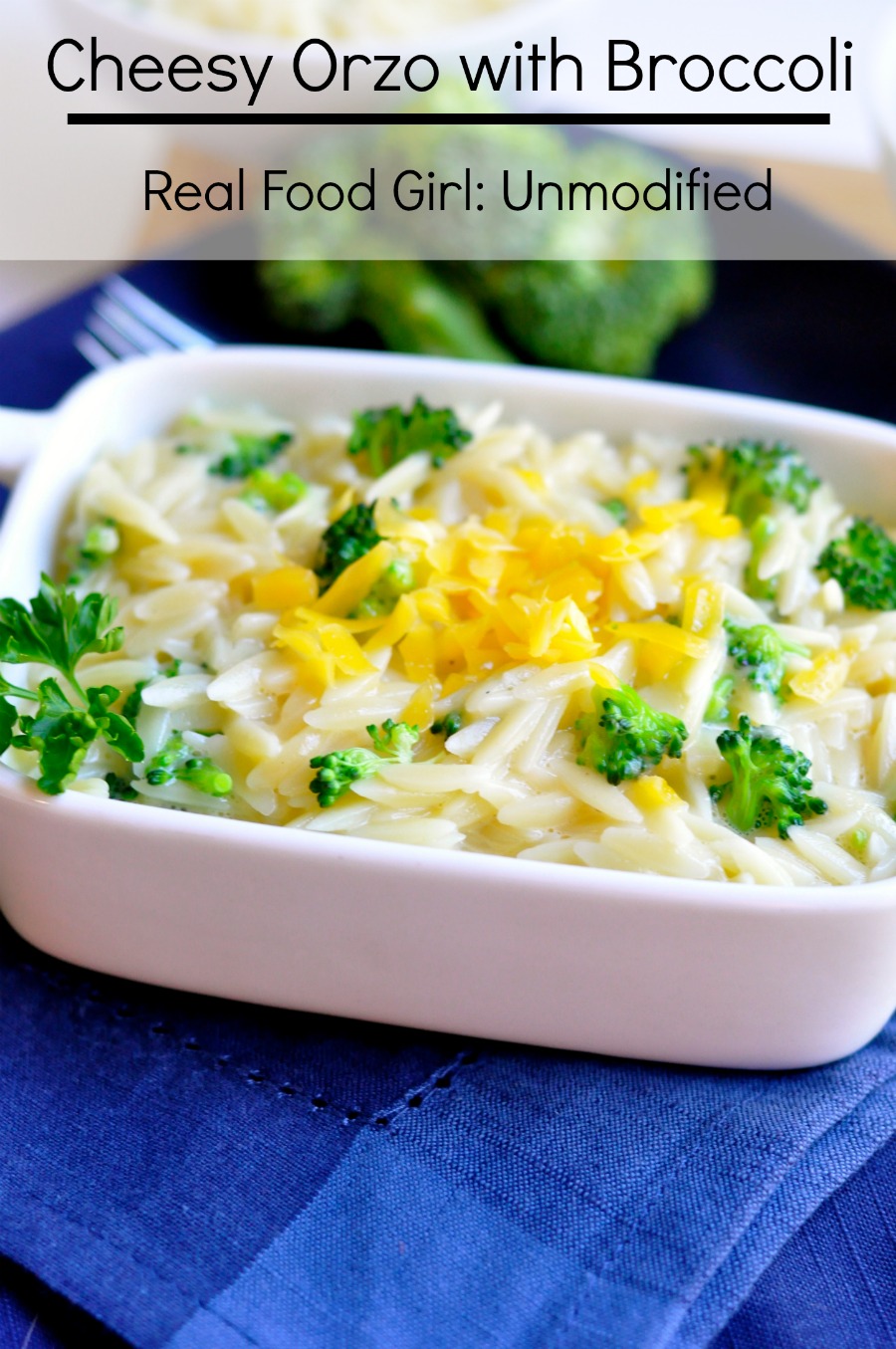 Cheesy Orzo with Broccoli fits the bill of a great side dish in my opinion. Three different cheeses, green veg, pasta and it's quick & easy to make. This is a neutral enough side dish that it'll go well with almost any type of meat. I've made this to eat alongside steak, chicken, pork chops, mini meatloaves. Really the possibilities are endless. If your family likes cheesy pasta and you're trying to get more veggies in them, try this recipe.
Please make sure you don't over cook your orzo or it'll have the texture of applesauce. I think the package directions say to boil for 3-5 minutes and mine were al dente at 4 minutes. I'd rather you under cook them and keep them in the sauce a bit longer, than over cook them and have mushy pasta. Mushy pasta is nothing more than sadness on a plate. Don't serve sadness people. That's just not right.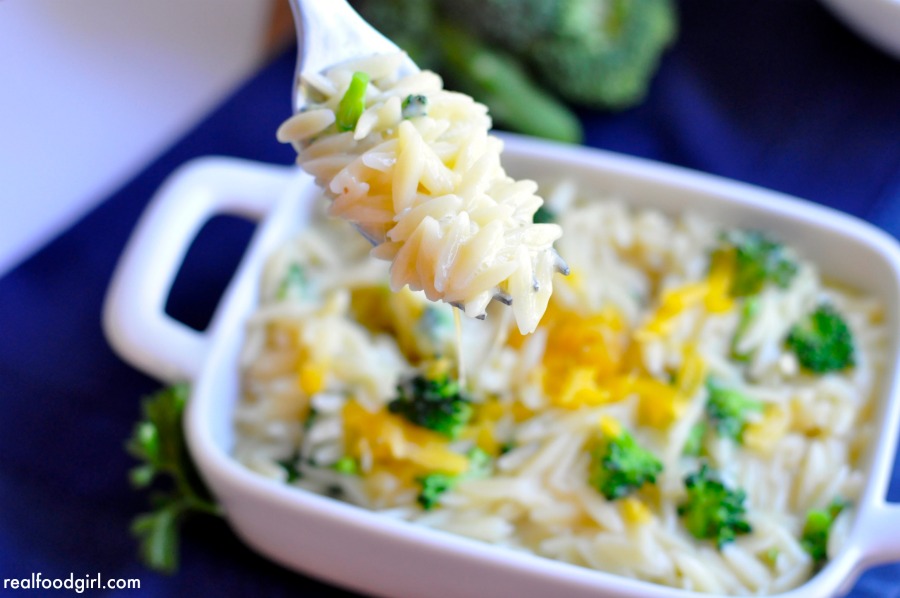 Like I said over in my original post, I could eat this alone as a main dish. I'd boost the amount of broccoli in it, but it's quite filling and if you're in the mood to ditch meat for a night (don't look at me, we won't be ditching meat for a night. TSM would cry if I did that), this would fill you up and satisfy you completely. The ingredients are affordable and a little goes a long way.
It's pretty much all about pasta on the blog this week, so tell me what your favorite kind of pasta dishes are. Soups? Side dishes? Main dishes? Appetizers? Share with us below!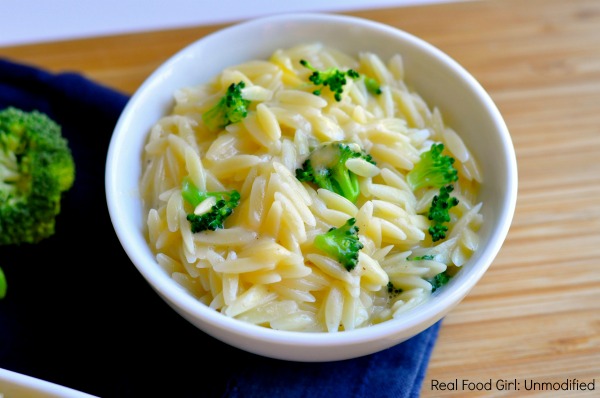 Cheesy Orzo with Broccoli
2014-05-04 00:31:40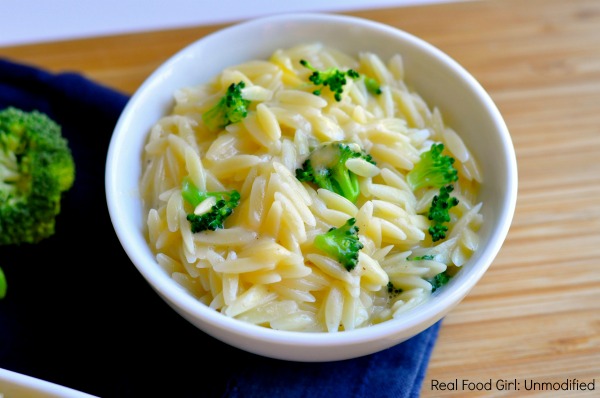 Serves 4
A super quick and simple to make side dish that is sure to please.
Ingredients
1 cup organic orzo pasta. (one cup of uncooked pasta)
1-1/2 cup chopped broccoli florets
1/2 cup organic cheddar cheese, shredded
1/4 cup fontina cheese, shredded
3 Tablespoons freshly grated Parmigiano Reggiano cheese (regular Parmesan will do)
2 tsp. butter
1/3-1/2 cup organic whole milk
Kosher salt & freshly ground black pepper (to taste)
Instructions
Shred your cheeses. If you bought shredded cheese in a bag, drop; and give me 50. Okay, I forgive you.
Bring a medium-sized pot of well salted water to a boil. Add the orzo.
Cook for 3-4 minutes then add chopped broccoli and cook for 2 more minutes, or until orzo is al dente to just tender. (Please don't cook it until it is mushy. Mushy, cheesy pasta isn't happiness. It's sadness)
Drain well (broccoli is well-known for holding onto water) then return to the pot.
Add the cheeses, butter, and 1/3 cup milk then stir well and add more milk if needed. Season with salt and pepper to taste.
For those of you that dislike broccoli, you could just as easily add peas to this.
Adapted from Iowa Girl Eats
https://www.realfoodgirlunmodified.com/
PAID ENDORSEMENT DISCLOSURE: In order for me to support my blogging activities, I may receive monetary compensation or other types of remuneration for my endorsement, recommendation, testimonial and/or link to any products or services from this blog.