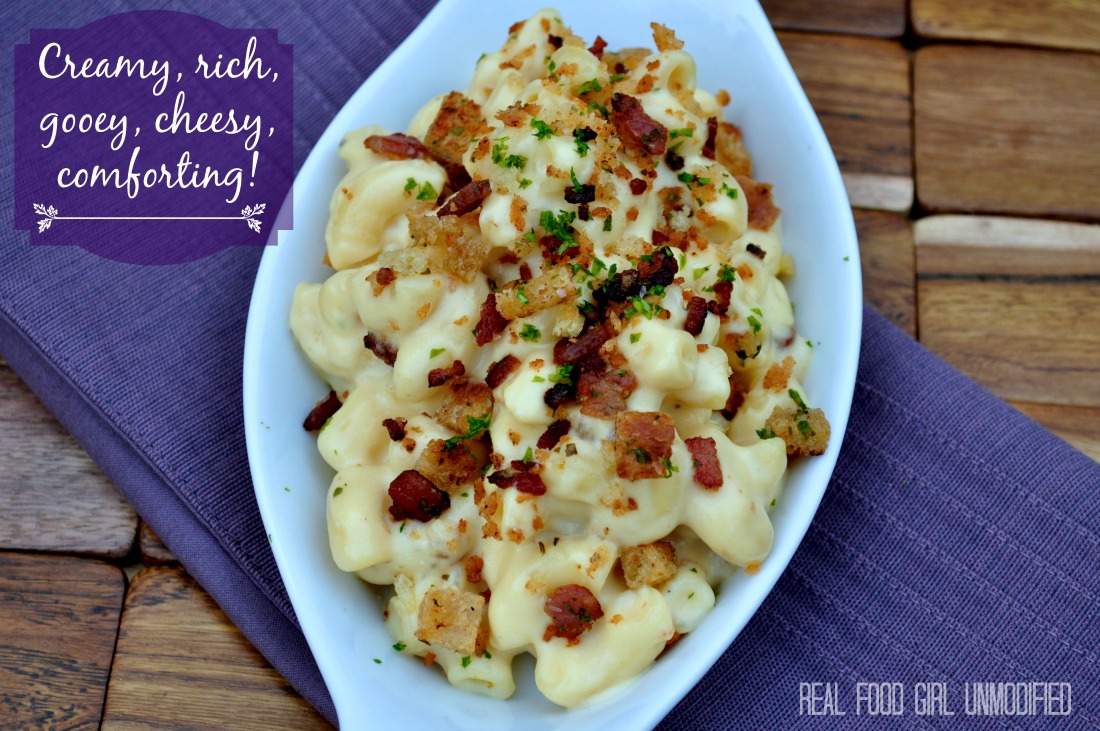 30-Minute Monday- Skillet Mac-n-Cheese
I love melted, gooey cheese sauce. I love melted cheese sauce as much as I love bacon, and because I love both, I am not only going to share a quick and simple truly comforting Macaroni and Cheese recipe, but also my secret mac-n-cheese bacon topping recipe with you. I've thought long and hard and felt the world needed to be privileged with the knowledge of this amazing topping. You'll never do boring, buttered breadcrumb topping again, nor will you ever make naked mac-n-cheese ever again. I'm taking Mac-n-Cheese to a WHOLE new level y'all. This recipe is so good, you'll name your next child after me as a tribute.
I'm somewhat ashamed that I haven't shared a Mac-n-Cheese recipe on the blog yet. It's one of my all-time favorite foods and I have no idea why I've taken so long to share a recipe with you. My hope is since I'm not only sharing a hearty dish that can be ready to serve in 30 minutes AND I'm chipping in an additional recipe for a mind-blowing topping, that you'll forgive me for my blogging faux pas.
I realize that sharing my topping recipe nullifies this as a true 30-Minute Meal, but you can make this topping ahead of time and it keeps nicely in a airtight container. Make that topping ahead of time and we're back to the Mac-n-Cheese being a true 30-Minute Monday Meal. I just couldn't in all good conscious not share the topping recipe with you. Stir that into your mac and it'll make your eyes roll to the back of your head. 30-Minute Skillet Mac-n-Cheese will be added to your regular meal line up. Guaranteed.
I have probably 3 or 4 homemade Mac recipes in my head, but this 30-Minute Skillet Mac-n-Cheese is by far the quickest of them all. I do not like how mushy the typical elbow pasta gets, so I use Cavatappi. Feel free to use a mezzi penne (small penne) or a thicker elbow pasta shape if don't want to use cavatappi.
This dish thickens quite quickly as it cools so serve it immediately. This would taste good with diced ham, or diced prosciutto, or chopped up chipotles. Mmm! 🙂 Remember, as always, that I used only organic/pastured/grass-fed and/or non-GMO ingredients in this dish. If you're able, choose meats from a local farmer that practices organic and sustainable farming.
What are your favorite cheeses to add to homemade Mac-n-Cheese? Do you prefer yours baked or do you make it in a skillet?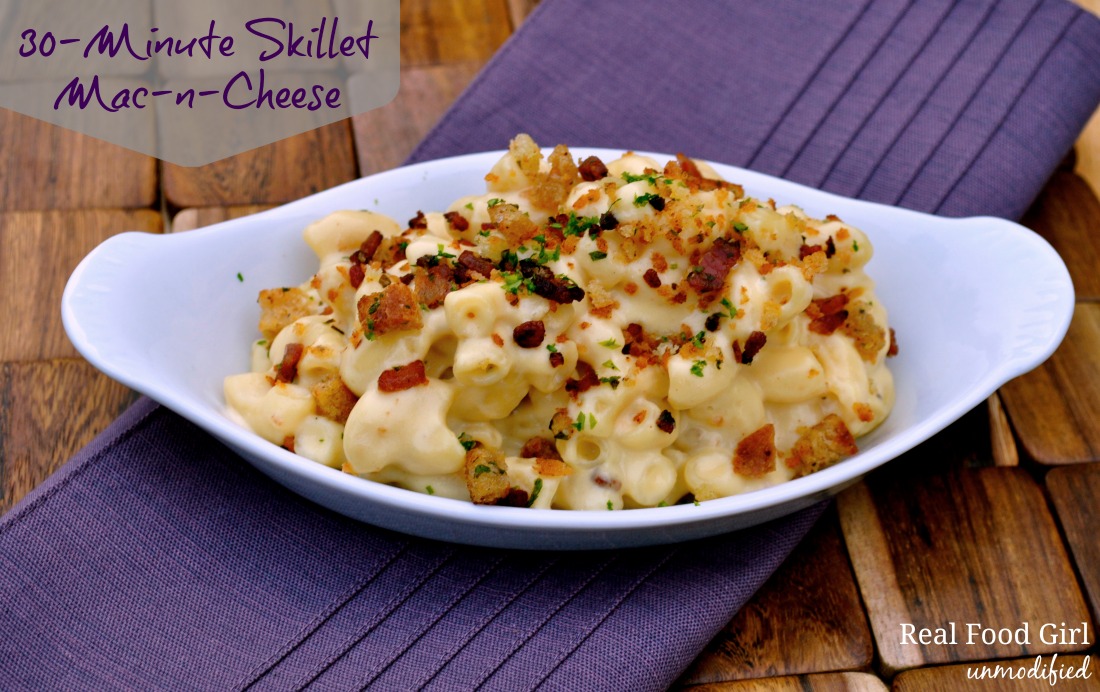 30-Minute Skillet Mac-n-Cheese
2014-02-16 21:12:52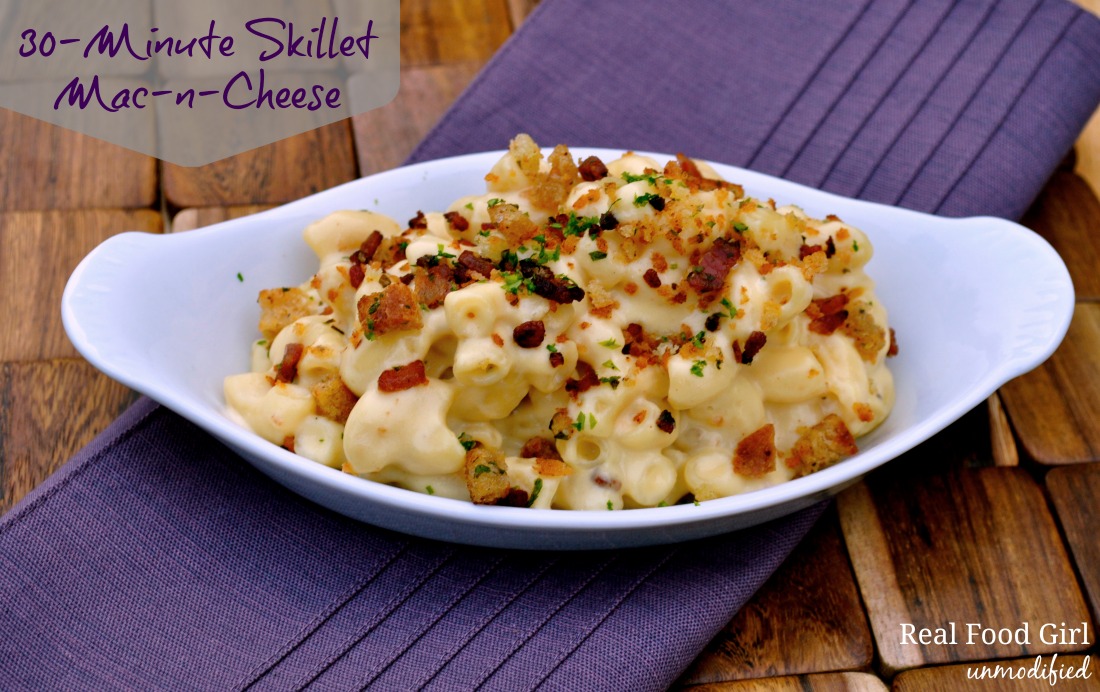 Serves 4
Super thick, rich and velvety Macaroni and Cheese. You'll wonder why you waited this long to make your own.
FOR the Bacon Breadcrumb Topping
1-1/2 cup of panko bread crumbs
5 slices of bacon, cut into small dice
2 tsp. freshly minced parsley
1-2 TB pig butter (bacon grease)
Unrefined sea salt and pepper to taste
FOR the Skillet Mac-n-Cheese
3-1/2 cups water, plus more as needed
1 (12-ounce) can of organic evaporated milk
12 ounces cavatappi pasta (3 cups uncooked)
Salt and freshly ground black pepper
1-1/2 tsp. organic corn starch
1 tsp. Dijon mustard
1/8 to 1/4 Tabasco sauce (depends on desired level of heat)
2 cups raw milk Gruyere cheese, shredded
2 cups aged raw milk white cheddar cheese, shredded
3 TB butter
Directions for the Bacon Breadcrumb topping
In a medium skillet heated over medium-high heat, cook bacon pieces until they just start to get crispy.
Remove bacon with a slotted spoon and drain on folded paper towels.
Reduce heat to medium-low and pour off all but 1 TB of the pig butter (bacon grease) from the skillet and add the breadcrumbs, and stir well to combine. Salt and pepper the bread crumbs, continue to cook, stirring constantly, until the crumbs turn a nice golden brown and become crisp. If the breadcrumbs become too dry while cooking, add a tsp. of butter or a little more bacon grease.
Add the bacon back into the pan and sprinkle the parsley into the skillet. Stir well to combine. Taste and if necessary, sprinkle with a little more salt and pepper. Remove from skillet and place on a paper towel lined plate. Once cooled, place into an airtight container and store in the fridge until ready to use.
Directions for the Skillet Mac-n-Cheese
Bring 3-1/2 cups water, 1 cup of the evaporated milk, pasta and 1/2 tsp. salt to simmer in a 12-inch skillet over high heat, stirring often, until the pasta is tender, about 8 to 10 minutes.
Whisk remaining half cup of evaporated milk, cornstarch, mustard and Tabasco together in a bowl, then stir into skillet. Continue to simmer until slightly thickened, about 1 minute.
Remove skillet from heat, add cheese one cup at a time, whisking all the while. Add additional water as needed to adjust the sauce to your desired consistency. Stir in the butter and season with salt and pepper to taste. Remember you'll be adding the salty bacon breadcrumb topping, so season it modestly.
Divide macaroni into bowls and sprinkle a few TB of the breadcrumb mixture on top. Serve immediately because this dish thickens quickly as it cools.
Notes
* You want the bread crumb topping to be well seasoned. There is nothing worse than bland breadcrumbs.
**Serve immediately as this will thicken quickly as it cools.
Adapted from Adapted from Cook's Illustrated
https://www.realfoodgirlunmodified.com/
Quick Note- for the photos in this post, I didn't have any panko breadcrumbs on hand, so I just made my own out of some organic sour dough bread. That's why the topping has larger chunks of bread vs. smaller panko crumbs like I call for in the topping recipe.
PAID ENDORSEMENT DISCLOSURE: In order for me to support my blogging activities, I may receive monetary compensation or other types of remuneration for my endorsement, recommendation, testimonial and/or link to any products or services from this blog.