Lazy Baked Chicken and Rice
Yesterday I shared my "Mmmm Better" Cream of Chicken Soup recipe.  I explained that I had zero motivation to make dinner and that chicken and rice baked together sounded quick and yummy.  I just wanted to throw a few ingredients into a casserole dish, place it in the oven, and within 45 minutes have a hot, tasty, filling meal emerge.  Regrettably my dreams of that meal were dashed when I realized I didn't have any "Mmm" substitutes on hand on account of the fact I don't use  cream of rubbish soups from a can.  Nope. I don't.  And I am pretty sure I explained that ad nauseam in yesterday's post and in THIS post.
I promised that I would share the recipe I was dreaming of which also happened to be the reason I needed to make my own cream of chicken soup.  I'm glad I found enough oomph deep within me to spur on a bit of motivation to get the soup needed to make this chicken and rice dish and get it into the oven so it could be in my belly lickity-split.  Because I was feeling unmotivated, under the weather and a tad bit lazy at the time, I've decided to just name this recipe Lazy Baked Chicken and Rice because even the laziest person can get this in the oven in under 15 minutes providing they are much smarter than I was and remembered to have some homemade cream of chicken or mushroom soup on hand.
Sometimes the pictures just aren't pretty, and sometimes I have to shoot a picture just as I am sitting down to eat because there won't be any leftovers to photo shoot the next day.  The black specs on the chicken is actually sage-   And this chicken was so juicy! Holy! I seriously love organic chicken. It has much better flavor, it's juicer, and it's got color!!  I know you'll like this recipe. It's simple, but it'll hit the spot!
Lazy Chicken & Rice Bake
Recipe by: Real Food Girl: Unmodified© Serves: 2 Time: 45 minutes Preheat oven to 375  
**  All ingredients used were Organic and/or GMO-Free **
INGREDIENTS:
2 bone in, skin on chicken thighs, or two bone in skin on chicken breasts
Salt & Pepper to taste
1/4 tsp. dried thyme
1/4 tsp. rubbed sage
1 cup homemade cream of chicken soup
1 cup homemade chicken stock
3/4 cup organic jasmine rice, or any medium grain rice would work
DIRECTIONS:
Season chicken liberally with the salt, pepper, thyme and sage- season both sides and gently rub in the seasonings.  I always lift the skin up, and season with a little sea salt underneath the skin. Chicken loves sea salt.
Preheat a medium sized skillet over high heat.  Add 2 tsp. olive oil.  Carefully add the chicken and sear both sides for a couple minutes.  Remove from heat and set aside.
In a 1.5 quart baking dish, add uncooked rice, chicken stock and cream of chicken soup.  Stir to combine. It will be very soupy.  95% of the liquid will be absorbed during cooking, so do not worry.
Place the seared chicken thighs/breasts on top of the rice mixture, wrap baking dish with foil and put in a 375 degree oven for 20 minutes.  Remove foil after 20 minutes and continue baking until thermometer inserted into the center of the chicken reads 155 degrees OR juices run clear, about another 20 minutes.
Plate the chicken, fluff the rice with a fork- serve with some green beans and thank me for coming up with yet another impressive, easy, very tasty dinner recipe.  🙂
I didn't sear the chicken for this recipe, but those thighs are facing skin side up.  It's very hard to tell in the picture below.  That picture will also show how soupy the rice mixture will look prior to baking.  The chicken will sink down into the rice. That's okay.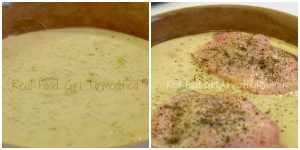 Making this dish for your family?
This recipe actually made quite a bit of rice, so if you're making this dish for 4 people, simply increase the rice to 1 cup, the cream of chicken soup to 1-1/2 cup and the stock to 1-1/2.  Increase the chicken to 4 pieces.
This post, recipe, methodology and photos are the copyrighted  intellectual property of Real Food Girl: Unmodified
PAID ENDORSEMENT DISCLOSURE: In order for me to support my blogging activities, I may receive monetary compensation or other types of remuneration for my endorsement, recommendation, testimonial and/or link to any products or services from this blog.