Meatballs with Beef, Pork and Veal
Welcome to the new blog site everyone! Are you as excited to be here as I am to have you here? I hope so! Are you 'CRAZY excited', as my 8-year-old niece would say? Imagine my surprise when after importing all the posts from my Blogger site I realized that I've shared my "Gravy"/Marinara sauce recipe, and a quick tomato meat sauce/ragu recipe and a basic white sauce recipe but I never shared my meatball recipe? What is wrong with me? Um, don't answer that please…
Please accept my most genuine apology for taking so long to post my meatball recipe. I should probably remember to take my memory supplements more often. I might remember things more often if I did.
You must know that these meatballs are a constant work in progress for me. I'm truly never satisfied with them. Oh, they're good. But I'm a typical, annoying chef who strives for perfection and until I achieve that, everything is a work in progress. It seems one day I will make them and they'll have great texture, and flavor, and the next time I make them, they taste different and the texture will be wonky. I'm convinced it's a couple of things. The first thing that can affect how these will turn out is the meat. I could have gotten some Rocky-Mooboa wanna-be meat cow that was jacked up on steroids and had twitching bulging mooscles. That would explain why the meatballs could have an undesirable texture from time to time- they're too firm. Over mixing also makes them too firm! The next time I go to make these I could have had meat from a cow that wasn't so bent on having mooscles, maybe this cow would be more like Shermoon Clump (The Nutty Professor) and they'd have great texture and flavor.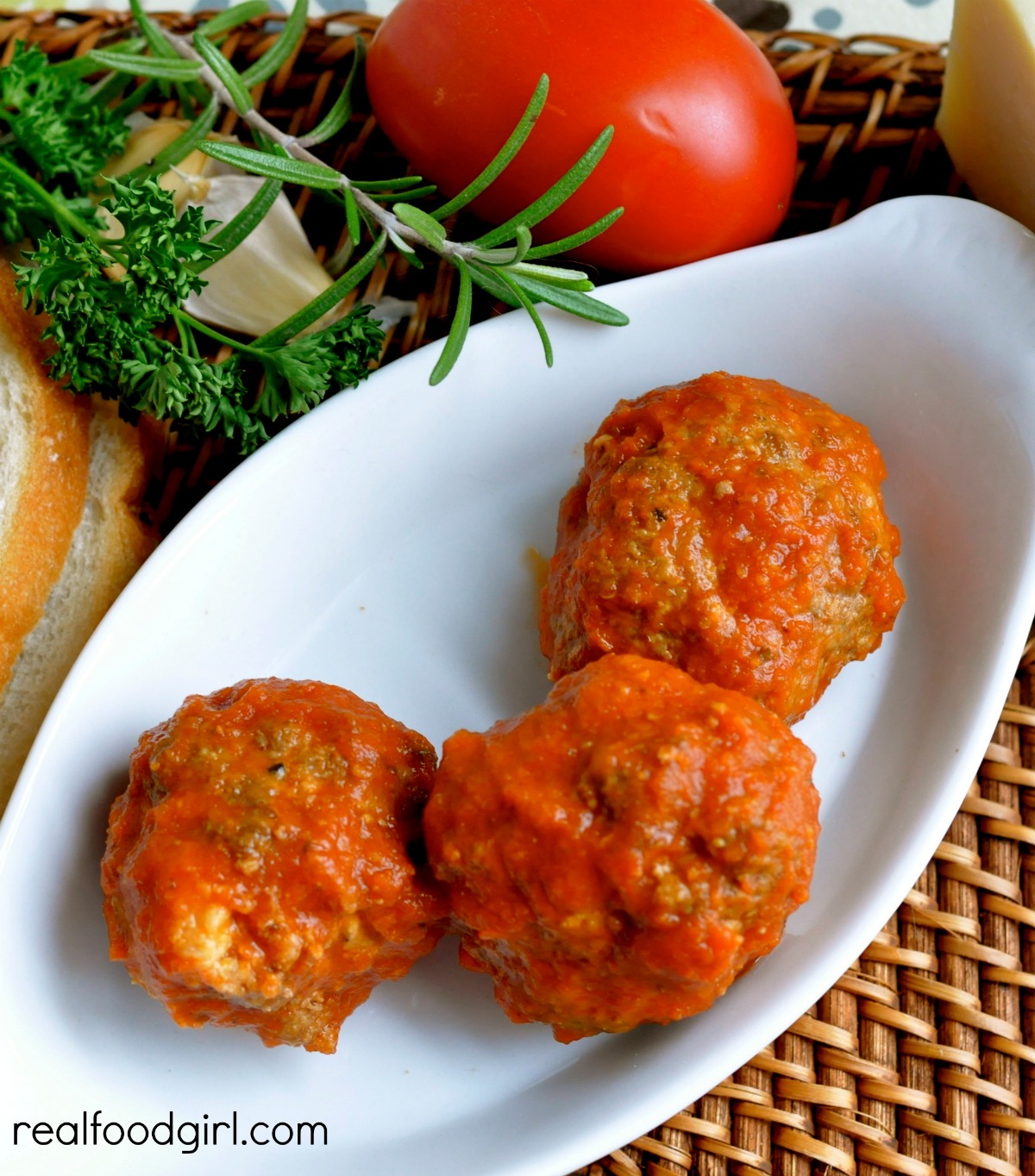 Regardless of all possible factors, I've tweaked this recipe more times than Joan Rivers has tweaked her face. Well, maybe not *that* much. I'm on a quest to make the perfect meatball and while I believe I'm still a long way off, these are pretty darn fantastic and I know you're going to like them. If they weren't very good I wouldn't be sharing my recipe with you.
Use high quality (grass-fed organic if possible) meats for this recipe. The quality makes a big difference. If you buy that ground beef in a plastic tube, you're going to have bland, low-quality, potentially rock hard meatballs. Especially if you can't resist the urge to buy anything under 90/10. They're meatballs people. They're supposed to have a little fat. They're supposed to melt in your mouth. They are not supposed to be a good substitute for a golf ball. If you want rock hard, golf-ball like meatballs this is not the recipe for you. If you don't like veal, or think it's cruel to eat veal, you do not have to use veal in this recipe but if you choose not to, your meatballs won't taste as yummy as mine. Plain and simple.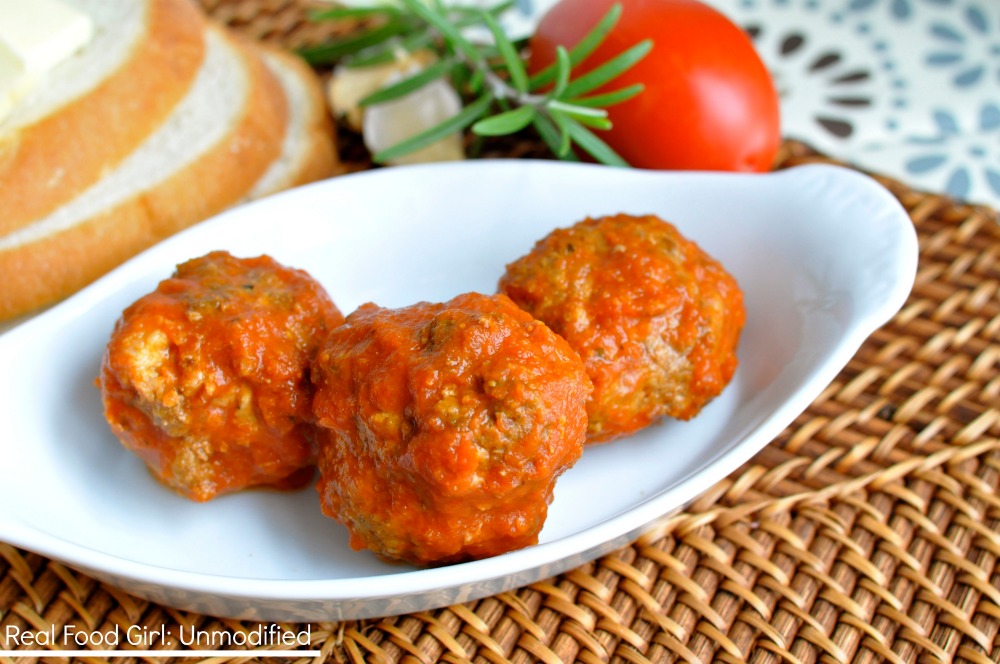 I have never written the measurements I use when I'm making meatballs. This isn't from a recipe I found in a book, but rather the recesses of my mind. Which as one would expect is packed with many brilliant things; like this meatball recipe. Also packed in the recesses of my mind is a poem about Cilantro and an Ode to Twinkies. But I'll save those for another day because we've got balls to make. I mean meatballs. Lord- I'm going to type myself into trouble.
My suggestion would be to follow this recipe as closely as possible the first time you make it, and then tweak the amounts of ingredients the next time you make it if deemed necessary. You may prefer more Oregano, or less for example.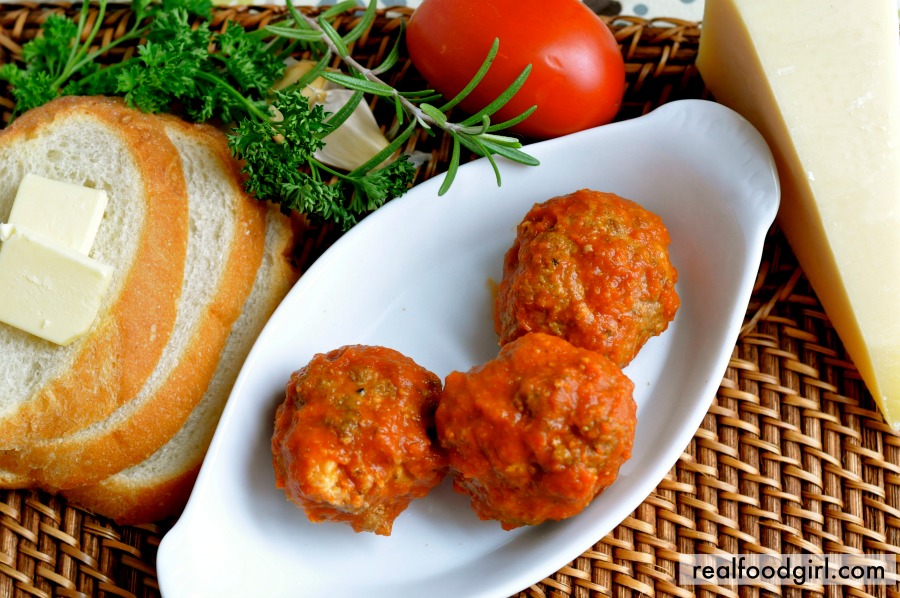 If you're going to make these, you should probably have a pot of my Marinara Sauce simmering on the stove. Make extra meatballs because you can make hot meatball sandwiches with the left over sauce and meatballs! Mmmm. Seriously one of the best sandwiches on the planet.
Veal, Beef & Pork Meatballs
2014-06-18 20:47:40
These are not the little hockey pucks of seized up meat you're used to. These are melt-in-your-mouth tender and full of flavor!!
Ingredients
½ lb. ground pork or ½ pound ground mild Italian Sausage (I buy local pork without hormones or antibiotics)
1 lb. organic/local ground veal (if you don't want to use veal, increase the pork to 1 pound, and the ground beef to 1-1/2 pounds. If you use sausage, reduce ground beef back to 1 pound. You need 2-1/2 lbs. of meat total)
1 lb. 80/20 or 85/15 grass-fed/organic ground beef
1 tsp. dried oregano (I always add fresh oregano too. About 1 tsp.)
1/2 tsp. dried basil
1/2 tsp. fennel seeds (optional)
1-1/2 tsp. kosher salt
1/2 tsp. freshly ground black pepper
3/4 cup freshly grated organic Parmesan (If you buy the stuff in the green canister I will make you drop and give me 100 push ups)
1 slice any (organic) white bread soaked in 1/4-cup milk and squeezed out
or 1/3rd cup organic bread crumbs (plain)
1 large or extra-large organic egg
1/2 small organic onion diced fine
1/4 cup of marinara sauce
Instructions
Let the meats sit on the counter for about 30 minutes to take the chill off before you start.
Combine all ingredients into a bowl and mix like your hands belong to a 90-year-old arthritic grandmother being careful not to over mix. You should see swirls of all the meats. Everything will not be mixed in perfectly. You want this! If you over mix it and you can't tell where your veal and ground pork begin or end you will have golf balls for meatballs.
Shape mixture into balls I generally make 2-3 inch meatballs.
Place on a sheet pan lined with parchment. I like to use my stoneware for meatballs.
Bake at 375 for 20-30 minutes depending on size of the meatballs.
Drop in simmering marina and allow to "cook" in the sauce for a couple of hours before serving.
Eat these when you can no longer handle smelling all this Italian goodness coming from your kitchen.
Notes
These meatballs freeze for up to 2 months. I store them in extra marinara sauce, but you can double bag them in zip top freezer bags or store them in an airtight container.
https://www.realfoodgirlunmodified.com/
PAID ENDORSEMENT DISCLOSURE: In order for me to support my blogging activities, I may receive monetary compensation or other types of remuneration for my endorsement, recommendation, testimonial and/or link to any products or services from this blog.