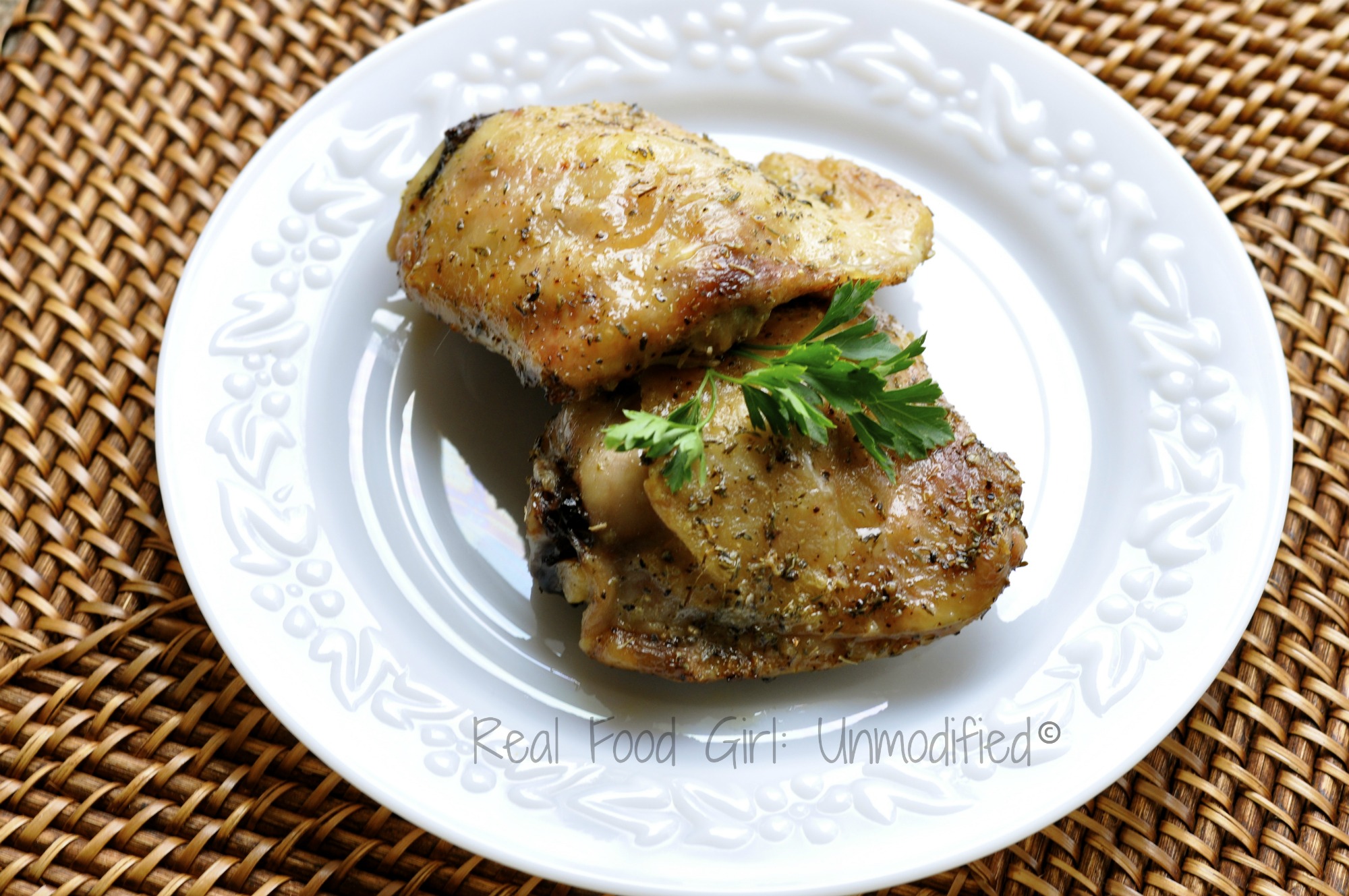 Easy Herb Roasted Chicken
Do you eat a lot of chicken?  We do.  Sometimes I wish I could just buy a 12 pound prim rib roast and feast on medium rare prime rib and Au jus for a week! However, since the pastured, grass-fed cow that could provide me that large hunk of red meat would cost me a car payment to purchase, I'm gonna have to stick with chicken.
I roast chicken almost weekly.  I either roast an entire chicken, or I'll roast some thighs and a breast.  I make this curry-cayenne chicken salad for TSM often, so I need roasted chicken on hand in order to do that.  I also like having it on hand to make homemade cream of chicken soup.  Which is a must-have for your freezer so you can put a quick, homey, filling dinner like my Lazy Baked Chicken and Rice recipe.
There is something comforting about roasted chicken sprinkled with some fabulous herbs.  And if you've got fresh herbs, EVEN better.  If not. dried will do.  This is seriously as easy as boiling water and making toast.  Hopefully you know how to do both without burning down the house.  If not.  I extend my deepest sympathies to you and your family.
Back in the day when I used to watch copious amounts of The Barefoot Contessa, I often wondered if her hubby, Jeffrey ever got tired of eating roasted chicken every.single.Friday.  But after you make this just once, your answer will be the same as mine was, which is NO!  It's just too yummy.  It's juicy, very flavorful, and you can eat it as is, snarf on it for a midnight snack, make it into other meals/dishes or serve it with some loverly veggies and something starchy and call it dinner.  How nice is that?
I think once you make this, you'll be using this recipe on a regular basis.  Your family will think you slaved over an entire chicken, basting it and caring for it all afternoon, when really all you did was slap on some herbs, salt, pepper, rub olive oil over it, and bake it for 30-40 minutes.   I'm not kidding. It's *that* easy! Besides, what's not to love about organic, non-GMO herb roasted chicken?  Absolutely nuttin', that's what!
I've found when I sprinkle some fine sea-salt UNDER the skin it does something to the chicken to make it über juicy and über flavorful.  I don't know what it is, or if I'm out of my mind, but I don't get the same results putting plain kosher salt under the skin.  It's important that you use bone in and skin on chicken pieces.  You will not get as tasty of results if you go skinless and boneless.  Those cuts do have their place in the culinary world, but generally you'd use those in dishes like quesadilla's, chicken nuggets, stir fry's, etc.
As always, I'm using all organic and non-GMO ingredients.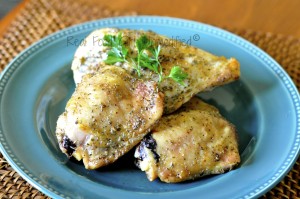 Easy Herb Roasted Chicken
Recipe by Real Food Girl: Unmodified© Preheat oven to 375 F Time: 35-45 minutes or until thermometer inserted reads 155-160 and juices run clear. Serves: 4    
INGREDIENTS:
4 pieces of organic chicken, bone in and skin on.  I normally roast 2 thighs and 1 breast
Sea salt
Kosher salt
Freshly ground black pepper
A combination of any or all of the following: fresh or dried thyme, sage, oregano, rosemary, savory and marjoram (I typically use thyme, sage, oregano and a bit of marjoram)I'm not listing measurements because this is TT (to taste) it depends on your tastes.  Generally for 4 pieces of chicken you'll use at least 1 tsp of each herb.  You are rubbing these herbs under the skin and all over the chicken, so you need a decent amount.
Olive oil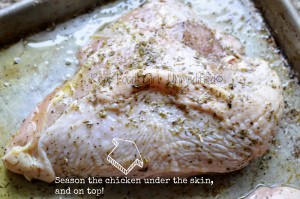 I normally put twice the amount of herbs on the chicken before it goes into the oven.  I needed this breast for another recipe, so I seasoned it lightly with the herbs.
DIRECTIONS:
Preheat oven to 375 F.
Wash chicken under cold water and pat dry with paper towels.  This is imperative for crispy skin.
Combine the desired dry or fresh spices in a small bowl.  I typically use 1 tsp. (give or take) of dried thyme, 1 tsp. of oregano, 1/2 tsp of sage and marjoram.
Arrange chicken on a cutting board, and gently lift the skin up one piece at a time and sprinkle a pinch or two of the SEA SALT under the skin.  Then put a pinch of herbs under the skin- rub it around to distribute it evenly.  Place the chicken on a sheet pan.
Press the skin back down and salt (with Kosher salt now) and pepper each piece.  Drizzle olive oil on each piece and using hands, rub and salt and pepper all over the chicken.  Sprinkle the remaining dried herbs all over the chicken and drizzle with a little more oil.  If most of the salt and pepper got on your hands, give the chicken a little more of each.  Put into the oven and back for 25-40 minutes until thermometer reads 155-160 and/or when poked, juices run clear.  ROTATE pan halfway through baking.
Remove from oven, and either enjoy with some roasted veggies, OR cool and store in an airtight container for future use.  Will keep in the fridge for 3-5 days.
PAID ENDORSEMENT DISCLOSURE: In order for me to support my blogging activities, I may receive monetary compensation or other types of remuneration for my endorsement, recommendation, testimonial and/or link to any products or services from this blog.