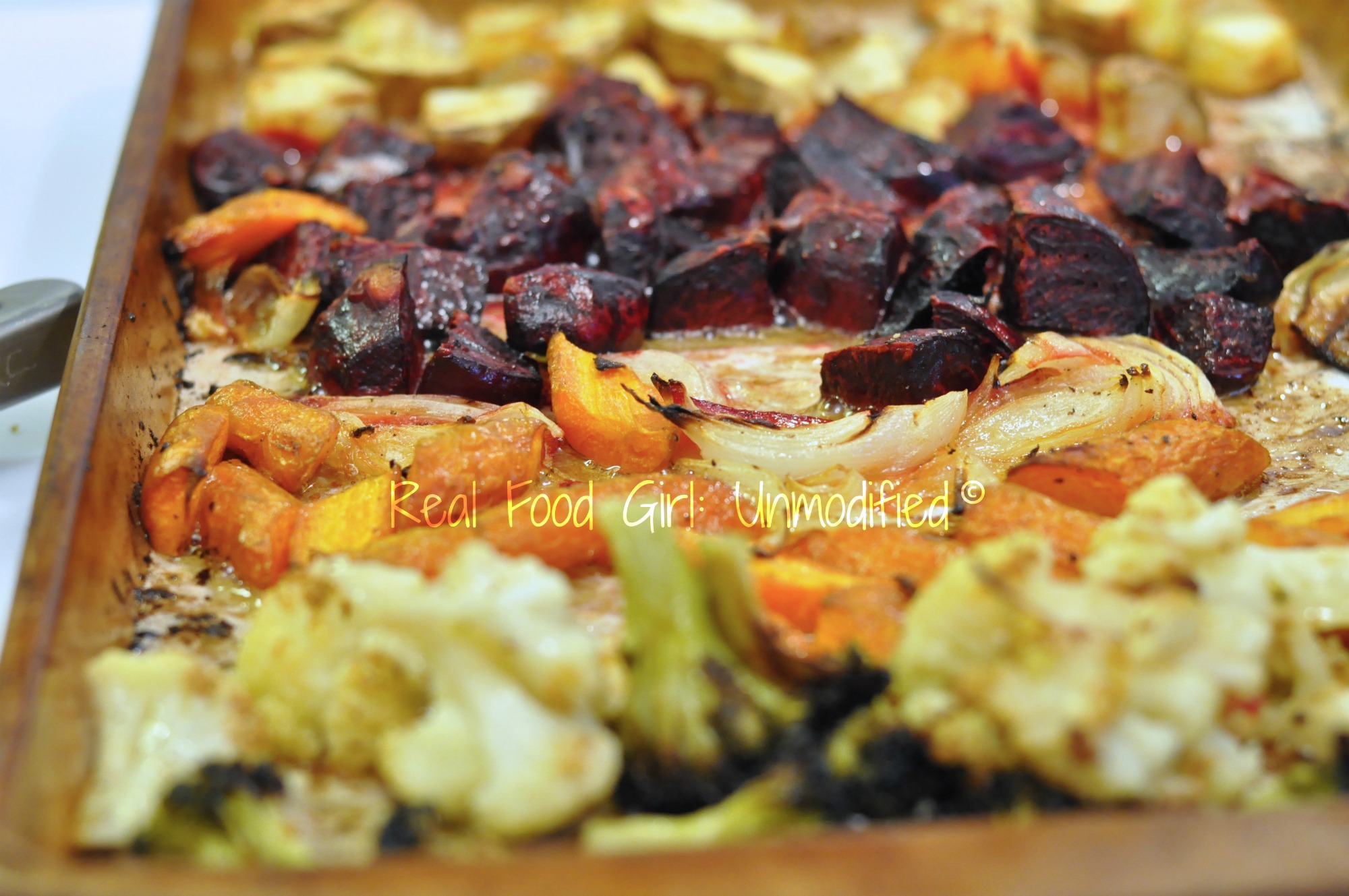 Real Food Roasted Vegetables
TSM (The Stud Muffin) doesn't care much for veggies.  In fact, it would be easier to get a 3 year old to eat their veggies than it is to get TSM to eat them.   So I roast them.  If they're roasted he'll eat them and the skies part and the angels sing and the birdies tweet and the sun shines and every little girl that wished for a pony gets one and my man gets some healthy veggies in his body.  I'd roast veggies more often, but sometimes a girl just wants some steamed green beans, ya know?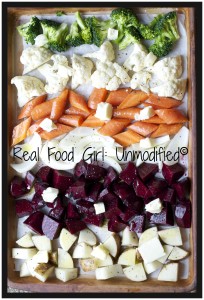 These veggies could NOT be easier to prepare. They are so easy, TSM made a pan of them the other night while I've been extremely under the weather.  TSM is gaining some mad kitchen skillz this year and I'm thinking he may someday give Bobby Flay a run for his money.
You can use any kind of veggie you like- just make sure you cut them in uniform pieces so that they cook evenly.  We like them roasted with just salt, pepper, butter, a little olive oil and a tiny bit of sugar.  Hey! Don't judge.  The French love to GLAZE every veggie they've ever set eyes on, and if they can get away with it, I can sprinkle 1/2 tsp over my veggies to help caramelize them a bit more as they're roasting.  Feel free to totally omit the sugar if you desire.
For this recipe I used red beets, yellow onions, carrots, broccoli, cauliflower, and potatoes.  We've also roasted sweet potatoes, peppers, purple and yellow carrots and cherry tomatoes.  Whatever you want to roast, just roast!  It's that simple!
Make sure to preheat your oven first, and place some parchment down on the  sheet pan before arranging your veggies.  I prefer to use stoneware to roast veggies because it transfers heat evenly and nothing burns.  If you don't have any stoneware, a sturdy metal sheet pan will work- just don't use dark or non-stick.
As always, all ingredients used were organic.
Real Food Roasted Veggies
Recipe by: Real Food Girl: Unmodified© Serves: 4 Preheat oven to 375 degrees  
INGREDIENTS:
2 cups of EACH the following veggies diced into 1-inch cubes: carrots, yellow onions, red potatoes, cauliflower, broccoli, red beets (or a combination of veggies you love)
2 TB olive oil
3-4 TB unsalted butter
3/4 tsp. salt
1/4 tsp. black pepper
1/2 tsp. organic sugar (optional)
DIRECTIONS:
Cover an 11×17 inch stoneware baking sheet with parchment paper
In a large bowl combine all the veggies.  Drizzle in the olive oil, sprinkle in the salt and pepper. Mix with clean hands to combine.
Arrange veggies in a single layer and dot with 3-4 TB of unsalted, organic butter.
Bake in a 375 degree oven until veggies are tender. About 40 minutes.  Rotate pan halfway through baking time.
Serve immediately and enjoy!
 This article, photos, recipe method/directions are the copyrighted, intellectual property of Real Food Girl: Unmodified
PAID ENDORSEMENT DISCLOSURE: In order for me to support my blogging activities, I may receive monetary compensation or other types of remuneration for my endorsement, recommendation, testimonial and/or link to any products or services from this blog.