Apple-Poppy Seed Coleslaw
With autumn fast approaching most blogger's are already knee-deep in comfort food recipes, apple and pumpkin desserts and casseroles. But not me. Nope. We made it from MN to SC and it's hot down here. In fact, it's still in the 90s, so summer is alive and well in my area and it's not too late to squeeze out a few more recipes that one might associate with summer barbecue's or cook-outs, like coleslaw.
I planned to share my remaining summer-time recipes weeks ago, but the move proved to be more stressful than I ever could have imagined. When we arrived at our new (rental) home in SC, we discovered it wasn't maintained well, nor was it properly cleaned or prepared for our arrival. I'm borderline OCD when it comes to clean rental properties so we didn't even start unpacking for a full week because we had to clean everything before we were willing to let our belongings touch any shelf, cupboard, etc., etc. It was that bad.
There were and are half a dozen other crazy, stressful, crappy things that happened right before, during and after the move, but I'm trying hard to look on the bright side and get out of this funk I'm in as a result. Even my dogs are in a funk, and that probably depresses me more than the fact that I don't have a working stove. I'm also very homesick. That's not helping matters at all.
Aside from all the curve-balls and obstacles that have been hurled at us, we arrived safely, in one piece, and I'm almost done writing the story of our trip down here. I do after all, want to share it with you guys. You were instrumental in giving great advice for the move, and praying us through the 1250 mile drive from the Twin Cities to South Carolina. I also want to share it with you guys because it involves 2 rainbows, a harrowing storm in the mountains, 3 bald tires on the U-Haul and 3 angels.
Now that I've gone on for three paragraphs without really talking about coleslaw… I'm not a huge fan of coleslaw. Restaurants like to use bagged cabbage with a few token pieces of red/purple cabbage and a few slivers of carrots. Then they drench it in a thick & gloppy or watery mayo-based dressing and it's either really flavorless, or downright inedible in my opinion. Now I like mayo-based sauces, but for some reason very few establishments get it right when it comes to coleslaw. Hence my not being a huge fan of the side dish. My grandmother loved to add a little Western (brand) dressing to her mayo based sauce for coleslaw. It made her coleslaw a bit sweeter, so I've grown to like slightly sweeter vs. acidic and tangy coleslaw.
While I didn't enjoy cabbage as a child, I did like my grandmother's coleslaw as an adult. The cold, hard truth is that I don't buy Western dressing anymore because it's loaded with GMOs and HFCS. You all know how I feel about High Fructose Corn Syrup and GMOs, so I won't go into a diatribe on either of those at the moment. Mostly because it's three in the morning and secondly, because it's three in the morning.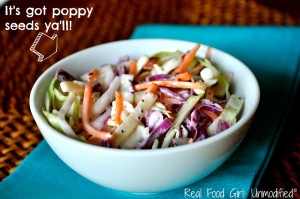 One day a couple weeks ago we went out to eat at a local smokehouse for some BBQ. I decided to try their coleslaw. It was actually pretty good. It wasn't from a bagged mix, and their sauce wasn't too runny nor too gloppy. I'm pretty sure gloppy is in fact, a culinary term. It wasn't too sweet, nor too acidic. It had decent flavor and the cabbage was still crunchy. It got me thinking I should try and replicate it at home–only make it better if possible. Because I'm special like that.
The coleslaw I had in the restaurant didn't have apples, or poppy seeds. I wanted to add those because they're different. Coleslaw can be boring and I wanted to make it a bit more exciting. I wanted it to be different enough where once you saw the photo and read the name you'd be like "Dang woman! I want some of that in my belly!!" Hopefully you will!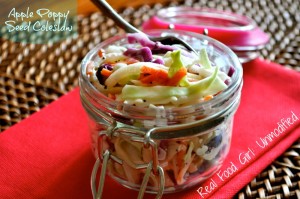 While developing this recipe, I noticed that any time you add salt to cabbage it's going to lose some of its moisture and that moisture from the cabbage is going to make your sauce reeallly watery. I came up with a solution, which adds a few extra steps and some additional inactive time to the recipe.
Let's get to the recipe, shall we? Oh, I should point out that by the time I got around to photographing this, the coleslaw was 2 days old. So most my poppy seeds went down the drain when I strained away the excess moisture that the cabbage was kind enough to expel. Yes, it expelled even more moisture after 2 days in my fridge along with developing a nice, funky cabbage smell–good times folks. Good times! Thankfully I was able to get like 9 poppy seeds to show up for the photo shoot. Just know that there will be more in your finished dish than you see in my photos.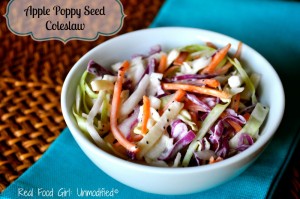 Apple Poppy Seed Coleslaw
2013-09-12 04:55:16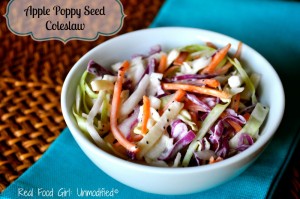 Serves 6
A festive and flavorful coleslaw. Crunchy, organic cabbage and carrots meet with crisp, tart apples and poppy seeds. A lighter honey, cider vinegar and mayo based dressing round off this tasty side dish.
Ingredients
1/4 head of purple/red cabbage, organic
1/2 head of regular green cabbage, organic
2 large organic carrots
1 tablespoon kosher salt
2 tsp. fresh lemon juice (to keep the apples from oxidizing)
2 medium Honeycrisp apples or another variety of crisp apple such as Fuji or Granny Smith
For the Dressing
1 TB poppy seeds
3 tablespoons apple cider vinegar
1/3 cup organic raw honey
3 TB organic cream
1 cup organic or homemade mayo
Kosher salt TT (to taste)
Freshly ground black pepper TT (to taste)
Instructions
Core and quarter each cabbage. finely shred a quarter of the red cabbage and half of the green cabbage using the slicing blade of your food processor. I didn't feel like dirtying mine, so I just used my knife.
Move cabbage to a colander and mix with 1TB salt. Sprinkle on the salt and use hands to combine. Place colander over a large bowl and set aside for 1-2 hours while the cabbage wilts and releases excess moisture. Next, rinse the cabbage thoroughly in cold water and spin it dry in a salad spinner. Or use oodles of paper towels if you don't own a salad spinner.
Place freshly rinsed and dried cabbage into a large bowl.
Rinse, peel and julienne the carrots. If you want, you may shred them using the grating blade with your food processor, or a box grater. I think slicing them julienne with a knife makes for a prettier presentation and much better texture. (Grating with a box grater will just get you soggy, flat shreds of carrot.) Add carrots to the cabbage mixture.
Julienne the apples and mix in a small bowl with the lemon juice. Once the lemon juice has coated all the apple slices, add them to the cabbage mixture. You could do a very small dice instead if you prefer.
Chill the cabbage mixture for 30 minutes. Meanwhile, prepare the dressing.
FOR THE DRESSING
In a separate bowl whisk together the honey and the apple cider vinegar. Next add the mayo, heavy cream and the poppy seeds. Whisk to combine. Taste. Add some kosher salt and freshly ground black pepper. Stir, and taste again. Adjust seasonings as necessary (see notes below).
Remove cabbage mixture from the fridge and pour the dressing over the cabbage mixture and stir to combine. Serve immediately, if possible.
Notes
If you prefer a sweeter dressing, add a bit more honey or a TB of organic sugar. If you prefer more tang, add another TB of ACV, or substitute organic Greek yogurt for the cream.
Make extra dressing if you plan to have any left overs just in case the dressing becomes a little watery after sitting in the fridge for a day or two.
https://www.realfoodgirlunmodified.com/
PAID ENDORSEMENT DISCLOSURE: In order for me to support my blogging activities, I may receive monetary compensation or other types of remuneration for my endorsement, recommendation, testimonial and/or link to any products or services from this blog.