Have you ever taken a bite of something and your brain and your mouth explode from the flavor nirvana that is occurring and you're rendered speechless and consequently need "A moment alone" to compose yourself? If not, I'm genuinely sad for you. But fret no more because these brownies are slap-yo'-momma, shut the front door, awesomesauce, ohmehgersh, mind-blowing, "where have you been all my life?", SPECTACULAR! Make these and you will have that moment that I just mentioned above once you take a bite of one of these brownies!!
I made the glutenized version a couple of weeks back when I had my good friend Towanda the Bee Charmer over for a movie and lots of snacking. We call it our annual movie night and snarf-fest extravaganza. Guacamole, salsa, and cowboy caviar (all homemade with organic and GMO-Free ingredients) top the list of munchies, along with organic corn chips. If you're going to watch movies and consume quasi-hideous amounts of salt then you must balance that with chocolate. It's a rule. I didn't make it up. I just follow the rules. Only the rules I want to follow and that involve salt and chocolate. Since Bee Charmer and I are totally hip with salt and chocolate rules, I made these brownies so that we wouldn't be hunted down and offered to the food police as sacrifices. Bee Charmer and I, although totally attractive and quite delightful are not "alter of food rules sacrifice" material. It's just not how we roll.
I'm not ashamed to tell you that Bee Charmer fell in love with these brownies. I even gave Bee Charmer a quarter of the pan to take home to share with her family, and you'll never believe what she did? (Actually if you knew her you would because it's chocolate, and she doesn't share chocolate. It will take like 23+ years before she'll break down and share ANY chocolate with you.) You guessed it; Bee Charmer inhaled the brownies and said her family would never knew they existed until she made them a pan. TSM and I got a good laugh out of that!
Bee Charmer owns her own bees. She makes honey. Actually, she doesn't make the honey, her bees do. Her bees are Italian, like TSM. In my opinion that makes them superior bees. Her honey is quite good, too. I'll provide a link to her FB page so you can look into purchasing her honey if you're interested. It really is that good. And I'm not just saying that because she gave me a huge bag of chocolate to make up for 23+ years of withholding chocolate treats from me. Nope. Not sayin' that at all. (wink-wink)
The truth is that you need to make these brownies. Bee Charmer would be the first person to tell you that you'd be insane not to except she'd use a fancy word like fatuous. Whether you make them with regular flour, or make them gluten-free, you have to make them. In the wide, vast world of brownies, these are seriously some of the best. If I can figure out a way to add caramel and toasted coconut to make them even more spectacular, I'll do that. These brownies NEED to be in your belly like now.
Easy to make, this recipe will take about 15 minutes to prep and then it's in the oven for 20 minutes and then the pan sits in an ice bath to cool completely.
Yes. I did say "The pan will sit in an ice bath to cool completely." That's the best part about these brownies. They're not like other brownies. They're more fudge-like than cake-like. They are dense, rich and intense. You should have to undergo a psych evaluation to make sure you are stable enough and won't wilt into a puddle of goo on the floor after taking a bite. They really are that powerful.
I got this recipe from my friend Hillary. She is to all things culinary knowledge what Rush Limbaugh is to all things political knowledge. I call her The Culinary Guru. She'll just kill me love that I've compared her to Rush Limbaugh… Ahhh, the joys of having your own blog. Ha! Anyway, The Culinary Guru (Hillary) adapted this recipe to what I'll be sharing with you below from the original recipe which was created by Alice Medrich's New Classic Brownies from her book "Cookies and Brownies".
I will mention that the recipe is in grams. And to be honest I feel it needs to be. These don't turn out the same when converted to teaspoons and cups, plain and simple. A decent digital kitchen scale will run you $15-$20.00. You could probably find one cheaper on Craigslist or eBay. If you really want to try these, but a scale is out of your budget, you may use this recipe, but know that it won't be the same. Similar, but not the same.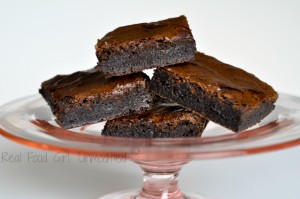 GF Fudgy Brownies
Recipe Adapted by Hillary via
Alice Medrich
Preheat oven to 400 F Line 8×8″ baking sheet with foil
Once fully cooled, cut and store these brownies in an airtight container in the FRIDGE!
**All ingredients used were either Organic or GMO-Free**
INGREDIENTS:
1 stick unsalted butter
115 g bittersweet chocolate I like E.Guittard 72% Bittersweet Chocolate, it is fair trade and GMO-Free!
250 g sugar
15 g vanilla (yes, this is an accurate measurement)
2 g of salt
2 large eggs
16 g cocoa powder I like E.Guittard Cocoa Rouge Cocoa Powder
16 g cornstarch I use Rapunzel brand organic cornstarch.
32 g rice flour OR coconut flour
If you want to add some pecans or walnuts, toast them first, then add 1/2 cup of the nuts to the batter just before you pour it into the prepared pan.
DIRECTIONS:
Preheat oven to 400. Line an 8" square metal pan neatly with foil or parchment and use extra so it hangs over the sides a bit.
Melt butter & chocolate together in a small saucepan on low heat until smooth.
Stir in sugar, vanilla, and salt.
Beat in eggs, one at a time, until well blended.
Beat the flour (or cocoa, cornstarch and rice (or coconut) flour) in with a wooden spoon, until the batter is smooth and glossy, and pulling away from the sides of the pan.
Scrape batter into the pan, and bake 20 minutes, or until the brownies just start pulling away from the edges of the pan. The surface will look dry.
Make an ice bath about 1" deep before the timer goes off. Put pan directly in ice bath, without splashing, and let cool.
**IF You are NOT making the GLUTEN FREE version- Use 48 g of regular AP flour and the 16 g cocoa powder, OR USE 64 g of regular AP flour and no cocoa powder**
Makes 16-20 squares.

Or, if you're Towanda the Bee Charmer it makes 4 squares.

IMPORTANT- Store these in the fridge. They just get chewier with each passing moment in the fridge. They get almost caramel-like. As you know, fudge-like and caramel-like are goooood things!!

I have to say, I enjoyed the gluten-free version of these brownies more than the glutenized version. TSM could not tell the difference, but liked them both and he's not a huge chocolate lover. I know- that's borderline blasphemous, but he makes up for it in other areas.
**

Interested in Bee Charmer's honey? You should be! Click HERE to be directed to her honey Facebook Page.

**

PAID ENDORSEMENT DISCLOSURE: In order for me to support my blogging activities, I may receive monetary compensation or other types of remuneration for my endorsement, recommendation, testimonial and/or link to any products or services from this blog.