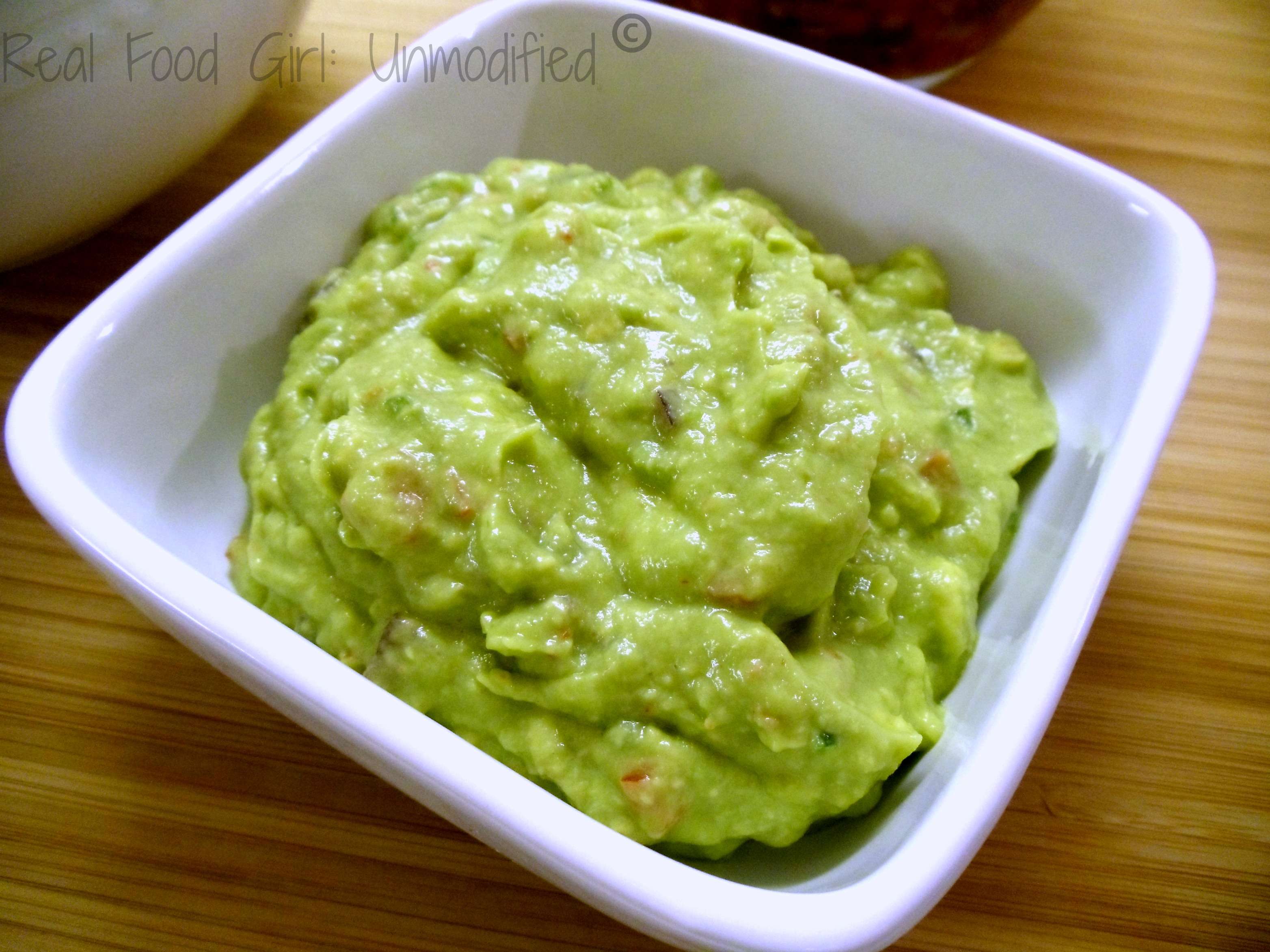 My guacamole isn't really holy, not in the spiritual sense of the word anyway…  It's just that there are zero catchy recipe titles for guacamole and I felt like spicing things up. The Stud Muffin has really developed a taste for avocados.  I wasn't sure he'd ever eat them after being told countless times that he hated them, he hated guacamole and nothing would change his mind.  Until I made guacamole one night and he had it on a taco.  BOOM!  Yeah, that's the sound of TSMs mind being blown.I make salsa and guacamole at least once per month.  They are healthier snack alternatives and I get to sneak some veggies into TSMs diet.  He'd eat nothing but meat and carbs if it were up to him.  I had to get creative with making veggies appealing.  Thankfully he loves salsa, and he now loves guacamole.
The weekend of the Superbowl we needed to run to Trader Joe's to get a couple of things.  They had a sample table as you first walked in and were featuring their Organic blue corn tortilla chips and some of their chunky guacamole.  For a processed guacamole that stuff was pretty tasty.  TSM loved it so we bought a container of the guac and a bag of the chips and he was set for Superbowl snacks.  I have to hand it to TJ's, that guac was tasty and it made me look at the list of ingredients to see if I could duplicate it.  My guacamole was good, but it needed something a little more, and thanks to TJ's, I found out what that was and incorporated that into my recipe to make it even better.  Now it's tastier, creamier, and it has protein!!  It's like a super-snack!!  You're welcome.
About two weeks ago I shared my salsa recipe and mentioned that I use that salsa in my guacamole recipe.  I found it easier to just toss in some of the salsa instead of cutting up small portions of an onion, tomato, green and red peppers, etc.  You won't be sorry if you make a batch of my salsa first and then make this guacamole.  The guacamole is such a quick and simple recipe to make it'll be done in no time.  You'll also want both of these recipes because later this week I'm sharing my taco salad recipe and it calls for both the salsa and the guacamole.
QUICK TIPS:  How to keep your guacamole from turning brown/oxidizing AND How to tell if an avocado is ripe:
Tip #1.  To keep your guacamole from oxidizing, place 2 of the pits/seeds into the prepared guacamole. Push some plastic wrap down onto the surface of the guacamole and then seal the container with a lid.  You may notice within 24 hours that it might start to oxidize a little. This will not affect the taste of the dip at all.  Just give it a good stir and enjoy.  If you don't eat it all first this will last  3-5 days in the fridge.
Tip #2.  To test for ripeness (besides giving it a little squeeze) Flick the small brown stem off the top of the avocado. If it comes off easily and you can see green underneath it, the avocado is ripe! If the stem doesn't come off or if you see brown, the avocado is not ripe.  I tend to buy avocados that are about 2 days from being ready to use so that if I can't get to them that same day, they won't go bad!
Holy Guacamole!
Recipe by: Real Food Girl: Unmodified Serves: 4-6 Time: 15 minutes (if salsa is already made)  
**All ingredients used in this recipe were organic**
INGREDIENTS:
3 ripe avocados
1/3-1/2 cup of Real Food Girl's  Garden Fresh Salsa
1/3 cup organic whole fat Greek yogurt (if you can find whole fat, or 2% fat)
Limes (I generally have two handy.  Sometimes I use both, other times, just half a lime, it depends on the lime and your tastes)
Kosher salt  TT (to taste)
1-2 garlic cloves finely minced
Cumin to taste
Jalapeno-  There is already jalapeno in my salsa, but I like to chop half a jalapeno and pulverize it in the yogurt with my immersion blender)
Cilantro- this is if you want extra.  The salsa has cilantro in it
DIRECTIONS:
Halve, seed and score the avocado -Like this:

Make sure you save the seeds!!
Scoop out 5 of the avocado halves into a medium-sized bowl, squeeze the juice from half a lime into the bowl and gently stir to combine so all pieces of the avocado are coated with the lime juice which will keep it from oxidizing while you're prepping.
Scoop the flesh from the last remaining avocado half into a small bowl and add the Greek yogurt to that bowl.
Slice the jalapeno in half and cut one half into 1/2″ pieces.  Add that to the small bowl with yogurt mixture. (use the whole pepper if you desire)
Using an immersion blender (or a regular blender if you don't have a stick blender) Whir the avocado, Greek yogurt and jalapeno until no pieces of jalapeno remain and the mixture is smooth, combined and creamy. I've found that pulverizing the pepper into the avocado and yogurt results in a more balanced heat.
Using a fork, smash the guacamole in the large bowl to the desired consistency.  Add 1/3 to 1/2 cup of the salsa and the minced garlic to the bowl, stir to combine.
Stir the yogurt/jalapeno/avocado mixture into the guacamole in the large bowl and combine well.  Taste, adjust seasonings (salt, cumin, lime, cilantro, hotness level)
Transfer to a bowl that has an airtight lid.  Add two of the avocado seeds and place a layer of plastic wrap over the top of the guacamole to keep it from oxidizing too quickly, then seal with the lid.  Store in the fridge until ready to eat.
We find this tastes better after it's had an hour to rest in the fridge and all the flavors combine and get happy.
Use this as a dip, or in any of your favorite Mexican or Southwestern dishes!  I just added this to a BLT the other night for dinner and that was the best BLT I've ever made!
  This post will be featured over at Kelly The Kitchen Kop's "Real Food Wednesdays" Blog Hop.  I hope that you'll stop by and join in on the fun.  There are many food bloggers that post great articles, tips on healthier living, holistic how-to's, and of course, real food recipes!  
PAID ENDORSEMENT DISCLOSURE: In order for me to support my blogging activities, I may receive monetary compensation or other types of remuneration for my endorsement, recommendation, testimonial and/or link to any products or services from this blog.