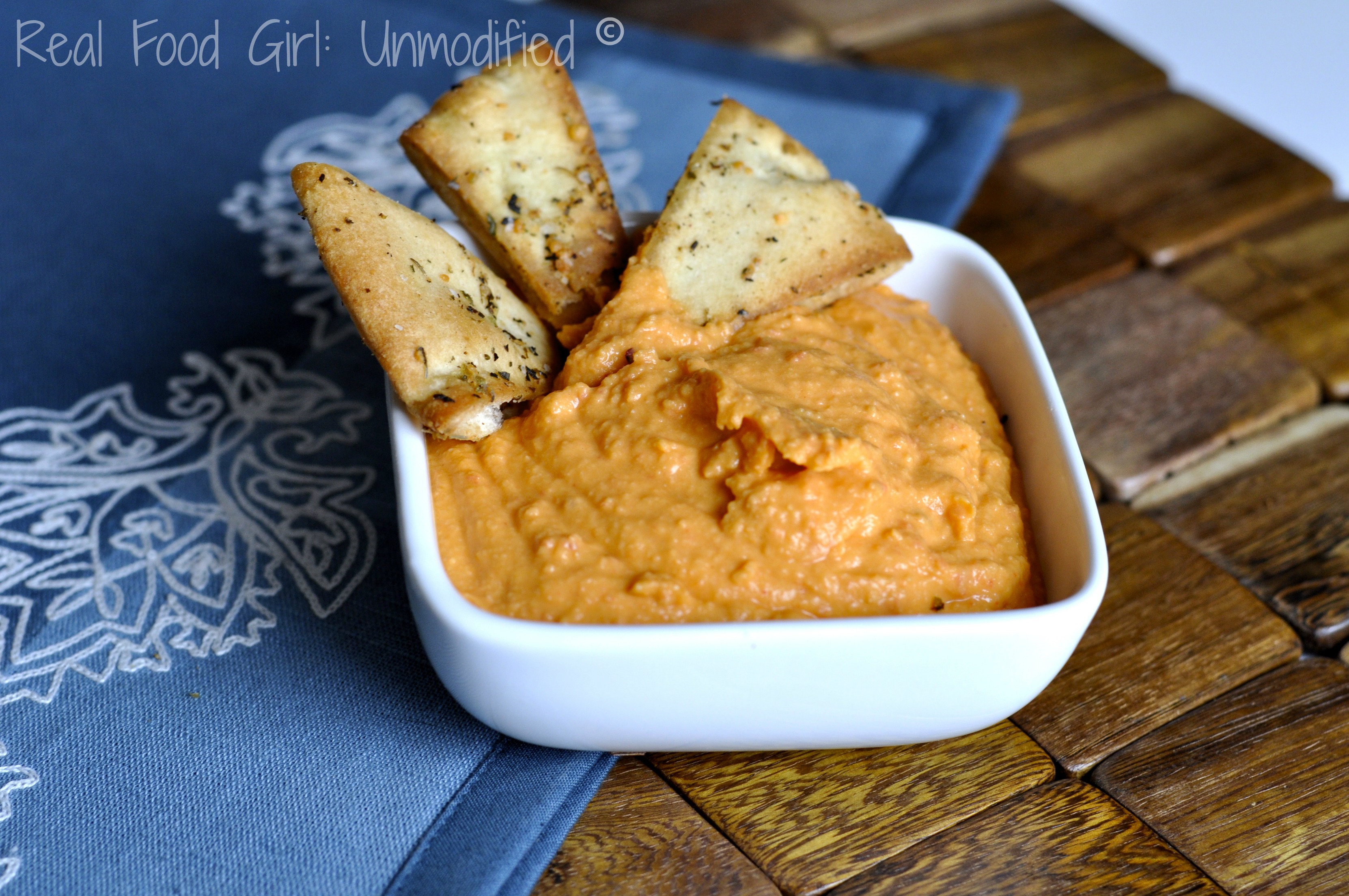 Roasted Red Pepper Hummus & Parmesan Herb Pita Chips
I think I missed my calling as Weird Al Yankovic's side kick. I know I only have like 3 seconds to capture a reader's attention, and thought that a fun song about Chickpeas set to the famous BeeGee's tune "You Should Be Dancin'" was a great way to do just that.
And because now you're all totally curious what a song about Garbanzo/Chickpeas would sound like and about how I might manage to slaughter a perfectly good BeeGees tune, I bring you my song: "You Should Really Make Some Hummus"… Here is a little video to get the right tune in your head.
https://www.youtube.com/watch?v=CaXdTe2TYhs
"You Should Really Make Some Hummus" By: Real Food Girl: Unmodified
Garbanzo beans are funky
But they taste really good.
Eat 'em whole or smoosh 'em
Just eat 'em cause you should.
Do ya wanna make some hummus? Yeaaahh
You should really make some hummus, yeahhhh…
It takes Garbanzo beans. Garbanzo beans.
They look just like a molar,
Well maybe not so much.
They taste good with tahini,
Lemon, olive oil and such…
Do ya wanna make some hummus? Yeaaahh
You should really make some hummus, yeahhhh…
It takes Garbanzo beans. GarBONZO beans.
Some people call them chickpeas,
But why I've got no clue,
I only know that hummus,
Would taste good on a shoe…
Now ya wanna make some hummus? Don't-chyaaah
You should really make some hummus, yeahhhh…
It takes Garbanzo beans. GarBONZO beans.
If you make this hummus,
Make pita chips as well,
They're healthy and they're crunchy,
and kids will think they're swell.
So run and make my hummus, ruhunnn
Get yer booty in the kitchen, bootaay!
And just make hummus yeaaah! Hummus YEAHH!
Thank you, thankyewverymuch! Honestly my fellow food hippies, you have got it SO good with me! I mean, where else do you get stories about Bee Charmers, and Food Guru's, and Stud Muffins, and a remake of an awesome BeeGees tune that might make even Weird Al take notice? I'm like not only Real Food Girl: Unmodified, but Really Spectacular Songwriter: Extraordinaire! You know it's true. Embrace the truth… embrace just how special I really am people. Just embrace it. And then, go make this hummus. It's yummy.
The Stud Muffin is easily turned off on a dish once he knows what's in it. I think it's because he has the brain of an engineer and analyzes things to death which makes for strange food phobias. As long as he doesn't know what goes into a recipe, he can eat it. Once he knows, well, it's like trying to talk a deaf cat into getting on a water slide. Regardless he really likes my hummus and I make it frequently so we have healthier snack options at home. I've also brought this along to family gatherings and it's been devoured by kids, teens and adults. Everyone loves it. I tell them it's a white bean dip and then after they freak out over how yummy it is and say things like: "We don't even like beans"… I then tell them it's hummus. Despite being upset that they've been tricked into eating something they never would have, everyone keeps eating because hummus is truly a tasty food. It's a fact. Do you have any hummus lovers in your home?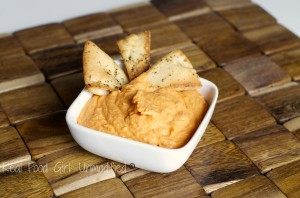 Even my little sister (Real Food Girl: In Training) likes my hummus and trying new and semi-exotic foods such as hummus isn't something she's all that keen on, but she liked this hummus and she LOVED the pita chips. I usually make my pitas from scratch, but we'll be using store bought organic ones for convenience because I don't feel like torturing you with another baking recipe written in grams. At least not today anyway. You're welcome.
For additional convenience I also used canned garbanzo beans. If you love to soak and cook your own dried chickpeas, feel free to do so. Alton Brown has a great slow cooker chickpea recipe right HERE. I would prefer using dried beans that I've prepared myself, but my goal is to feature Real Food that can be made people no matter what their skill level is in the kitchen. Not everyone knows how to prepare dried beans. From time to time I'll use processed foods if they don't contain any of the ingredients on the Real Food Guidelines list. I will also use convenience foods from time to time in my recipes so that anyone can successfully make the dish vs. just a few. Does that make sense? If you cannot find organic garbanzo beans, just find ones that do not have any GMO based ingredients, like corn, soy, or sugar and that there are no artificial preservatives, colors or additives included.
Finally, use a good (organic or imported) brand of Tahini for this recipe. 1 jar of Tahini will last you a good long while if you store it properly. Sorry for getting all Ina Garten (Barefoot Contessa) on you about using a good brand, but going generic or the cheapest route on this item will only make you dislike tahini because it will most likely be bitter and made with low quality sesame seeds.
Roasted Red Pepper Hummus & Parmesan Herb Pita Chips
2015-09-28 20:57:27
Homemade hummus with the tastiest pita chips-- forget store bought folks, this stuff is better and so easy to make
Ingredients
3- 15 ounce cans chickpeas/garbanzo beans—rinsed, drained and 1 cup of liquid reserved
1/3+ cup olive oil
3-5 TB tahini (sesame seed paste)
1 roasted red bell pepper, seeded and chopped
3-6 TB fresh lemon juice (1-2 lemons)
3-4 cloves of fresh garlic
Salt and Pepper to taste
½ tsp. ground cumin, optional
Pinch of cayenne pepper
1 cup cold water
Instructions
Set broiler to lowest setting. Place a lightly oiled red bell pepper on the middle rack of your oven under the broiler. Turning frequently, let the pepper start to scorch and blister under the heat of the broiler. Depending on your oven, this should take 3-6 minutes. When the pepper is sufficiently roasted, remove and place in a bowl and cover it with plastic wrap. Let it sit for 15 minutes. Remove pepper from the bowl, and with a clean hand towel, gently rub the skin off the pepper.
Lay the freshly skinned pepper on a cutting board, and remove stem, seeds and membranes. Cut into large chunks and set aside.
In a large food processor bowl, combine chickpeas, garlic cloves, 3 TB of the Tahini paste, 2 TB of lemon juice, 1/2 cup of reserved chickpea liquid, some black pepper, and a pinch of cayenne.
Blend/pulse until well incorporated and the mixture is coarsely pureed. While pulsing, start to drizzle in about 1/4 of a cup of olive oil, and pulse or blend until mixture becomes smooth and is no longer "dry".
Add the roasted red pepper to the bowl and pulse until well incorporated.
Stop, remove the lid, scrap down sides, taste the hummus and adjust the seasoning as needed and add cumin if desired. Use the remaining amounts (or more if desired) of the Tahini paste, lemon juice, salt, more pepper and cayenne, as well as the rest of the olive oil and chickpea liquid until the hummus is the consistency and flavor you desire. Some people like more sesame flavor, others more garlic or lemon- it's totally up to you.
Put hummus in a serving container, and sprinkle with paprika, chopped parsley and a drizzle of good olive oil if desired. Refrigerate left over hummus in an airtight container. It should keep in the fridge for up to one week.
I prefer a rather balanced taste, where the lemon, garlic and Tahini play nicely with one another. I also like my hummus smooth, creamy and not too thick, but not thin or soupy.
**This recipe makes about 5 cups**
Parmesan Herb PITA CHIP RECIPE
INGREDIENTS
1 package of organic pita bread, cut each pita in half, and cut each half into 8 wedges.
Olive Oil (organic)
Salt TT (to taste)
Black pepper TT (to taste)
Dried Italian Seasoning (generally a blend of MARJORAM, THYME, ROSEMARY, SAVORY, SAGE, OREGANO, AND BASIL) TT (to taste)
2-3 TB Parmesan cheese, grated (organic)
1/4 tsp. granulated garlic, optional or 1 garlic clove minced fine. (If using, add the freshly minced garlic to the olive oil so it gets combined evenly with the pita wedges)
NOTE: Personally, I think McCormick make a good Italian Seasoning Blend that works well for these "chips".
DIRECTIONS
In a large bowl combine pita wedges, approx. 3 TB olive oil, 1/2 tsp salt, some black pepper, and 1-1/2. Italian seasoning.
With clean hands, gently mix the pita wedges so each piece gets coated with the olive oil, spices and seasoning. If they look a bit dry, add more oil.
Place pita wedges on a sheet pan in a single layer. Sprinkle with additional kosher salt, pepper and Italian seasoning and Parmesan cheese- it's all to your preference.
Bake in 375 degree oven for about 12-15 minutes, until golden brown and crisp. Rotate pan halfway through baking time. Bake in additional 1 minute increments if needed, careful not to burn.
Remove from pan immediately, cool and store in an airtight container.
*some of the chips may soften a bit if you keep them more than 2-3 days.
https://www.realfoodgirlunmodified.com/


PAID ENDORSEMENT DISCLOSURE: In order for me to support my blogging activities, I may receive monetary compensation or other types of remuneration for my endorsement, recommendation, testimonial and/or link to any products or services from this blog.