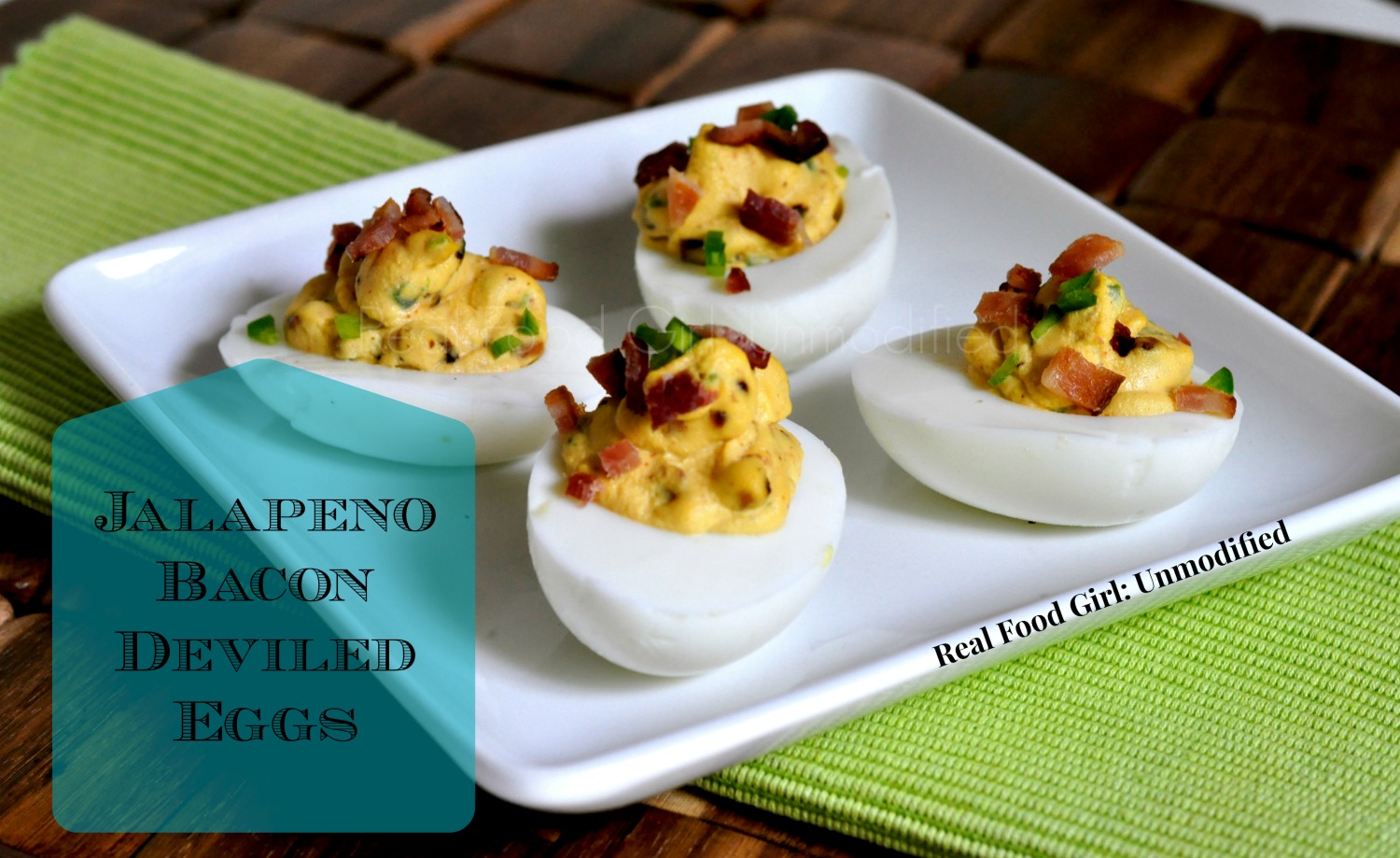 Jalapeno Bacon Deviled Eggs
Bacon.
I really could just leave it at that, but I have a feeling you guys may want to know a little more about these eggs other than the fact that they contain bacon. Not that you would care at this point, because, well, BACON! I don't know too many people that will turn down a well-prepared deviled egg. The Stud Muffin can eat like 6 of these in one sitting. The man has never met a boiled egg he didn't like. Seriously.
Imagine how happy I was when I came across something that inspired me to take my deviled eggs to the next level. I was H.A.P.P.Y people. Like happy-dance-jazz-hands happy. That's pretty happy.
These eggs are so bada$$ that Chuck Norris approves of them. That's right. Chuck Norris y'all! These eggs will ruin you for other deviled eggs. You'll cry if someone makes you a boring deviled egg from here on out. They're really that fantastic.
I realize that most people make these as a summer time appetizer or serve them at Easter brunch, but I think these eggs can be eaten, and should be eaten, any time of the year. What better way to make your burger night a bit more exciting than to put a plate of these bad boys down on the kitchen table. Your husband will fall in love with you all over again, and your kids may just go to bed without any arguing that night. Eh, it could happen.
I know you'll love this super easy, seriously tasty twist on a deviled egg. I can't wait to hear what you think about these. Chuck Norris is sort of looking forward to your thoughts, too.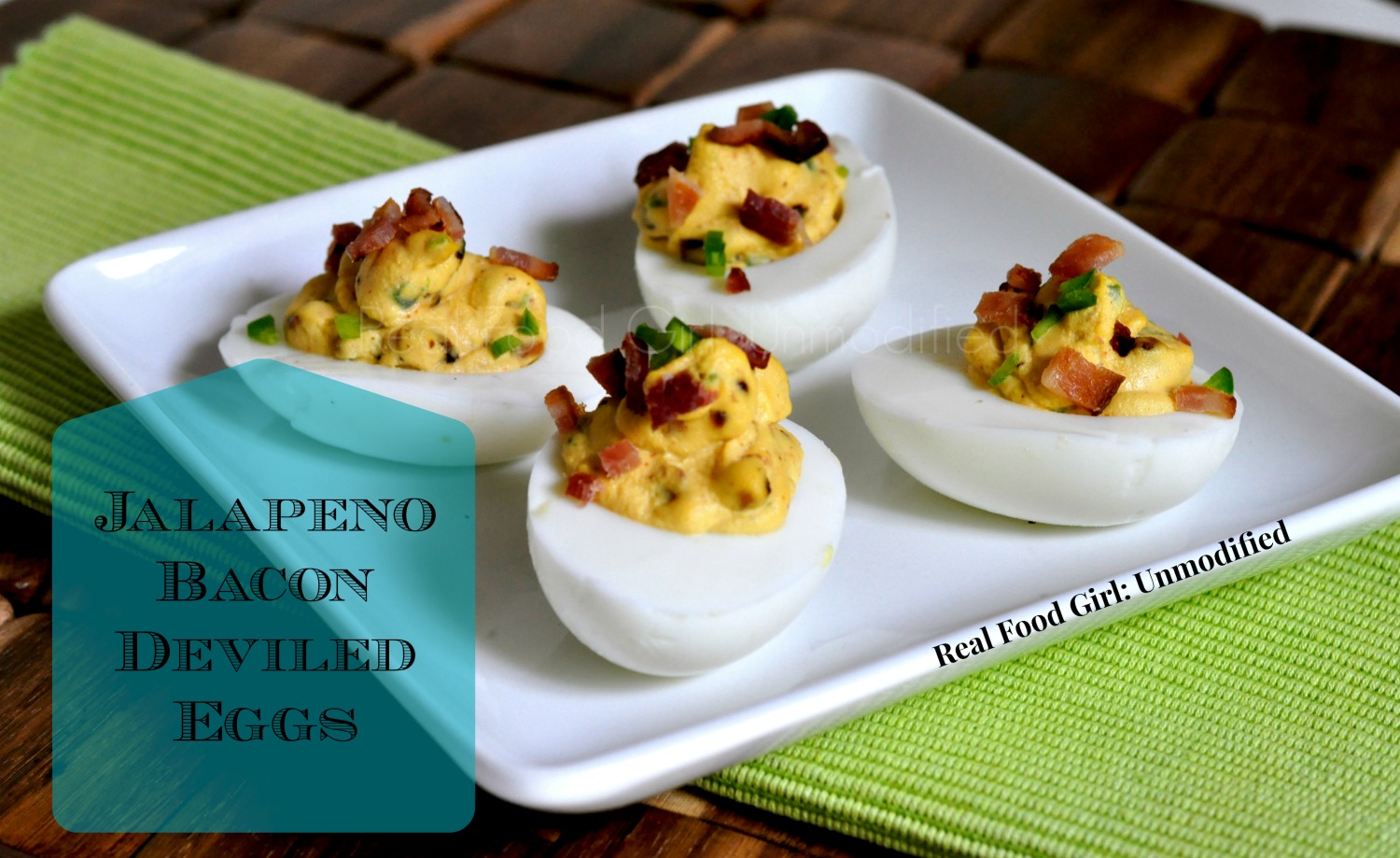 Jalapeno Bacon Deviled Eggs
2013-12-17 16:17:13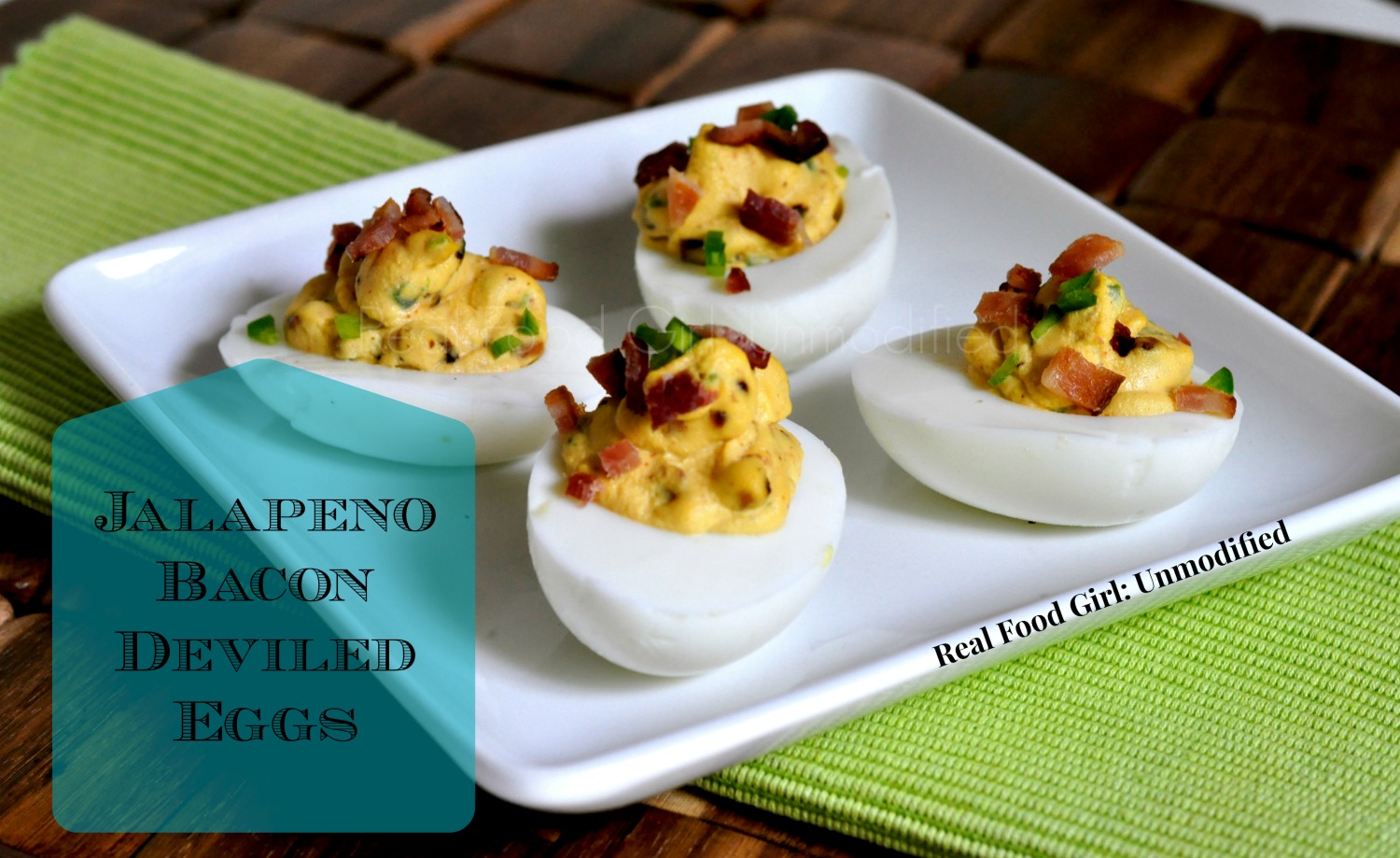 Bacon, jalapeno's and a secret ingredient make these the best deviled eggs you've ever eaten.
Ingredients
1 dozen organic, pastured eggs
3/4 cup homemade mayonnaise
1/4 cup plain Greek yogurt
1-1/2 tsp. pickle juice- Yes, pickle juice (if you don't have pickle juice, use rice wine vinegar)
1/4 tsp. ground mustard
1/4-1/2 tsp. organic yellow mustard
A pinch or two of cayenne pepper or 1/4 tsp. of Sriracha sauce
1/2 tsp. organic cane sugar (don't use a sugar substitute like honey- just omit if you don't use sugar)
2 jalapenos, seeded and diced fine
8 strips of thick cut, organic bacon, slightly frozen (makes it easier to cut)
Hungarian paprika for garnish
Salt and black pepper to taste
Instructions
Fill a large stock pot with cold water and gently place the eggs inside. Bring to a boil over high heat and continue to boil the eggs in the water for 7 minutes. Turn off the heat and let the eggs sit for another 5 minutes. Then remove from the hot water, peel, rinse and chill in the fridge for 30 minutes while you prep the remaining ingredients.
Stack your 8 slices of bacon and cut into lardons. A lardon is a long dice that is achieved by laying the bacon on your cutting board horizontally and cutting 1/4-1/2 inch strips vertically.
In a medium sauté pan over medium-high heat, cook the bacon until just crisp. Remove immediately to a paper towel, and set aside to cool. Once it is cool, chop the bacon into smaller pieces with a knife.
Wearing some latex-free kitchen gloves, cut your jalapenos lengthwise and seed them. Then slice each half into skinny strips and dice into small pieces. DO NOT touch your eyes with your gloved hands. 🙁
Remove eggs from fridge and slice each egg in half, lengthwise.
Carefully remove the yolks and place in a bowl.
Using a fork, mash the yolks until crumbly.
Add the mayo, Greek yogurt, pickle juice, (or rice vinegar) ground and dried mustard, sugar (if using) cayenne (or Sriracha) and stir well to combine. Taste it and add some salt and pepper. Stir well and taste again. Adjust seasonings if necessary.
Mix in the jalapenos and bacon.
Spoon the mixture into a piping bag fitted with a star tip or a zip top bag with a small hole cut out of the corner of the bag.
Fill each egg hole with the yolk mixture.
Sprinkle with paprika.
Store in the fridge until ready to serve. These will keep in an airtight container for up to 3 days.
Notes
Instead of using a full cup of Mayonnaise, I felt adding a bit of Greek yogurt would add some depth of flavor as well as keeping you from cringing when you see the words "1 cup of mayo".
If you don't have a pastry piping bag, a zip top bag with the end cut off works just as well.
https://www.realfoodgirlunmodified.com/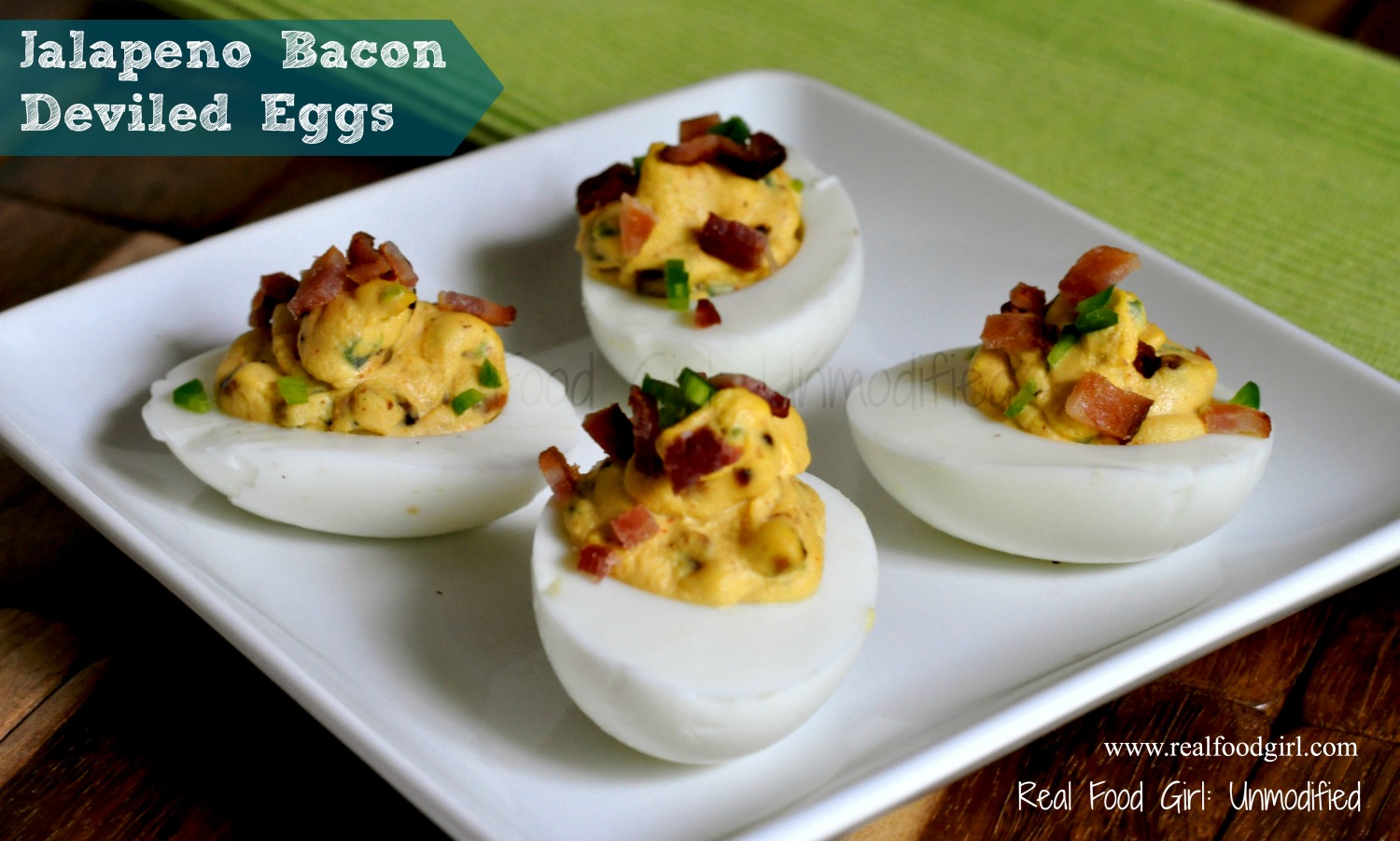 PAID ENDORSEMENT DISCLOSURE: In order for me to support my blogging activities, I may receive monetary compensation or other types of remuneration for my endorsement, recommendation, testimonial and/or link to any products or services from this blog.