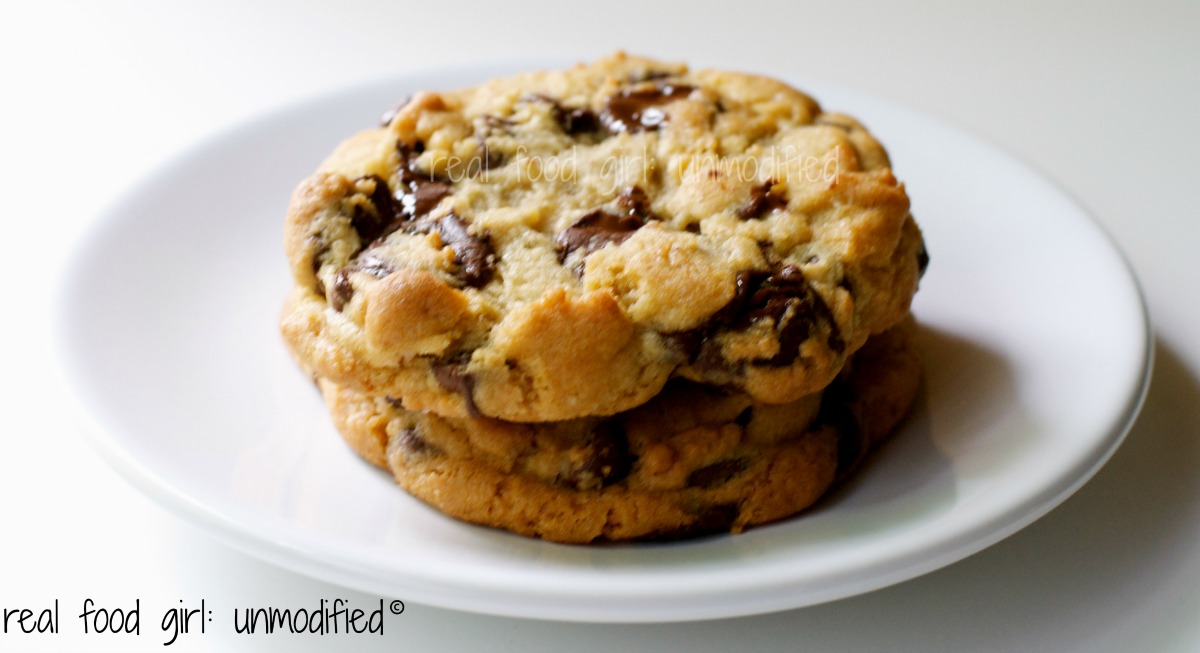 The Quest for the Best Chocolate Chip Cookie
You know that episode of FRIENDS where Phoebe misplaces her grandmother's chocolate chip cookie recipe (which happens to be the famous Nestle Tollhouse recipe) and Monica spends an entire day in the kitchen making like 23 different chocolate chip cookie recipes so she can try and duplicate the taste and texture of that one amazing chocolate chip cookie that Phoebe gave her?  Well, that's me.
I'm in search for a chocolate chip cookie that doesn't make me grumpy.  I'm looking for the best chocolate chip cookie. A cookie that has some depth of flavor to it, subtle nuances, something more than just sugar, butter, flour and chocolate.  I want a cookie that makes me need to excuse myself from the room because I need to be alone.  I want a chocolate chip cookie that makes me scream YES!, YES!, YES!  But so far, all I seem to do is come across recipes that are so bad, I'm fairly certain that any time someone uses those recipes that adorable kitties all over the world mysteriously drop dead.  Please, stop killing kitties with terrible chocolate chip cookie recipes.  I beg ya!
I'm starting to think that I'm just a chocolate chip cookie snob and that the cookie that makes me swoon, that transports me to blissdom, that makes me scream out with rapturous enthusiasm; THIS IS THE BEST CHOCOLATE CHIP COOKIE!!, doesn't exist.  Everyone needs a purpose in life and maybe finding– wait, making the best chocolate chip cookie is one of my 37 life purposes.  I mean, ya never know, right?
After making this recipe one time I realized that this cookie compared to all other recipes I've tried was a whole other beast.  This cookie was developed by Chef Jacques Torres the Master Chocolatier, also known as Mr. Chocolate.  This cookie came *this* close to making me swoon.  This cookie does not cause kitties to mysteriously drop dead. This cookie is almost the best chocolate chip cookie. This is a chocolate chip cookie for grownups.  This cookie will cause you to find creative, booby-trapped hiding places in your house so that your kids won't discover them.  This cookie will make you selfish and you will want to hoard the entire batch.  This is the cookie that you make after your kids are in bed or once you've shipped them off to Grandma & Grandpa's for the weekend.  This cookie is chewy, gooey, and crispy on the edges and it's bursting with melted chocolate.  In fact that chocolate to dough ratio is bordering on ridiculous.  Don't wear white when eating one of these cookies and always have a few napkins on hand.
There are a couple rules to making a cookie of this caliber.

One: Unless you are willing to buy either a bag of Jacques Torres' Dark Chocolate Baking Disks or my personal favorite E.Guittard Chocolate Fèves, then don't make these cookies.  I'm not kidding. Don't.  If you make these cookies using regular chocolate chips, even if they are Ina Garten "Good Quality" chocolate chips made from chocolate harvested by tribal monks in the remote jungle hills of some mystical land only accessible by time travel (because store bought simply won't do), you will systematically cause the world to implode and the sun to get sucked into a black hole.  I'm that serious.  These cookies deserve a proper "chip" and Fèves (which is a fancy French word for amazing disks of chocolaty goodness) are the way to go.
Two: If you even think about putting table salt or kosher salt on top of these cookies instead of sea salt, I'm going to have to break up with you.  Either that or I'm going to send my friend over to your house to kick you in the shins.  Don't be a douchecanoe and use the wrong salt.  This is (almost) the best chocolate chip cookie after all.
Three: You absolutely must refrigerate this dough at least overnight.  The flour needs to rehydrate so that you end up with a moister cookie.  Is moister even a word?  Moister.  M-o-i-s-t-e-r… yeah, that doesn't even sound real.  Anyway, chill that dough and then make the cookies.  I agree. It is cruel to make a person wait almost a day before they can make a batch of cookies.  These cookies should really be called "Cruelty Chip Cookies" but I don't make up all the rules, I just enforce 'em.  These will not taste like the best chocolate chip cookie if you don't chill the dough.  So chill out and chill the dough.
Now that I've frightened you and we've established a few rules pertaining to these cookies, let's get on with this Week of Chocolate here on Real Food Girl and let's start baking some cookies–well, let's start making some dough anyway.  Oh, don't forget that in baking all ingredients need to be at room temperature unless the recipe states otherwise AND please use all organic, non-GMO ingredients if possible.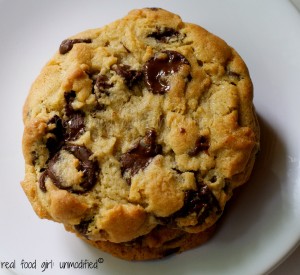 Almost The Best Chocolate Chip Cookies
Recipe Adapted From: Mr. Chocolate- Jacques Torres Yield: 24-30 3-oz. cookies (cookies end up being about 4 inches in diameter) Time: 30 minutes preparing dough + 12-24 hours chilling time
*Make sure all ingredients are room temp and organic for best results*
INGREDIENTS:
2 cups pastry/cake flour
1-2/3 cups bread flour
1-1/4 tsp. baking soda
1-1/2 tsp. baking powder
1-1/2 tsp. kosher salt (this is for the dough not the tops of the cookies)
2-1/2 sticks of unsalted butter.  Do not use salted butter for baking!
1-1/4 cups organic brown sugar (I make my own using organic cane sugar and molasses)
1 cup plus 2 TB organic cane sugar
2 large organic-pastured eggs
2-1/2 tsp. vanilla
2 tsp. molasses
1 TB orange zest (optional, but really does add a wow factor that even Mr. Chocolate didn't think of!)
1-1/4 pounds (20 ounces) Dark Chocolate Baking Disks or E.Guittard Chocolate Fèves.  At least 60% Cacao
Coarse Sea Salt, or flaked sea salt such as Maldon Sea Salt Flakes
DIRECTIONS:
Measure out flour, baking soda, baking powder and salt into a bowl, stir to combine  (If using kosher salt, omit from sifting and add to sifted ingredients instead of trying to sift large salt crystals through your sieve) and sift into another bowl.  Set aside.
Using the paddle attachment for your mixer, cream butter and sugars until very light, about 5-7 minutes on medium-low speed.
Crack eggs into a small bowl, then add eggs, one at a time, mixing well after each addition.  Add the vanilla, molasses and orange zest. Mix for another 60 seconds.
Reduce speed to low, and add dry ingredients in thirds and mix only until just combined.  I personally add the dry ingredients by hand so as not to over mix, but don't feel obligated to be as awesomesauce as me. 😉
GENTLY stir in the chocolate pieces and incorporate them into the dough without breaking.  I place some plastic wrap on the counter and fold out the dough onto the plastic and flatten the dough and sprinkle on some chocolate and fold the dough and flatten again, and sprinkle on more chocolate, and repeat this method until all the chocolate is incorporated evenly. This ensures all the chocolate Fèves are laying horizontally and will also ensure that you get pools of chocolate vs chocolate mayhem.  I have no idea what chocolate mayhem looks like, I'm seriously just pulling shizzle outta the air here people.
At this point you can either put the dough back into a bowl and cover with plastic wrap, or keep it on the plastic wrap and wrap it up good and store it in the fridge for up to 24 hours (it can be held in the fridge for up to 72 hours but seriously.  Who has *that* kind of will power?  Not me!
When ready to bake, preheat the oven to 350 F.  Using a 1/4 or 1/3 measuring cup scoop out the dough onto baking sheet lined with parchment.  Make sure to turn horizontally any chocolate pieces that have gone vertical.  Flatten slightly and sprinkle with coarse sea salt.  Bake until golden brown but still very soft in the center, about 12-16 minutes.  Rotate pan halfway through baking.  Check often.  Transfer cookies to a wire rack after cooling on the pan for 5 minutes.  Repeat with remaining dough, or scoop out dough into individual cookies and freeze in an airtight container to use at a later time.  Bake frozen cookies the same way as described above.
Check me out at Kelly The Kitchen Kop's Real Food Wednesday
PAID ENDORSEMENT DISCLOSURE: In order for me to support my blogging activities, I may receive monetary compensation or other types of remuneration for my endorsement, recommendation, testimonial and/or link to any products or services from this blog.