Decadent Chocolate Pudding with Peanut Butter Whipped Cream
Have you ever had a culinary epiphany?  I had one tonight and it sort of started out with me replaying old Reece's Peanut Butter Cup commercials in my head.  I was all "You put your peanut butter in my chocolate" and "You put your chocolate in my peanut butter" except for some reason I was doing that in a British accent, and then I considered that this decadent chocolate pudding would taste amazeballs if instead of using a plain whipped cream garnish, I added peanut butter to the whipped cream!
KABOOM!! …Mind. Blown!
Yeah, that epiphany made me a little light headed, as brilliant revelations often do.  So there I stood thinking,  who doesn't like peanut butter and chocolate, right?  By now I realized I had a winner on my hands and almost everyone loves chocolate and peanut butter so I was going to take this idea and run with it.  OK, maybe not run.  Possibly more like a leisurely meander.  Are you excited about this flavor combination? If you don't like peanut butter and chocolate, I don't wanna know about it because I'll get sad and I'll think that my idea wasn't as brilliant as I presumed and then you'll make me cry.  You wouldn't wanna make me cry would you?  Yeah. I didn't think so.
Actually, you can totally not like peanut butter if you're allergic to it, or have a family member that is allergic to it.  I have the utmost respect for what families who have members with severe to life-threatening allergies go through.  You may hate peanut butter and chocolate all you want.  The rest of you, well. You have to love it.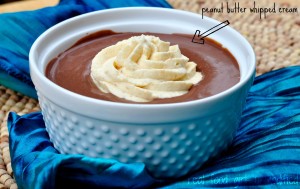 I'm sure hundreds of people before me have already thought to combine peanut butter to freshly whipped cream, but for whatever reason it never occurred to me to do it until tonight when I was making this decadent chocolate pudding.  The pudding is really intense, and decadent so I felt it needed something more than just plain whipped cream to top it off.  Garnishing with berries seemed so 1990s, so I decided to get funky with my bad self as I explained above and throw in a few tablespoons of homemade peanut butter to my organic, grass-fed heavy whipping cream.   And guess what?  That PB whipped cream is DA BOMB!  It is 'shut the front door', 'slap yo' momma' yumtastically incredible. It's a dessert in and of itself.  It's glorious. It's divine, it's memorable!  It's so good your tongue will violate the spoon.  Even my dogs even loved it!
Because I still have a few chocolate recipes to feature for the All Things Chocolate week, I'll be posting a few more after this one, so next week will be all about chocolate as well. Hopefully that's all right with all my loverly Food Hippie friends!
I don't want anyone complaining about the amount of desserts that are being featured here.  I don't sit around at home and stuff my face full desserts made with organic cane sugar and organic unbleached white whole-wheat flour.  I eat my desserts in moderation.  I will make a layer cake and have maybe two small slices over a 3 or 4-day period and the rest is eaten by friends, TSM (The Stud Muffin) or I share with our neighbors. Some people are comfy with an 80/20 mentality, others a 90/10 or 95/5.  No matter what your range is as far as the percentage of time you eat nothing but Real, whole, clean, organic, Non-GMO foods and where your percentage of sweets consumption lands,  you can and should enjoy a good dessert from time to time.  And depending on where you are in your real food journey, you dessert choices may look a lot different from mine, and that is okay!  Mine are ever evolving and I'm sure they'll look different as I continue on this Real Food journey!
I'm not yet entirely convinced that people need to avoid sugar all together and I may, like many bloggers before me look back on this post 2-3 years from now and be horrified by my views on flour and sugar, but for now, I subscribe to the 'if I want a dessert I'm going to have one' club.  When it comes to making desserts from scratch I will always use non-GMO and fully organic ingredients because my homemade decadent chocolate pudding is a heck of a lot healthier than a box of Jell-O brand pudding or one of those nasty pudding cups you get at the grocery store.  Yes, my decadent chocolate pudding is more expensive than the puddin' cups at the grocery store, but you won't be getting any fake ingredients with this pudding either.
I decided to make this decadent chocolate pudding without eggs because I've noticed that some of you have mentioned on my Facebook page that you have an egg allergy.  I also wanted to make this gluten-free because I promised many of you I'd come up with additional gluten free desserts. For this decadent chocolate pudding, I recommend using either Valrhona Manjari Dark Couveture chocolate (it is GMO-Free) or Scharffen Berger Semi Sweet Chocolate  which is also GMO-Free.   You can use chocolate that has less cacao or more.  For puddings, I prefer chocolate in the 53% to 62% cacao range.
*NOTE* If you go darker than 62%, I'd increase the sugar by a tablespoon or two.  If you go less than 53%, I'd reduce the sugar by a tablespoon or two. 
What is your favorite pudding?  Do you ever make it from scratch? I personally enjoy pudding.  I don't like pudding from a box.  As you know, I would much rather take 20 minutes to make something wholesome than take shortcuts and use a product with questionable and potentially dangerous ingredients.  If you like pudding as much as I do, make sure you check out my Classic Tapioca Pudding recipe.  I warn you.  You'll wanna grab a spoon, the whole bowl and hide in your closet and binge on it.  It's addictive.  Hand to God! Just ask The Stud Muffin.
I did two photo shoots because I used the wrong tip when piping the peanut butter whipped cream onto the pudding, and it sorta looks like a pile of dog doo.  The next day I whipped up a new batch of PB whipped cream, and the pudding wasn't as thick because I'd stirred in all the plain whipped cream that I'd made earlier hence the pics with the not so thick looking pudding but fantastic looking peanut butter whipped cream, and then the pictures of super thick looking pudding and dog doo looking peanut butter whipped cream.  I know, I have terrible first world problems.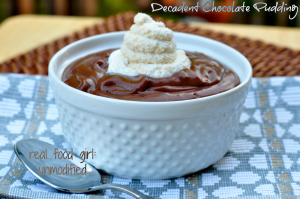 Decadent Chocolate Pudding & Peanut Butter Whipped Cream
Recipes by Real Food Girl: Unmodified© Serves: 6 Time: 20-30 minutes
*As always, please try to use non-GMO and organic ingredients whenever possible*
INGREDIENTS:
1/4 cup (packed down slightly) plus 2 TB organic corn starch (if you aren't using organic corn starch, you will only need 1/4 cup of cornstarch)
1/2 cup organic cane sugar (See

NOTE

above*)

1/8 tsp. sea salt, or a scant 1/4 tsp. kosher salt, either one is fine (scant means slightly under the amount notated)

3 cups organic, grass-fed whole milk
5-6 ounces semi-sweet or dark chocolate- if in block form, chop it into smaller pieces.  See note in directions about chocolate amounts
1-1/2 tsp. vanilla extract
DIRECTIONS:
Combine the sugar, cornstarch and salt in a pot and place over another pot of simmering water–put about 2 inches of water in the bottom pot.  (If you don't have a pot that nestles on top of another pot, or you don't have a double boiler, you may use a stainless steel bowl over a pot.  I don't own a proper double boiler, but I do own two pots that nestle quite nicely and make a perfect makeshift double boiler.)
Slowly whisk in the milk paying attention to fully combine the dry ingredients with the milk.  Using a silicone spatula, stir the mixture over medium heat almost constantly to keep the cornstarch from settling on the bottom of the pot or bowl and burning. Use a whisk as needed if lumps begin to form.  If you are stirring almost constantly, and whisked the milk in slowly and incorporated the dry ingredients fully with the milk, lumps should not form.
After approximately 15 minutes (3-5 more if using lower heat, 2-3 less if using higher heat- I'd use medium to medium-low heat) the mixture should be thickening nicely and coating the back of a spoon.  Add 5 ounces of the chocolate and whisk until all the chocolate has melted and is combined, lower the heat to simmer/low and taste (carefully) the pudding.  If you think it is rich and chocolaty enough, take it off the heat and add the vanilla.  If you think you wanna live dangerously, add the final ounce of chocolate, whisk to combine, take off the heat and add the vanilla.
Strain through a fine mesh strainer (I would only do this if you ended up with lumpy pudding) and then divide into 6 individual dishes.
You may place plastic wrap over the top of the pudding to avoid a skin from forming,  (I like that skin) and then seal each dish with another layer of plastic wrap.  Eat immediately, or refrigerate for about 45 minutes and then enjoy.
Decadent Chocolate Pudding will keep in the fridge for 3-4 days.  And that's only if you don't eat it all within the first day.
NOTE- I put my dishes in a shallow, rectangular Tupperware or Pyrex container that has a cover.  This way I don't have to use all that plastic wrap and because I don't mind skin on my pudding–it's not like you can't stir it up into the pudding– the pudding dishes are easier to store in the fridge since you've housed them all in one storage container.
Peanut Butter Whipped Cream
Recipe by: Real Food Girl: Unmodified© Makes: 1 Cup  
INGREDIENTS:
1 cup organic, grass-fed heavy cream- cold
2 tsp. organic smooth peanut butter (homemade works too)
1 tsp sugar-optional
DIRECTIONS:
Chill beaters from hand mixer and a glass bowl in the freezer for 10 minutes.
Remove both from freezer. Assemble hand mixer and pour the COLD cream into the chilled bowl.
Using hand mixer set to medium speed, whip the cream until it starts to thicken. Add the sugar if desired. Beat until the cream becomes stiff.
Peanut butter is oily and oily substances typically deflate whipped cream, so add the peanut butter, and beat on low speed until it is incorporated. No more than 10-15 seconds. Spoon into a piping bag and dot onto pudding, or store in an air tight container in the fridge for a few hours. Homemade whipped cream won't last more than 24 hours in the fridge before it starts to break down. It will break down faster if you mix peanut butter into it. For this reason, I make it just before I'm ready to serve the pudding.
Watch Me as I Pull Another "Rabbit" Out of My Hat!
Because my culinary genius doesn't stop with peanut butter whipped cream, you could also make a strawberry whipped cream, but finely mincing 2-3 large strawberries, place them in a small bowl and add 1/2 tsp. sugar and 1/2 tsp. water. Let them sit and macerate for 10 minutes.  Using a fork, smash the berries against the side of the bowl, and then add the berries, juice and all to your almost finished whipped cream. Using your hand mixer, whip to combine for about 30 seconds. Viola-Strawberry whipped cream.  Don't like berries?  All right, then add 2 1-inch slices of a ripe banana, mash them, combine them with the whipped cream, and again, using your hand mixer, whip to combine for about 30 seconds- BAM!  Banana whipped cream!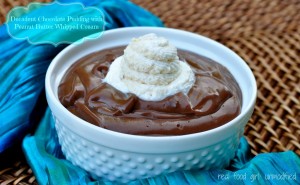 Join me at Cultured Palate for Tasty Traditions Thursdays
PAID ENDORSEMENT DISCLOSURE: In order for me to support my blogging activities, I may receive monetary compensation or other types of remuneration for my endorsement, recommendation, testimonial and/or link to any products or services from this blog.