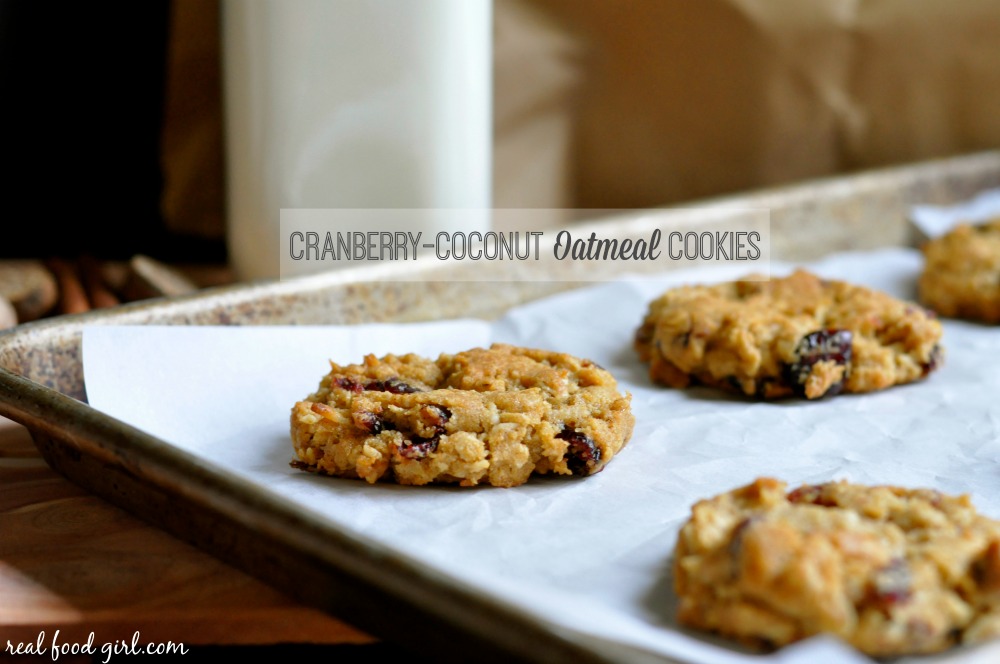 Cranberry-Coconut Oatmeal Cookies
Cookies!! There aren't too many people that don't love a good cookie. I love home baked goods over store bought any day. Even thought I don't make them all the time- mainly because since switching over to eating more whole, fresh, clean, real foods, I simply don't crave these nearly as often as I once did, these really are scrumptious.
Since 'healthifying' the way we eat, I've adopted the "Good, Better, Best" mindset. An example would be, good is an organic, non-gmo packaged cookie with minimal ingredients, and ones that you can pronounce. In other words, no chemicals or nasties. Better would be making the cookies from scratch, using as many organic ingredients as possible. Best would be making them with an alternative sweetener, such as coconut sugar, sucanat, rapadura, and using a soaked, organic flour- and possibly a few other tweaks. Many on the real food path have similar mindsets, but they abide by what is known as the 80/20 rule. This way if they want a Nutter Butter, they eat one. That would fall under the 20% where they allow themselves a little grace to eat something that doesn't typically jive with their new found way of eating.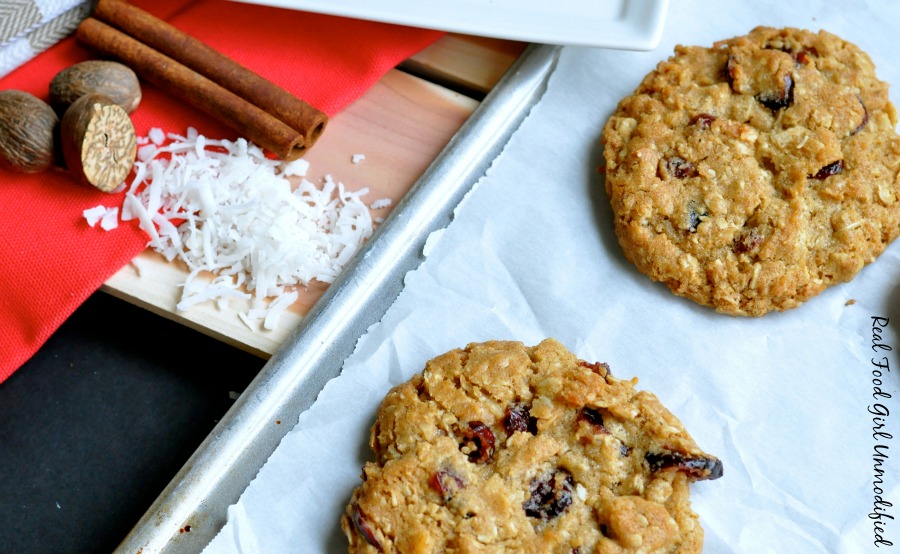 I love Michael Pollan's stance on real food and cooking it for yourself vs. being neck deep in the processed food extravaganza that is now every major grocery store. He feels that having treats that are homemade is much better than scarfing down a bag of Nutter Butters and a gallon of neon-orange cheese puffs. His thought process is that if you have to take the time to make the homemade versions of your favorite franken-foods that you won't eat them as often, but if you feel like indulging, you can because you choose the ingredients. If you want to use sprouted flour and honey vs. organic all-purpose flour and organic cane sugar- make it happen. You tweak the recipes to align with your food philosophy, your budget, health issues (if any) and where you are in your Real Food journey. I love that!
I used to buy a box of Cinnabons® each time I went to the mall. The store is there, they're taunting me with uber fantastic smells created by cloned Dr. Evil's in white lab coats, I'm there, the cinnamon rolls are there (waving at me), I have cash… viola! Breakfast for a few days. Nowadays if I want a cinnamon roll, I make them myself. They take time to make from beginning to end. They are worth it, but there is no way I'm going to make these as often as I crave them because "ain't nobody got time for that!" 😉
This cookie recipe has been tweaked over the years, but has been in our family since I can remember. I don't know where it came from, either. So Mom, if you're reading this, take that secret with you to the grave. It'll make for a an interesting plot twist in a mini-series. I used to make and then sell this dough to my friends' moms while I was in high school in an effort to earn money for choir tours and Sr. Class Trip. So you see, this is a special cookie.
The Stud Muffin (TSM) loves these cookies so much that he abandons all self-control when I make them, and ends up eating too many in one sitting. Because he goes all "Not sure when I'll ever have nourishment again" when I do make them, I don't make them often. I made these last week and as he took a big bite he says "Oh my! Babe, these are really good!" They are seriously fabulous. This cookie has it all. They are super chewy, with crispy edges, spiced just right with cinnamon and nutmeg, are loaded with coconut, organic oats and tart dried cranberries. I agreed with TSM and felt it was time to share the recipe on the blog- but I had some concerns because the recipe sort of has an ingredient crisis.
When it comes to baking, I still use minimally processed (lightly refined or unrefined, it just depends on the recipe) organic cane sugar. It's what we like, and it's what I know inside and out. Many Real Food folks poo-poo those who use organic cane sugar and I don't wanna get poo-poo'd. When I try to foodify a recipe and use honey or maple syrup as a substitute sweetener it makes me feel icky, and jittery- for up to a full day after consuming the treat. No Bueno. So, I use what doesn't affect how I feel. It's that simple. If you don't like to use organic cane sugar, that's OK. My other reason for being nervous about sharing this recipe is that the original recipe calls for shortening. You know, Crisco®. Yeah, that was one of the first things I learned about when switching over to real foods and as soon as I did, that blue tub of hydrogenated GMO soybean oil was out- but what would replace it?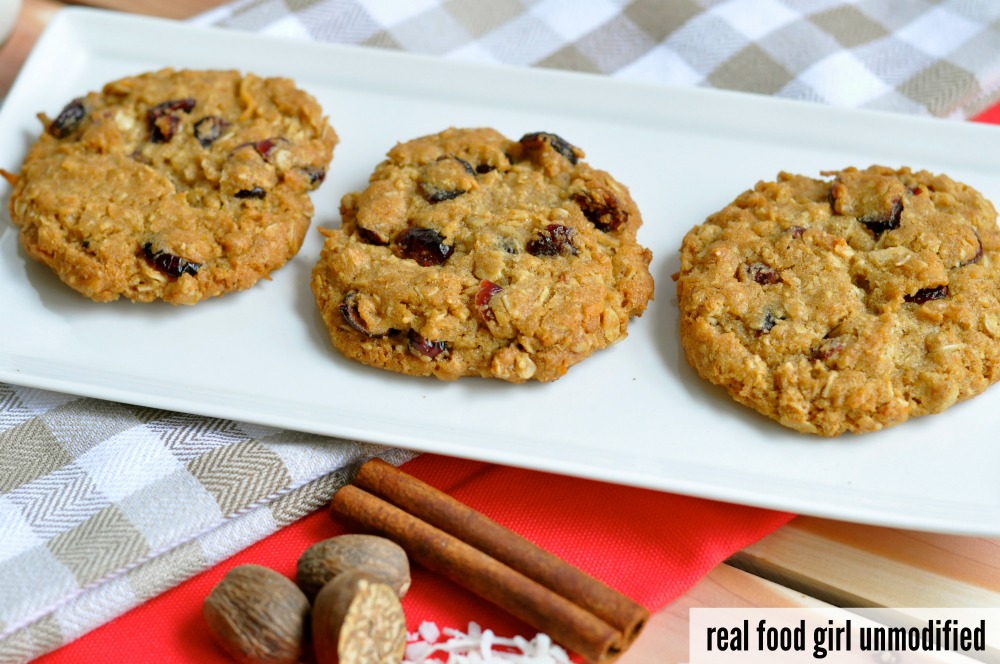 I did a little research and found an organic brand that isn't hydrogenated, is sustainable- not sourced from areas that are depleting the rain forest or causing orangutans to loose their homes. If you want to know more about Palm based oils, and their health benefits, The Healthy Home Economist has a really good article. Upon reading her article, I decided to try palm shortening and with the first bite of this cookie, I knew I'd finally found my replacement for Crisco®! Happy dance!
I shouldn't have to feel bad about sharing a homemade cookie recipe, but sadly, there are a lot of Real Food Pharisees out there who like to sit and pass judgement on people who don't follow a certain set of rules and then suddenly, I'm not really a real food blogger- I'm a fraud. Stuff like that makes me sad. And it made me put off sharing this recipe.
I don't want any complaints when you make these, fall in love with them, and then decide you now have to eat 78/22 so you can make room for these chewy, coconutty, cinnamony, oatmeally, orbs of fantastick-ness.
What is your favorite kind of cookie? Share in the comments below.
Cranberry-Coconut Oatmeal Cookies
2014-03-28 15:58:20
A chewy cookie loaded with tart dried-cranberries, sweet coconut, organic oats, cinnamon, nutmeg and awesomeness!
Wet Ingredients
1 cup organic cane sugar
1 cup organic brown sugar- packed tightly
1 cup palm shortening
2 eggs, room temp.
1 tsp. vanilla
Dry Ingredients
2-1/2 tsp. cinnamon
1/8th tsp. freshly grated nutmeg
Scant 1 tsp. sea salt (scant means 'just shy of')
1 tsp. baking powder
1 tsp. baking soda
1-1/2 cups organic unbleached all purpose flour
Add ins
1 cup shredded coconut. I make my own, or buy organic ready to use
1 cup organic dried cranberries (can be sweetened or unsweetened)
2 cups old fashioned organic oats. I use Bob's Red Mill
Instructions
** For the best cookie REFRIGERATE DOUGH for at least 3 hours**
Preheat oven to 350 degrees.
Mix all dry ingredients in a bowl, stir to combine and set aside.
In the bowl of a stand mixer, cream the sugars with the palm shortening at medium speed until creamy and fluffy- about 2-3 minutes.
Add the eggs one at a time, mixing slowly to incorporate after each addition. Stop mixer and scrap down sides.
Slowly add the flour mixture to the wet ingredients and blend until everything is JUST combined. Add the "add in" ingredients and mix thoroughly by hand. You can use your mixer for this, but by the time I add in the oatmeal "old blue", my mixer sounds like it's going to pass out since this dough is somewhat heavy and slightly sticky.
IF you are refrigerating the dough, which I recommend. Let it come to room temp for ONE hour before baking. If you don't the cookies won't spread and will be half the size they should be.
IF you don't want to refrigerate the dough, you don't have to, but know that the cookies will spread a little too much, and they just don't taste the same, because the ingredients haven't had time to get all happy-happy together in the chill chest.
Once dough is ready spoon onto a parchment lined cookie sheet and bake at 350 degrees until lightly golden brown and about a quarter sized to a half dollar sized spot in the middle of the cookie looks slightly under baked. About 10-13 minutes. I use a medium sized, 1-ounce scoop that makes a 3-inch cookie.
Let the cookies rest on the cookie sheet for 60 seconds before moving to a cooling rack.
If these cookies puff up while baking, gently slam the cookie sheet down on the counter (I hold it about 3 inches above the counter and drop it) so that the cookies "fall" (like a souffle)- this creates a very chewy center by removing some of the excess air. Trust me on this one.
Notes
I get about 36 3-inch cookies when I use my 1-ounce scoop. If you want smaller cookies, you'll get about 4 to 4 and a half dozen. And if you want huge cookies, well, you'll get fewer. 🙂 Isn't that special how that all works out?
https://www.realfoodgirlunmodified.com/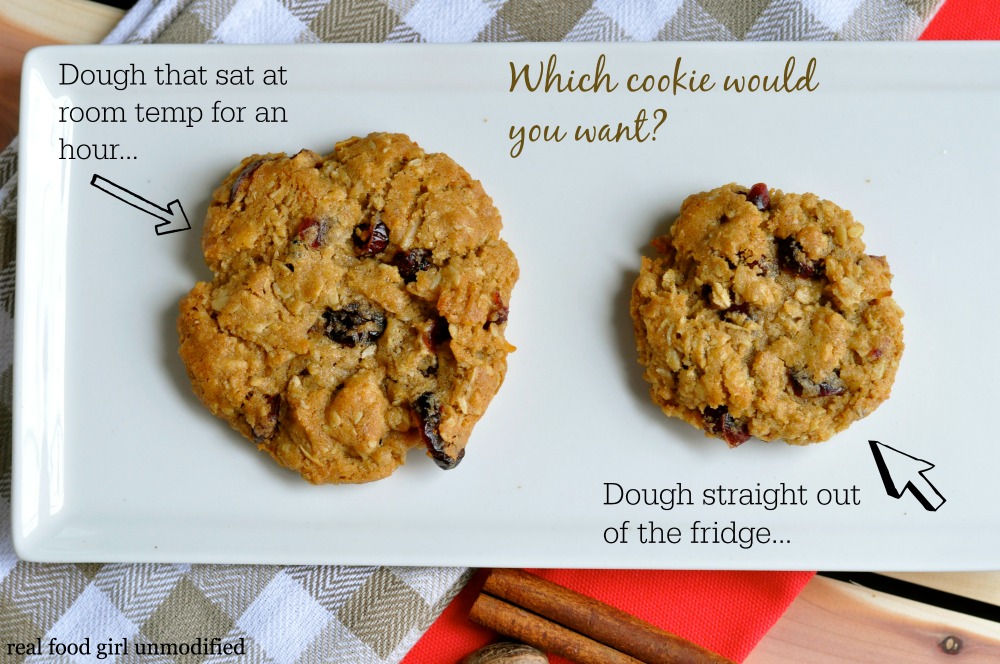 PAID ENDORSEMENT DISCLOSURE: In order for me to support my blogging activities, I may receive monetary compensation or other types of remuneration for my endorsement, recommendation, testimonial and/or link to any products or services from this blog.