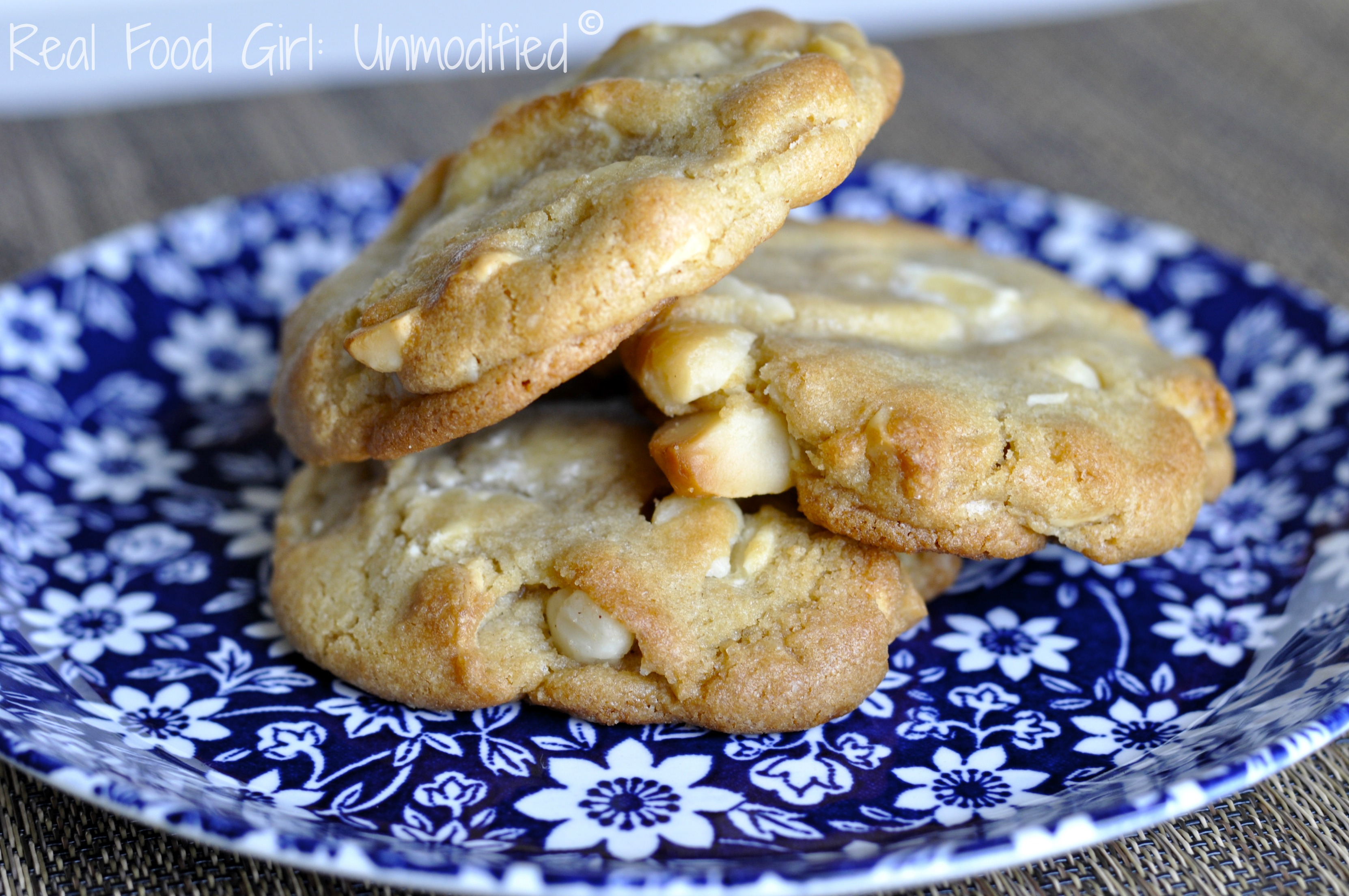 Macadamia & White Chocolate Cookies
There are only 3 reasons that I can think of why White Chocolate exists. The first reason is to be baked into a cookie. Any cookie. It doesn't really matter; white chocolate tastes good in cookies. The second reason is as a coating for pretzels. I love white chocolate covered pretzels and prior to going all Food Hippie and striving to eliminate processed foods from my diet, I used to eat pretzels covered in white chocolate. Great. Now I want pretzels.
The third reason is to make the other chocolates look good. Totally kidding. Ya kind of caught me with my figurative pants down because I don't have a third reason. Oh, I know! I know! The third reason is so that it can be cooked into a white chocolate cheesecake with raspberry puree. Yup. That sounds about right.
When I discovered that my favorite chocolate company E. Guittard doesn't use GMO ingredients I was a happy girl. When TSM (The Stud Muffin) found out I'd purchased some white chocolate and some macadamia nuts to make him his favorite cookie, he was a happy boy!
I have to admit that I'm quite smitten with Trader Joe's over the fact that it seems they've cornered the affordability factor of nuts and seeds. I got a rather sizable bag of healthy looking macadamia nuts– sometimes those generic nuts at the regular grocery stores look pretty anemic and scary– at a pretty decent price. I don't splurge on macadamia nuts often, but with places like Trader Joe's offering them at lower costs than a stale canister of anemic generic nuts from my neighborhood "Franken-Food Warehouse", I'm going to take advantage of this opportunity from time to time. I enjoy making things that make TSM smile, and these cookies make him smile.
There are two ways to make these cookies. The first time TSM made these cookies, he did them by hand per my recommendation. It seems although he insists that he comes from a long line of bakers, he doesn't come from a long line of pro-wrestlers because that's what he likened to mixing a firm cookie dough by hand. He said it felt like he was wrestling it and he thought he was going to throw his back out. Tonight when he made these cookies again, he wanted to use Ol' Blue (my Kitchen Aid mixer). I explained that the cookies were going to turn out much differently than the previous batch did because when using a mixer it is very easy to over-mix these, incorporate too much air and you'll end up with a cookie that spreads a lot more in the oven resulting in a flatter cookie.
.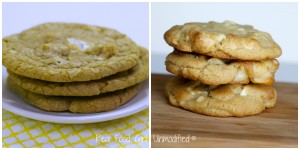 Take a look at the pictures above to see what I mean. The cookies on the left were made using my stand mixer and the cookies on the right were made by hand. TSM (The Stud Muffin) and I both preferred the cookies that were mixed by hand. They just tasted better, they were prettier, and they were hefty. I mean after all, isn't everyone looking for a hefty cookie? Teasing aside, the cookies on the left were tasty as well, and were much chewier; almost too chewy. I never thought I'd think a cookie could be too chewy, but lo and behold it can be.
It's totally up to you as to how you want to prepare these cookies. Try it both ways if you'd like. We made our cookies HUGE! I mean we took a 1/4 cup (2 ounces) measuring cup and used that to scoop the dough. We got 2-dozen that way, so you could easily get 4-dozen cookies out of one batch if you made yours normal sized. We also got 2 batches out of the bag of macadamia nuts and these cookies had a fair amount of nuts. If you're going to splurge a little on a more expensive nut like a macadamia, it helps to know that you can get two batches of this recipe out of one 10 oz. bag of nuts.
These cookies have very good flavor. They aren't too sweet. I got this recipe from Ghirardelli, even though I'm not a huge fan of their chocolate, I did like the recipe. For this recipe you can use organic white chocolate chips if you desire or buy a nice chunk of imported chocolate from Whole Foods if you're able and get it cold in the fridge and then hack at it to make big chunks for your cookies. Chunks are yummier than chips when it comes to white chocolate. I prefer these to chips.
I know this recipes has a lot of sugar. We don't make these cookies often in my household. I've not tried, but I believe you can cut the sugar down by using some rapadura or coconut sugar or sucanat. Just know the flavor and texture will be much different. I understand many of you do not desire to consume treats with organic cane sugar, but we use an unrefined and unbleached organic cane sugar in our house. For as infrequently as we snack on sugary baked goods I'm fine with using cane sugar vs. another sweetener, but please feel free to experiment and use what works for you and your family.
**Remember, we're baking so have all your ingredients at room temp. As far as your butter is concerned, you want it soft, yet still firm. If it's 3 seconds away from being melted it's TOO warm. Cool it in the fridge for 5 minutes and then proceed. **
All ingredients used were free of GMOs or organic.
White Chocolate Macadamia Nut Cookies
Recipe adapted from: Ghirardelli Chocolates (UPDATE- Ghirardelli no longer has this recipe on their website) Makes: 2-4 dozen Depending on size Preheat oven: 350 F Remember, we're baking so all ingredients need to be room temp.
INGREDIENTS:
1 cup organic butter, softened
1-1/2 cups organic cane sugar
1 cup organic brown sugar, lightly packed
2 large organic eggs, room temperature
1-1/2 tsp. vanilla extract
3 cups AP (unbleached organic) flour, unsifted
1/2 tsp. baking soda
1 tsp. salt (do not use sea salt, use kosher)
1-1/2 cups white chocolate chips, discs, or chunks of non-gmo white chocolate
3/4 cup macadamia nuts, roughly chopped
DIRECTIONS:
Combine flour, salt and baking soda into a bowl and set aside.
Combine butter and sugars in a large bowl and cream/stir vigorously until well mixed. (if using a mixer do not cream these for long)
Add vanilla. Add eggs one at a time and mix well.
Add in dry ingredients by thirds, stirring/beating until JUST mixed.
Fold in white chocolate and nuts.
Refrigerate dough for no more than 30 minutes.
Drop by large tablespoonfuls onto a parchment lined cookie sheet and bake for 10-14 minutes depending on size. We used a quarter cup measuring cup for our "scoop" which is equivalent to 2 ounces. It makes a big cookie!
Dough can be portioned off and sealed in a zip top plastic bag and kept in the freezer for up to 2 months. Just toss into a preheated oven and keep an eye on them and bake for 12-14 minutes. Especially if you made them as big as we did. If you do plan on freezing them, maybe smoosh the portioned dough down a little bit to flatten it some. Now they're ready to freeze!
You'll want to enjoy some cold, raw milk or some organic whole milk with these cookies!
PAID ENDORSEMENT DISCLOSURE: In order for me to support my blogging activities, I may receive monetary compensation or other types of remuneration for my endorsement, recommendation, testimonial and/or link to any products or services from this blog.