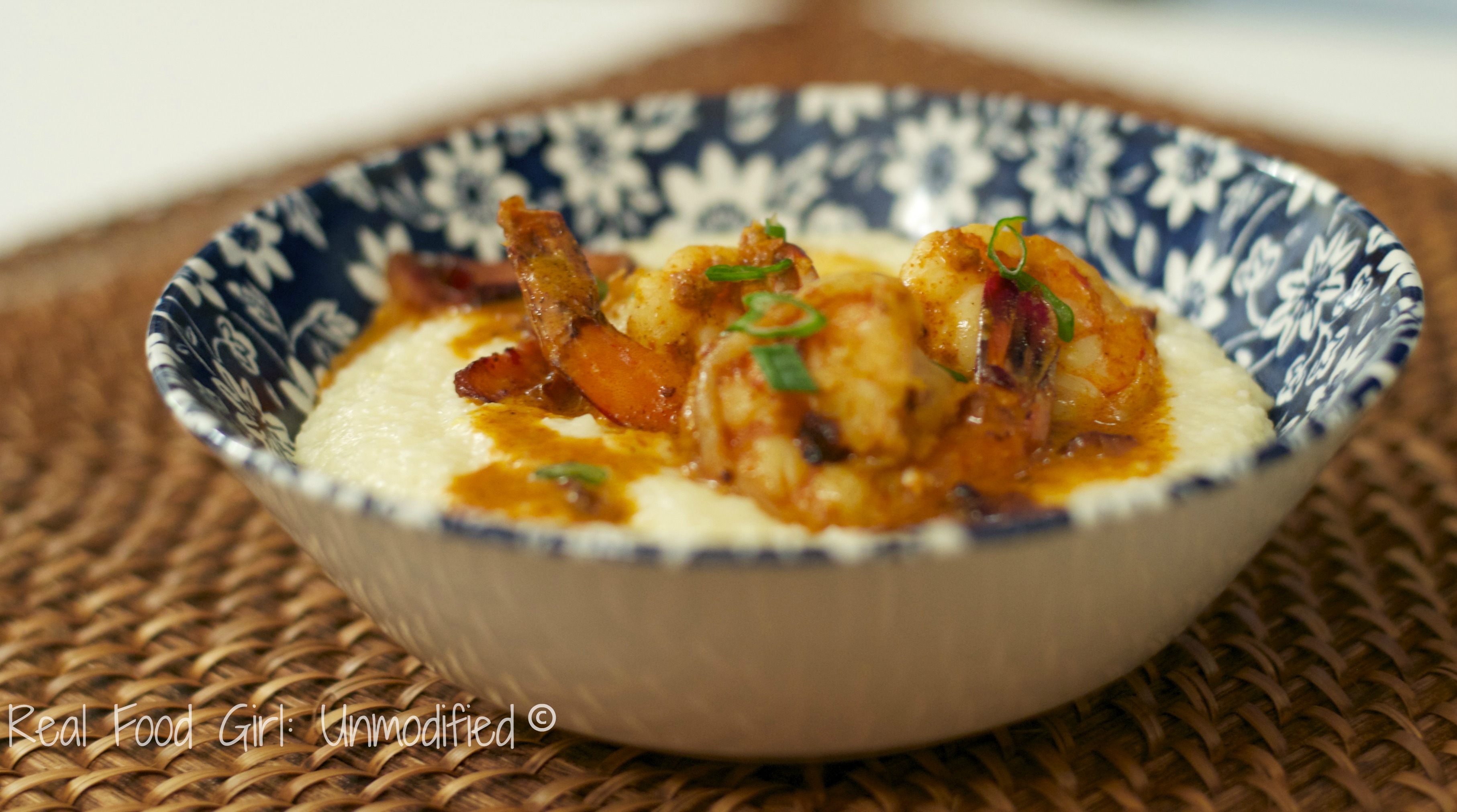 Real & Easy Shrimp-n-Grits
We vacation at Folly Beach once every 2-4 years because it is very close to family and because Folly has  4 of the 5 things I require during a vacation.  1) The ocean and a sandy beach where I can set my beach chair and bronze my spectacular body in the sun.  2) A quaint little town with fun shops, good food, and friendly people. 
3) The hands down, slap yo' momma bestest pizza place.  (Shout out to Woody's!!) and 4) Close proximity to larger cities should I require the need to assimilate with the locals or just find a store that sells mind-blowing homemade fudge that also happens to be close to a Williams Sonoma store.    The 5th thing I require during a vacation is a cabana dude/masseuse, but so far I've never gotten that, so I should probably just find another option since technically, TSM can double as the Cabana Dude and Masseuse.
During our last visit to Folly Beach, we rented a nice condo 4 blocks from the water, and about a block and a half from "Main Street".  On the very corner before you cross the street to get to the ocean is Rita's Restaurant.  Rita's serves great breakfast, good burgers and a KILLER Shrimp and Grits.  Until last summer, I'd never had shrimp and grits and quite honestly have been kicking myself in the fanny for not discovering Rita's and her killer shrimp and grits a lot sooner.
I don't think I stopped talking about those shrimp or the grits for an entire week.  They were that good.  It's a genius combination of bacon, cheese, soft, creamy grits, and shrimp…and it's a bit spicy!  I mean HOW can you NOT love that?  I can understand if you have a shellfish allergy, but if you don't like cheese and bacon, you're dead to me!
I've yet to come across any recipe that comes close to Rita's and next summer I'll be driving down there to find out what cheese they put in their grits, and what spices they use because although I loved the cheese I used in the grits for this recipe, it didn't taste good IN the grits. I also wasn't happy with the organic Cajun seasoning blend I found. It tasted burnt and bitter.  If anyone out there has access to a jammin' Cajun seasoning, hook a girl up, Mmmkay?  Thanks!
So do I have any fellow grits lovers out there?  Do you prefer yours for breakfast with syrup and butter, or plain?  Do you like them with shrimp for dinner?  Right now I prefer mine with shrimp, but I'm sure that will change.
In case you aren't a seasoned grits cook, keep that burner on low and pay attention as they bubble.  Grits will give you what we call "Grits-Tattoos" if you aren't careful.  When it bubbles, the grits kind of "schlurp" and "schlop" up out of the pan and land on your bare skin and stick to you.  And then you have an instant burn tattoo.  And as one of my Chef Instructors used to say: "Don't do that. It'll hurt."  So don't get a grits tattoo.  It'll hurt.
This recipe originally called for bullion cubes or granules, and I just cannot in good conscious buy those much less cook with them.  If you have access to a good organic, non-GMO, low sodium chicken bullion cube or granules, or chicken base- feel free to pump up your stock with some extra chicken flavor.  Your grits will thank you.
**All ingredients used in this recipe were either organic or non-GMO**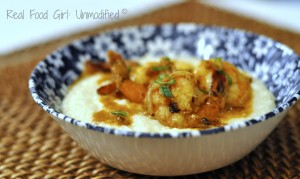 Real & Easy Shrimp-n-Grits
Recipe adapted from:
Kevin & Amanda
Serves: 4 Time: 30 minutes  
INGREDIENTS:
1 qt. homemade chicken stock
1 cup white or yellow grits.  Organic.  I use Bob's Red Mill GF corn grits.  I'm from MN, so it's not like I have a ton of awesome Grits brands to choose from.  I'll reevaluate the grit situation once I move to SC.
  1TB. butter
Kosher salt  TT (to taste)
Cajun seasoning
1 cup cheddar cheese, shredded
1 pound shrimp, peeled and deveined.  I left the tails on, feel free to remove them.
5 slices thick cut bacon, or 7 regular slices, cut into lardons
1/2 a lemon (slice the other half  and serve it with the water you drink at dinner)
1/4 cup thinly sliced green onions
1 garlic clove, minced
1/4 cup water or chicken stock
1/3 cup half and half or heavy cream
DIRECTIONS:
In a medium saute pan over medium-high heat cook bacon slices until just before they start to crisp.  Remove bacon with a slotted spoon and drain on some paper towels.  Reserve 1-2 TB of the bacon grease.
Put the prepared shrimp in a bowl and sprinkle with about 1-2 tsp, of the Cajun seasoning. Stir to ensure each piece is coated with seasoning. Set aside.
In a medium saucepan, bring the stock, 1 TB butter and the grits to a boil. (add some salt to your stock if needed. I don't season my stock until I use it in a dish) Reduce heat to low and simmer the grits for 7-10 minutes until they get thick and tender.  Remove from the heat and stir in the cheese.  Cover and set aside.
Working quickly, return the pan in which you cooked the bacon to medium-high heat.  Season the shrimp with a little salt, and add to the skillet.  Cook until the shrimp turn pink.  About 60-90 seconds per side.
Lower the heat to medium-low.  Add the bacon, green onions, garlic and a squeeze of lemon.
Add 1/4 cup water/stock to the pan and stir to create a "sauce".  Pour in the cream, taste, adjust seasonings if necessary. Cook for 1-2 minutes longer and then serve over the grits.
Want to find my recipes and articles elsewhere online?  Check out these great Blog Carnivals.  You can also search recipes that I share here under the Blog Carnival category and/or tab.
Each week I feature a recipe on a few different blogs.  Kelly the Kitchen Kop,  Cultured Palate and The Food Renegade and Weekend Potluck on The Country Cook.  Come check me out!
PAID ENDORSEMENT DISCLOSURE: In order for me to support my blogging activities, I may receive monetary compensation or other types of remuneration for my endorsement, recommendation, testimonial and/or link to any products or services from this blog.