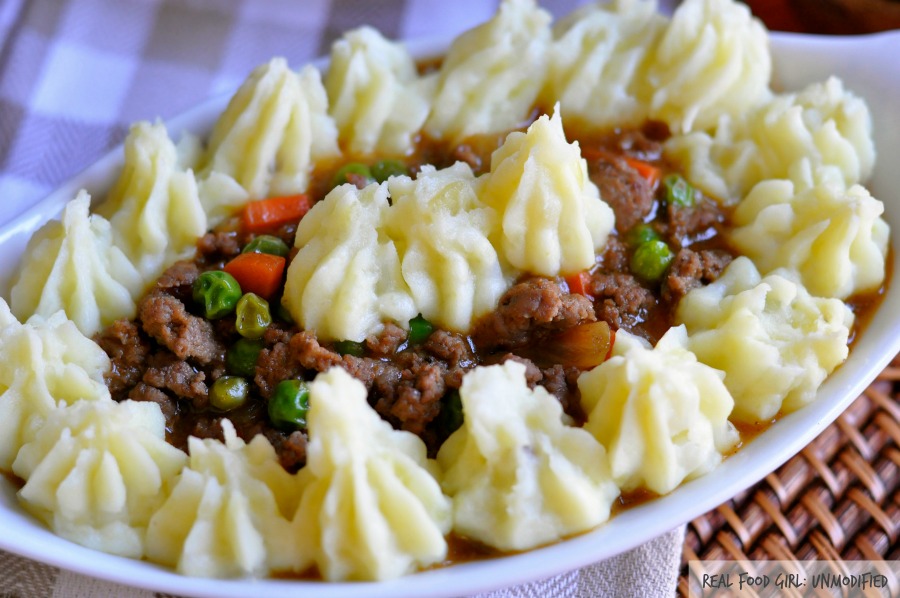 30-Minute Monday Skillet Shepherd's Pie
I honestly can't believe it's Monday already! Man, where does the time go? This week we're going comfort food, and what says comfort more than a saucy, meaty filling with veggies and mashed potatoes piled high on top? Pretty much nuthin' if you ask me. When mashed potatoes hug a saucy, meaty, veggie-filled filling, it's magic my friends. Comfort food magic!
If you have anti-veggites (people who don't like veggies that much) in your house, like I do, you can sneak in some extra veggies and they probably won't notice. If I work veggies into something with meat and gravy, The Stud Muffin will happily eat the veggies. If they sit on his plate alone, he reverts to a stubborn but adorable toddler who refuses to eat his broccoli.
I really like Shepherd's pie. I prefer the ground beef version which often times gets called Shepherd's pie, but last time I looked Shepherd's didn't shepherd cows, they looked after sheep…lambs. So Shepherd's pie is made with lamb and Cottage Pie is made with beef or ground beef. Now you know the difference and you can help me spread the word so I don't have to yell at the TV every time a celebrity cook or chef makes a cottage pie and calls it shepherds pie. For the love!!
Now to make this economical, I'm using ground lamb. Even ground it was a bit pricy. I paid $9.49 for a pound of pastured, organic ground lamb. The sauce for this recipe vs. my ground beef version (yet to appear on the blog) was a chicken stock based sauce that had a little tang to it. If lamb is out of your budget (honestly, had I not seen the writing on the package, I wouldn't have known it was lamb. It cooked up like beef, looked like beef and didn't have a strong lamb flavor at all) use beef stock in place of the chicken, and add a splash of balsamic vinegar in with the Worcestershire sauce.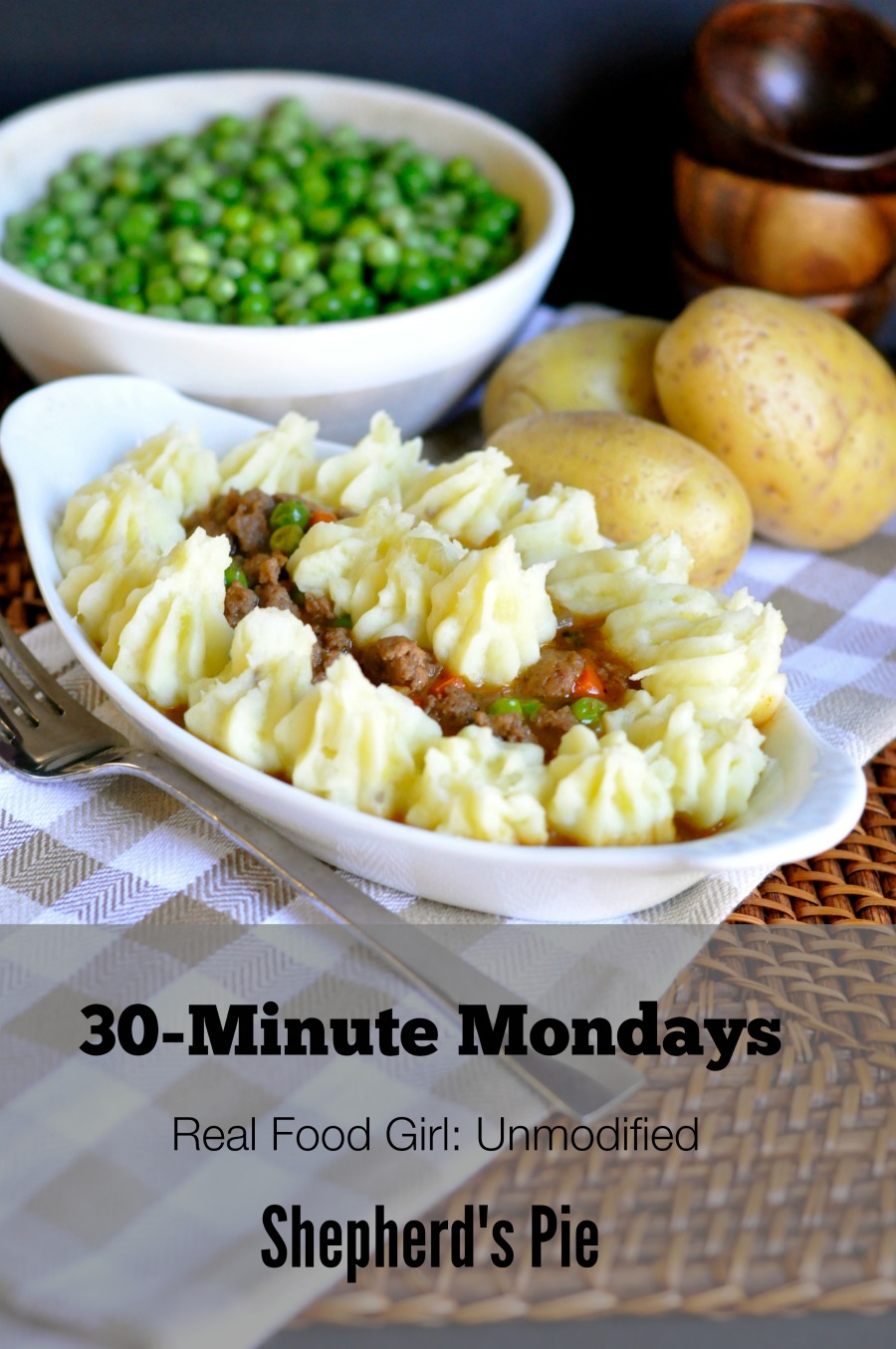 I piped on the slightly chunky (TSM likes his potatoes with a few chunks of tater in them, not smooth and fancy and perfect like the French make them) mashed potatoes just for the sake of making a pretty photo for the blog, but don't feel like you must do the same. It is easier to get it onto the filling, but plopping on a big spoonful and spreading it slightly will get the job done and it won't taste any different. Since this is a 30-Minute Monday Meal, we prolly shouldn't take five extra minutes to whip out a pastry bag. Right? Right! Ahh, but what the heck, if you have a pastry bag, knock yourself out.
Now, you can either serve this in the skillet with the potatoes plopped on top, or put them in individual serving ramekins, which I personally think is a nice touch. And who doesn't like getting their own little pot of goodness instead of having to eat it off a plate. Borrring. I kid. It's totally up to you. When I make cottage pie, I sometimes serve it in my 8-inch square bakeware, the skillet or I'll use my individual crocks. I like to change it up.
Remember, these 30-Minute Monday Meals are sometimes 80/20. If you don't agree with an ingredient, change it out for one you prefer. It is that simple. 🙂 This recipe does call for frozen peas and carrots, but I cut up my own carrots, steamed my own fresh peas and even sliced in some celery.
Shepherd's Pie
2014-03-28 21:17:20
Serves 4
Mashed potatoes hugging a rich, gravy-like sauce filled with savory lamb and fresh veggies.
Ingredients
2 pounds russet potatoes (about 4 medium) peeled and cut into 1-inch pieces
1 pound ground lamb
1 small onion, diced fine
salt and freshly ground black pepper
3 TB flour (if you can't have flour, use organic corn starch or arrowroot or potato starch)
1 TB tomato paste
2 cups homemade chicken stock (if using ground beef, use beef stock)
2 tsp. fresh thyme, minced. (or 1/2 tsp. dried)
2 tsp. organic Worcestershire sauce
*1/2 tsp. balsamic --only if using beef stock
3 TB unsalted butter- melted
2/3 cup half and half - room temp or slightly warmed
2 cups frozen, organic peas and carrots. I steamed my own peas and cut my own fresh carrots. It added another 7 minutes to the total of this dish.
Instructions
Cover potatoes with 1 inch of well salted water in a large saucepan. Bring to a boil then reduce to simmer and cook until fork tender- about 10-15 minutes.
While potatoes simmer, cook lamb in a large skillet over medium heat until almost cooked through. Season with a few pinches of salt and some black pepper. Cook for about 2-3 minutes. Drain lamb and reserve 2 TB of the fat. Set lamb aside.
Add the reserved TB of lamb fat to the skillet and return to medium heat. Add the onion and a scant 1/2 tsp. salt and some pepper and cook the onion until softened, about 4-5 minutes.
Stir in the flour and tomato paste and cook, stirring constantly, until the flour is fully incorporated. About 1 minute. **Don't panic as this starts to stick to the bottom of your pan, and act like it's burning a little. You want the tomato paste and flour to cook for a full 60 seconds so just keep cooking. When you whisk in the stock, you will have a chance to scrap up everything that stuck to the bottom of the pan while you were "roasting" the flour and tomato paste.
WHISK in the stock, thyme and Worcestershire sauce (and balsamic if using beef stock), scraping up any cooked on bits of goodness. Bring to a simmer. Return the drained lamb to the skillet, cover, and cook over medium-low heat until sauce is nicely thickened, about 6-8 minutes.
Drain potatoes, return to the pot and mash until smooth using a potato masher or hand mixer. Stir in the melted butter and 1/2 cup of the half and half, season with salt and pepper, stir then taste. Add the rest of the half and half if the potatoes are too thick (they won't spread if they're thick and gummy). Keep warm, while the lamb mixture is simmering.
Stir in the peas and carrots to the lamb mixture and simmer until heated through about 2 minutes. Season with salt and pepper to taste (if needed).
Pour the mixture into individual bowls and top with the mashed potatoes, OR just top the mixture in the skillet with mashed potatoes and serve it from the skillet, family style.
Notes
READ THE ENTIRE RECIPE FIRST-
While the potatoes cook, brown the lamb. While the lamb cooks, dice the onion. Measure out the flour, half and half, butter and tomato paste and Worcestershire sauce before starting.
Adapted from Cook's Illustrated
Adapted from Cook's Illustrated
https://www.realfoodgirlunmodified.com/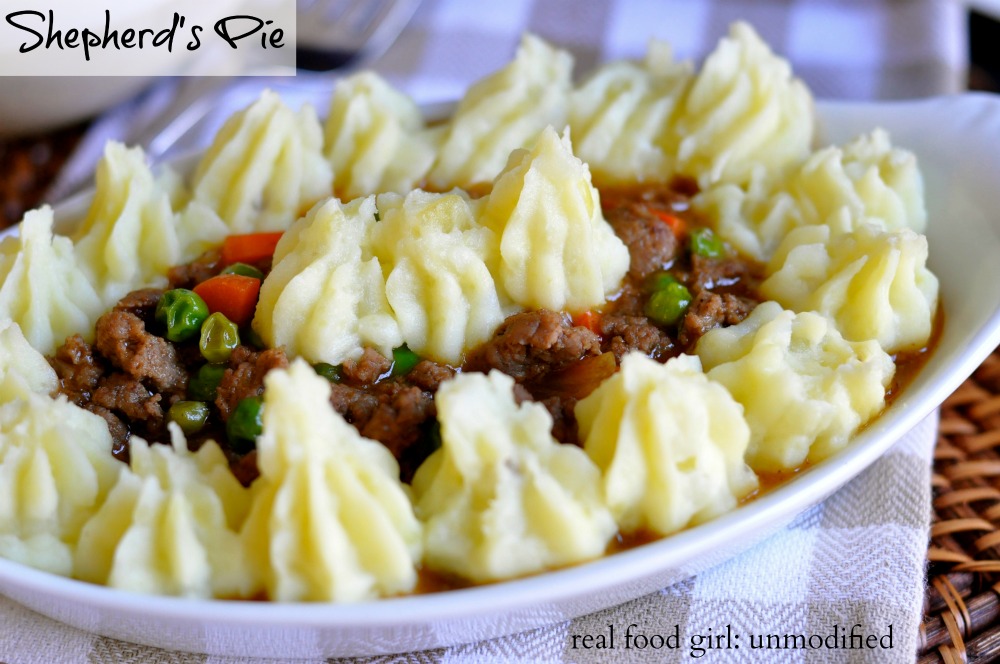 PAID ENDORSEMENT DISCLOSURE: In order for me to support my blogging activities, I may receive monetary compensation or other types of remuneration for my endorsement, recommendation, testimonial and/or link to any products or services from this blog.