Old Fashioned Coconut Icebox Cookies
If you're a fan of Dexter, you immediately thought about the Icebox Killer when you read the title of this recipe. Luckily for us all, no brightly colored, manicured nails or unassuming serial killers made their way into this recipe. Nope- just good old-fashioned yumminess. Oh, and gobs and oodles of coconut. It's like a coconutty extravaganza y'all!
Like lemons, I love coconuts. I think my top three dessert choices always have either lemon, coconut or a berry, such as raspberries or strawberries. When I saw this recipe, I knew I had to try it. I made a few changes, changed out some of the not-so-good ingredients (like vegetable shortening) for butter, and replaced some of the brown sugar with coconut sugar. I also increased the coconut. By a lot. Be happy folks. Be very happy.
I took this recipe a step further and turned it into an ice box cookie to reduce the chore of having to scoop out small balls of dough that had been chilled over night. Why not make them a sliceable icebox cookie instead? Man. Sometimes the brilliant ideas that pop into my head are…well, BRILLIANT. 🙂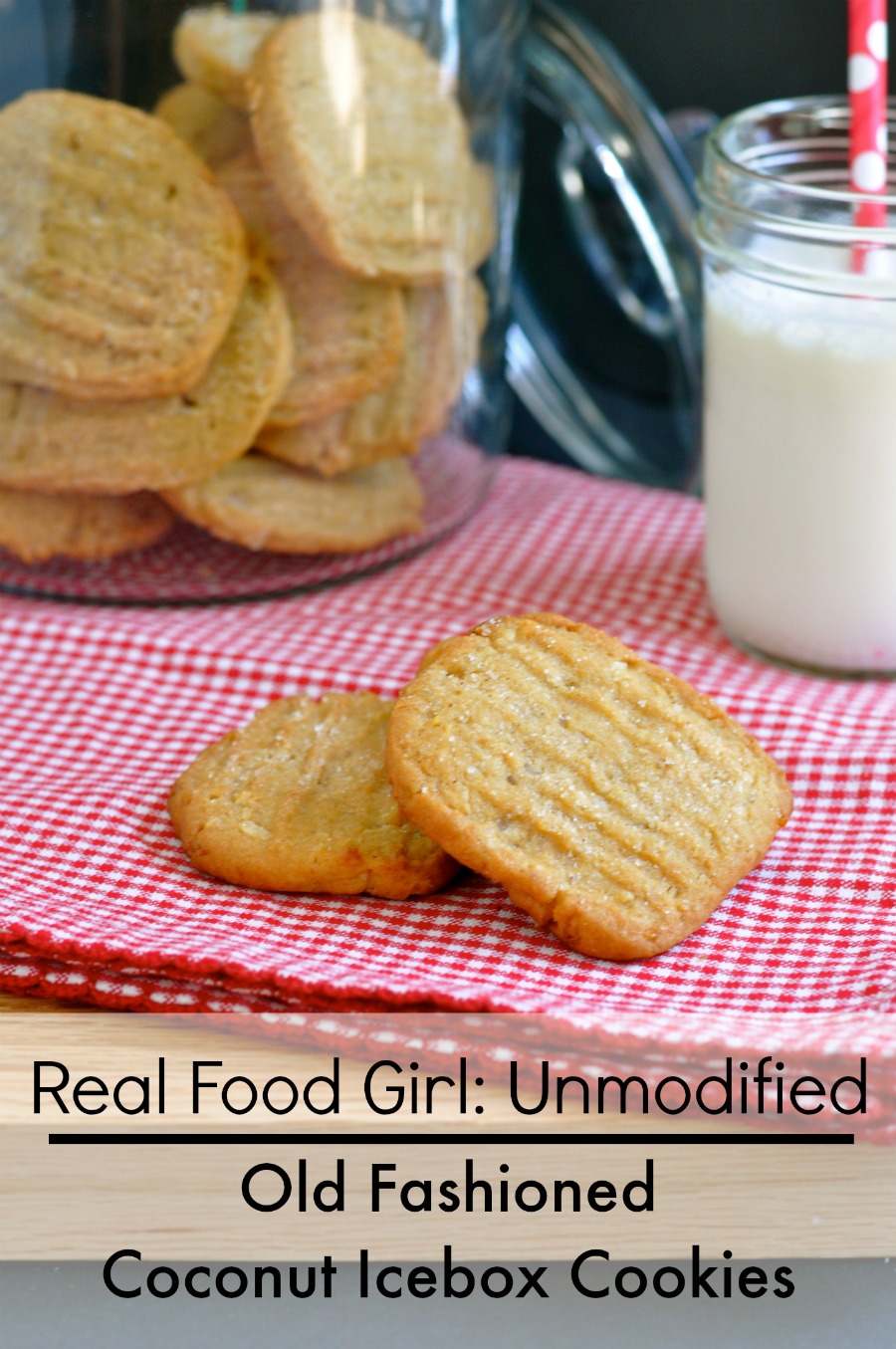 I found this recipe in a recipe box filled with recipes from my previous life as a consumer of all things GMO and chemical shiz storm type frankenfoods. I was looking for a lemon bread recipe I wanted to feature on the blog when I happened upon this little gem. It was cut from one of my old Taste of Home Magazines and an adorable woman who had celebrated her 50th Wedding Anniversary in 1996, sent in this recipe saying she had made these cookies for her husband hundreds of times over the years and was now sharing it with the magazine. Man, are we ever happy that she did. I think these are our new favorite cookie.
I even sprinkled a little sea salt on a couple of them just to see, and THAT was a yumtastic idea, if I do say so myself. Can you tell I don't suffer from a self-esteem problem? 😉
These cookies are crispy around the edges, soft in the center and loaded with coconut. They're simple and pretty basic. Nothing fancy at all. But with a tall glass of cold, raw milk, ERMEGERSH! Coconut nirvana! And they're really good for breakfast. But you totally didn't hear me say that because I don't make a habit of eating cookies for breakfast.
If you are looking for a nice departure from your everyday chocolate chip or oatmeal cookies, this is a recipe for you. I've made them a few times now, and each time I kept increasing the amount of coconut sugar to organic cane sugar ratio. The cookies are slightly drier as a result so if you don't have a problem with organic brown sugar, then use that and skip the coconut sugar. If you're trying to cut back on how much cane sugar you consume, then follow my recipe.
I made a couple of sheets of these cookies on a lightly greased cookie sheet and on a cookie sheet layered with a sheet of parchment. There was no discernible difference between the way the cookies with and without the parchment turned out. Because I don't care for the mess that the greased cookie sheet made, I am opting to have you cover your cookie sheets with a layer of parchment.
Our dogs love coconut, and so whenever I eat one of these, they both follow me around the house. It's become apparent that I'm going to have to make them their own coconut dog biscuits. I know Laney and Honor will be so excited!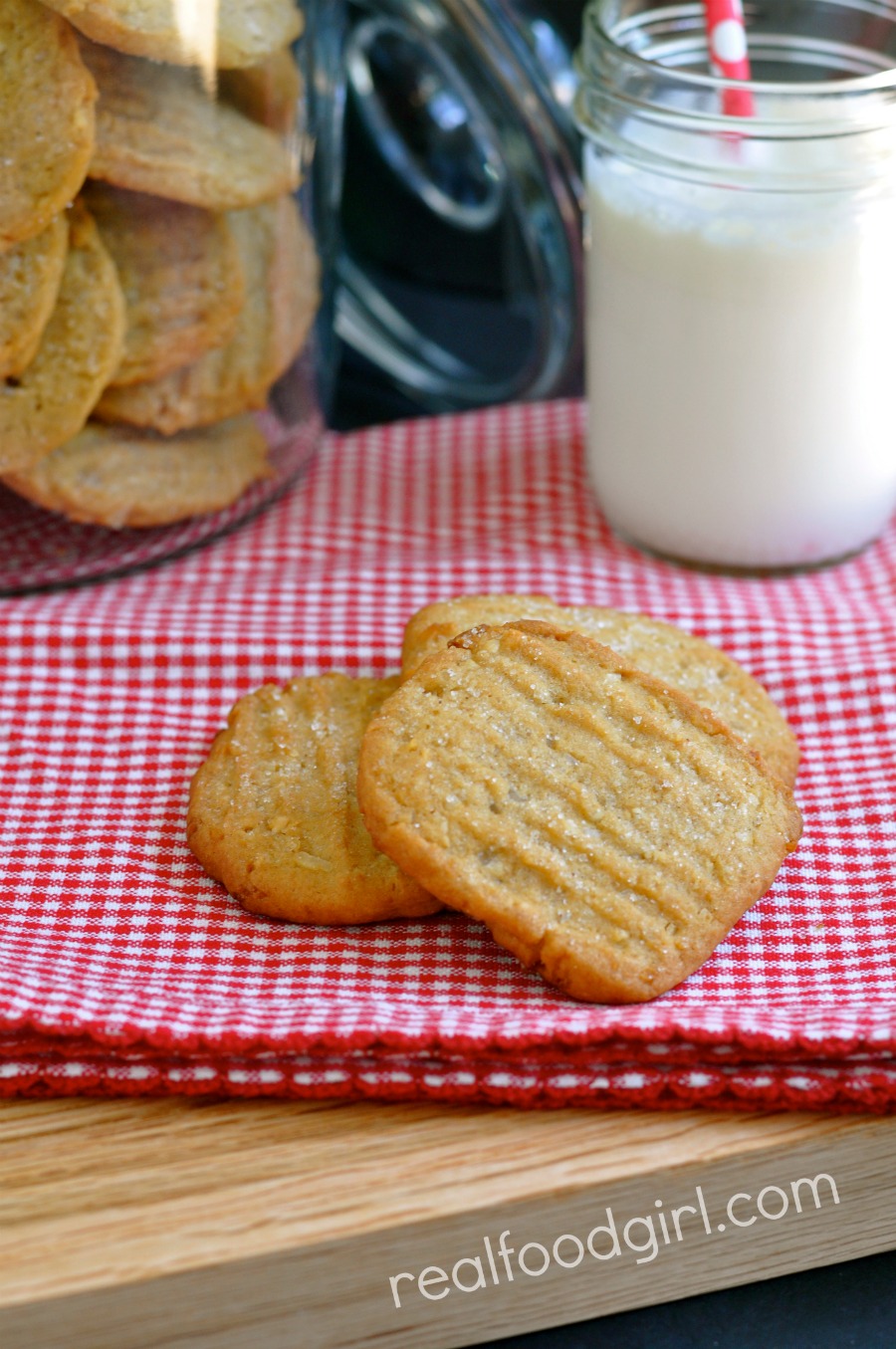 I used this brand of shredded coconut, this brand of organic coconut sugar and this brand of organic fair trade brown sugar. I normally make my own with organic cane sugar that is minimally processed and my own organic molasses, but I didn't have enough sugar on hand to make homemade this time around.
My favorite brand of parchment is THIS one, and I love this cookie spatula. I've had it for just about 8 years and it's still as good as new! Just in case you were wondering.
What is your favorite cookie? How often do you make cookies each month?
Coconut Icebox Cookies
2014-05-19 00:46:24
A soft, buttery, chewy cookie loaded with coconut.
Ingredients
1/2 cup (1 stick) unsalted, organic butter
1/2 cup organic cane sugar
1/2 cup coconut sugar
1 large pastured egg
2 TB water
1 tsp. organic vanilla extract
1/8 tsp. organic almond extract
2 cups organic unbleached all-purpose flour
3/4 tsp. baking powder
1/2 tsp. baking soda
1/2 tsp. salt
1-1/2 to 2 cups shredded unsweetened coconut flakes- I used mostly coconut flakes and then added some dessicated coconut I had on hand.
Instructions
In a mixing bowl, cream the butter and the sugars for about 2 minutes until fluffy. The coconut sugar won't break down like conventional white sugar does, so keep that in mind.
Add the egg, and mix on low speed until combined. Gradually add the water, vanilla and almond extracts and mix well.
Combine the flour, baking powder, baking soda and salt. Stir to combine.
Slowly add the dry ingredients to the creamed mixture. Beat on medium speed until JUST combined. No longer.
Fold in the coconut.
On a large sheet of parchment or plastic wrap, form the dough (it'll be soft and slightly sticky) into a log about 12-14 inches in length. If you want smaller cookies, roll it longer.
Partially wrap the parchment around the cookie to help form a rectangle shaped log. You don't want a round log which will make round cookies, you want rectangles.
Once formed, seal it up in the parchment or plastic wrap and refrigerate until firm, about 2-4 hours or over night.
Remove from fridge and cut with a serrated knife into 1/4" thick slices.
Lay on a parchment lined cookie sheet, and with a floured fork, press down on top of the cookie lengthwise- to make a "washboard" impression.
Bake in a 400 degree oven for 8-11 minutes until lightly golden brown. Cool 2 minutes before removing to a wire rack.
Notes
Please note that the dough should set up in the fridge for at least 2-4 hours. Overnight is preferred.
I made the cookies with 2/3 cup coconut sugar and 1/3 cup organic cane sugar and didn't like the texture as much as when I split the sugars evenly.
Adapted from Taste of Home Magazine Recipe
https://www.realfoodgirlunmodified.com/
PAID ENDORSEMENT DISCLOSURE: In order for me to support my blogging activities, I may receive monetary compensation or other types of remuneration for my endorsement, recommendation, testimonial and/or link to any products or services from this blog.