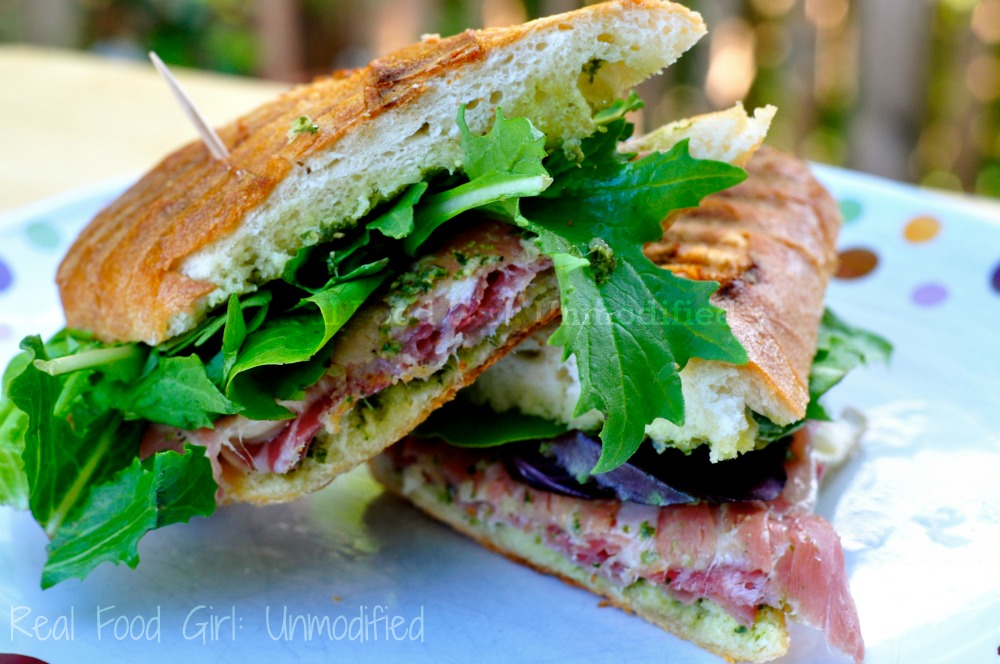 Prosciutto, Calabrese Salame & Capocollo Panini's with Melted Brie, Pesto and Arugula
I went to Trader Joe's today and when I was walking into the store, I saw a couple making sandwiches out of the back of their SUV. I figured they had to travel a ways to get to the nearest Trader Joe's to them, and they were hungry and wanted to eat something before the long drive back. Anyway, I noticed they had some salami and French baguettes–which looked SO good. Their humble lunch in the parking lot inspired me to make these panini's.
I love panini's. Some day I hope to be able to afford a higher quality press so that I don't have to fold a towel three ways from Sunday and push down on the top of mine and hope the top doesn't slide off the sandwich and land beside the bottom half and get stuck to the grill. Who knew making a sandwich could be so tricky?
The Stud Muffin and I like good quality Italian meats. Proscuitto, Calabrese Salame (Salami) and Capocollo are three of our favorites. If I could have found some Pancetta, I'd have purchased that, too. I was originally going to use fresh mozzarella but a very pretty triple cream hunk of Brie caught my eye and thought that would make a nice combination to this panini. I knew I had some leftover pesto at home, and figured that would make a nice "dressing" on the sandwich and with all the happy fats from the brie and the meats I knew we'd need a lettuce with some kick so I got some arugula and baby spring mix lettuces. I was super excited about dinner. I wish people would eat in the back of their SUVs in the grocery store parking lot more often. Don't you?
These are super easy to assemble and take very little time on your panini grill. The flavor combinations are out of this world, and you may find yourself in a food coma after eating this. It's just so good. Creamy Brie, fantastically flavored salami's, prosciutto, tender lettuces, and aromatic pesto. Mmmm- seriously good stuff people. Hurry up and run to the store and get what you need to make these. You won't be sorry.
I have to apologize for the really lousy pictures. I wanted to quick shoot a couple shots before we sat down to eat, and with something this tasty, well, I don't waste a ton of time making sure that there aren't any crumbs on the plate, and that the lighting and background are just so and the dishes are snazzy and so forth. I just toss it on a plate and take like 3 pictures so that neither of us have to sit down to a cold panini. Hopefully you'll get the idea despite the haste in which these photos were taken. I went a little crazy with the lettuce on one of them and didn't put any on another so I blame the tantalizing and mesmerizing smells coming from these sandwiches for causing me to be in such a hurry to shoot a couple of non-blurry photos so that I could feature this on the blog. That's my reason and I'm sticking to it.
As always, make sure you are using as many GMO-Free and/or Organic products as possible. It's also beneficial to purchase local foods from your communities farmers. Support them with your wallet so they can continue to bring us amazing food that isn't genetically modified.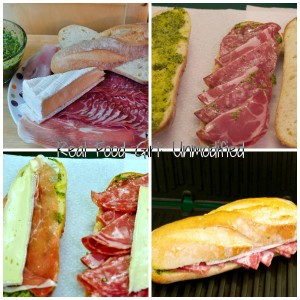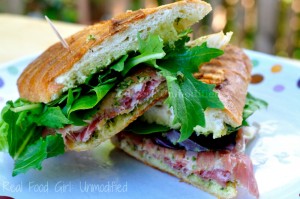 Prosciutto, Salame & Capocollo Panini with Pesto, Brie and Arugula
2013-08-05 02:48:34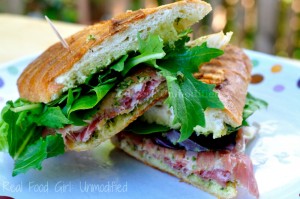 Serves 2
A flavor explosion of fabulous Italian meats on a crunchy French baguette smothered with melted brie, fresh pesto and zesty arugula.
Ingredients
10 thin slices of Calabrese Salame
10 thin slices of Capocollo
4 paper thin slices of Prosciutto
1 wedge of triple cream Brie cut into slices (long slices) You'll have extra left over
Two 8-inch French Baguettes (demi baguettes)
1-1/2 cup of Arugula and/or Baby Spring Mix lettuces
1/4 cup fresh pesto
Olive Oil
Instructions
Preheat your Panini press to 375 degrees.
Slice your baguettes (like you would a hot dog bun). Lay the slices cut side up on a cutting board.
Spread 1 Tablespoon of Pesto onto each slice. Layer 5 slices of the Calabrese Salame and 5 slices of the Capocollo on the bottom slice of the baguette. I folded them in half and angled them for maximum meaty coverage.
Fold two slices of Prosciutto lengthwise and place on the top slice of baguette. Place two slices of brie next to one another atop the salami's and take the prosciutto side and place it on top of the bottom slice. Press down to make sure the sandwich is stable.
Brush the top and bottom of the sandwich with a little olive oil. Place on the panini press and very carefully press down (don't burn yourself, please) without causing the top of the sandwich to slide off onto the grill.
Grill for 3-5 minutes until flattened and toasty golden brown and delicious.
Lift the top off the sandwich and pile on the lettuces, then cut in half and start eating before you choke on your drool.
https://www.realfoodgirlunmodified.com/
PAID ENDORSEMENT DISCLOSURE: In order for me to support my blogging activities, I may receive monetary compensation or other types of remuneration for my endorsement, recommendation, testimonial and/or link to any products or services from this blog.